ALPHACOOL Core 100 Aurora reservoir Acetal/Acryl with Apex VPP Pump Review
When ALPHACOOL released Core AURORA series pump/reservoir units, we tested Core AURORA 200. This time we are taking a look at Core AURORA 100 D5/VPP unit. The Core 100 AURORA has a Plexi glass tube and a capacity of 200 ml. ALPHACOOL has placed a metal plate at the base of these units to provide more support for the pump socket. There is no vented plate at the base of tube area on top of pump socket.
The ALPHACOOL Core 100 Aurora reservoir Acetal/Acryl with VPP Pump comes with ALPHACOOL's new Apex VPP pump. This unit is compatible with D5 or ALPHACOOL's VPP series pumps though you don't need one as this unit comes with a powerful pump. There is a filter port at the base of the unit above pump socket and we have integrated digital RGB LEDs there as well. ALPHACOOL has retained the waterfall effect using the riser tubes.
This product has a retail pricing of €118.98 at time of this writing.
Specification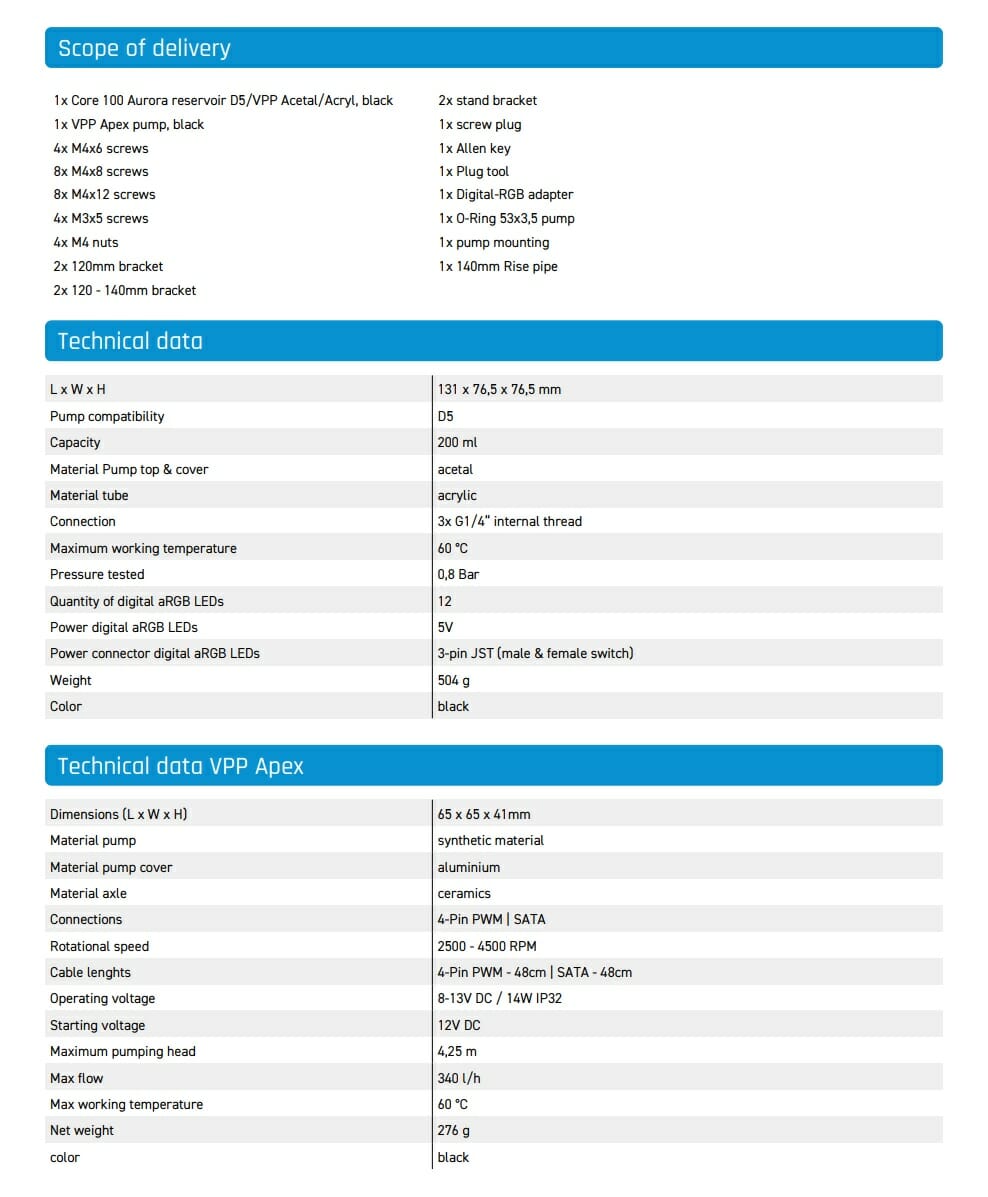 Dimension
Packing Box
This unit is shipped inside a cardboard box finished in an ALPHACOOL standard packing style. 15380 is the article number of this unit.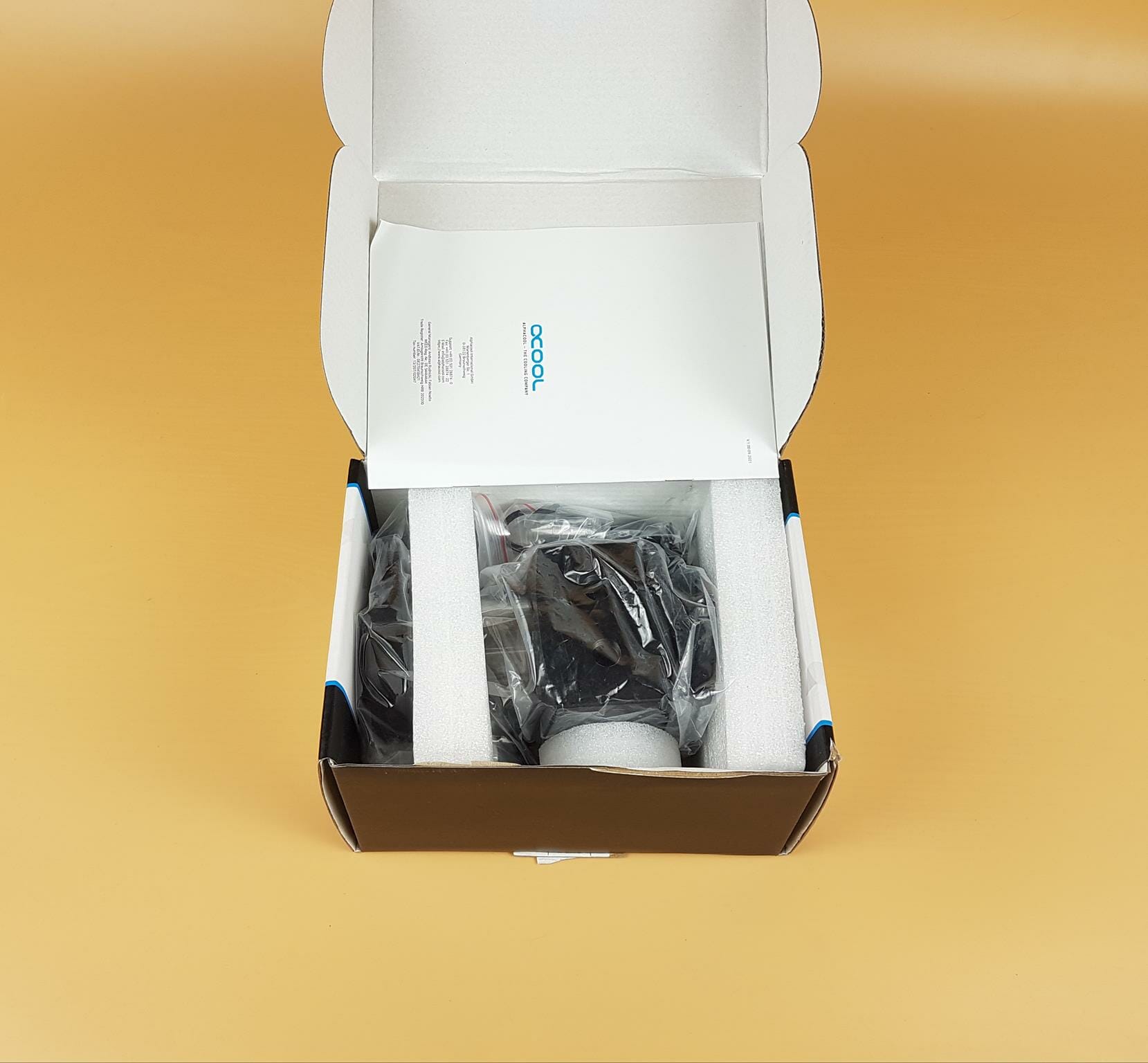 Unit is inside a transparent container and tucked between two Styrofoam pads. A user manual is placed on top.
Contents
Let's take a look at what ALPHACOOL has provided along with the main product.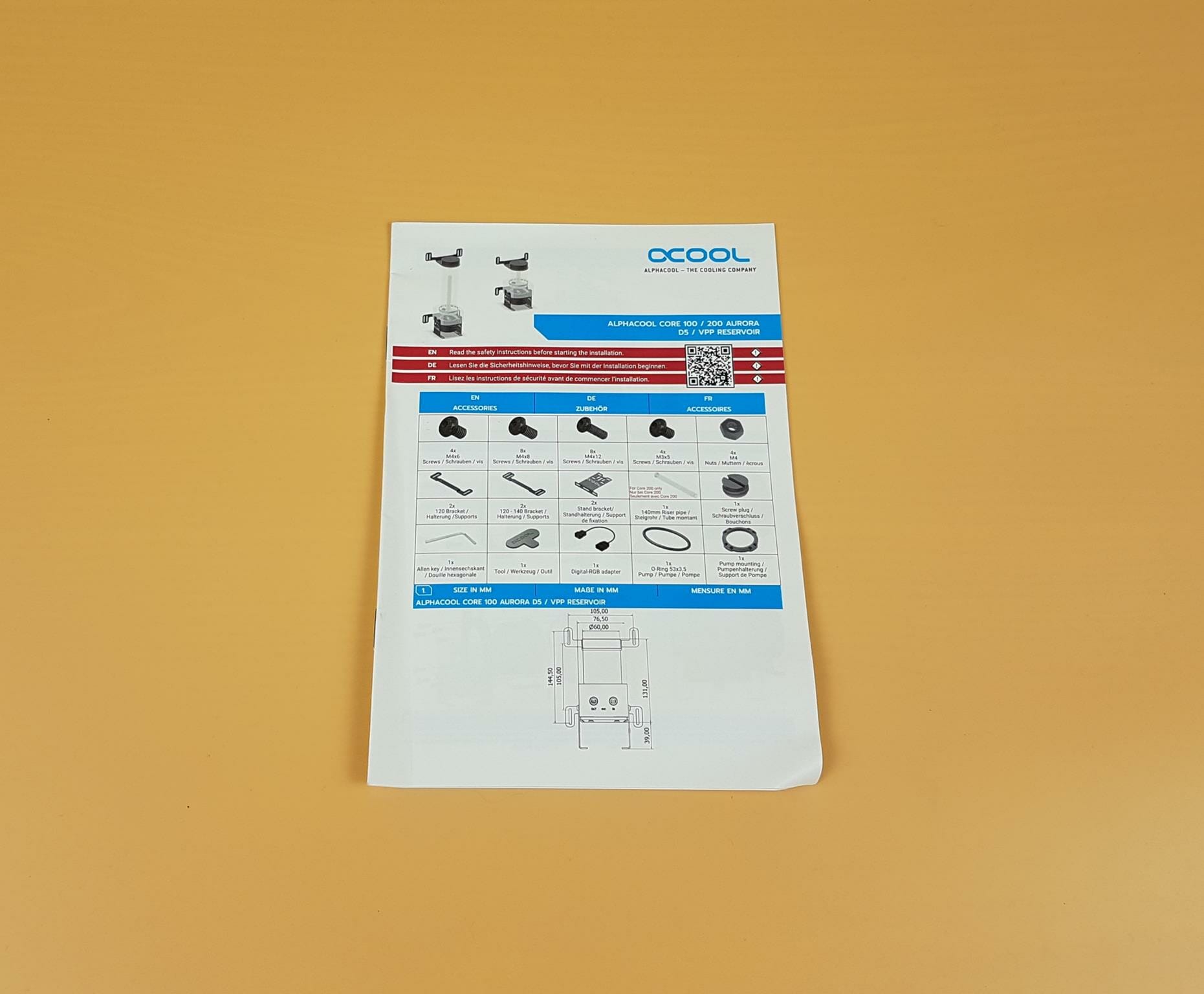 There is a comprehensive user manual.
There are 2x 120mm Fan size brackets and 2x 140mm Fan size brackets.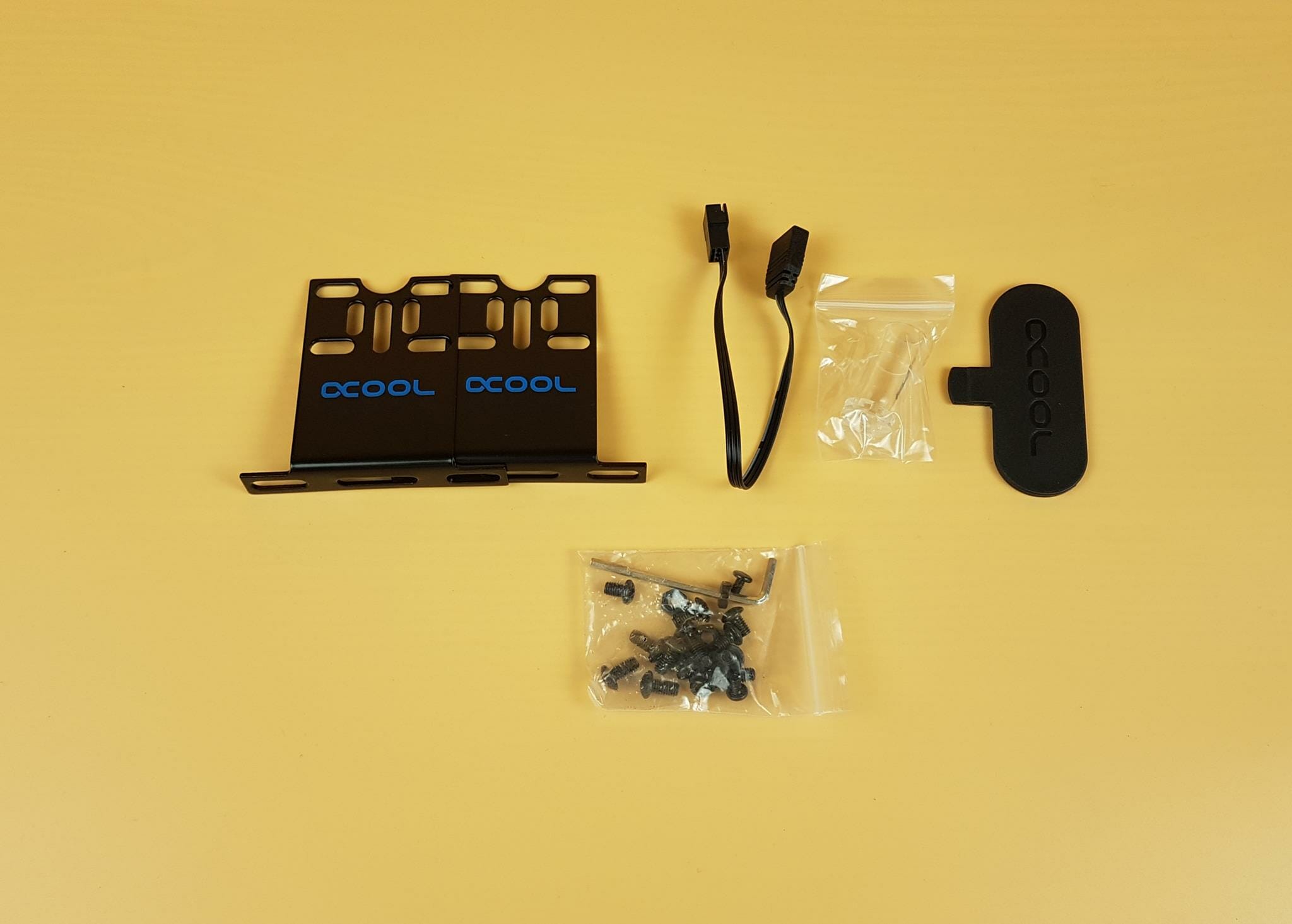 There is:
2x Stand Brackets
1x Screw Plug
1x Allen Key
1x Digital RGB Adapter Cable
1xx Plug Tool
1x Rise Pipe
4x M4x6 Screws
8x M4x8 Screws
4x M3x5 Screws
4x M4 Nuts
Closer Look
Let's start with ALPHACOOL's statement about this product. "The Alphacool Core reservoir has an integrated pump top for powerful D5 pumps and comes with a VPP Apex pump. The tube of the reservoir is made of acrylic, the D5/VPP pump top and the lid of acetal. The combination of these two materials gives the expansion tank a discreet appearance. The wow effect is provided by 12 digitally addressable RGB LEDs in the pump top and the Lighttower water effect inside the acrylic tube. Compared to the previous Eisbecher models, the acrylic tube of the Core reservoir has an external thread. This provides more stability and safety when connecting the lid and pump top to the tube. Also new is the integrated digital aRGB lighting. 12 digitally addressable RGB LEDs in the pump top are included in the scope of delivery of the Core reservoir and no longer have to be purchased separately."
The ALPHACOOL Core 100 AURORA with D5/VPP Pump has a small reservoir made of plexi/POM materials. The plexi is 60mm in diameter and has a capacity of 200ml of coolant. The dimension of the unit is 131×76.5×76.5mm. The unit comes with a ring style bracket pre-installed on the top of this unit under top cover. This bracket can be moved freely in 360° around a tube. Users can install either 120mm or 140mm fan size bracket on this rotatable bracket. This unit is rated for a maximum temperature of 60°C (Coolant temperature) with a pressure head of 0.8 Bar.
The top lid of the tube has a single G1/4" threaded port. The lid is made of the POM material and is finished in a black color. ALPHACOOL has mentioned that this port can be used as refill. The plug on the port is flushed. The top lid can be removed as well. There is no rise tube under top cover which is understandable given the overall height of a tube.
Above picture shows insides of a main tube.
The underside of a top cover has a raised portion in center. It is threaded and user can install a riser pipe or tube on it.
Above picture shows main tube of this unit. We have removed top cover before taking this picture. The threads are now on the outside of this tube or reservoir.
This reservoir features a riser tube to give a water fall effect. This is done by using the cutouts on the top of the riser tube to give a sprinkle effect of the coolant coming out from the top nozzle. A key difference between the Core 00 and Eisbecher D5/Aurora is that base of the above pump socket does not have a vented plexi plate to stop bubbles any more. Another key difference is that the tube now sits inside the pump socket case which would mean it is no longer protruded out of the base as is on the Eisbecher D5. We have a filter port located on the left side of the tube. Make sure it aligns on the left side. We can also spot a strip of digital RGB LEDs integrated at the base housing 12 LEDs.
Pump socket is made of acetal material and finished in a matte black color. There are 2x G1/4" threaded ports here which are not covered. This pump/reservoir has a total of 3x G1/4" ports and one on top comes with a plug which is understandable since two ports will be in use after installation in a loop. There is carved brand logo as well.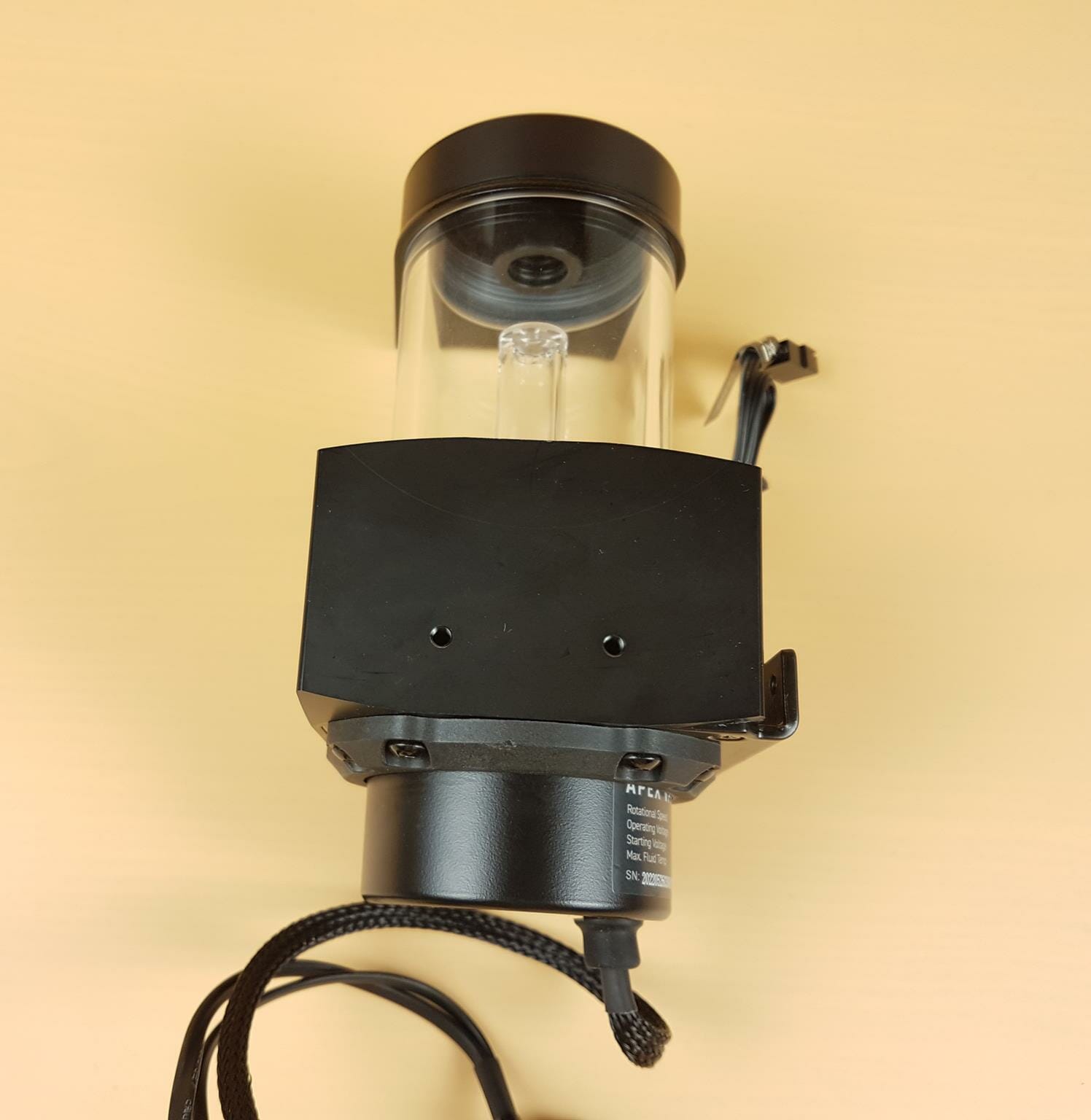 There are two mounting holes to which stand bracket can be installed.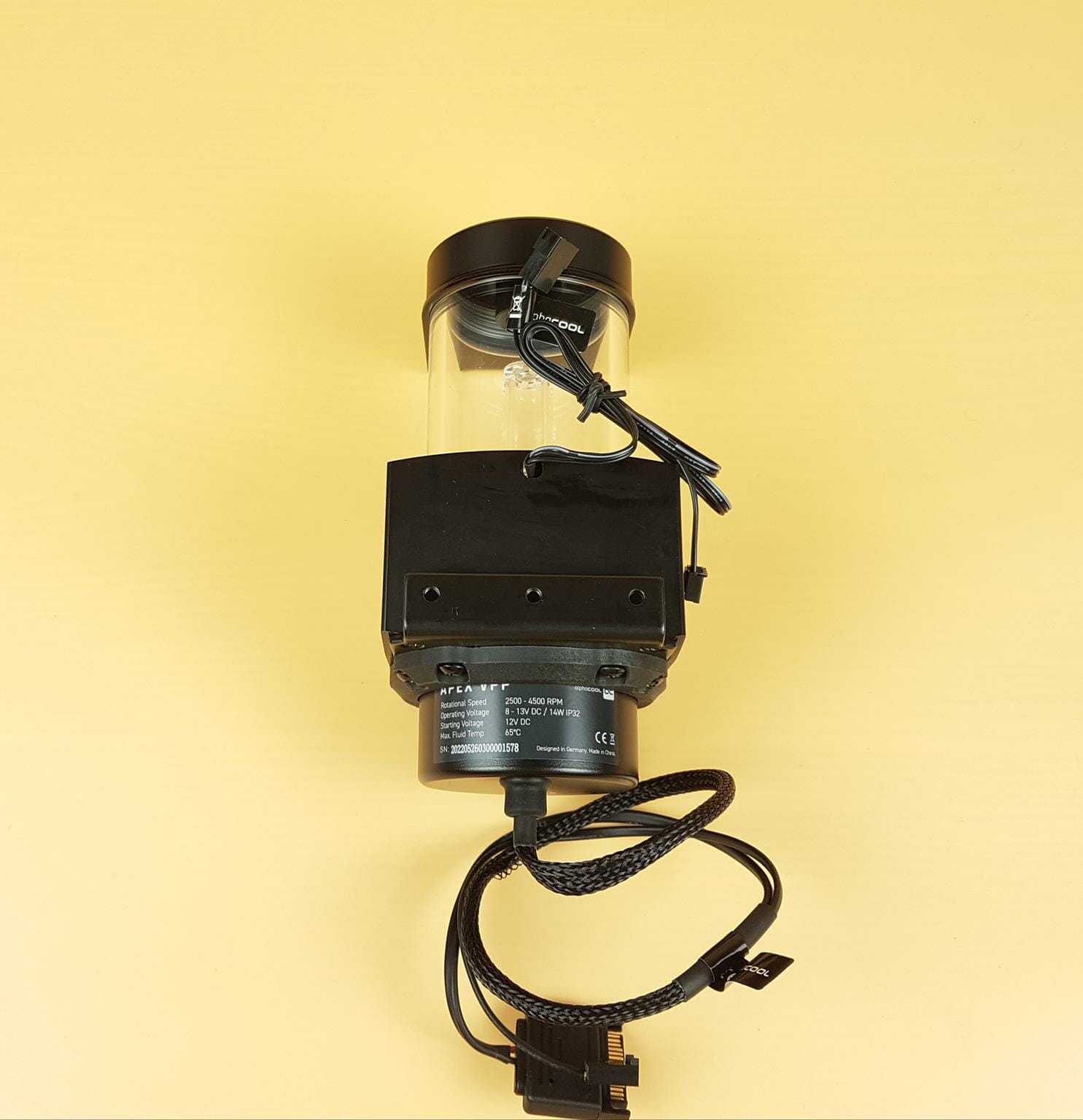 ALPHACOOL has implemented a support bracket at the base of the pump socket. Its outer side has 3x mounting holes. Users can attach 120mm or 140mm fan size bracket here. This plate is fixed and does not rotate unlike top rotatable bracket. We can see that this unit comes with ALPHACOOL APEX VPP pump pre-installed. A closer look will also hint us that there is a flat cable coming out from top of pump housing. This is JST cable to power RGB LEDs.
This pump is SATA powered and ALPHACOOL has my appreciation for this aspect. Finally, no more MOLEX connector on their pumps.
ALPHACOOL has also provided a PWM control of this pump at user's disposal. We have a 4-pin PWM connector. Since SATA connector is still needed, two pins are active on this connector for speed signal.
There is s 3-pin JST connector to power RGB LEDs. This sits well in ALPHACOOL's Ecosystem for convenient integration and synchronization of RGB elements.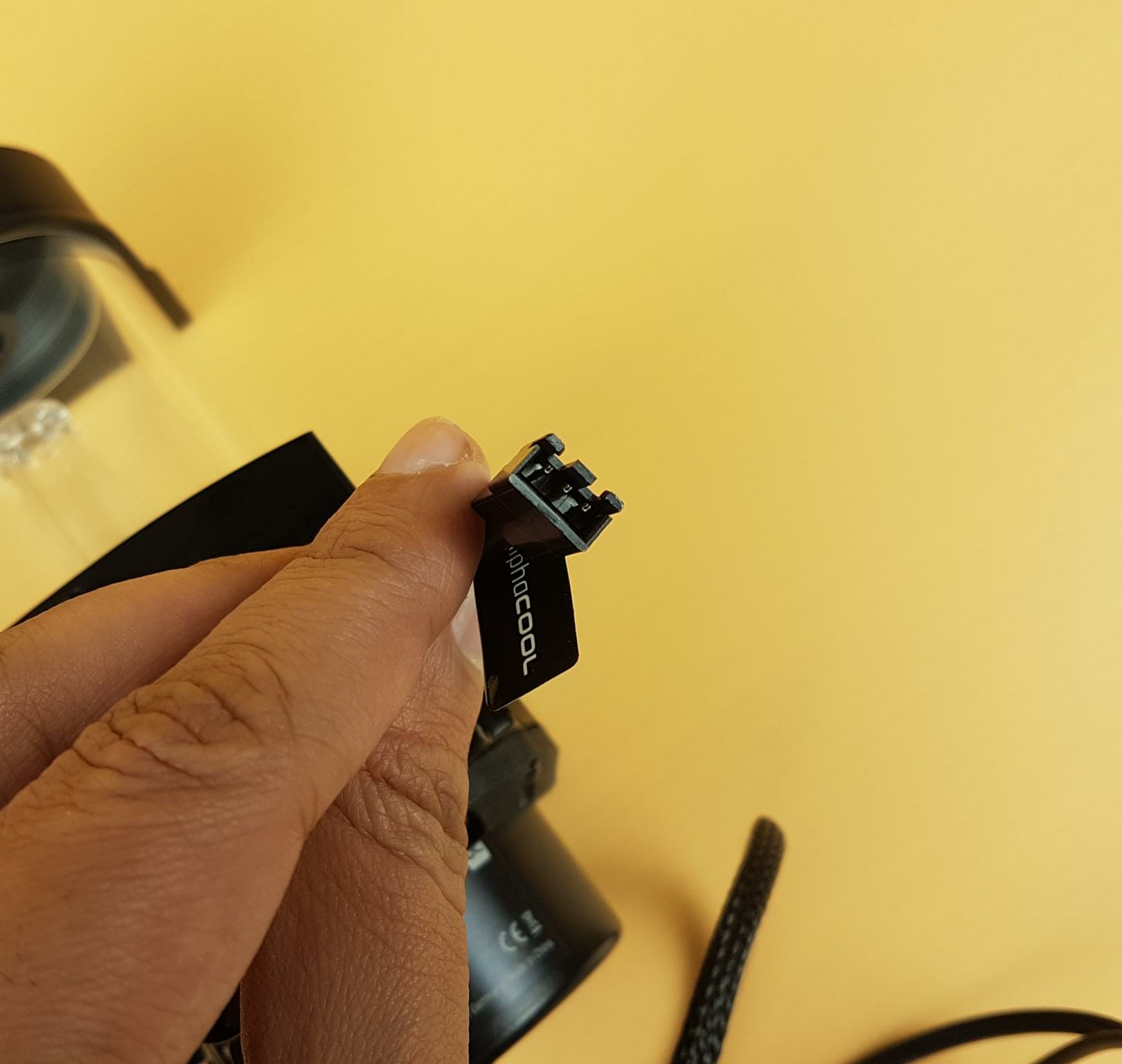 There is a 3-pin JST socket as well for daisy chain.
We removed pump from the main unit. Ring bracket is used to connect pump with the pump socket.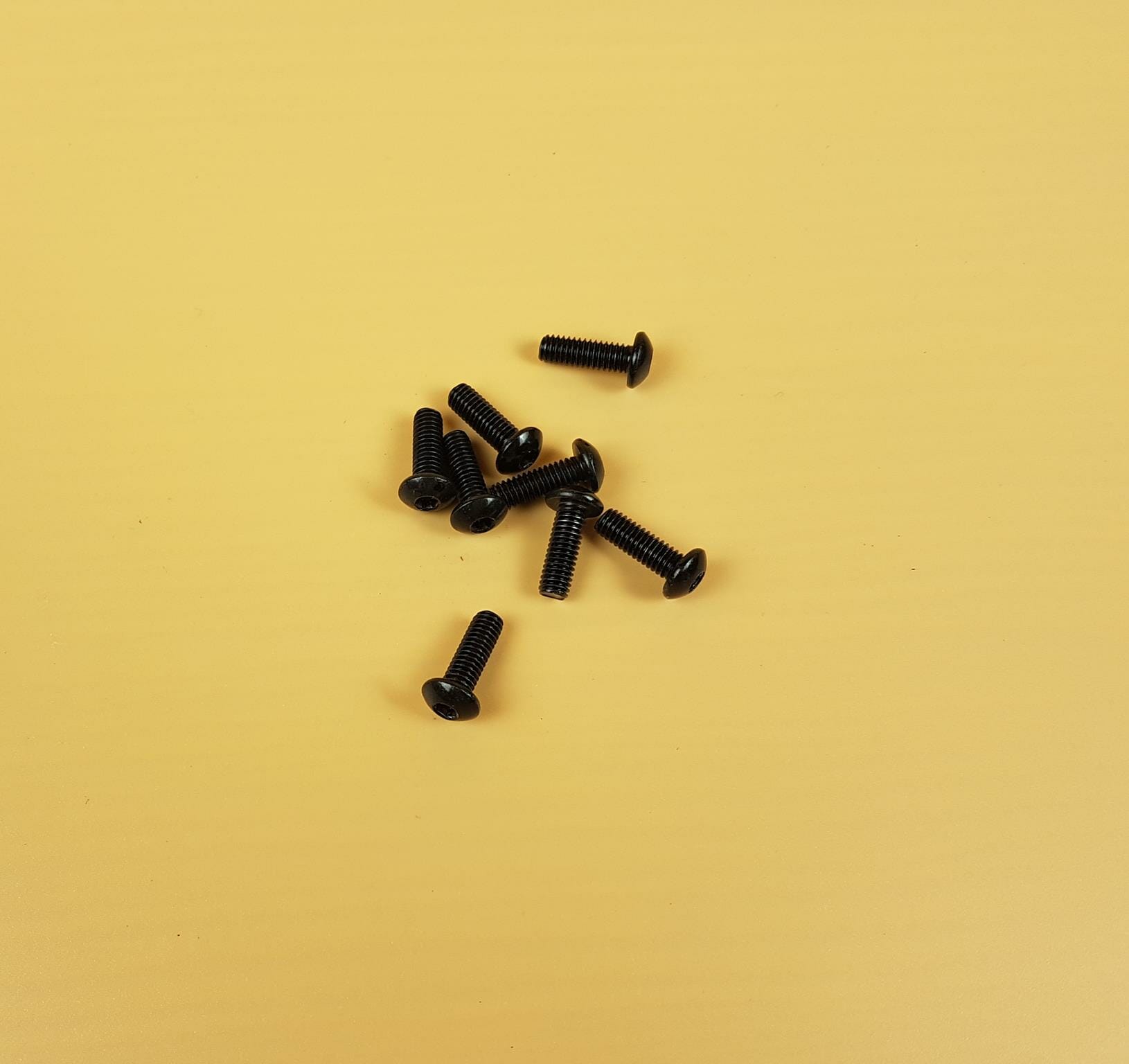 Ring bracket is secured to pump socket using 8x M4x12 screws.
Apex VPP pump is using a ceramic bearing. The cables are nicely sleeved though flat cables would have been better in my opinion.
Above picture shows label of Apex VPP pump. It has a rated speed of 2500 ~ 4500 RPM. Our unit can go as low as 2700 RPM. Operating voltage range is 8-13VDC. Maximum support for temperature of coolant is 65°C. This pump is consuming 14W. It is more silent than VPP series other pumps.
The above picture is showing the underside of the pump socket. One key difference is the metallic support bracket which is pre-installed at the base. Another key difference is that we have raised mid-section with a dedicated return inlet port on the Eisbecher D5 which is not a case with Core 100. This unit has mid port is now flushed with floor of base. We still have a dedicated return inlet. The other hole on the boundary wall is the outlet port. A thick O-Ring is visible on the inner edges.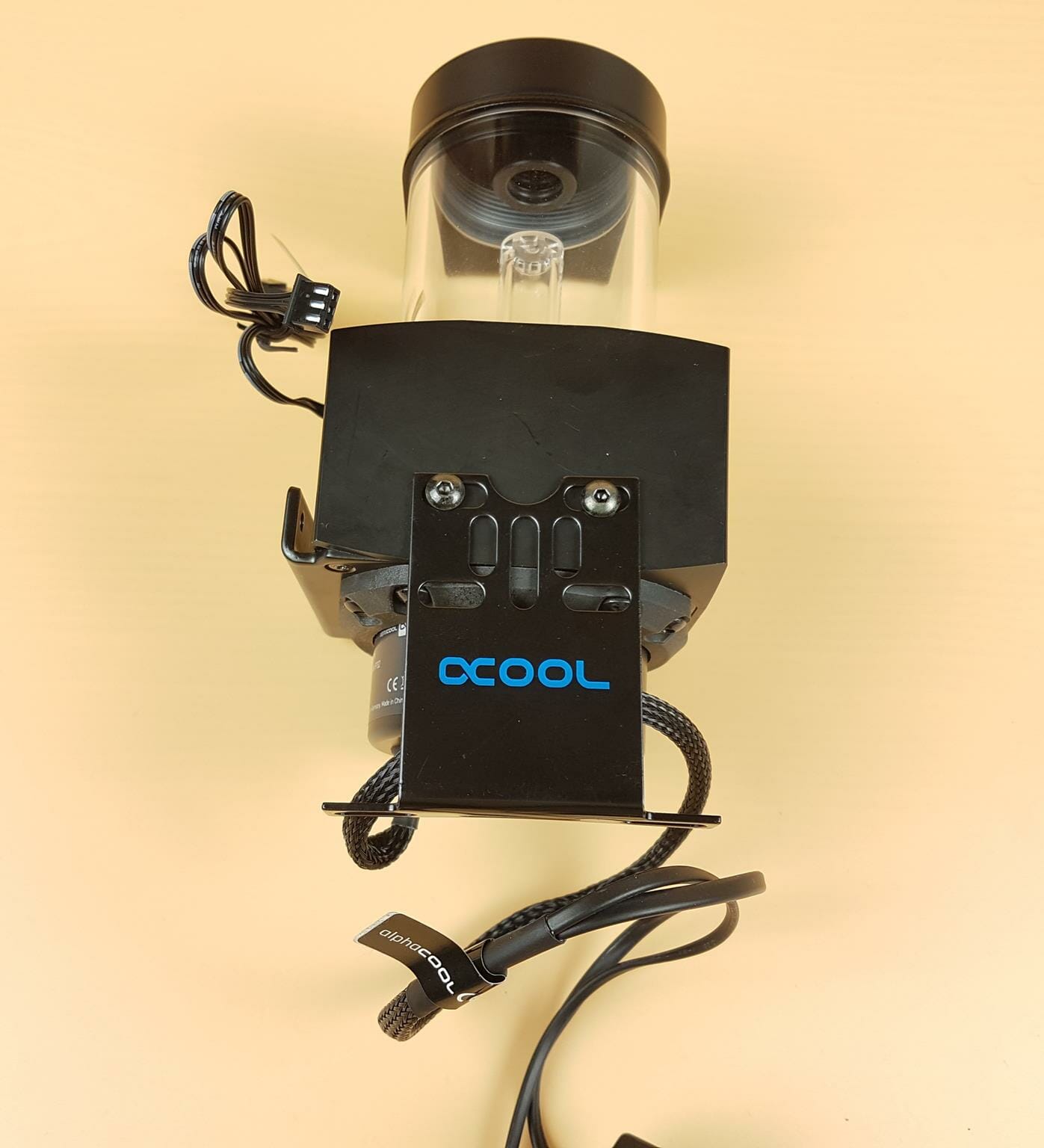 Users can also install stand brackets on this unit to make it stand inside a PC Case subject to this provision. These stand brackets have rail type design at the base. They can be secured to pump plate or bracket of PC Case using M3x5 screws and M4 nuts.
Use Experience and Loop Configuration
We have set up a test loop to test ALPHACOOL's HPE series radiators. The following components are used in that loop:
ALPHACOOL NexXxos HPE ST/XT-30 Series Radiators
ALPHACOOL Core 100 AURORA with VPP Apex Pump
ALPHACOOL Eisblock XPX PRO AURORA Digital RGB – Full Brass Black Water Block
ALPHACOOL Coolant Temperature Monitor
ALPHACOOL HF Clear Tube 16/10mm
ALPHACOOL HF Straight Compression Fittings 16/10mm
ALPHACOOL HF 90° Rotary Adapters 16/10mm
ALPHACOOL Quick-Release Fittings
ALPHACOOL Core 120/140 Fans
ALPHACOOL Apex Clear Coolant
ALPHACOOL Valve
System configuration is:
Intel i7 13700k
GIGABYTE Z790 AORUS ELITE AX
XPG Lancer RGB 2x16GB DDR5 @ 6000MHz, CL40
Sabrent Rocket 4 Plus 2TB NVMe SSD
Colorful iGame GeForce GTX 1050Ti 4G [For Display]
be quiet! Straight Power 11 850W Platinum PSU
Thermaltake Core P6 TG Snow Edition in an open frame layout
Overall, we have a positive experience with Core 100 AURORA pump/reservoir. Filling of loop was easy. Maintenance is easy as well. Digital RGB lighting is working flawless and pump is responding to PWM change. However, within a week of usage, two LEDs start blinking on their own and changed their colors as well.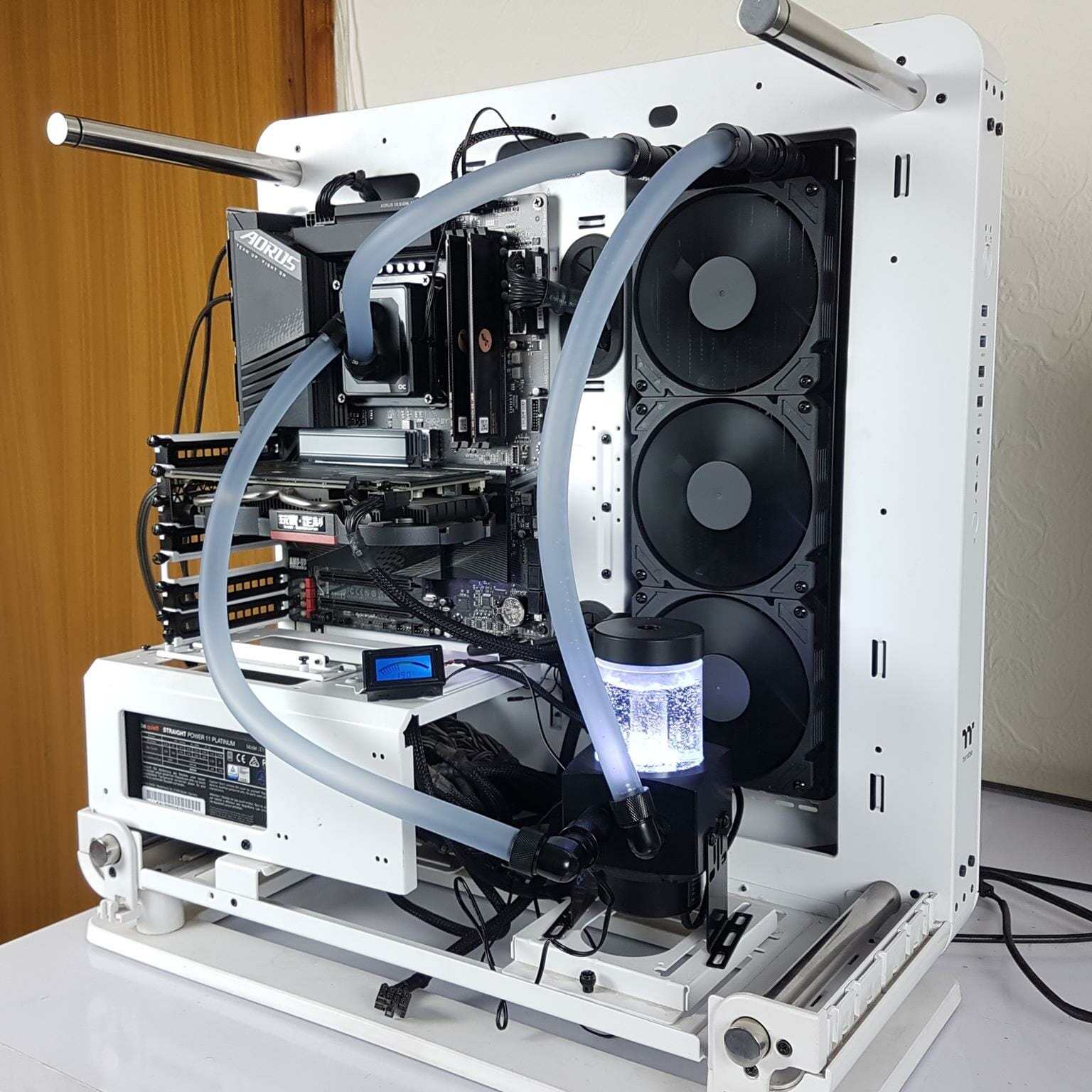 Digital RGB Lighting
The Core 100 AURORA reservoir with D5/VPP Pump has 12x digital RGB LEDs. We have tested them using GIGABYTE RGB FUSION 2.0 and found them to respond to the change in the mode or color, flawlessly. Here are a few pictures: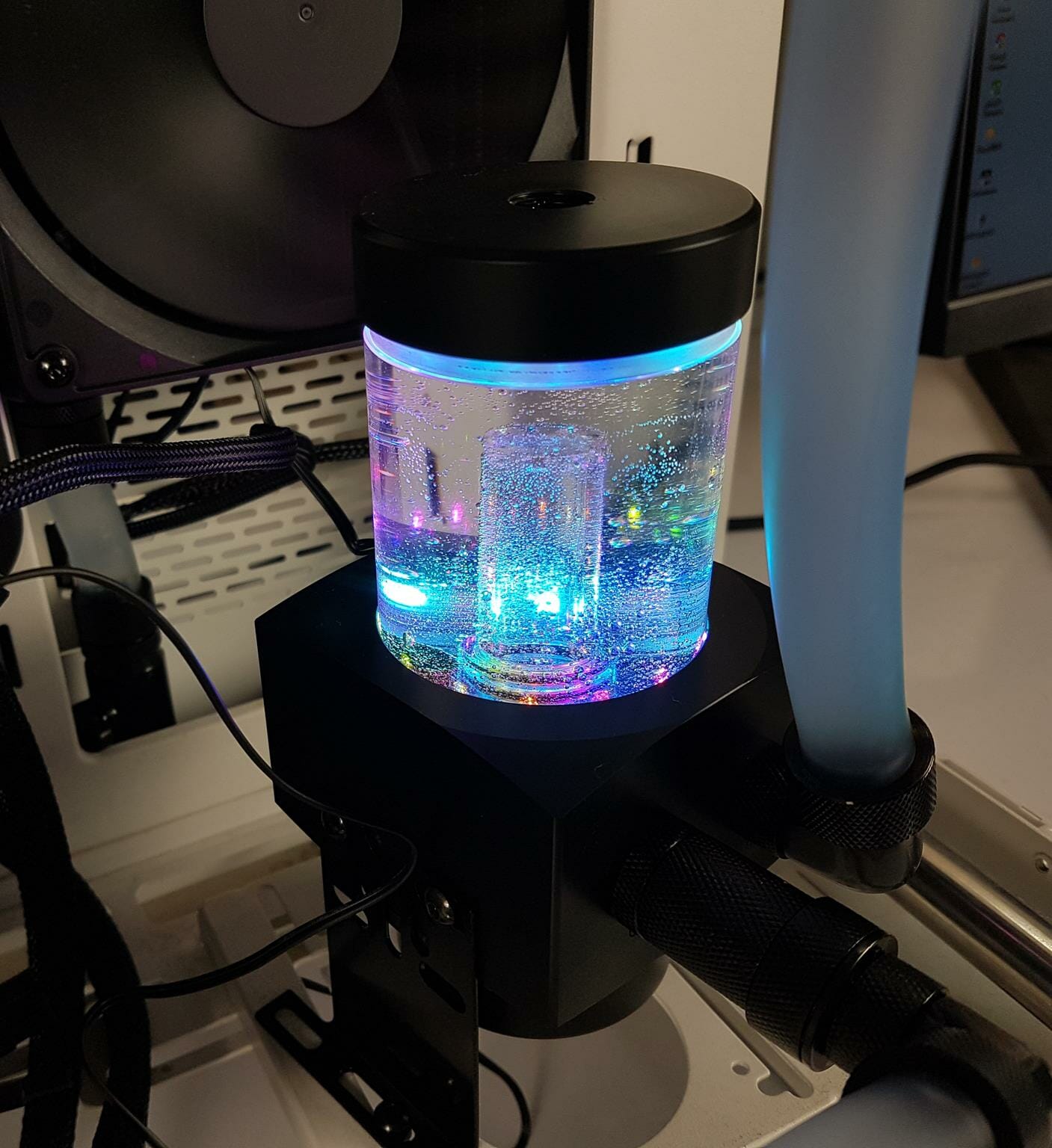 Conclusion
We have looked at ALPHACOOL Core 100 AURORA Reservoir with D5/VPP Pump. We earlier tested Core 200 AURORA at the time of its release. Core AURORA is a new series from ALPHACOOL and recently they have released Eisbecher D5 with VPP Apex series pumps and digital RGB lighting. And most recently they released their distro plates which I am dire to get my hands on.
The Core 100 AURORA with D5/VPP Pump is made of acetal and acrylic materials with a POM top. Main tube is made of Plexi material but this time threads are on the outer side of these tubes giving them more stability and safety when installing them on pump socket. This unit has a dimension of 131×76.5×76.5mm. It has a capacity of 200ml for a coolant. Maximum fluid temperature support is 60°C. It is tested for 0.8 Bar pressure. Overall weight of this unit is 504gm.
This unit has a total of 3x G1/4" ports. One such port is on the top cover having a flushed plug. Two ports are on the pump socket with dedicated functions. One is an inlet and the other is an outlet port. ALPHACOOL has installed a metal plate on the base of pump socket to provide better support for pump mount and it additionally serves the installation place for 120/140mm size bracket. This unit despite having a smaller size has a riser tube installed on the base. ALPHACOOL has retained a waterfall effect. They have also provided a second riser tube with the accessories. The Core 100 does not support a 140mm size riser tube.
This unit comes with ALPHACOOL's new and powerful Apex VPP pump. This pump is SATA powered as well as provides a PWM control to the user. Please keep in mind that a SATA connection will still be required to power the pump and speed then can be controlled using a 4-pin connector. This pump uses a ceramic bearing and is made of synthetic material. It has a speed range of 2500 ~ 4500 RPM. Our unit did a minimum of 2700 RPM. It has a maximum fluid temperature support of 65°C. The operating voltage range is 8 ~ 13VDC with a tested pressure head of 1m. 14W power is mentioned in the specifications.
The digital RGB LEDs are powered using proprietary 3-pin JST connectors which makes sense in the ALPHACOOL Ecosystem. There is an adapter cable provided in the box which allows connectivity with a supported motherboard. There is no dedicated RGB controller provided. ALPHACOOL has provided necessary mounting hardware. Users can either mount this unit on a radiator using 120/140mm size brackets or install it on base of a PC Case using stand brackets.
Overall, we have had a positive experience with this unit. Installation was easier. Filling the loop is convenient as well. The pump runs silently even at full speed. PWM control is working on the pump. Digital RGB lighting looks good. However, within a week of use, two LEDs start blinking and change their colors on their own. This is first time that any of ALPHACOOL's products has given such an experience. The RGB lighting is tested on GIGABYTE Z790 AORUS ELITE AX using RGB FUSION 2.0 and it was working fine other than what we mentioned above.
ALPHACOOL Core 100 Aurora reservoir Acetal/Acryl with D5/VPP Pump has a price of €118.98 at the time of this writing and comes with a 3-year warranty. Core 100 is a perfect candidate for small-size builds or where there is a space restriction. It comes recommended by us.
Thanks to ALPHACOOL for the provision of this unit.