Introduction
In recent times, the market has seen an influx of high-performance PC fans with different designs all competing for your bucks. One thing, which I guess I am sure of, is that Noctua set the standard with their NF-A12x25 PWM series of fans. Those fans deliver high performance at low noise output. Then we saw Phanteks releasing their PH-F120T30 fans that gain praise all around. This was followed by yet another success from be quiet! Silent Wings 4 Pro 120mm fans. SilverStone released Shark Force 120 and the game goes on.
ARCTIC made their entry with P12 MAX fans. These fans are based on ARCTIC's most popular P12 PWM fans and ARCTIC has taken the design to the next level with the MAX series of fans. One thing that significantly differentiates these fans from the competition is the price point. ARCTIC is still able to keep prices in check while delivering a next-generation high-end cooling solution.
In this article, we will take a look at these fans and see what the hype all about is.
Pricing:                 MSRP €12.99 at the time of the Review for a single fan
ARCTIC P12 MAX Fans Specifications
Closer Look
It is time to take a look at the fans.
ARCTIC at present is offering a single fan pack. We have received three fans for testing. These fans feature 0dB mode meaning they would come to stand still at < 5% PWM cycle under no load or at idle.
Fan's specifications are listed over here.
ARCTIC has provided 4x self-tapping screws in the box.
We have been mentioning that ARCTIC is good at retaining the footprint of its core design when it comes to these fans. P12 MAX is no different from that. But there is more to it than meet the eyes. These fans are in a gray and black color finish giving them quite a look even without RGB lighting. I think ARCTIC may release the RGB/A-RGB variants down the road but not sure. These fans have a dimension of 120x120x25mm. Looking at the fan, we can see that there is still a 5-blades assembly but this time, it has a key difference. These blades are connected to a ring inside the main frame. This ring in turn spins along with the fans. ARCTIC refers this design as Fan Wheel. The P12 Max features a closed fan-wheel design. According to ARCTIC, this Fan Wheel provides pressure stability in certain cases where there is high resistance to airflow and resultantly on the pressure. This resistance force is distributed evenly on this wheel which in turn enables this fan to maintain the high static pressure.
We can see a black color sticker on the hub. It has ARCTIC branding. Nothing significant but it seems like ARCTIC is not using a metal-reinforce bearing shell. The overall outlook of these fans is square in design which is good. Since we are at it, let's take a look at the key parameters of these fans.
The airflow rating is 81.04CFM which is quite good at this price point.
Static Pressure rating is 4.35mmH₂O
Sound Level of 0.6 Sone
A simple online conversion will tell us that 0.6 Sone means 20.63 dB. I am not sure about it but this seems to be a low value by the brand as our testing is showing opposite results. These fans have a speed range of 200 to 3300 RPM. What is impressive is the function of 0dB. This would mean that these fans would come to stand still or stop spinning at less than 5% PWM cycle. Please keep in mind that for this to achieve you have to have a supported motherboard with enabled feature in UEFI/BIOS settings. These fans don't have ARCTIC PST technology. In simple words, these fans don't have a daisy-chain function.
Each mounting corner has a gray color anti-vibration pad that minimizes the vibrational noise coming from the surface on which the fans are installed.
The frame of these fans is sturdy but unfortunately, we had bad luck. All of three fans came broken or cracked. This is not the first time we have seen from ARCTIC. Their P14 PWM and P14 Slim PWM fans also came broken and we never found their reply satisfactory to be honest.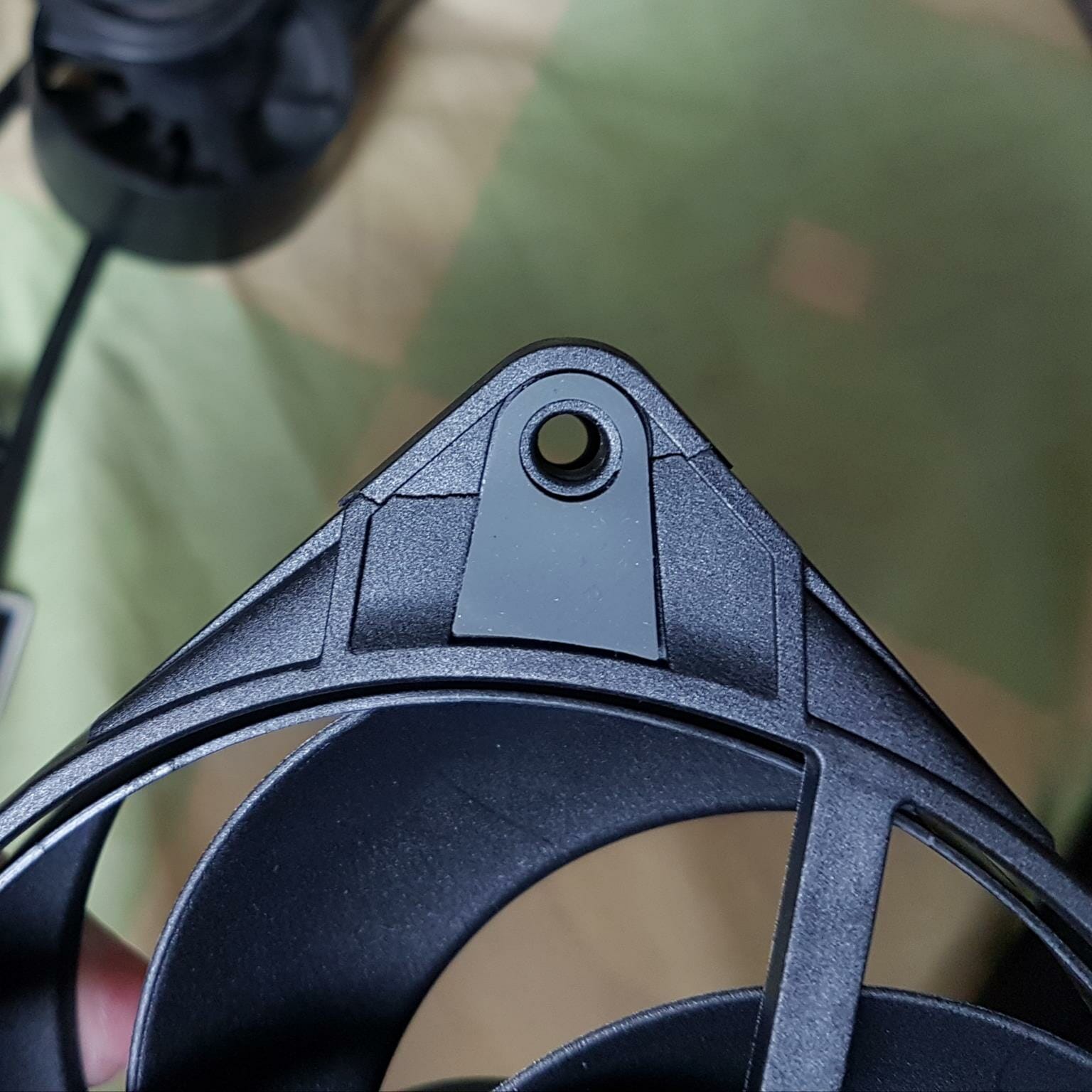 Take a look. Clearly, we can't use this corner to install the fan. We ended up using a dual mount only to install these fans on the radiator for testing. This was not it as one of the fan's bearings seems to be roughed out. It was making a grinding noise that was 76 dB on our sound meter. Clearly, this would have already violated the very purpose of testing these fans in first place but we still use the non-affected fans to measure the noise output. ARCTIC needs to up the game with QC and the shipping department.
There are two small arrows on one side of the frame. These provide a visual clue to the users in determining the direction of airflow through the fans and the direction in which blades will spin.
Each fan has a flat cable with a 4-pin PWM connector to power these fans. PWM range is quite good on these fans.
Looking at the backside of the fan, we can spot a 4-arms assembly. One arm has a slim inset on the right side. Wires are routed vertically through this inset towards the frame of the fan. The power rating of this fan is mentioned as 0.29A at 12VDC. This means the power consumption would be 3.48W. This would mean we can easily connect 3x of these fans to a single fan header (rated at 12W) of the motherboard since their combined power draw would be 10.44W. The starting voltage of these fans is 3.9V. Take a look at the top left corner and you will find it cracked.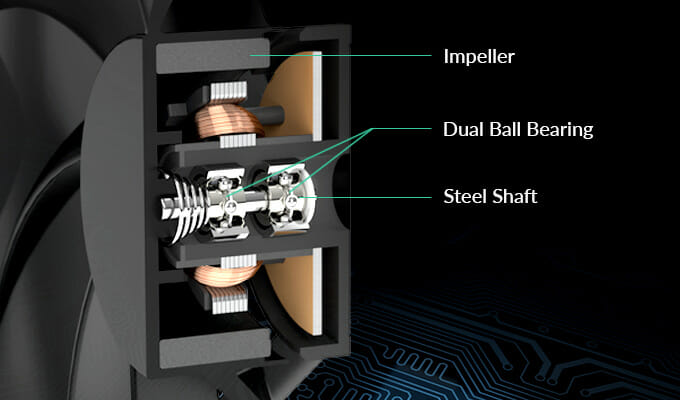 Unlike the P12 PWM fans which use Fluid Dynamic Bearings, the P12 MAX fans are using Double-Ball Bearings. We know that double ball bearings can handle the axial and radial loads in both directions which would mean installing these fans vertically or horizontally would not affect the performance in the long run and will provide durability. ARCTIC has employed bearings from Japanese manufacturer NMB. However, there is a catch. Running these fans at high speed would make more noise compared to fluid dynamic or sleeve bearing. These fans have MTTF of >500,000 hours thanks to these bearings. Due to sinus-magnetizing the new motor only creates about 5 % of the vibration from the commutation of a regular DC motor without a filter.
Testing
We have used the below-mentioned configuration: –
Intel i7 10700k
MSI MAG Z490 TOMAHWAK
XPG D41 16GB @ 2666MHz DDR4 Kit
GGIABYTE GeForce RTX 3060 VISION OC
addlink S70 256GB NVMe SSD
bequiet! Straight Power 11 850W Platinum PSU
Thermaltake Core P6 TG Snow Edition in an open frame layout
Here is the settings table for testing:
| | |
| --- | --- |
| Clock (MHz) | 5000 All Cores |
| Voltage (V) | 1.335 |
| Turbo Boost | Disabled |
| C-States | Disabled |
| Speed Step | Disabled |
| Thermal Paste | ARCTIC MX-6 |
| Thermal Paste Application | Spread |
| Test Run Time | 30 minutes |
| Idling Time | 10 minutes |
| Fan Speed | 100% PWM Duty Cycle and Auto PWM |
| Pump Speed | Connected to the AIO Pump header to run at 100% speed |
| Stress Software | CINEBENCH R23.2 |
| Monitoring Software | HWINFO64 |
We are reporting the absolute temperature on the graph. The testing is done on an open-air bench system. Once inside the chassis, the temperatures are expected to rise and would largely depend upon the optimal airflow inside the chassis. Not every run of the stress test may yield the same result. This could well be due to many factors like mounting pressure, thermal paste application, and varying ambient temperature. Not to mention the silicon differences even among the same category of chips. Hence, it is pertinent to mention the testing methodology along with the specifics.
Before we take a look at the results, we have pitched the P12 MAX fans against the P12 PWM fans on ARCTIC Liquid Freezer II 360 cooler. Here is a comparison data of these fans:
| | | |
| --- | --- | --- |
| | ARCTIC P12 PWM | ARCTIC P12 MAX |
| Dimension | 120x120x25mm | 120x120x25mm |
| Speed | 200 – 1800 RPM | 200 – 3300 RPM |
| Air Flow | 56.3 CFM | 81.04 CFM |
| Static Pressure | 2.20 mmH₂O | 4.35 mmH₂O |
| Noise Level | 0.3 Sone | 0.6 Sone |
| Bearing | Fluid Dynamic Bearing | Double Ball Bearing |
| Power Consumption | 1.2 W (0.1A at 12VDC) | 3.48 W (0.29A at 12VDC) |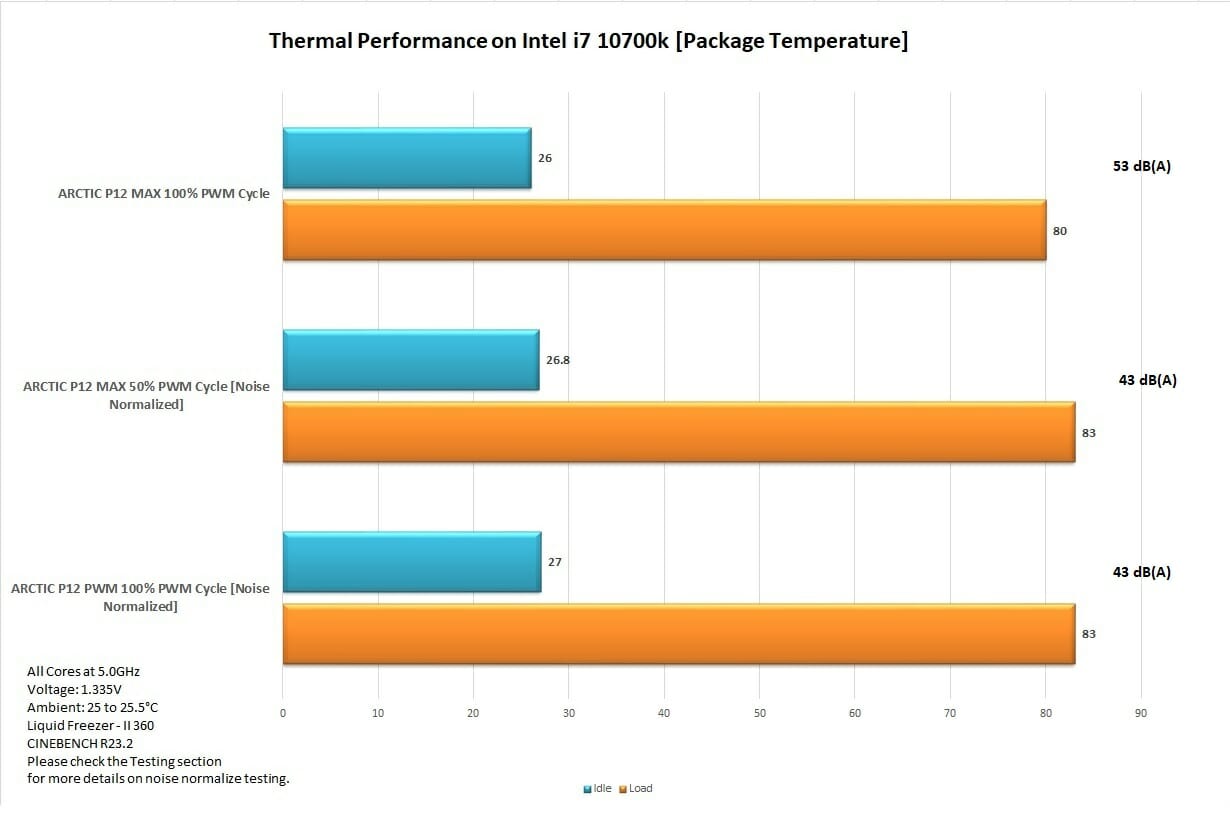 The ambient or room temperature was 25°C to 25.5°C hence we are reporting absolute temperature from CPU Package. Our initial test run was with both fans running at 100% PWM cycles and this is where P12 MAX came out a winner by a margin of 3°C. However, there is a catch, although these fans take a win, they did that making more noise output compared to P12 PWM fans. This is where you would like to draw a line between high performance with more noise output and decent but still adequate thermal performance but at a significantly better noise profile.
Now coming to the next round of testing, since P12 PWM fans were operated at 43 dB(A), we normalized the P12 MAX fans to operate at 43 dB(A). The ARCTIC P12 MAX fans reached this sound level at roughly 50% PWM duty cycle. When the test was repeated, we found both fans giving the same thermal performance. This shows the thermal headroom that P12 MAX have even when operating at half of their rated speed.
Here is a table showing RPM range and corresponding airflow and speed measurements of the ARCTIC P12 MAX fan:
| | | |
| --- | --- | --- |
| PWM Duty Cycle (%age) | Speed (RPM) | Airflow (CFM) |
| 20 | 986 | 22 |
| 30 | 1387 | 37 |
| 40 | 1751 | 48 |
| 50 | 2065 | 56 |
| 60 | 2469 | 61 |
| 70 | 2745 | 69 |
| 80 | 2985 | 77 |
| 90 | 3260 | 83 |
| 100 | 3519 | 90 |
The anemometer was placed close to the fan. Since we measure all 120mm fans the same way, the error of margin would apply to all.
Acoustic
The fans at 100% of their speed were doing approximately 53 dB(A) at an ambient of 32 dBA. One of the fans was making 76 dB(A) due to bad bearing. We have to mention this since we are testing these fans.
Conclusion
ARCTIC makes its entry in the arena where major players have been releasing their new generation fans with P12 MAX fans. These are 120mm size fans based on ARCTIC's famous P12 PWM fans. Much has been hyped about these fans and it is understandable after all it is ARCTIC we are talking about. They sent us three fans for testing but it got delayed due to my total hip replacement surgery. I am getting back at this slowly and this time these fans are tested.
There are a few changes in the design department of these fans compared to the regular P12 PWM fans. ARCTIC has still retained the famous 5-blade design but this time around there is a ring attached to the tips of these blades making it one complete assembly. This ring is named Fan Wheel by ARCTIC and it serves the purpose of taking the hit from resistance force from the surface but ensuring that static pressure is maintained without losing airflow.
These fans feature 0dB mode as these would stop spinning at or below 5% PWM cycle. Please note that you would need a supporting motherboard and would also need to enable the Auto Stop or what settings your motherboard's UEFI BIOS provides. This would come in handy when the system is idling or at no load. However, these fans don't have ARCTIC PST technology. Simply put you can't daisy-chain these fans. This is what PST is all about – a fancy name. These fans are powered by a 4-pin PWM connector cable. These cables are flat in design.
These fans feature double ball bearings from Japanese manufacturer NMB. These bearings provide a much longer service life of these fans having a minimum of 500,000 hours. One possible reason to use these bearings is that these fans have high speed. Maintaining these speeds over a much longer time period would need better bearings but it is also surprising that many other manufacturers are providing similar speed range using Fluid Dynamic Bearings. Anyhow, we don't know if the motor of these fans has a 6-pole, 3-phase design or not. According to ARCTIC using sinus-magnetizing, the new motor only creates about 5 % of the vibration from the commutation of a regular DC motor without a filter.
Let's take a look at the numbers because numbers do speak. These fans are rated for 200 to 3300 RPM. We can see a wide PWM range on these fans. These are rated to generate a maximum of airflow of 81.04 CFM at a static pressure of 4.35 mmH₂O. ARCTIC has stated the noise output of 0.6 Sone which roughly equates to 20 dB. This is something I don't agree with or maybe I have found a wrong or basic conversion online without digging deep. These fans draw 0.29A at 12VDC using 3.48W. We have compared the stats of these fans with the numbers of regular P12 PWM fans. You can check that in the Testing section above.
We can't comment on the build quality of these fans since all three fans come with mounting corners cracked or broken and ARCTIC did not provide a replacement. I think ARCTIC forgot that they sent us these fans for review or maybe they were busy. That was not all as one of the fans was making a horrible large noise which comes to 76 dB(A) on our sound meter. This alone was enough to invalidate all the testing. Their P14 PWM and P14 Slim PWM fans were also delivered in a similar state in the last delivery. Their QC and shipping departments really need to up their game.
Now coming to the main point of thermal performance of these fans, we pitched these fans against ARCTIC's P12 PWM fans using Liquid Freezer II 360 cooler. Here is a summary:
| | | |
| --- | --- | --- |
| | P12 PWM | P12 MAX |
| Noise at 100% Speed | 43 dB(A) | 53 dB(A) |
| Performance at 100% Speed | 83°C | 80°C |
| Noise Normalized performance at 43 dB(A) | 83°C | 83°C |
ARCTIC with their P12 PWM fans has been at an advantage when it comes to noise performance and we have seen that P12 MAX fans at roughly 50% of their speed are now doing what regular P12 PWM fans are doing at their full speed (100% PWM cycle). This has provided P12 MAX a thermal headroom of 3°C (as per our testing) coming from going above 50% PWM cycle. This is one way of doing it. We did not see any benefit of going below 43 B(A) as fans are silent at this range. This tells us that the thermal performance of P12 MAX fans is quite good albeit at a high noise output.
ARCTIC is shipping a single fan pack at the time of this writing. A single fan pack is listed at €12.99. This is a good price point making these fans highly lucrative. Combined with good performance albeit high noise output and user-friendly pricing make these fans are one heck of a solid deal and this is further augmented with a 6-year warranty. All-in-all, these fans are a win-win for a budget user provided ARCTIC does not ship the broken fans! These fans are a perfect choice for any scenario including case ventilation on rail mount or mesh panel, use on a radiator or air cooler, you name it. We are not giving any badges to these fans and you know the reason.
Pros:
Thermal Performance
Warranty
Price
Wide PWM Range and Control
Double-Ball Bearings
Fan wheel
Cons: