Introduction
Cooler Master has been a staple within the industry for some time now! They offer a wide range of products from Cases, Power Supplies, Peripherals, Cooling Solutions and much more. They generally offer products for both general consumers and enthusiasts to cover all their bases. Today, we will be taking a look at one of their cases by way of the Masterbox MB500. The MB500 is a fairly priced offering, coming in at around £70, it has quite a bit to offer. It comes equipped with RGB fans, Tempered Glass and more right out of the box. Designed for ATX motherboards, the MB500 has plenty of room inside for some great hardware and also features plenty of room for cooling. All in all, the MB500 appears to be a solid offering in the mid-price range, but does it live up to the hype? Let's find out!
Specifications
Product Name
MasterBox MB500
Product Number
MCB-B500D-KGNN-S00
Available Color
Black
Materials
Steel, Plastic, Tempered Glass
Dimensions (LxWxH)
494 x 211 x 475mm
Motherboard Support
ATX, Micro-ATX, Mini-ITX
Expansion Slots
7
Drive Bays
5.25″
N/A
3.5″ HDD
2 (Max. 2)
2.5″ SSD
2 (Max. 4)
I/O Port
USB 3.0 x 2, Audio In / Out
Pre-installed Fan(s)
Front
120mm x 2 RGB LED fan
Rear
120mm x 1 RGB LED fan
Fan Support
Front
120mm x 3 / 140mm x 2
Top
120mm x 2
Rear
120mm x 1
Radiator Support
Front
120 / 140 / 240 / 280 / 360mm radiator (limited) up to 50mm thickness without fan
Rear
120mm x 1
Clearances
CPU Cooler
163mm
PSU
180mm
GPU
400mm
Cable Routing
Behind MB Tray
15 – 23mm / 0.59″ – 0.90″
Dust Filters
Front, Bottom
Power Supply Support
Bottom mount, ATX
EAN Code
4719512067345
UPC Code
884102039867
Closer Look
Taking our first look at the MB500, we can see it has a rather unique looking front. Instead of going with a flat top and front, Cooler Master has decided to add a few angles to make things a bit more fun.
Another nice thing to see is that the bottom half of the front panel features a bit of mesh, this will allow for better airflow and ain in helping to keep all your components coolers.
Around the back, we have the normal host of opening and expansion slots. One thing we are starting to see more of is a moveable rear exhaust fan. By loosening the screws a little, you can move the fan up or down a bit. While this may not seem like much of a big deal it is sure to benefit many of users. Depending on the hardware you plan to install in this case, sometimes the exhaust fan can be in the way a bit. Well, no more of that! Thanks to the longer mounting holes, this fan can be moved into different positions with ease depending on the individual user's needs.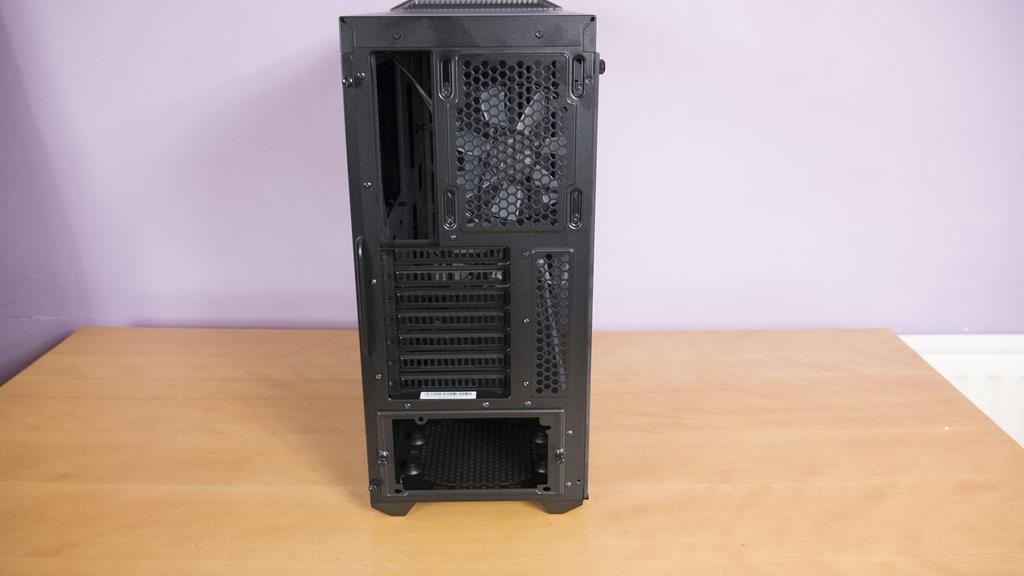 Nothing going on around the secondary side, let's keep it moving.
The bottom of the MB500 features 4 raised feet and a removable dust filter of the PSU air intake.
Across the top of the case is where users will find the front IO. This IO consists of power and reset buttons, 2x USB3.0 ports and the audio inputs.
Also on top of the case is a nice ventilation area where users can also mount a couple of fans or even an AIO CPU cooler.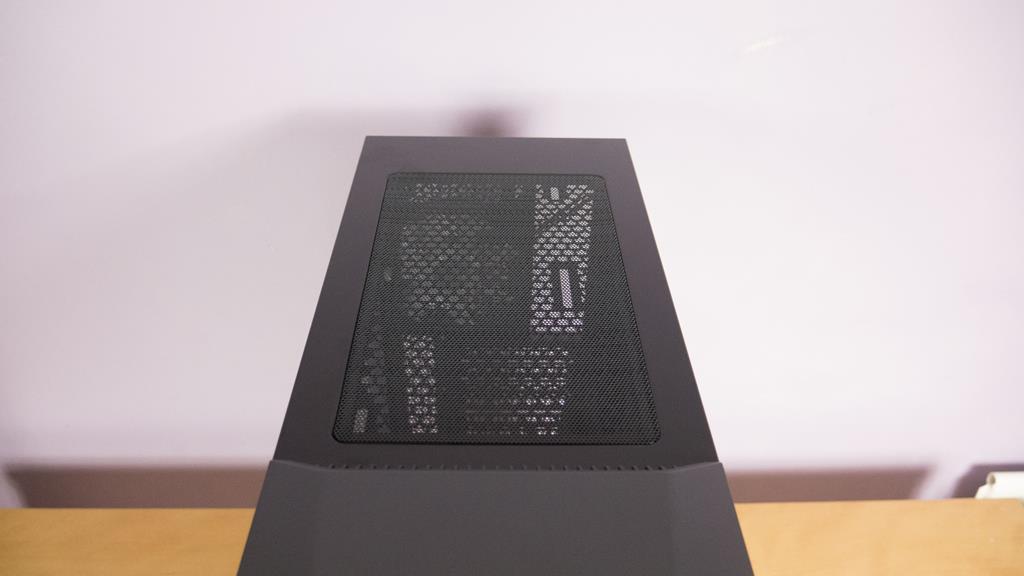 Taking the front off and we can see 2x preinstalled fans. There is also room for a third fan if need be. To remove the front, simply just pull it from the bottom and it should come off fairly easy.
Inside the case and there is plenty of room to have some fun. The front of the case can accommodate up to a 360mm radiator while there is also room for a GPU of up to 400mm inside the Masterbox MB500.
For those of you who like to show off your SSDs, the MB500 makes this seamlessly easy as there are 2x SSD drive bays on the front side of the motherboard tray towards the front. There are simply removed by undoing the thumbscrew and taking them out. Those of you who are looking to install a full custom water cooling loop, in this case, will like these as well as they are easy to take out and will leave you room to mount a reservoir.
For those of you looking to go with some air cooling for your PCU, you'll be happy to know you can fit a CPU cooler with a maximum height of 163mm which gives you plenty of room for most coolers. To help try and keeps things cool, Cooler Master has also gone and added a preinstalled exhaust fan which means the MasterBox MB500 comes with 3x preinstalled fans.
Around the back, we have space for a PSU up to 180mm in length and a pair of 3.5″ hard drive mounting bays. These bays can also mount 2.5″ drives so if you need more room for SSDS than the front two mounts worry not.
Final Build
The MB500 offers a lot of features that make it a great case to build in. As you will see, there is plenty of room for graphics cards and you can even fit massive CPU coolers inside it with ease. I didn't run into any issues when putting our test system in the MB500 and as you can see, cable management is easy thanks to all the passthrough holes. PSU shrouds are now seen in almost every case these days and we can easily see why. They allow you to be left with a much cleaner build as they hide all those dirty cables!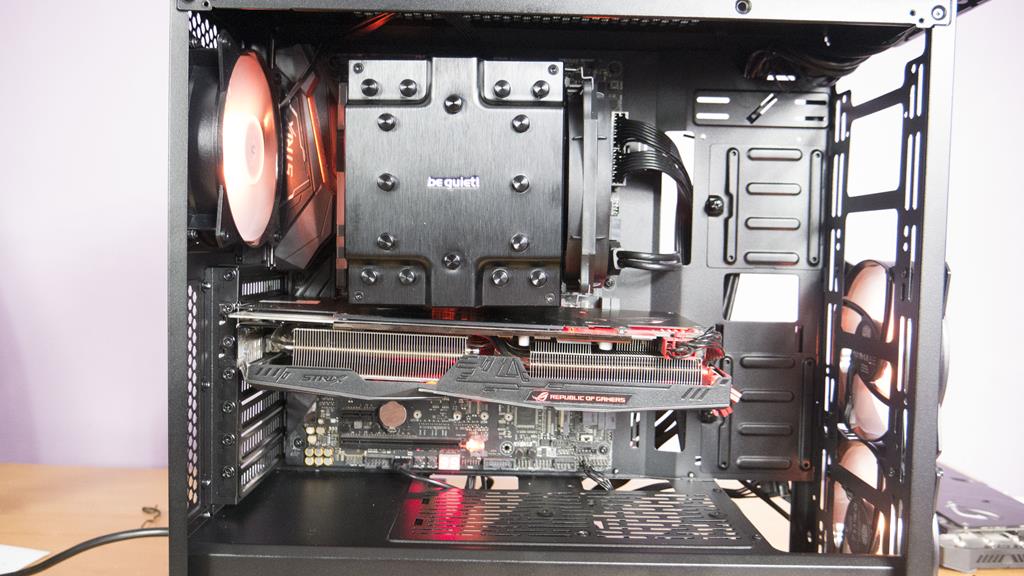 Conclusion
Performance and design
The MB500 is designed to offer compatibility with a plethora of cooling and hardware options. Whether you are looking to go full out water cooling or, are maybe just looking for a big and beasty air cooler, the MB500 has you covered. Coming equipped with 3x preinstalled fans, CoolerMaster is trying to make sure users are going to be able to keep their components cool and running at maximum spec with ease. With plenty of room for some of the longest GPUs out there, the MB500 really wants you to go all out with your build. The external aesthetic of the case isn't just your normal rectangle case either. While it's not overly crazy, it does add a bit of flair to the overall build. The only real thing this case is lacking is more hard drive bays. While you can fit a total of 4x 2.5″ drives in the MB500, you can only fit 2x 3.5″ drives which may not be suitable for all users so just be wary of this. Aside from that, the MB500 doesn't have any other shortcomings for a case in this price range. While it would have been nice to see the passthrough holes feature rubber grommets, it's easy to see why they chose not to at this price point.
Value
Coming in at around £65 here in The U.K. at the time of review, the MB500 is a great low/mid-range budget gaming case. With plenty of room for components and cooling, CoolerMaster has shown us you don't need to spend a ridiculous amount of money on your case. The MB500 will be more than suitable for most users looking to upgrade or start a new build. The 3x preinstalled fans also speak on how much CoolerMaster wanted to offer their customs a great case at a decent price!
Many thanks to CoolerMaster for sending in a sample of their MB500.