Cases are essentially homes for all your components as they 'house' everything inside them. When it comes to picking a case, this is normally something I do last when it comes to a new build. The reason being is that I want to make sure everything I will be using will fit and sometimes it's fun to build in different size cases. While I prefer massive full-size ATX cases, there is no denying that manufacturers have started to create some amazing smaller cases for the M-ATX and M-ITX form factors. One of the things that are always nice to see is what options cases will offer, what type of cooling is support? Are the drive bays removable? Does it have an inverted motherboard tray? There are so many things to think of and choose from when it comes to picking the case that is right for you that you can literally get a headache from it at times. While more choice is ultimately a great thing, it can make it hard to pinpoint your favourite from the crowd.
Today we will be taking a look at the Cooler Master MaterCase Pro 5. The MasterCase series features a modular concept that is designed to let users have as much control of the customization of their case as possible. The MasterCase Pro 5 sits atop the series and offers a plethora of features that we will check out here in a bit. The MasterCase series are full-size ATX cases and can accommodate a modest amount of hardware and feature plenty of cooling options. The pro model, as we will see soon, also has a nice big window on the main side panel that has a little trick up its sleeve.
Specifications
Model
MasterCase 5
MasterCase Pro 5
P/N
MCX-0005-KKN00
MCY-005P-KWN00

Available Color

Dark metallic grey exterior with black interior

Materials

SECC, Plastic

Weight

10.6 kg/23.4 lbs

10.7 kg/23.6 lbs

Size (LxWxH)

All

512(L) x 235(W) x 548(H) mm
512(L) x 235(W) x 548(H) mm

Body

460(L) x 235(W) x 460(H) mm
460(L) x 235(W) x 460(H) mm

Mother Board Support

ATX, m-ATX, M-ITX

ATX, m-ATX, M-ITX

Expansion Slots

7

7

Drive Bay

5.25″ ODD

2

2

3.5″ HDD

2

5

2.5″ SSD

2+2

2+5

Electronics

I/O port

U3 x2, Audio

U3 x2, Audio

Fan speed control

N/A

N/A

Pre-install fans

Front

140mm x1

140mm x2

Top

N/A

N/A

Rear

140mm x1

140mm x1

Fan Support

Front

120/140mm x3

120/140mm x3

Top

120/140mm x2

120/140mm x2

Rear

120/140mm x1

120/140mm x1

Water Cooling
Support

Front

240/280mm radiator, up to 40mm thickness without fan

240/280mm radiator, up to 40mm thickness without fan

Top

N/A

240mm radiator, up to 40mm thickness without fan

Rear

120/140mm

120/140mm

CPU Air Cooling Support

190mm/7.5inches

190mm/7.5inches

VGA Card Support

w/ 3.5″ HDD Cage

296mm/11.7inches

296mm/11.7inches

w/o 3.5″ HDD Cage

412mm/16.2inches

412mm/16.2inches

Cable Management

25mm

25mm

Dust Filters

Front/Top/Bottom

Front/Top/Bottom

Power Supply Type

Bottom Mount, ATX PS2

Remark

No Top Cover
No Front Door
W/ Top Cover
Top Water Bracket
Side Window

Product Sheet Download

 MasterCase 5
 MasterCase Pro 5

Manual Download

 MasterCase 5
 MasterCase Pro 5
One of the first things you will be greeted with when you open the box is the user manual. It is attached to very thick and sturdy styrofoam that keeps the MasterCase 5 safe during transit.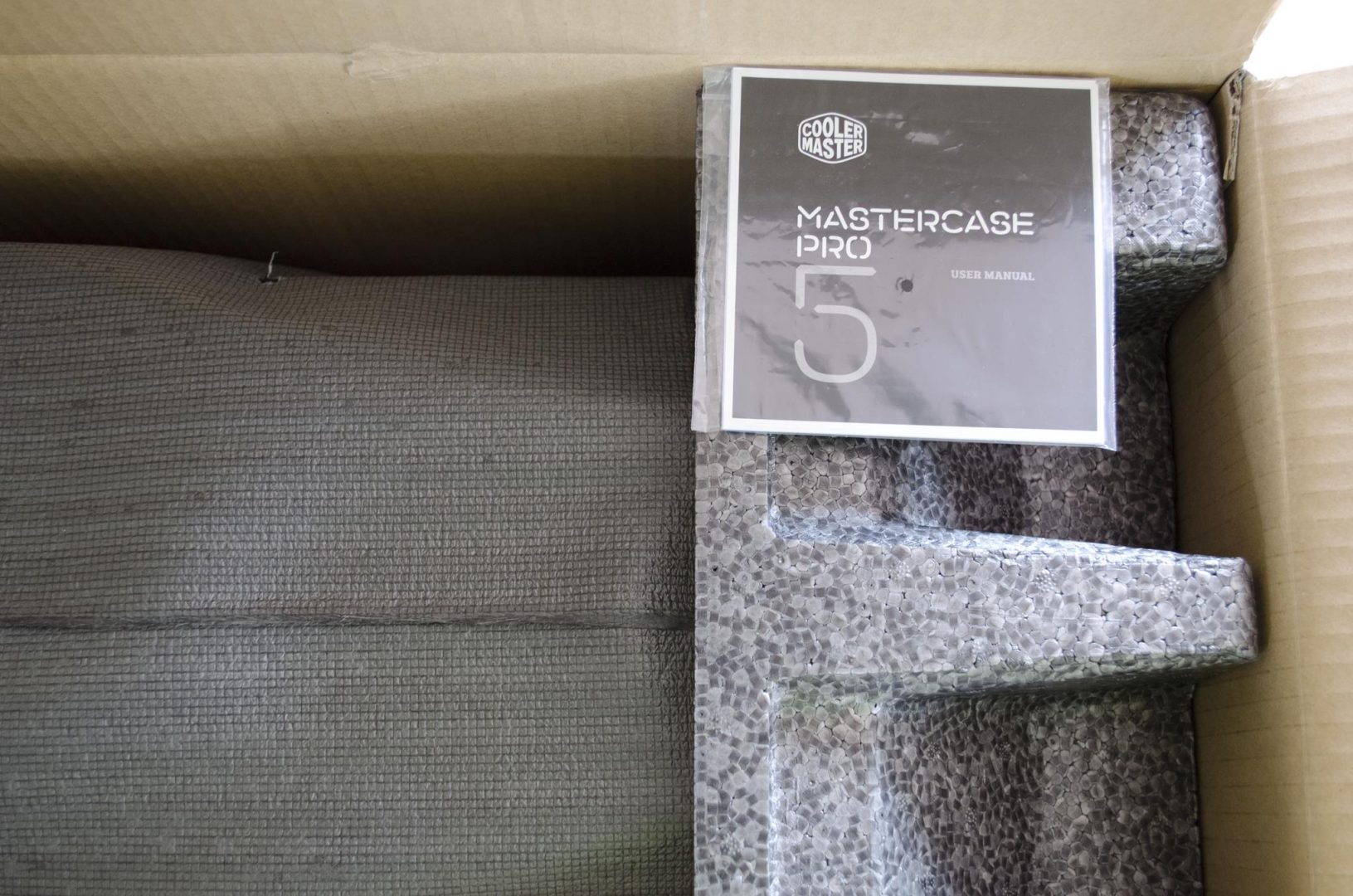 Tucked away inside one of the 3.5″ hard drive bays is a nice little accessories box. Here, we have all the screws we will need to get everything installed into the case, which includes the motherboard standoffs. There are also some zip ties and other cable management accessories as well as three 3-min to 4-pin molex converters so if your motherboard doesn't have many 3-pin fan headers, you can hook the 3x pre-installed fans up to your PSU via 4-pin molex.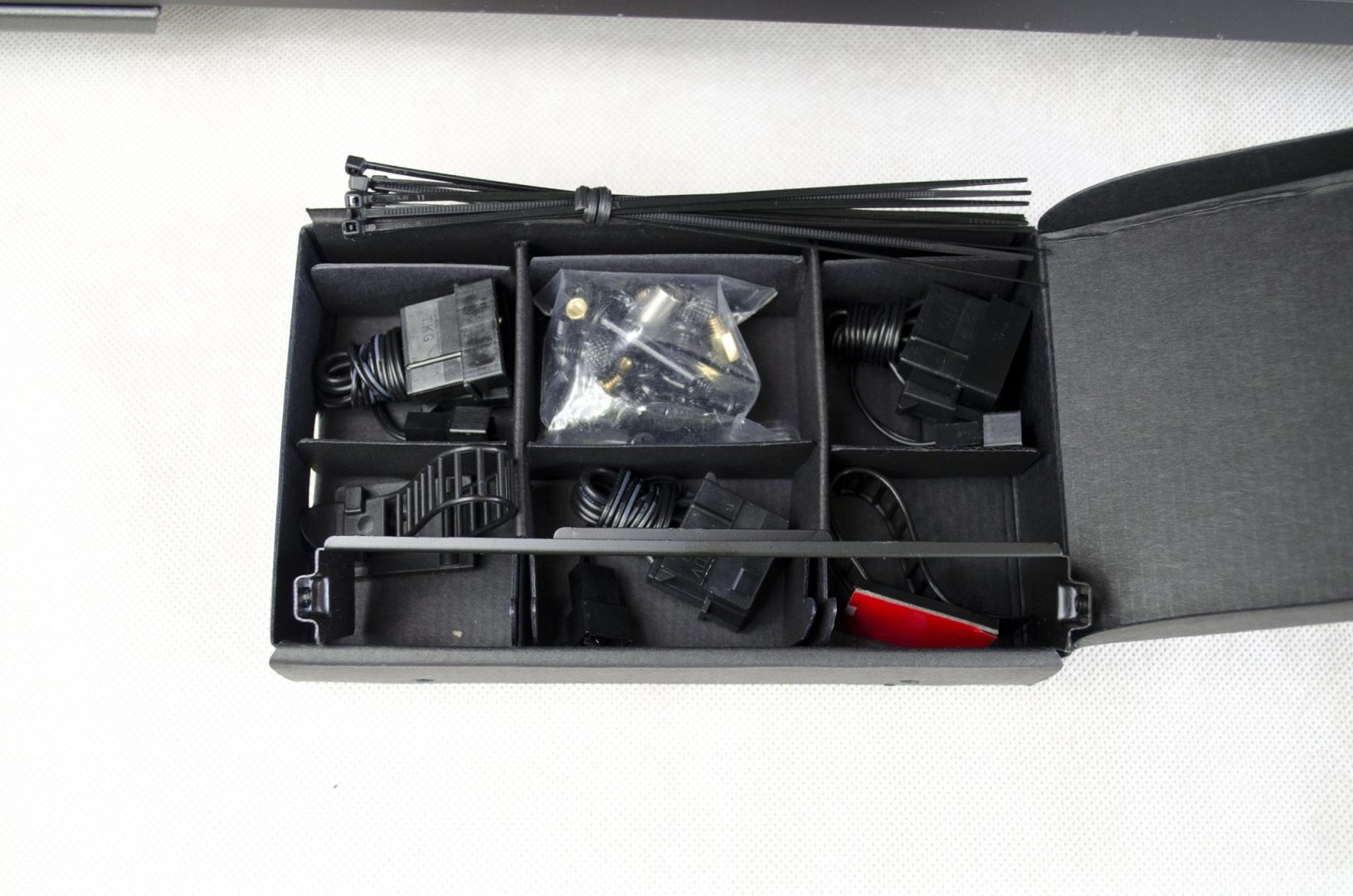 The front of the MasterCase Pro 5 features a nice mesh design to it. There are 2x 5.25″ drive bays at the top for all your optical or bay reservoir needs. the whole piece below the 5.25″ drive bays is actually removable by pulling from the bottom and allows users access to the 2x include front exhaust fans, this way you can change them or throw a 240/280mm radiator in there if you want to take the water cooling route.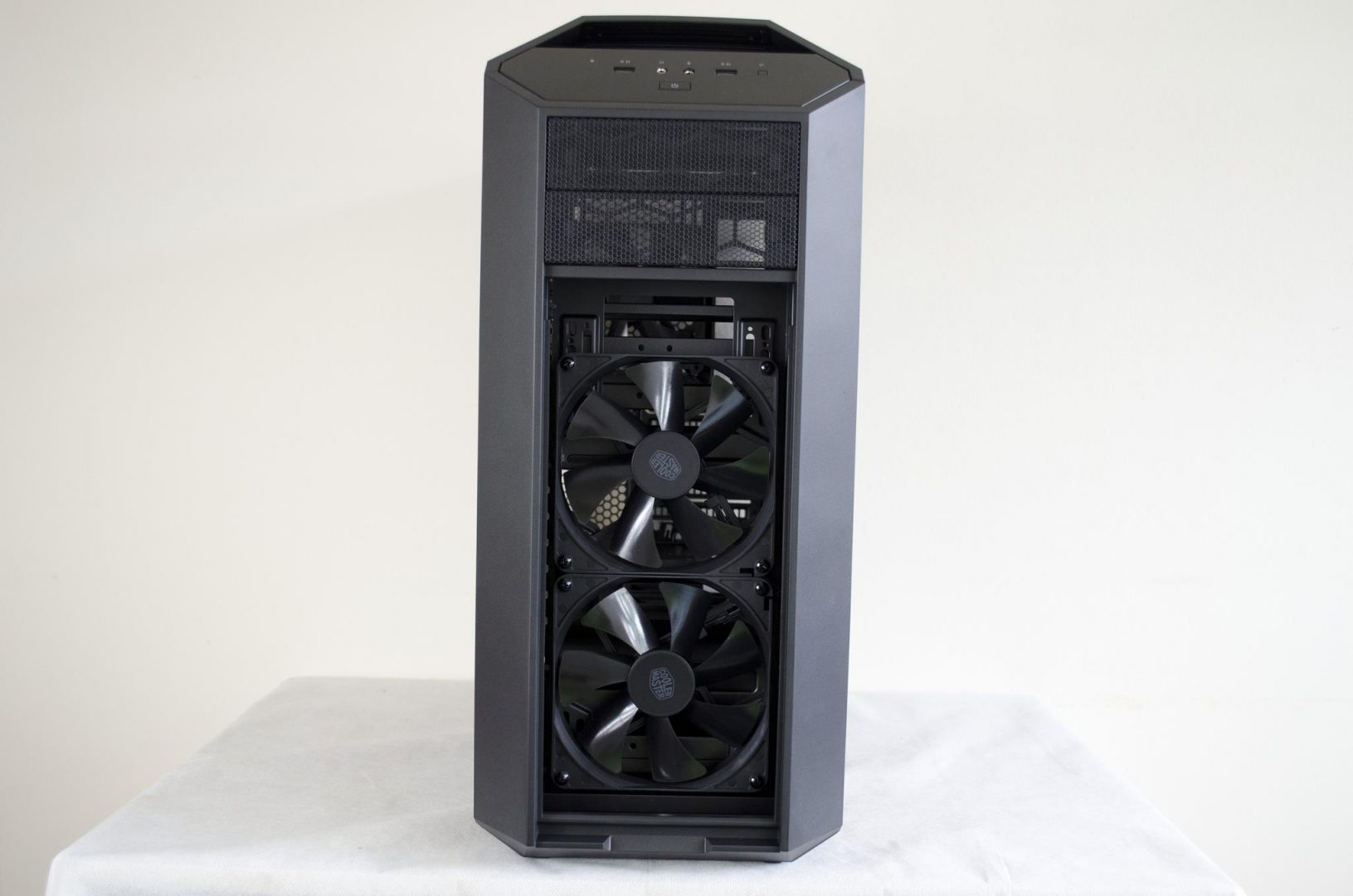 As mentioned, there is a massive window on the main side panel. If you look closely at the bottom of it, you will notice there is a black strip across the whole length of it. This was that little surprise I was on about, this is designed to hide the PSU cables and a pair of 3.5″ hard drive bays, but it can also be easily removed and changed, or, if you desire, you could mod it to cut out some lettering and add some LEDs for a nice effect.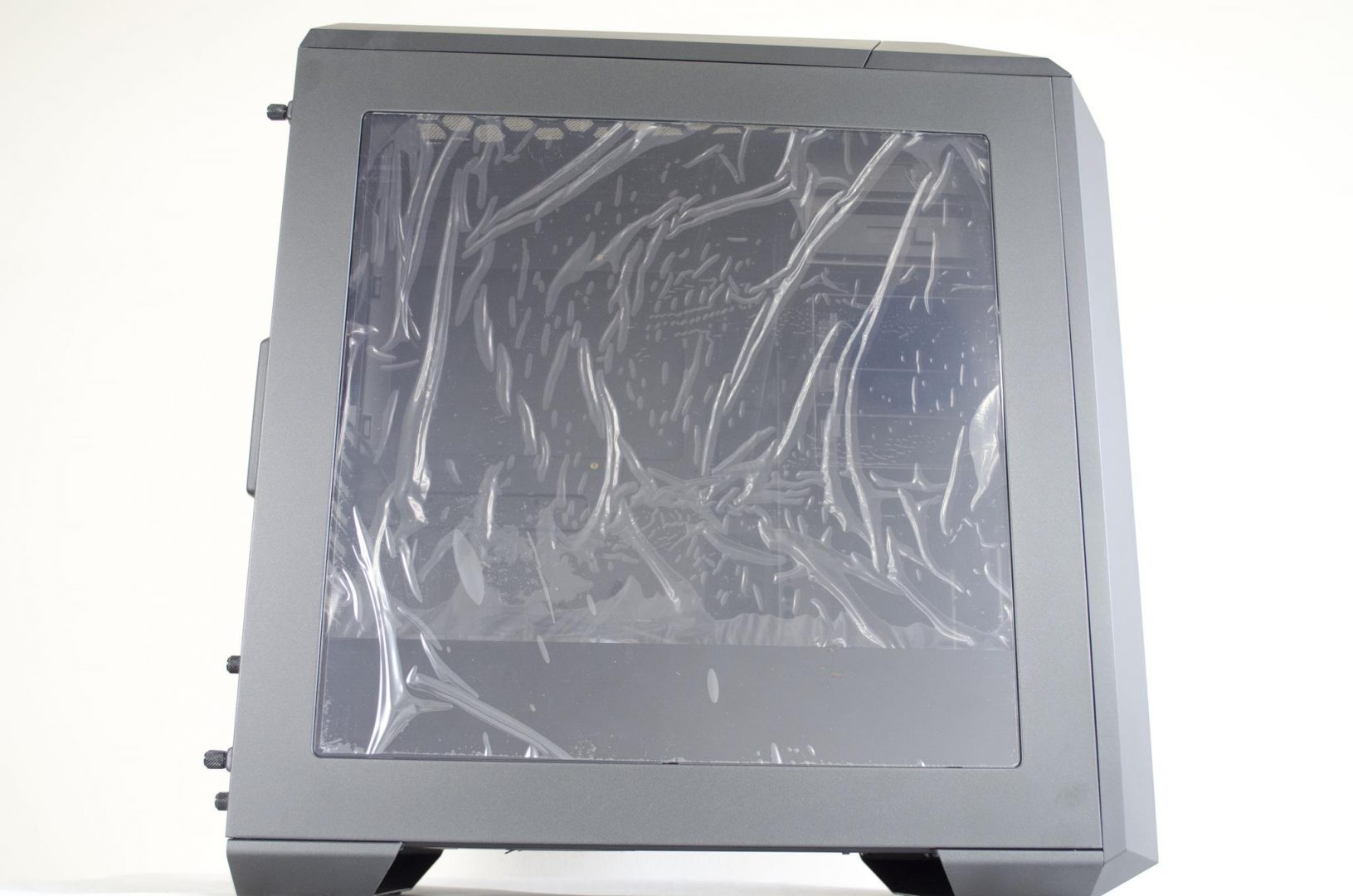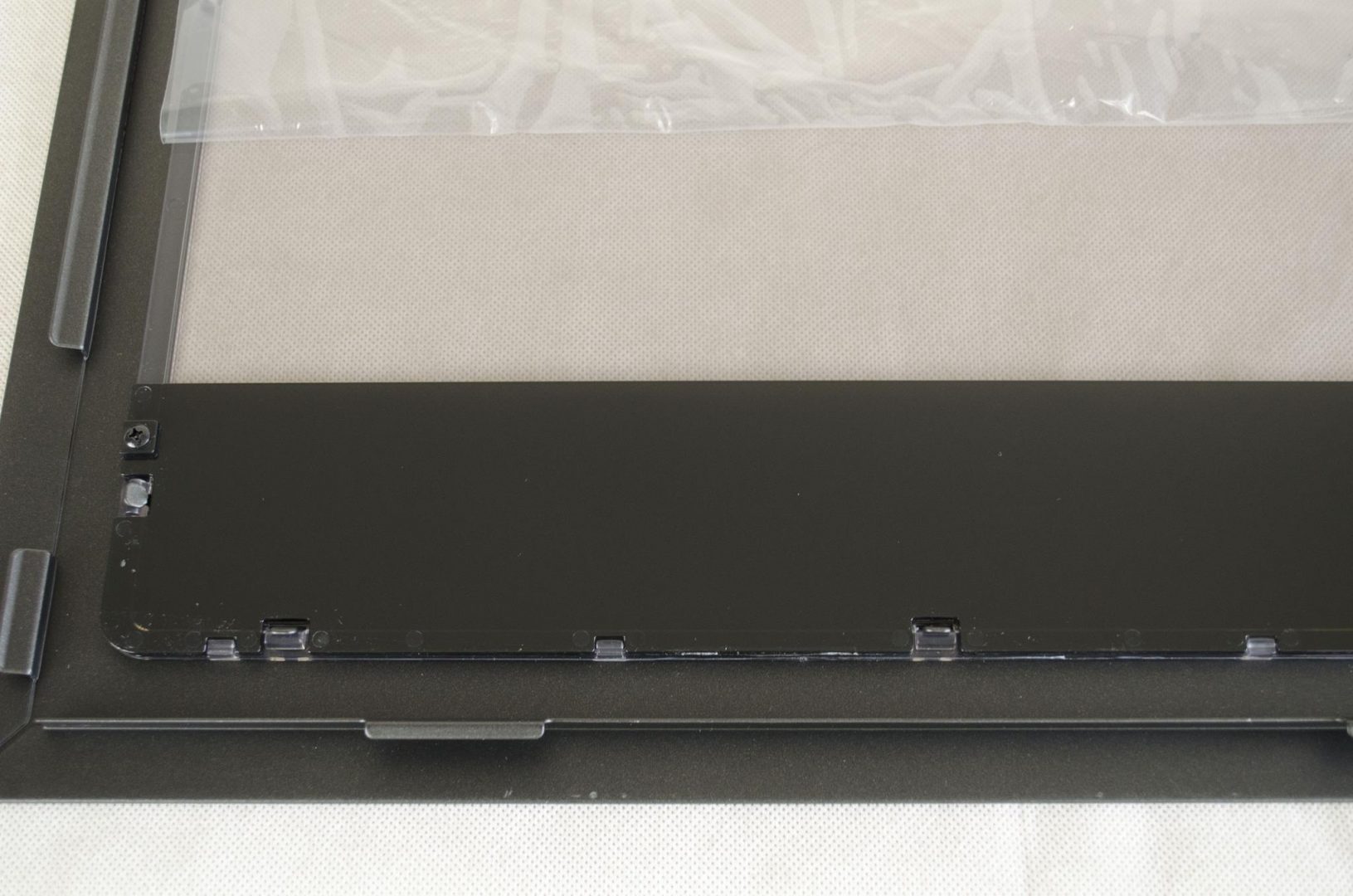 The other side panel is plain black and as you can see, does a great job of hiding all those nasty cables behind it!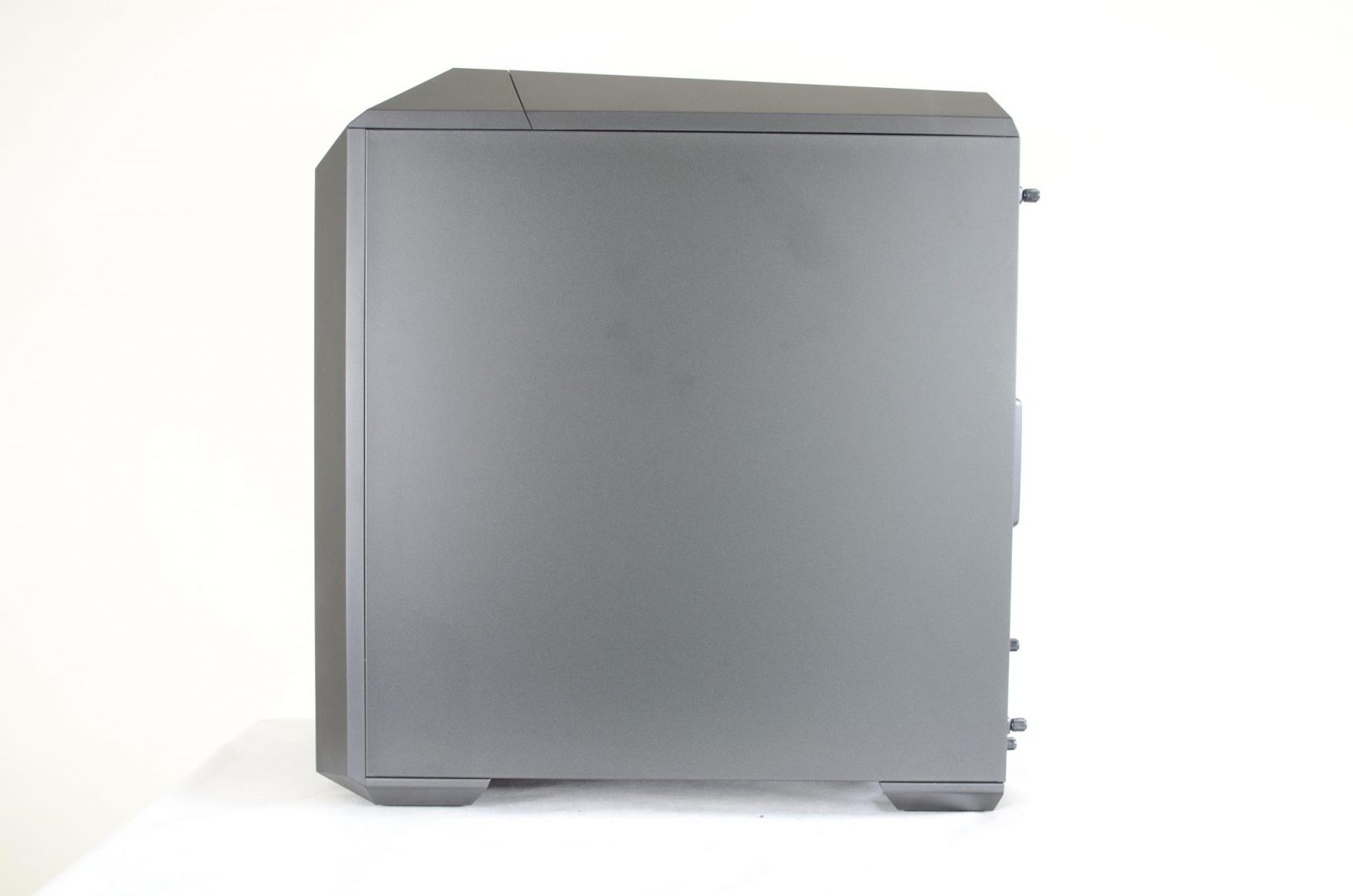 The front IO consists of power and reset buttons, 2x USB 3.0 ports, and the mic/headphone audio inputs
The top of the MasterCase Pro 5 also features a nice ventilated area. This piece is easily removable by sliding it towards the back of the case and then it reveals the top mounts for fans and radiators (none included here) It can accommodate 2x 120m or 140mm fans or a 240mm radiator. The reason, for those who may not know, of why it can't take a 280mm radiator but it can take 2x 140mm fans, is, while the radiator is measured at 280mm, there will be a bit of an extra piece on one side where the tubes connect, hence making it a bit longer than the 280mm as stated.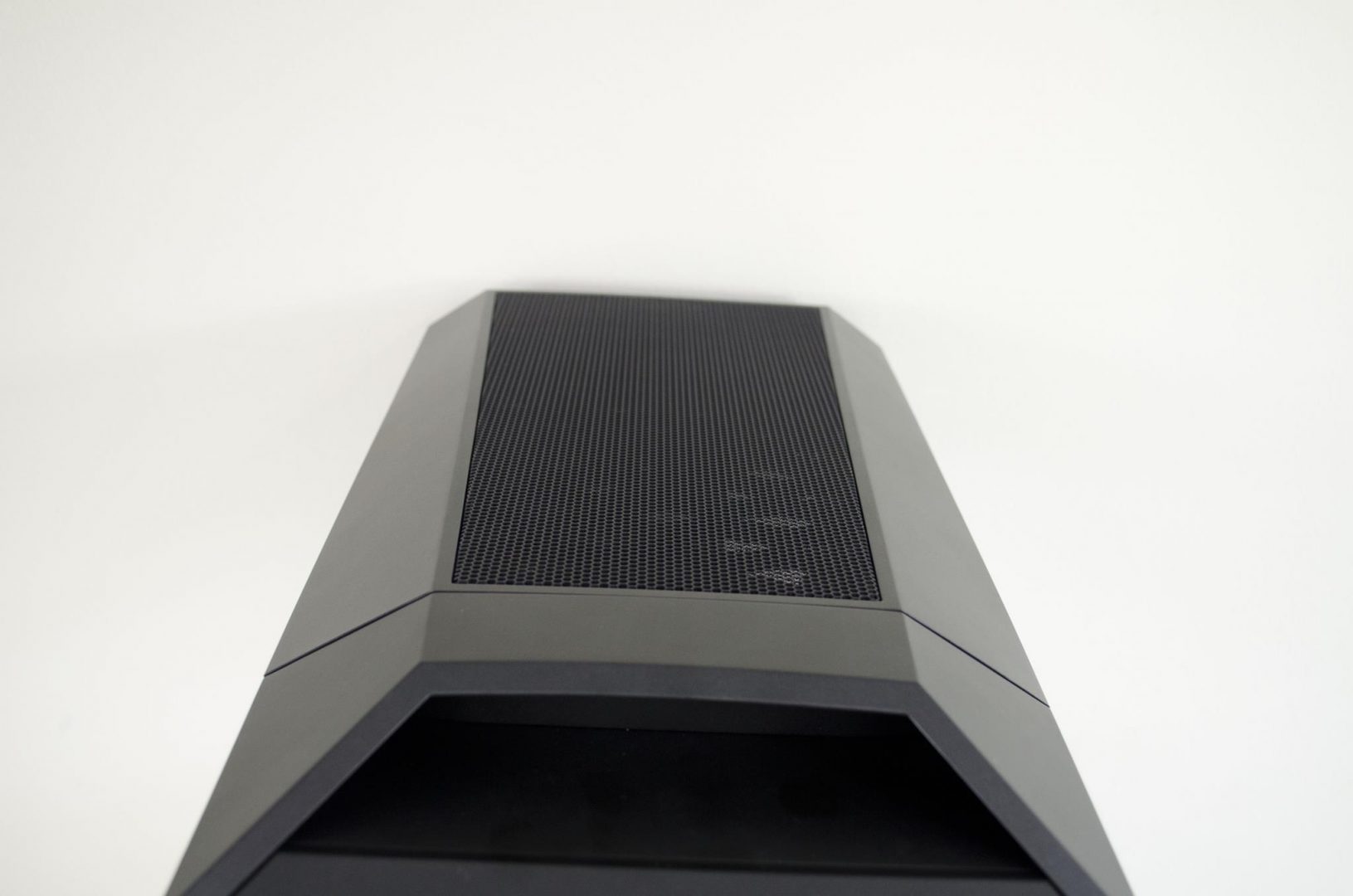 The top fan mounts can also easily be removed by undoing the thumb screws. This goes with the modular nature of the case and just allows users an easier chance at playing around and trying to make the case theirs as much as possible.
The back of the MasterCase Pro 5 is fairly standard. There are the 7x PCI expansion bays right below the motherboard's rear IO panel cutout. One thing that isn't seen in all cases is to mount the PSU, you actually need to remove the bracket VIA the 4x thumbscrews, secure it to the PSU then put the PSU back into the case and secure the bracket back to the case. This is more so seen with cases that have some sort of PSU shroud/cover pre-installed as it is supposed to make it a bit easier to install the PSU this way.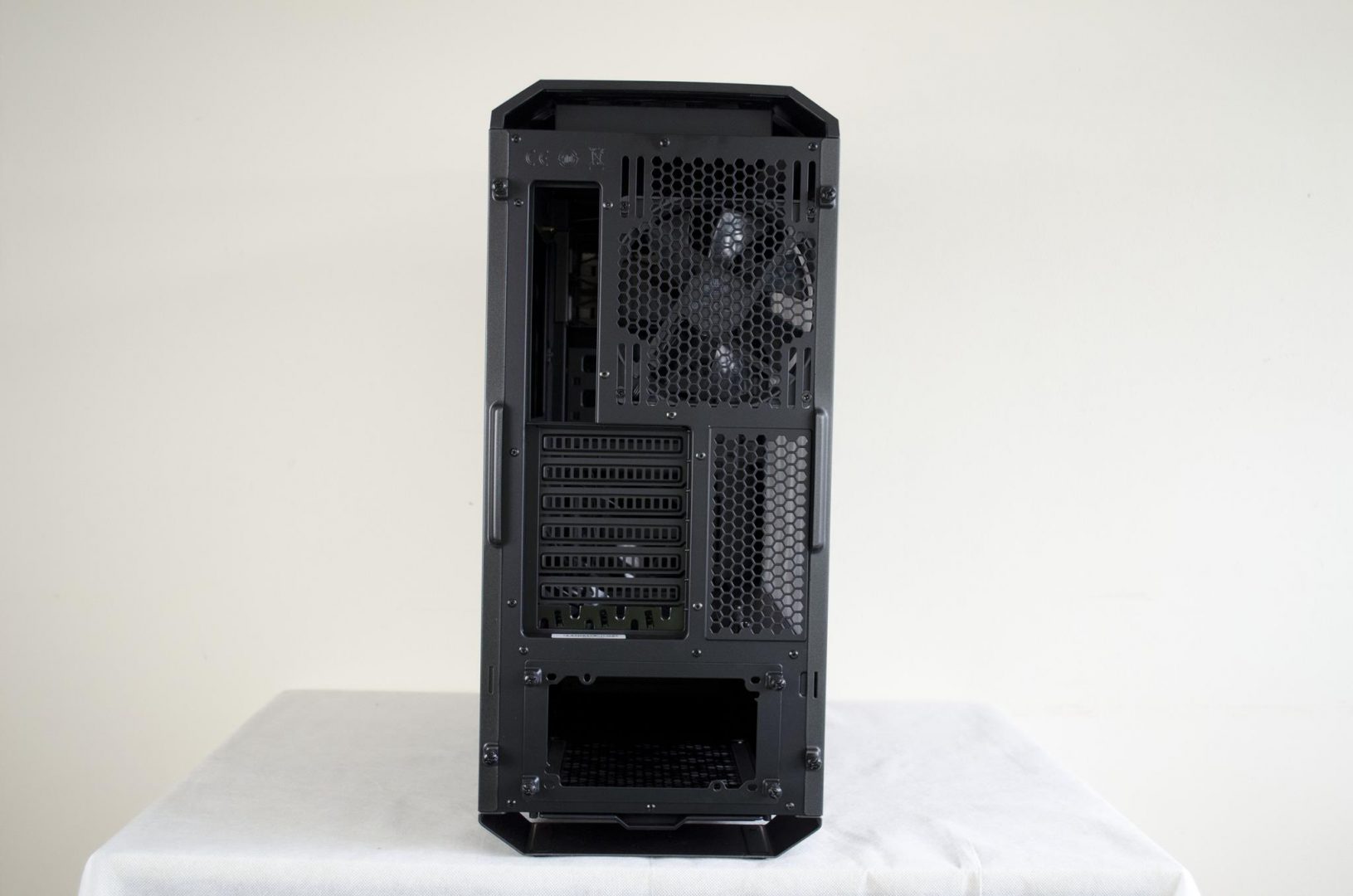 As we would have hoped, there is a nice and easily removable dust filter below the PSU to help keep things on the inside of the case nice and clean and as dust free as possible.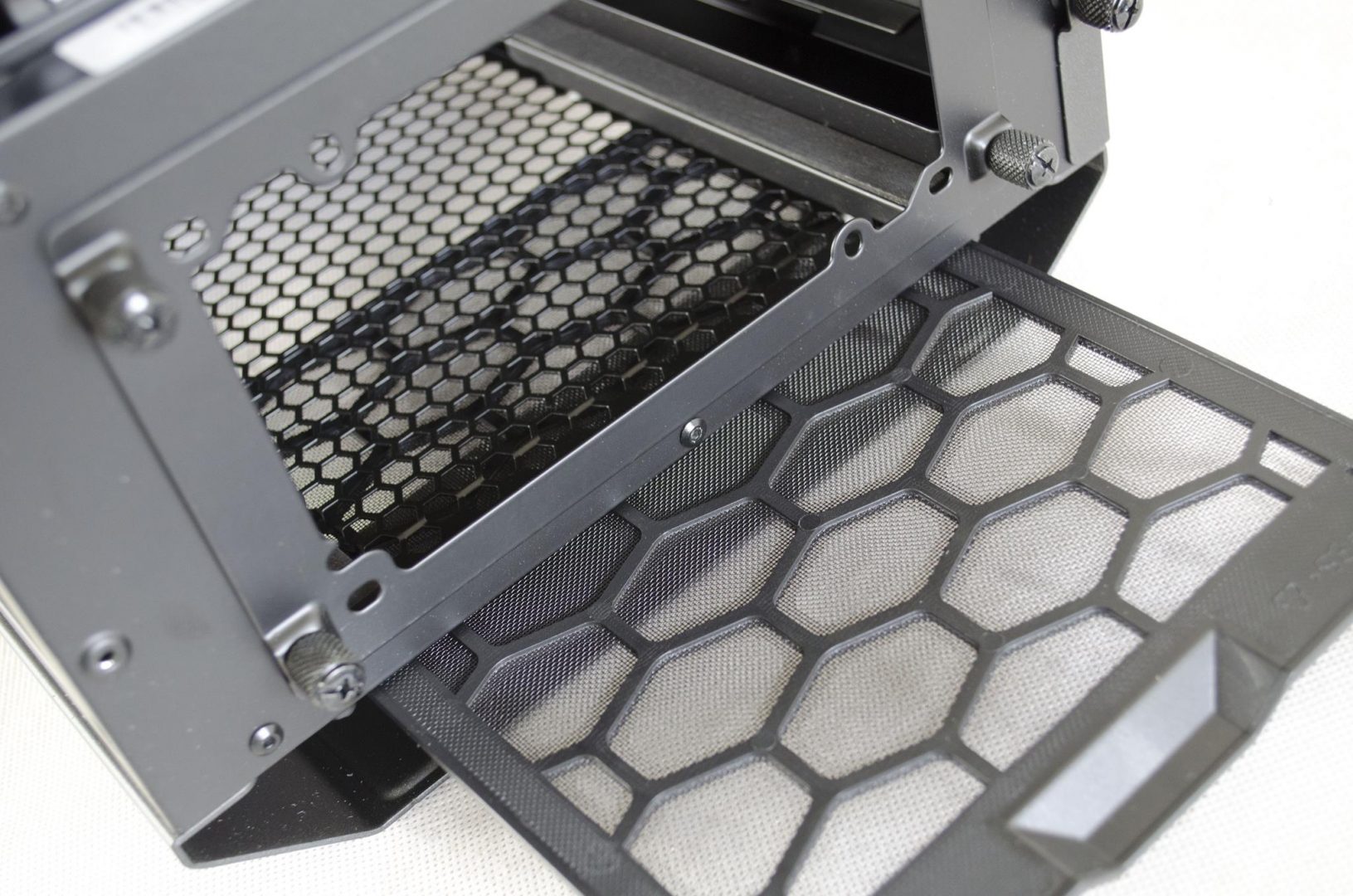 On the bottom, there are two fairly big feet, each with two non-slip pads on them. We can also get a look at the PSU's dust filter.
Interior
The inside of the case as where things really start to get fun, at least for me. There is just so much going on it that it's hard to know where to get started. My favourite part of the case is, hands down, the PSU cover/floor at the bottom that hides the PSU and all the cables! This is something similar to what we have seen a few other manufacturers do with their cases, but, of course, this is Cooler Masters take on it. This floor also has two holes with grommets for routing cables to the bottom of the motherboard and GPU, as well as two very unique SSD mounts.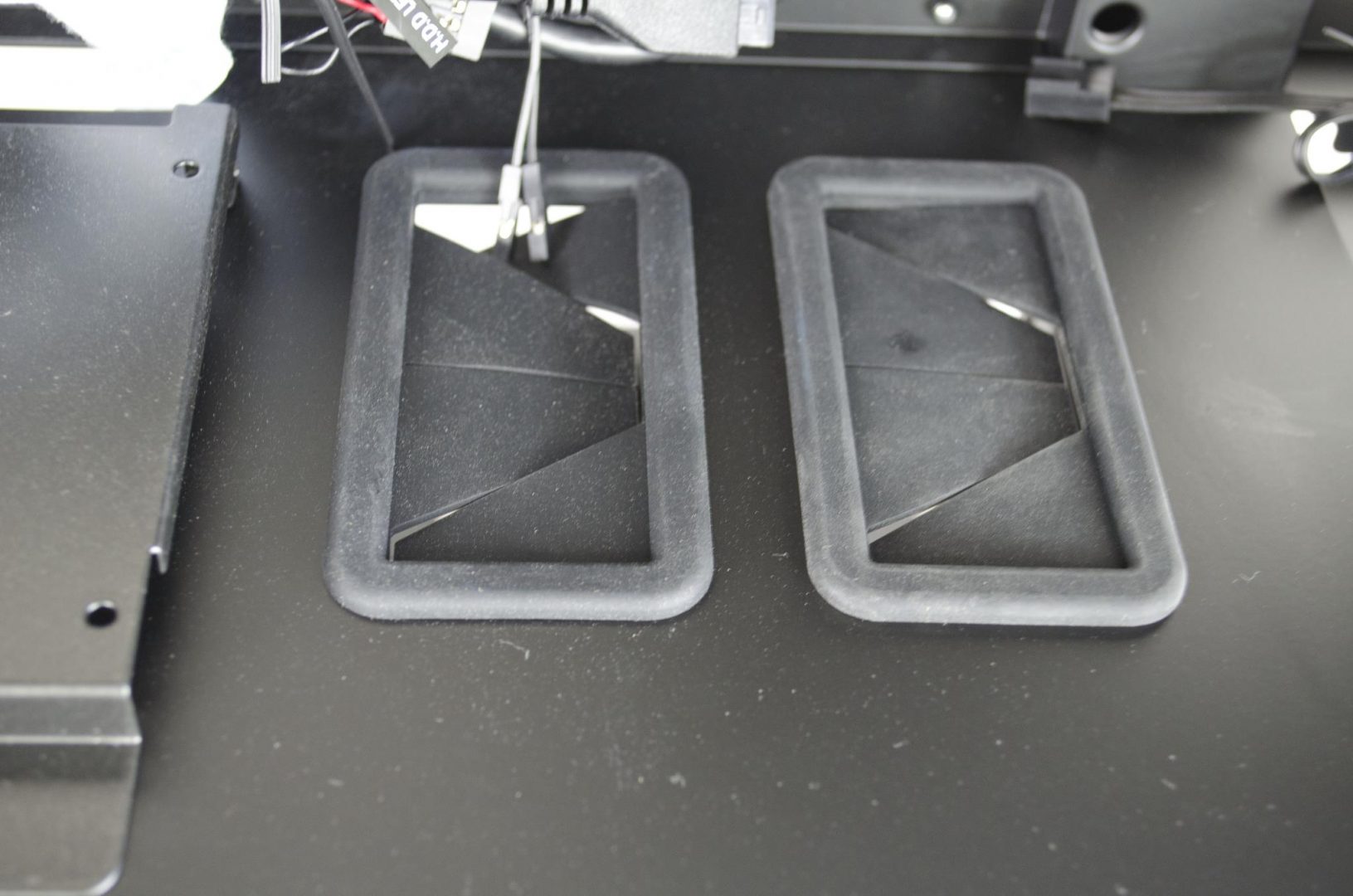 Here we have a pair of SSD/2.5″ hard drive mounts. While they look like normal mounts, they have a nice hidden feature to them! You can either mount the hard drives on top as I have in the final build image or, you can actually slot your SSD inside them so it can't be seen at all. Yet again, Cooler Master is trying to give their customers as many options as possible.
Taking a quick look at the radiator/fan mounting in the top of the case and we can see it actually pops out the top of the case a bit, this will allow for more clearance on things such as motherboard heatsinks without having to worry about fans getting in the way.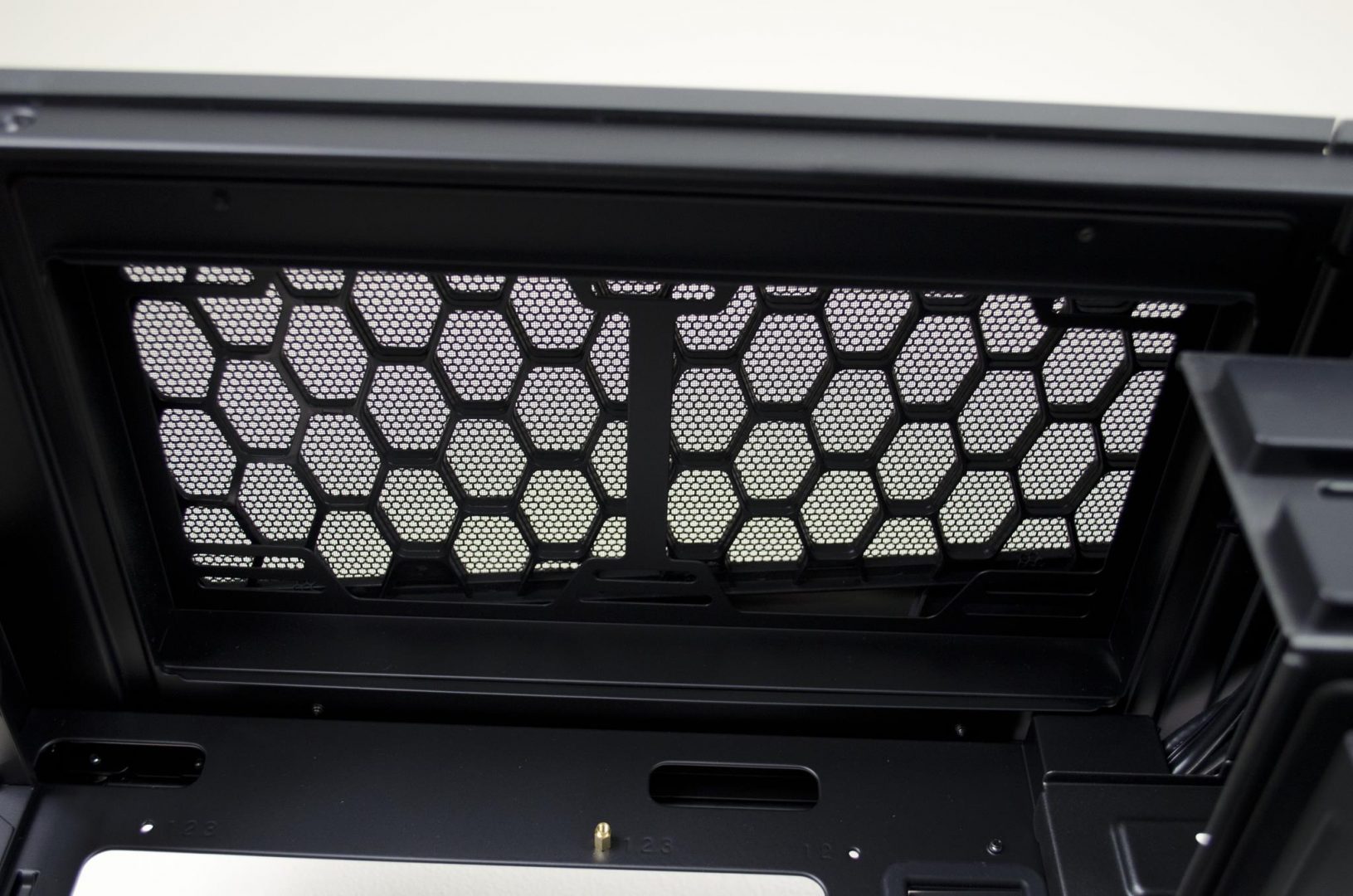 The rear exhaust is our third and final pre-installed fan. One of the nice things about this is thanks to the mounting, it can actually be slid up or down and positioned in a number of places. Again, this just helps give more clearance and room depending on what hardware you want to install inside the case. We can also see the MASSIVE cutout for installing CPU coolers without a need for taking the motherboard out of the case.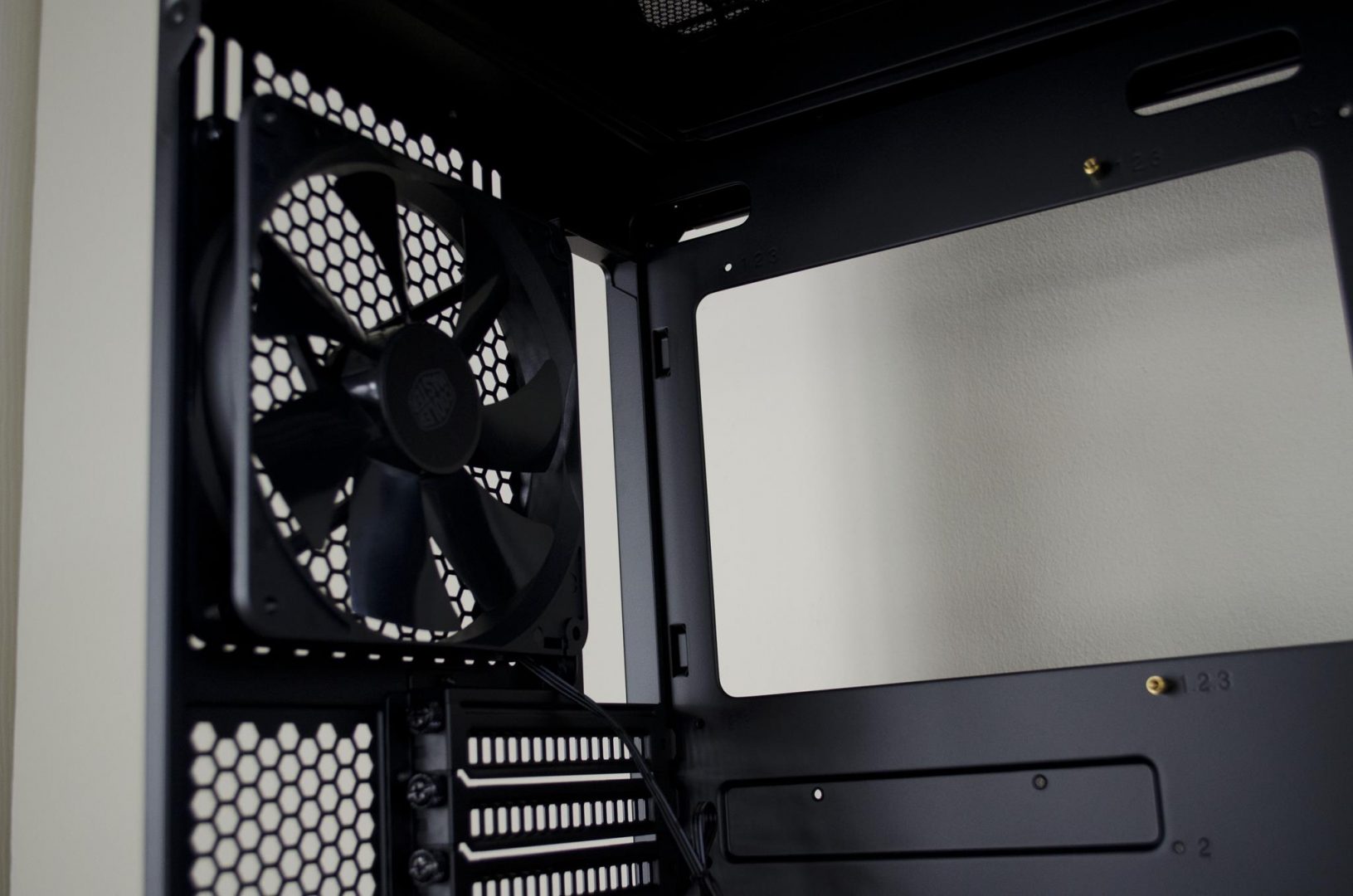 As we saw from the front, there are 2x 5.25 drive bays. Directly below these are 3x 3.5″ hard drive bays, which can also take 2.5″ hard drives. Again, Cooler Master had their thinking caps on and both of these drive cages are easily removed from the case if you do not require them. This would allow users room for a nice tall reservoir, longer GPUs or what have you! At this point, there is no denying that Cooler Master has done their best to make this case as easily customizable as possible.
Cooler Master have gone ahead and hidden 2x 3.5″ hard drive bays under the floor of the case. Why? Well, I would imagine it's so users can throw a couple of storage drives down there without having them on display. Some may want to remove the upper drive bays for aesthetics or functional reasons but may still require a couple of drive be installed. As you will see by the thumb screws, this drive cage is also easily removed if you so desire.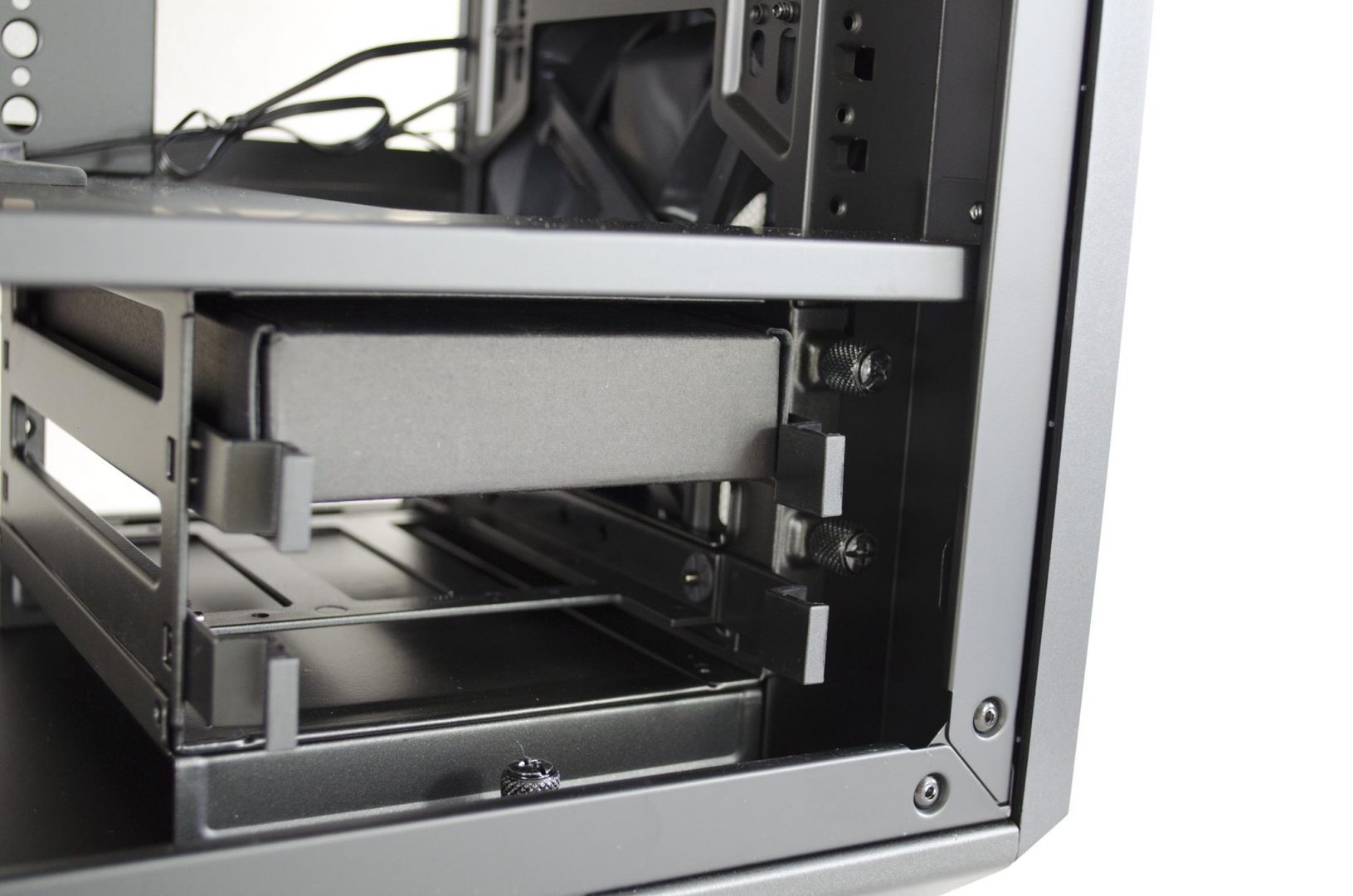 Users will notice that not all the motherboard standoffs come pre-installed. This is because the MasterCase Pro 5 is meant to accommodate a few different form factors. However, Cooler Master have included a nice legend so users will know which holes they will need to install standoffs in depending on the size of the motherboard they are planning on using.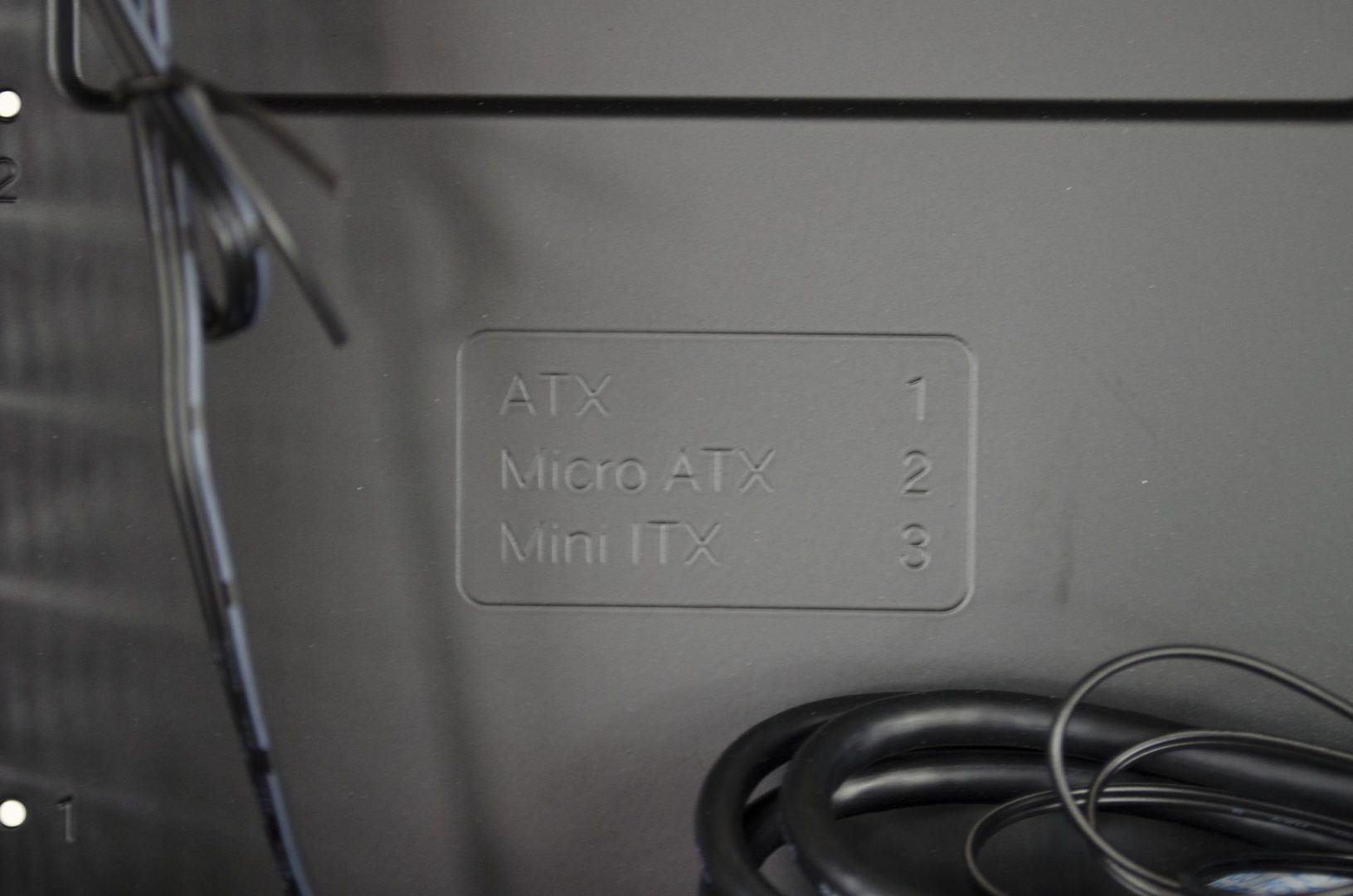 On the backside of the motherboard tray, there is a bit going one. The first thing I noticed was the straps that are already in place and holding cables out of the way. Upon closer inspection I realized the cables are actually inserted into a little slot on the motherboard tray which not only helps keep them out of the way, it should allow for more cables behind the motherboard tray with less mess.
Here is a quick shot of under the flow from the backside, just for fun!
The MasterCase Pro 5 not only has some great cable management options, it also has a mass amount of room behind the motherboard tray, as you can see in the image below, there is around 20mm of room between the motherboard tray and where the side panel will be, absolutely amazing!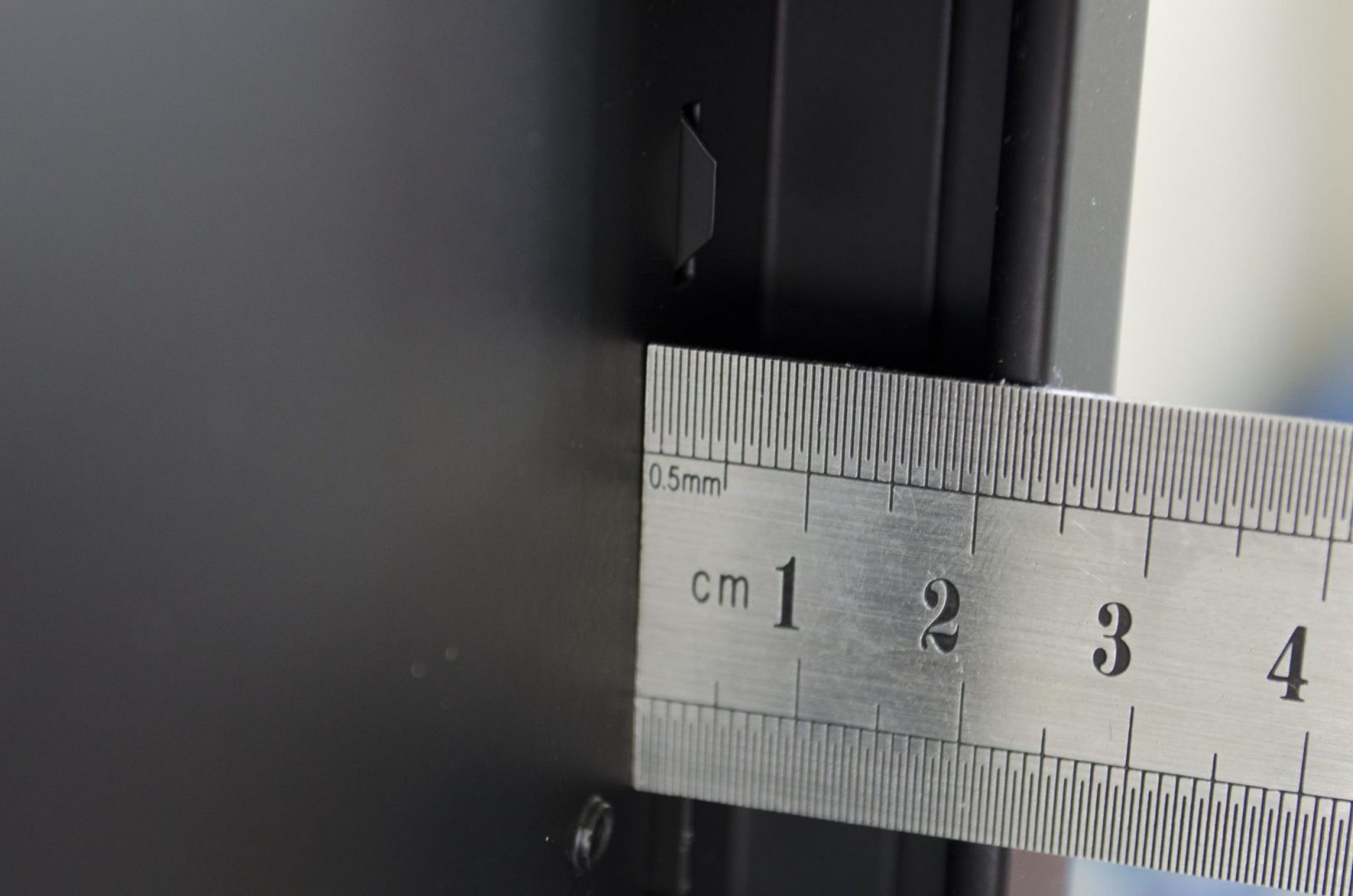 Motherboard: MSI X99s SLI PLUS
Processor: Intel i7 5820K
Ram: 16GB (2x8GB) Crucial Ballistix Sport  2400Mhz
SSD: 2x HyperX Fury 120GB SSD's
PSU: be quiet! Straight Power 10 600w
CPU Cooler: be quiet! dark Rock 3
Case: Cooler Master MasterCase Pro 5
Monitor: Ben Q XL2730z
If you've read any of this review so far, you will have noticed that this case should be very easy to build in and it was! there is plenty enough room for everything and I didn't run into any problems what so ever. Cooler Master really did do a good job at thinking of just about everything one would need to have an enjoyable experience when building in this case. Now, I may only have a fairly standard air cooled system, but this has been the easiest case for me to cable manage ever!, Yes, those who know me know I don't tend to worry or go over the top with cable management, but with the MasterCase Pro 5 it is so easy that I couldn't resist having a very tidy build once I was done.
I like how everything is on display as well, it all just looks nice and goes together perfectly in my opinion. The two SSD mounts with cutouts behind them for cable management and the two grommets to the right for the GPU cable management are a real treat. As far as cable managing goes, I don't see how it can get much easier than this case, everything is just already there, laid out and set up for you to have an easy and great time building inside the MasterCase Pro 5.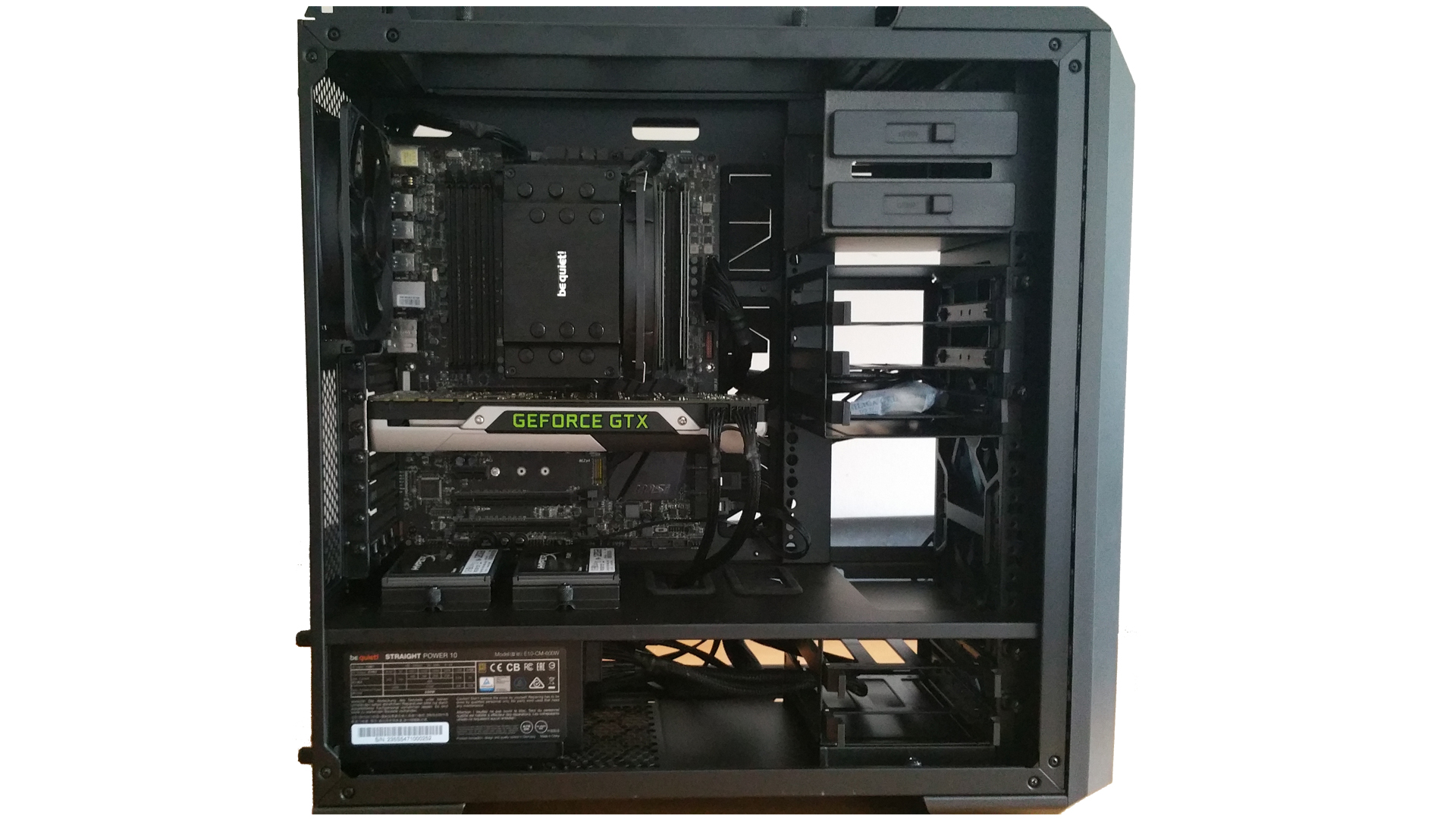 Well, the time has come, another review to wrap up and thankfully, it was a good product. The Cooler Master MasterCase 5 definitely has loads of options and features to offer and is one of the most easily customizable cases I have ever seen. Cooler Master really outdid themselves with this case and it shows!
Performance
The MasterCase Pro 5 is designed to over amazing performance and functionality, which it does. Not only is there a decent amount of cooling support, for both air and water, things like having all the drive bays be easily removable also aids in the performance it has to offer as a whole. The MasterCase Pro 5 comes with 3x pre-installed fans, 2 intake and 1 exhaust which will do a great job at keeping most, more standard systems well within acceptable temperatures. However, as mentioned, there is room for more fans and cooling if need be. Having the PSU cover/floor also allows for a better and smoother airflow throughout the case which, of course, will equate to better performance as well.
Design
Cooler Master did a great job with this case and it is evident that they spent a great deal of time on the drawing board when it came to designing the MasterCase series. The Pro 5 model, as we saw in today's review, is jam packed with features and options that offer both functionality and a pleasing aesthetic. The case itself is highly customizable and what's even better is the fact that most things can be taking out by undoing a couple of thumb screws.  Small things, such as the removable piece of black plexiglass on the main side panel window are among some of the features that really help make the MasterCase Pro 5 stand out from the others.
Value
The Cooler Master MasterCase Pro 5 comes in at around £120 here in the UK which is a fairly decent price for all that is on offer. The MasterCase Pro 5 gives users a chance at having an amazing looking build with minimal effort. Or, if you like to customize and mod your case and builds, it is more than ready for you to add your own personal touch to it. For the price, you are getting a case that offers plenty of options and will have you feeling like you have just built your best PC yet, once you've built in it, you will wonder why you didn't get one sooner!
When all is said and done, the MasterCase Pro 5 offers everything we could want from a case of this size and price range without going overboard. It has plenty of features and customization options available and won't let you down. Should you decide to purchase one, I don't think you will be disappointed at all!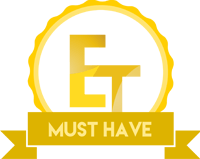 Thanks to Cooler Master UK for sending their MasterCase Pro 5 in for review!