Introduction
Manufacturer: Raijintek
Product Page: Raijintek.com
Purchase: £74.99 over at OVERCLOCKERS UK
With the aim of designing high-end products for Lifestyle, Computer, and Day-to-Day usage, RAIJINTEK was established in 2013 to accomplish the future of IT and Lifestyle products. This task and aim lead us to grow and toward a global brand. Not only highly recommended IT products but we also provide Gaming Gear such as Chassis, PSU's and Lifestyle products for Smartphones and all your tablet PCs. Fully dedicated to developing the best Products for global users, RAIJINTEK's R&D team never forgets the aim to provide a friendly and performing product. Decades of experience in the industry, RAIJINTEK management would never give up service and product quality to value customers. Alliances with strong partners and global suppliers, RAIJINTEK is able to achieve its aim – the future of IT and Lifestyle products for all valuable customers.
Today we are taking a look at one of Raijintek's flagship RBW AIOs the Raijintek EOS 360. This is a new entry into Raijintek's growing line of RBW RGB products and this time around the EOS 360 is firmly pointed at enthusiast and performance users. Coming in at a full 410x120x29mm size including the pump on the end of the radiator makes this one impressive looking and well-performing cooler. This is my first look at an All In One cooling solution outside the Asetek Eco-System where you have the pump built into the water block itself. Let's dive in and take a look at the EOS 360 specifications and what's in the box.
Specifications
Closer Look
The top of the box or lid has an image of the EOS 360 RBW with some 3D imagery and the Rainbow ADD logo for noting the type of plug and software control you will need to be compatible with. Raijintek also sells a control box with 8 headers for RBW products that come with a remote and or motherboard control via a little switch on the side of the box.
Here on the side are more images of the EOS 360 this time of the Water Block or the part that will be connected to your CPU to help bring heat away from the chip. There is a nice flush copper contact surface and on the top of the water block are a few more LEDs that can be synced with the units fans when everything is plugged in.
Here on the bottom of the box are some specifications and various information you will find helpful when shopping for one of these off of a shelf.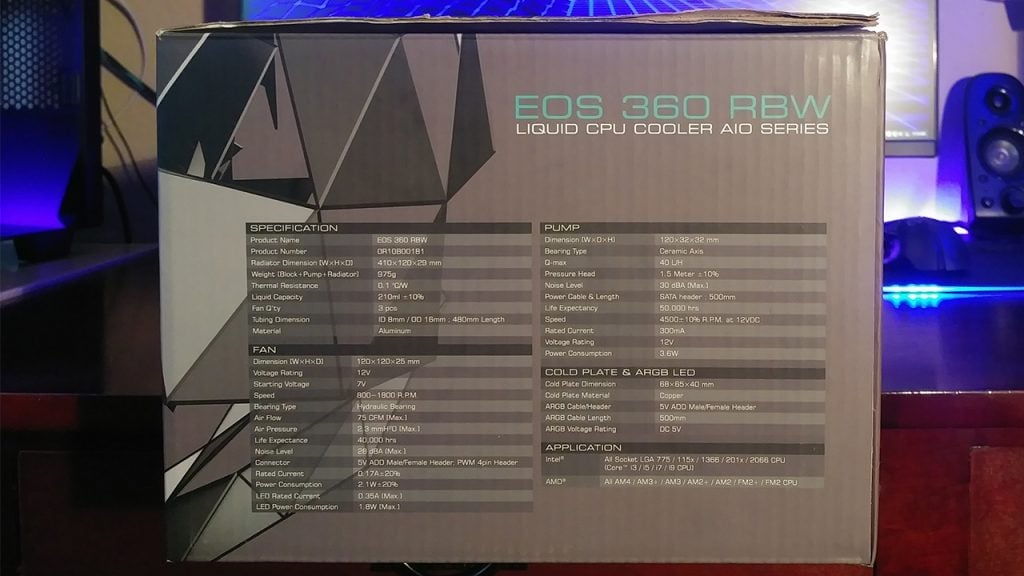 Pulling the Raijintek EOS 360 out of the box was a pleasing experience everything was tightly packed away and labelled ready for use. The sleeving on the hoses surprised me I figured they would be a bit more plastic-like and shiny from product images. Quite the opposite though they are a nice clean set of hoses that are not overly stiff, heavy or cheap feeling in any way. The hoses are a bit longer than I am used to having with other various AIO brands I have tested and this was nice, leaving more room to work with and less need to worry over your hoses not reaching a location in your larger case types.
There are 3 120x120x25mm fans included, the voltage range is 7-12v, having a max CFM of 75, 2.3mmH20 Pressure and 28db max. The glow that these fans give off is nice, I know it won't show in the video below because of the blow out light in the recording but they do not have an overly harsh or bright glow. Rather meeting right in the middle and being quite nice to observe.
Here are all of your included accessories. Raijintek has included a 3-way splitter for your fans so you can control all 3 at once from one fan header, combined they should use around 0.5-0.6A +/-20% and 6.3W +/-20% which is more than fine to run through one fan header. There is also an included packet of thermal paste (about two applications worth).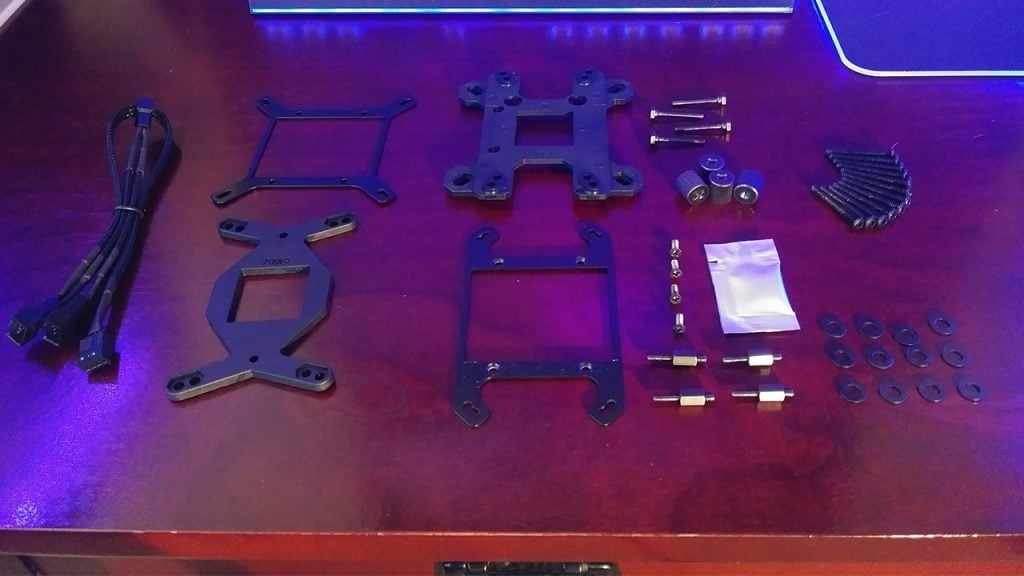 Installation and RGB
I do want to note a few things here, plan on where you want to install such a large AIO. I have chosen to run all of my cooler tests in the NZXT H710i because it is large enough to accommodate pretty much any cooling system out there, has the Smart Device for fan control and decent airflow. In the H710i you can only install the EOS 360 in the front with the fans in Push, the 410mm length of the unit will not allow it to mount flush to the case with the fans in Pull, and in the top mounting bracket, you have to install the fans in the top of the case on the top side of the bracket in Pull and the Radiator on the bottom of the bracket. This is because of the design of the Pump the AIO will not lay flat on top of the bracket and with both the fans and AIO attached under the bracket, there is no room for the 3rd fan due to motherboard VRM clearance. Do note that your mileage will vary case to case but this is something to keep in mind when dealing with such large coolers.
For the installation section of this review, I wanted to try something new and see how it was received and either continue and grow upon it or just go back to detailed photo installs for this section. Please enjoy the video and leave feedback either here or on YouTube.
Test System and Methodology
Test System
OS: Windows 10 Current
CPU: Ryzen R7 1700 @ 3.8Ghz 1.25v
Mobo: Gigabyte X470 AORUS ULTRA GAMING
RAM: G.Skill Trident Z RGB 2x8GB DDR4 CL16 3000MHz
PSU: NZXT E850
Case: NZXT H710i (note this is with filters in for a more realistic use case test, not on an open-air bench)
Methodology
For our testing, Prime95 is used to max all of our CPU cores out at 100% for 60min with 100% fan speed on all fans. We then monitor and take note of the max core temperature. We then subtract this number from the ambient temperature to get the temperature delta. Also letting the computer sit idle for 15 minutes before each run to stabilize the min results.
Software
Thermal Performance
As you can see from the chart below, the Raijintek EOS 360 stands out as a solid thermal performer. Easily outpacing the smaller 240mm AIO on the charts in the front of the case in with the fans in a push orientation by 7c and 9c when the EOS 360 is set up in a push/pull configuration. In all of the tests where an AIO is installed in a front intake orientation, you will notice a trend of higher VRM thermals. This is normal since instead of intaking fresh room temperature air straight to your GPU and Motherboard components, you are intaking fresh air through the radiator and saturating it with heat from the CPU before reaching other components that need cooling as well. None of these thermals were to worry about though a little high, most VRM Mosfets are rated for 125c+ for 10,000hrs or more on decent motherboards. The GPU behaved just like the VRMs in the thermal department when the AIOs were installed up front, gaining around 10c on the GPU die.
All in all the EOS 360 is a very solid performer, being the only cooler so far that allowed me to comfortably put my R7 1700 at 4GHz with 1.48v while keeping the thermals in check. For 4Ghz I need to redesign the chart to hold the thermal results for the VRMs on my motherboard though to run at these clocks and would not run like this daily. I exceeded 100c on my VRM thermals during these runs. (Note anything over 1.4v is a voltage I am personally not comfortable putting through my only chip 24/7 and 1.48v was only used for testing I am confident I can keep the chip cool during). One thing I would like to see implemented on the next iteration of the EOS AIOs if there is one is a way to track the PUMP speed. Not being able to see your pumps RPM readout in even software like HWiNFO is honestly not good. Now the thing about the pump with the Raijintek EOS 360 and well the entire line EOS AIO line up, is it is not silent. Compared to the Asetek style pumps I am used to these keep the pump noise centralized in the case away from you, whereas the EOS pump design puts the pump right close to where your fans draw air into or out of the case. This also brings the pump noise closer to you and makes it more audible. Not in a way that will make it bad to use, just that you can and will hear this pump a little at least until your fans ramp up and help blend the noise away. The pump sounds strong and feels strong when I touch the hoses but I have no way of really knowing how fast this pump is moving.
Final Thoughts
Performance
The Raijintek EOS 360 while a little noisy in the pump is a very solid performing AIO, allowing my R7 1700 to hit and sustain clocks I have not been able to until this point, in all 3 of the orientations I can install the EOS 360 in the NZXT H710i I used to test the cooler. Which are in the Top in pull only due to VRM clearance and cooler design limitations and in the front in a push and or push/pull configuration the EOS 360 allowed my R7 1700 to comfortably reach clocks I haven't been able to before and more importantly settled my daily clock of 3.8GHz with 1.28v into a very nice thermal zone of 35c idle and 61c max under load. The EOS 360 maximizes surface area allowing the liquid inside to cool off more which in turn allows the cooler to sustain lower temps longer. Two major benefits to a 360mm AIO is the ability to run lower and quieter fan speeds to achieve the same cooling as a smaller cooler with higher fan speeds, and more surface area to saturate and spread out the heat in for easier thermal dissipation.
Design
I honestly don't see anything wrong with the design, you just have to stop and account for the lengthy design of the EOS 360 since it stands in at 410mm long. This will hinder its installation into some cases, like in the NZXT H710i I couldn't install in the top with the fans in push due to limitations of the VRM and Cooler design. In the front, the length of the AIO didn't allow for a front install with the fans in pull since the AIO is only about 5mm too long for this case and wouldn't settle in place so I could place the screws. I do not see these as design flaws of the EOS 360 by any means just something you should think about when choosing a cooler. Where do you want to place it in your build and how do you want to move air through it. When you start playing in the bigger cooling game there are a lot more things to consider when choosing your cooling.
Overall the design of the EOS 360 is solid the Copper Cold Plate has 0.12mm Micro Channels to maximize surface area for more even thermal dissipation, with a nice looking ABS Plastic Shell encasing 5v ADD-RGB LEDs to top the look off. The pump has a life expectancy of up to 50,000 hours, designed with a Ceramic Axis Bearing for low dBA operation, we talked about this above some and for the most part, the pump is quiet but it is still there more so than if it was designed in the Water Block further away from the edge of your case. The radiator itself is designed with 12 flow channels and 20 FPI or "Fins Per Inch" High-Density Design and the long Teflon Mesh Tubing all combine to make for a solid performer with a sleek good looking design. Topping all of this off is the daisy-chainable ADD-RGB PWM fans which have 12 anti-vibration pads 8 of which can be seen on the corners of either side of the fan. The RGB implementation of the EOS line up, in general, is pleasing. None of the Raijintek EOS coolers I have tested so far have had overly bright or dim RGB effects, rather meeting nicely in the middle creating some pleasing effects to add into your build.
Value
With the Raijintek EOS 360 coming in at $98.24 USD it is hard to argue, being the cooler is feature-packed in the RGB department and most importantly performs very well when compared to any of the 240mm AIOs I have tested ranging from costing a little more to about half. No 240mm AIO or Air Cooler I have tested to date compares when it comes to CPU thermals. And when comparing the EOS 360 to other 360mm AIO offerings price-wise it becomes an even easier choice, when most competitors come in at $100 to even well over $200 for a 360mm AIO. For a 360mm All In One cooling solution to be coming in at sub $100 is not something I am used to seeing, but as more and more companies put themselves out there with solid and trustworthy product lines it is becoming very competitive in both the feature and performance per dollar market, which is nothing but an all-around win for the consumer. Products like the Raijintek EOS 360 coming to market are one of the reasons I am excited for the future of PC technology, we are in an era of a competitive corporate market after about a decade of a rather stagnate market monopoly in a lot of areas things are starting to develop and heat up.
I can highly recommend the Raijintek EOS 360 on its Value and Performance merits. The fact that you can get a 360mm AIO for less than the cost of a more "premium" brand 240mm AIO is astounding and Raijintek has taken the time to design a very solid performing cooling solution for your Enthusiast Overclocking needs.
I want to thank Raijintek for sending over the EOS 360 sample for review.