Introduction
Today, we will be taking a look at another good looking case from our friends over at be quiet! by way of the Dark Base 700. This case has been out for a good few months now but is still a very worthy option, especially for all our be quiet! fans. The Dark BAse 700 encompasses everything be quiet! stands for, it offers great cooling and silence features while being quite customizable to the individual user's own needs. Anyone who knows be quiet! knows their products are top notch and feature great engineering and a sleek and sexy aesthetic appeal. be quiet! never goes over the top with their designs but somehow they always manage to look amazing. The Dark Base 700 features a tempered glass side panel, RGB LEDs, an invertible motherboard tray and more! This case definite looks good on paper but let's see how it holds up in the real world.
Specifications
| | |
| --- | --- |
| Model | Dark Base 700 |
| PSU form factor | ATX PS/2 |
| Motherboard compatibility | E-ATX (30.5 x 27.5cm), ATX, M-ATX, Mini-ITX |
| Case size excl. stands (L x W x H), (mm) | – |
| Installation of motherboards with backplate | ✓ |
| Case size incl. stands (L x W x H), (mm) | 544 x 241 x 519 |
| Dimensions side panel window (L x W), (mm) | 510 x 470 x 4 |
| Color option | Black, RGB LED front panel (white, red, green, blue, orange, purple) |
| Weight (kg) | 13.25 |
| USB 2.0 | – |
| USB 3.0 | 2 |
| USB 3.1 Gen 2 Type C | 1 |
| HD Audio I/O | 1 |
| Expansion slots | 7 + 2 |
| Fan mounting locations | 9 |
| Qi charger / Quick Charging Option | – |
Closer Look
One thing about be quiet!'s packaging is that it always looks very similar! It also always has quite a bit of information on it regarding the product inside. The Dark Base 700 is no exception, having a look around and we can get a really good feel for what the case will have to offer.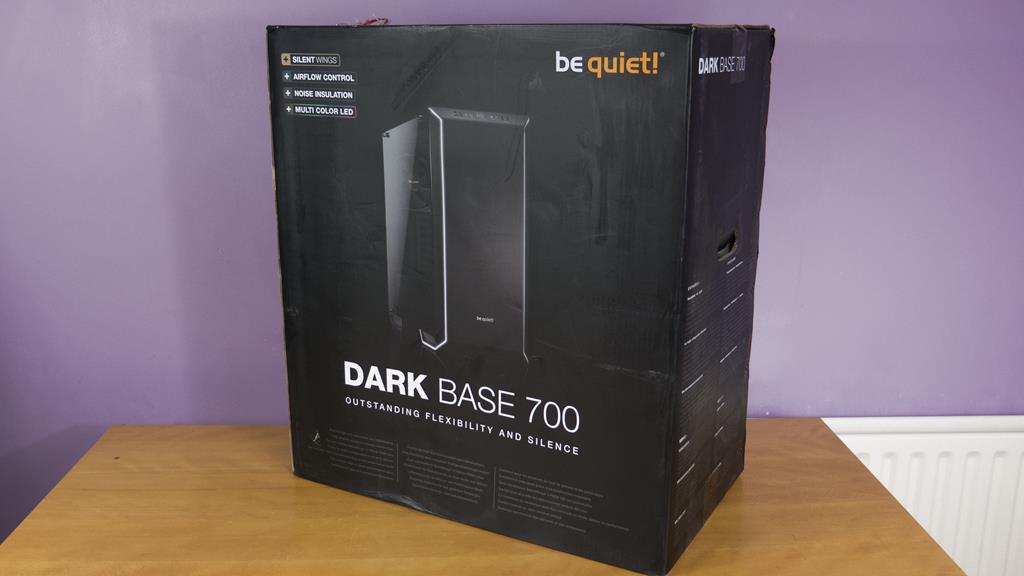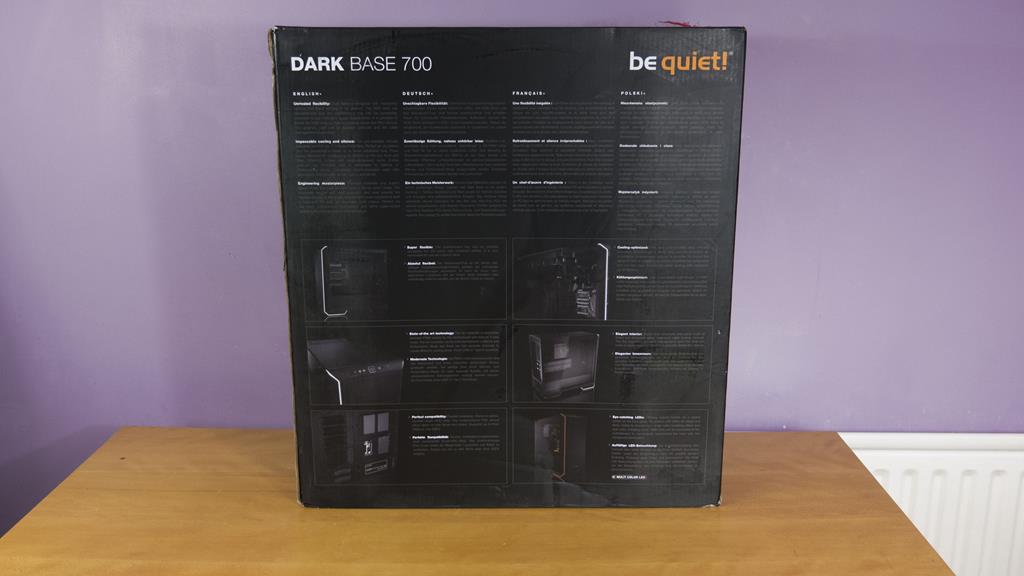 The Front of the case has a brushed aluminium look to it with a small be quiet! logo towards the bottom.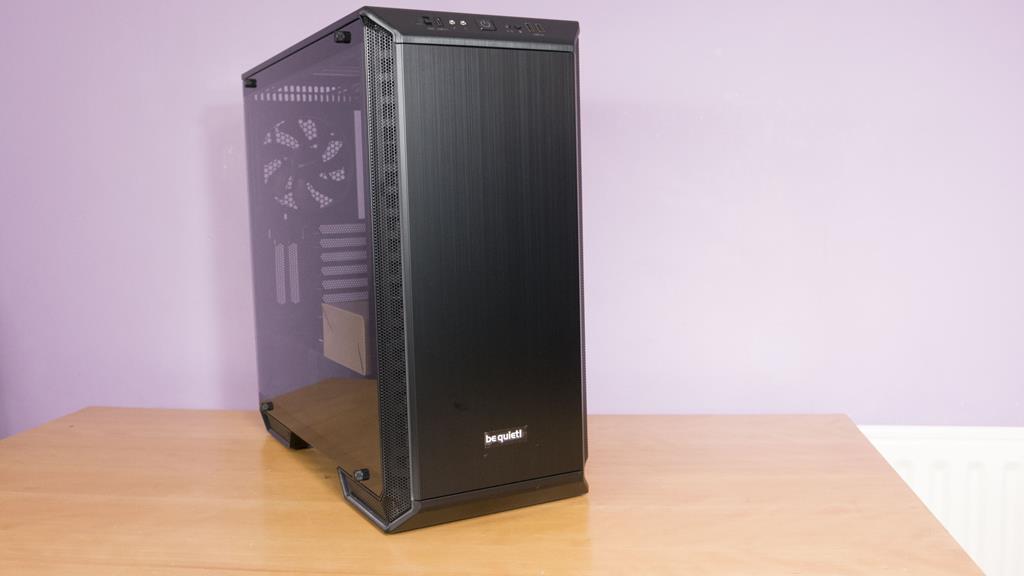 The front IO is on the top front of the case and features a fan controller switch, USB 3.1 port, audio inputs, power button, RGB buttons and 2x USB 3.0 ports. All and all, this is one of the best front IO panels I have personally seen on a case as it offers all the options most users would need from a front IO.
Towards the back of the top, there is a nice little ventilated area to help allow for some of the hot air in the case to escape.
The side panel is a lovely piece of tempered glass.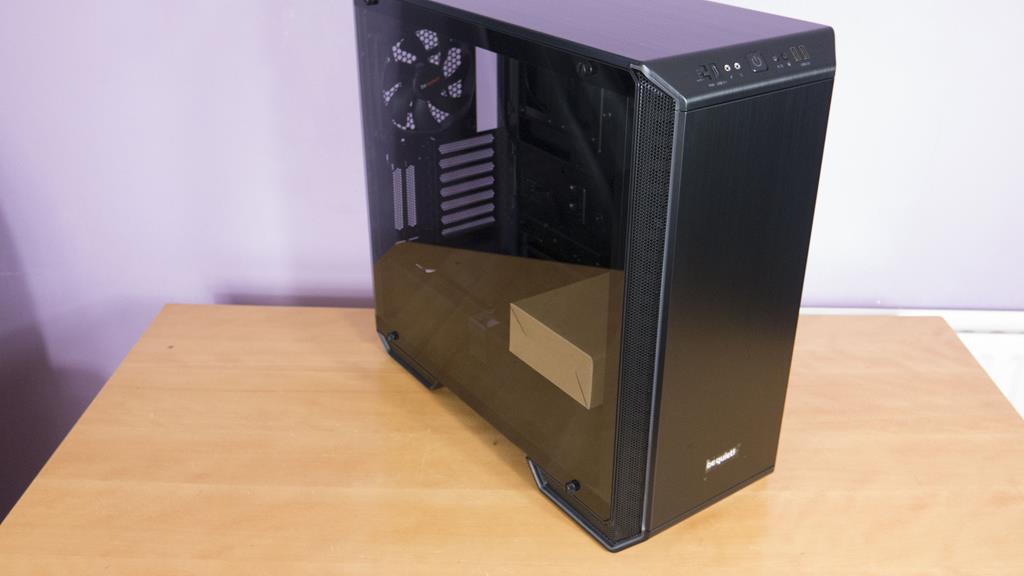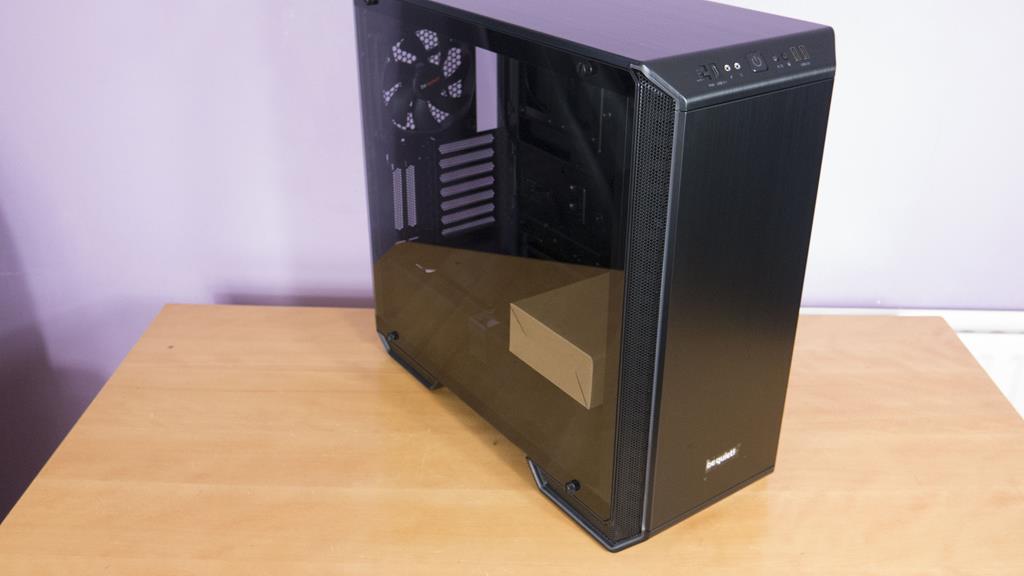 This TG panel gives a great look into the case to see any and all hardware installed. It is held on by 4x thumbscrews, one towards each corner.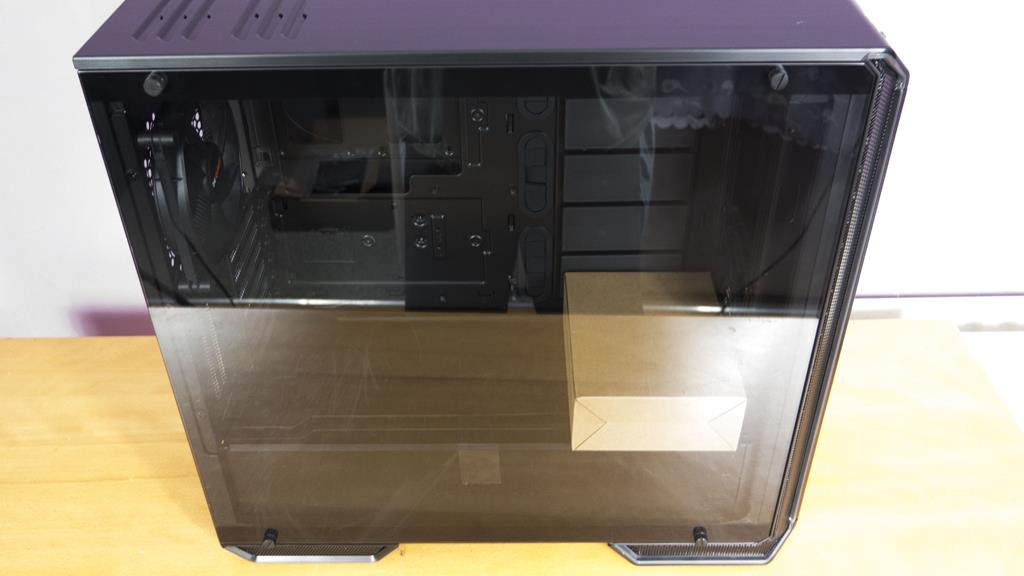 On the back, there are the standard 7x PCI expansion bays, motherboard and PSU cutouts alongside the exhaust fan. We will also see 2x vertical PCI expansion slots, this is so users can easily mount their GPU in a vertical position inside the case. Vertical GPUs are currently a massive thing and it's great to see cases coming with mounting support for vertical GPUs as standard.
The secondary side panel is plain as can be, nothing to see here so move along, please!
While a lot of people will find it insignificant, be quiet! actually, have some very nice underneaths to their cases. There are 4x rubber pads to keep the case still and ensure it doesn't slide around no matter the surface you put it on. Also, there is a nice long air ventilation area with an easily removable and cleanable filter.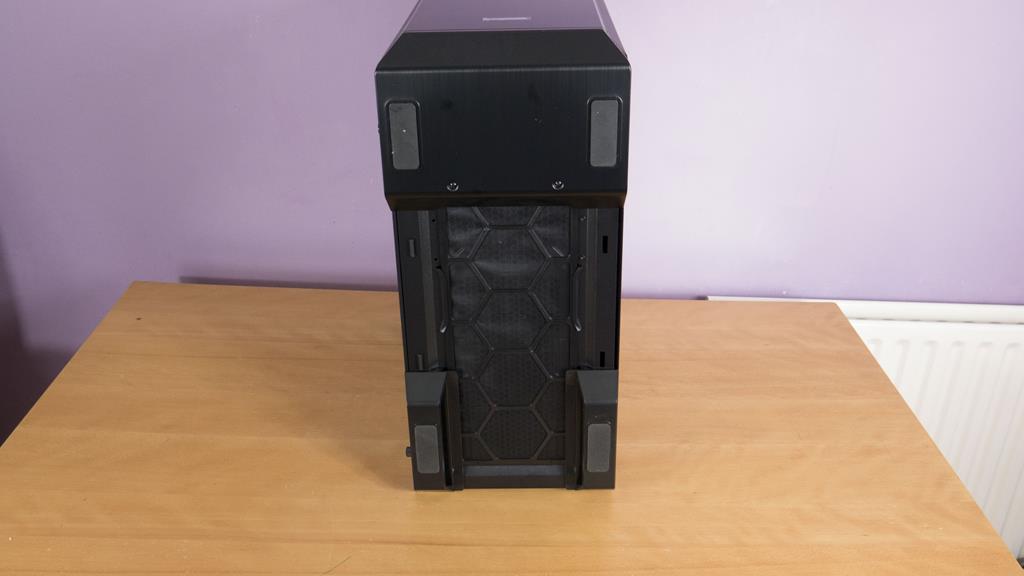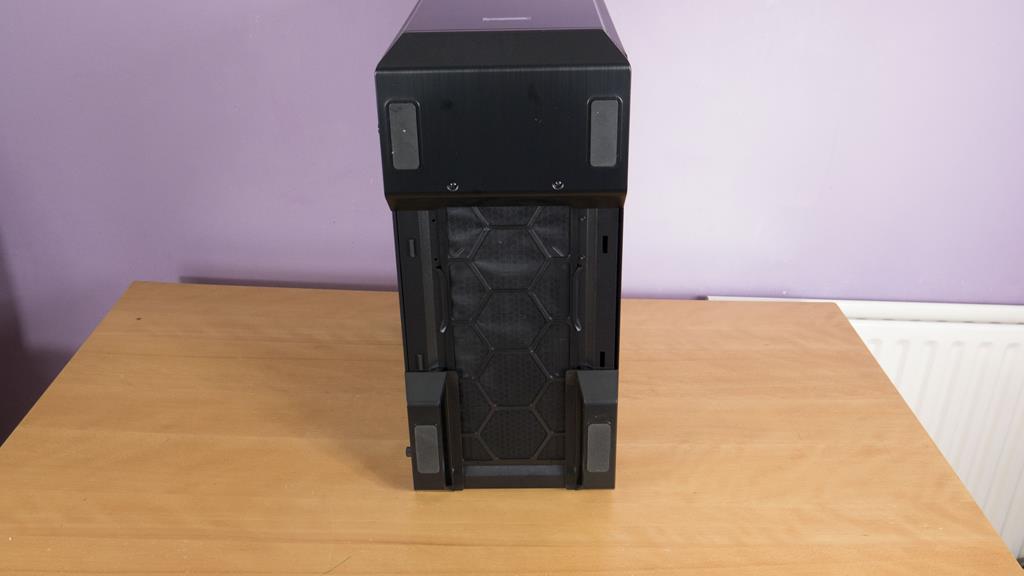 be quiet! have also included a few accessories with their Dark base 700. You will find some screws, HDD cage and even some velcro straps to help with cable management.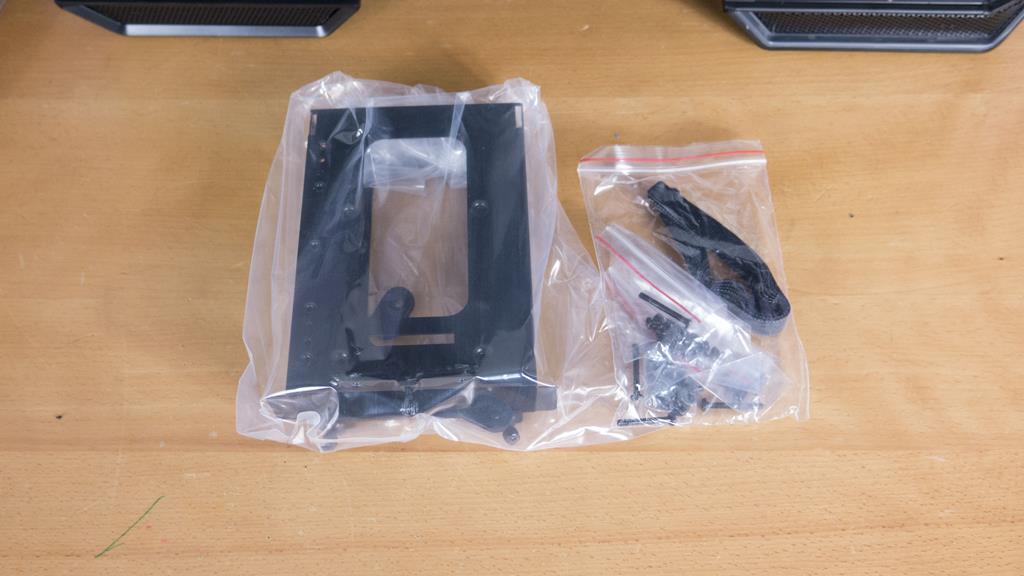 Working our way to the inside of the case, first, let's take a look at what we can find when removing the front panel. On the inside of the front panel, we can see a bit of noise dampening material and still attached to the case, we can see a full-length dust cover which easily pops off.
At the bottom of the front panel, we see a few metal prongs. These are going to power up the LEDs on the front of the case without the need for any wires. This truly is great to see, the fewer wires the better!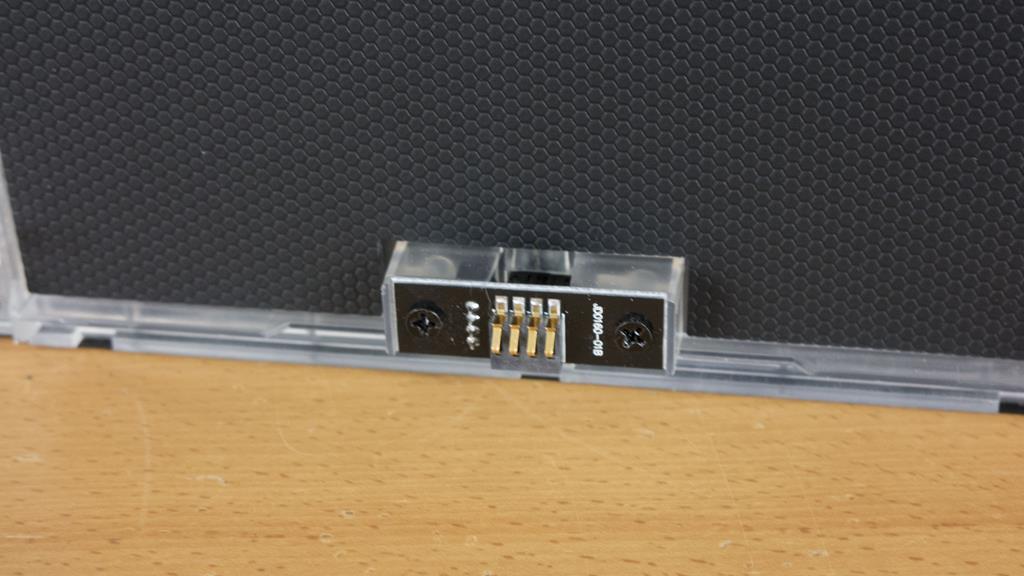 Removing the dust filter will allow you to swap fans and radiators out/in the front of the Dark Base 700. There is quite a bit of room and thanks to the dual-rail fan controller which we will see soon, powering fans is a breeze.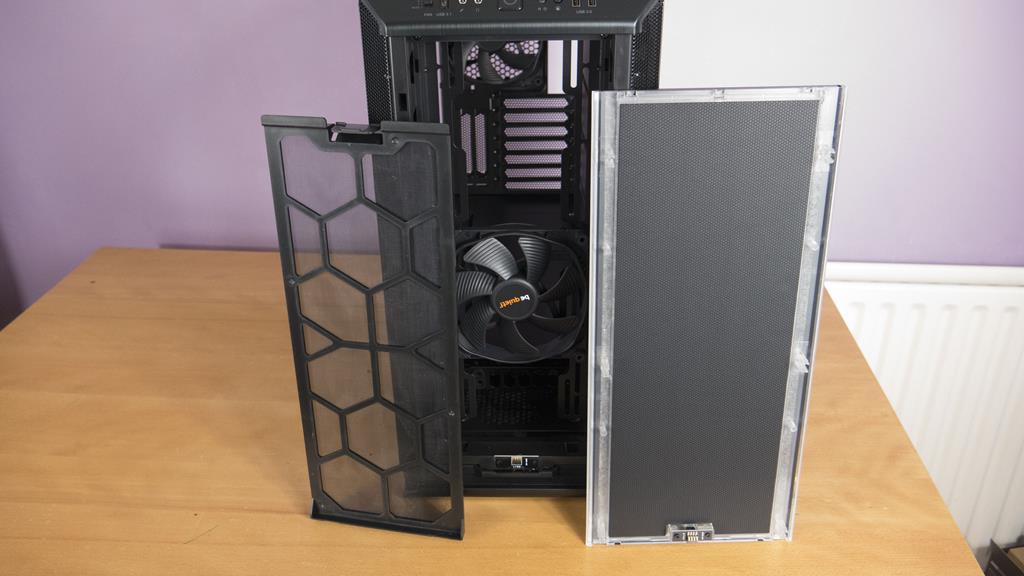 Before we peek inside the case, let us also mention that the secondary side panel also has some noise-dampening material on it. As far as I have ever seen, be quiet! is one of the only companies that regularly adds this to their cases. While some companies may do it some of the time, be quiet! has been doing this for years.
Now for the fun! The inside of the case has quite a bit going on. Just in this one pic along we can see both pre-installed Silent Wings 3 fans. Also, we can notice an SSD mount across the backside of CPU cooler cutout on the motherboard tray.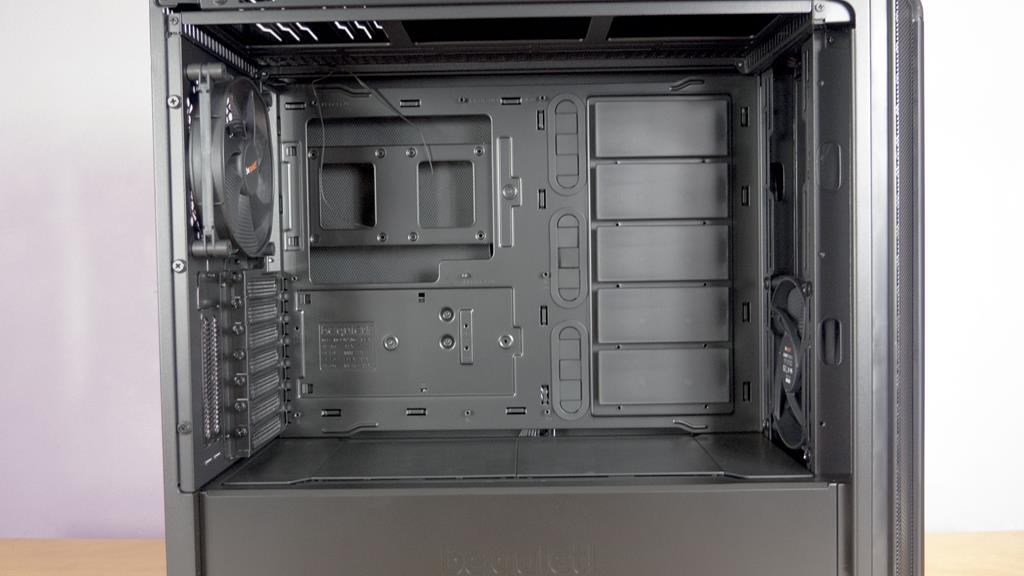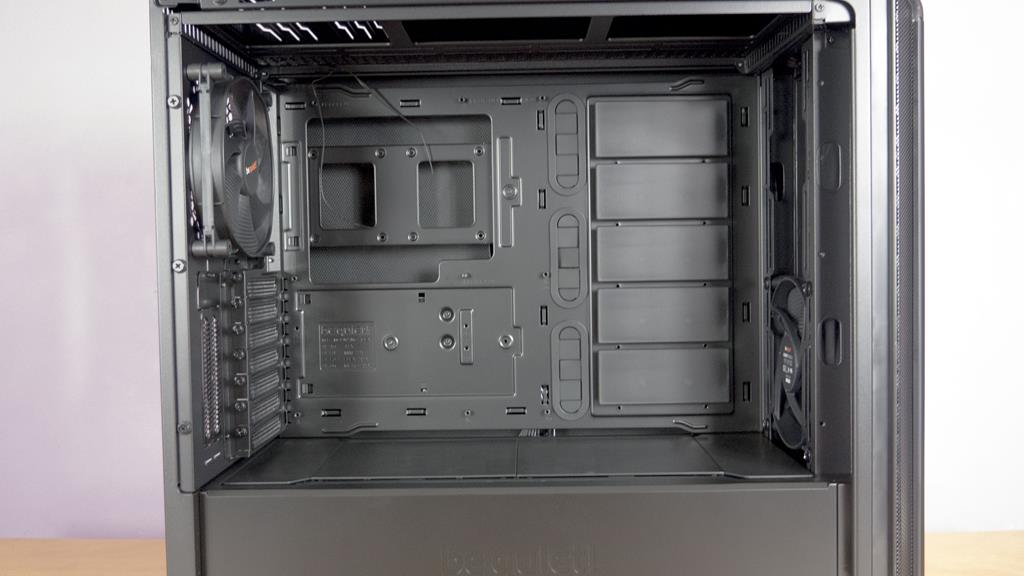 be quiet! have included an easy to read guide on the motherboard tray so you know what hole will need a motherboard standoff depending on what form factor motherboard you are using.
Towards the back, we can get a better look at the beautiful Silent Wings 3 fan just above the vertical GPU mount. For those who are unsure about vertical GPU mounting, worry not as there are still the standard 7 PCI expansion bays as we normally see on cases that cater to ATX motherboards.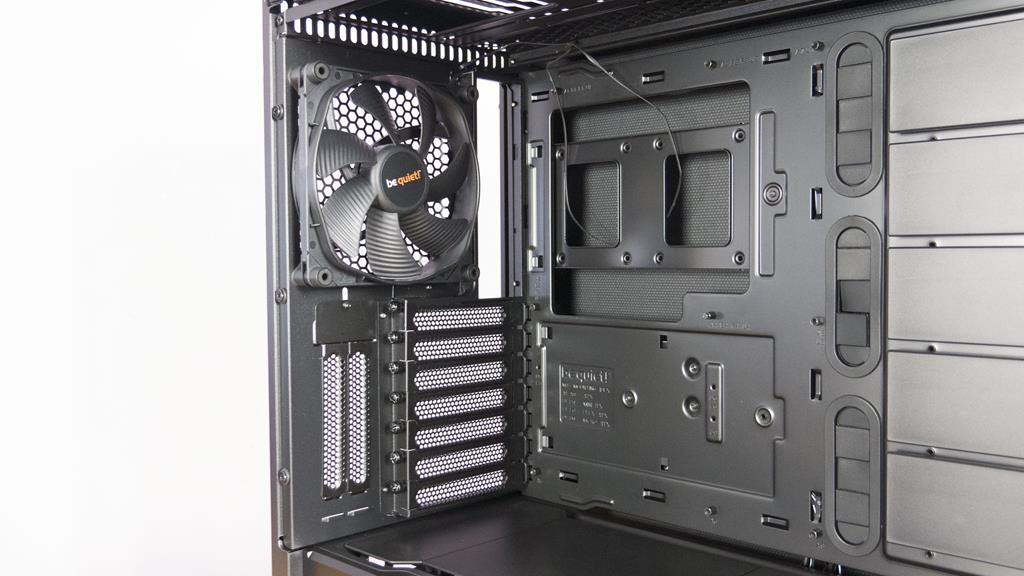 The PSU shroud has a lot f customization options available. There are four panels on top of it that can be removed to add a number of functions to the PSU shroud. You can remove the HDD cage below, install fans and still have room for a radiator in the front of the case.
       .
Over on the backside of the motherboard tray, we have plenty more going on to help us pull off a great build! There are a few SSD mounts as well as the pair of 3.5″ HDD mounts in the bottom of the case. The Pass-through holes for the cables have rubber grommets in them which is always appreciated. There is plenty of room for a nice sized PSU and custom cables, especially if you remove the HDD bay. The dual-rail fan controller will control allow you to plug in up to six fans without the need for using any of the fan ports on your motherboard.
There are also a pair of switched on the controller that will allow the user to switch between performance or silent mode, depending on just how much cooling or quiet they prefer.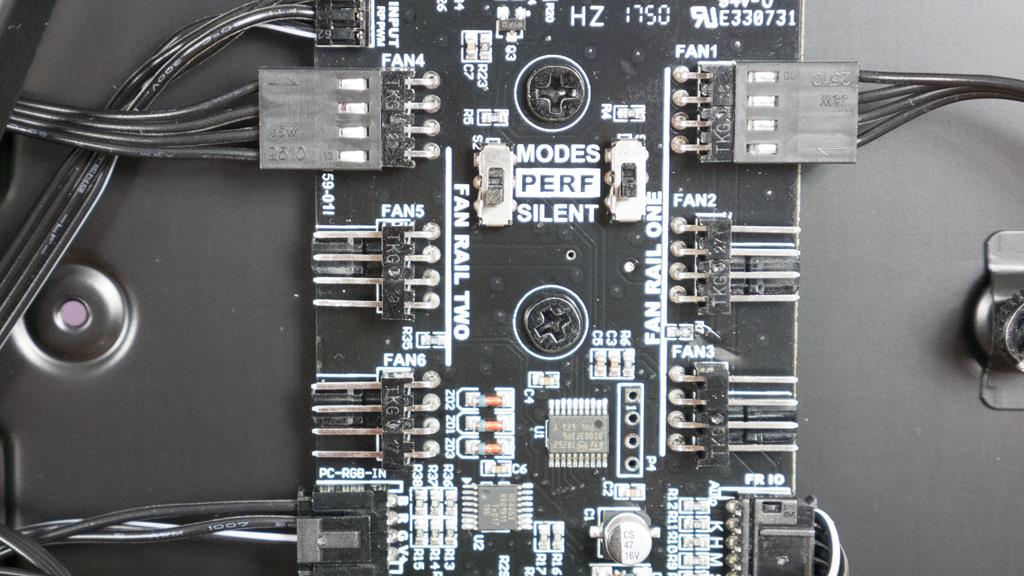 Final Build
The Dark Base 700 will leave you with an amazing looking build! The open space at the top means that you can route the cables directly to where needed. Couple this with the three main grommeted pass-throughs and you have a very clean looking build once it's all done. As you can see, there would be plenty of room for cooling rads, pumps, fans or whatever you need. The pair of Strix GTX 1060's we used was just to show off the ample amount of room inside the case. Even with both of these installed, there is still plenty of room for airflow to the bottom card and if you removed the panels on the PSU shroud, you would allow for even more airflow.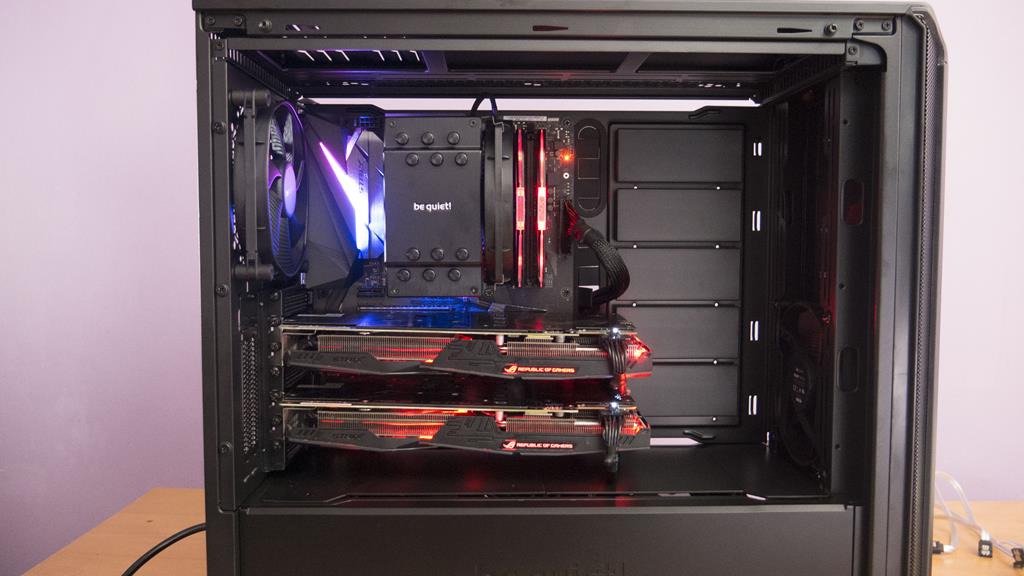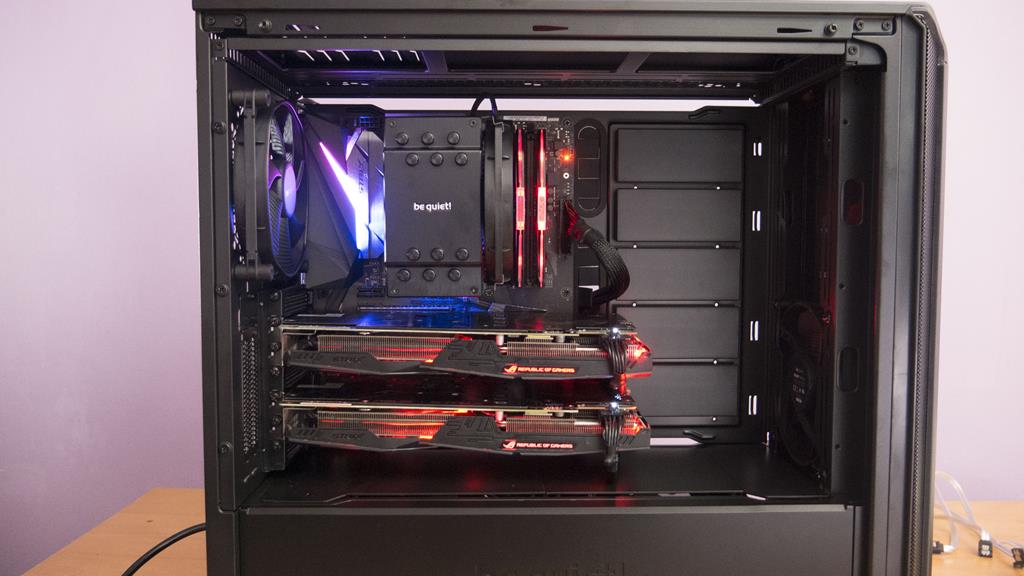 This has to be one of the sleekest builds we have done and boy was it a shame to have to tear it all down after a couple of days. While it would have been nice to see at least one more intake fan in the front, it is understandable as the Dark Base is designed with water cooling in mind. Aside from this, as you can see, the DArk Base 700 has a lot to offer and makes it very easy for most any user to be left with a clean build once all is said and done!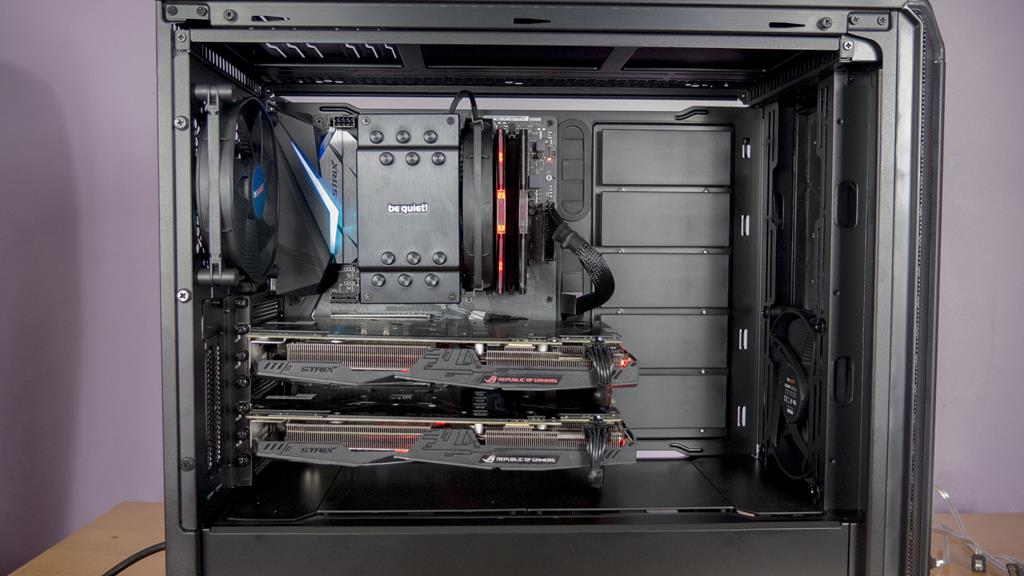 Conclusion
Performance and Design
From the second you get the Dark Base 700, you will fall in love with it. The sleek aesthetic appeal is amazing and once you find out everything else it has to offer, you'll start getting quite excited. Every inch of this case is as functional as it is appealing to the eye. be quiet! have done themselves a great deal of good with the Dark Base 700 and all the thought put into it. From catering for vertical GPU mounting as standard to the removable panels on the PSU shroud and the amount of HDD and SSD it can accommodate, this case really does its best to offer it all. Dual GPU systems with customs loops will be a breeze and cable management will always be a piece of cake. Even the small details like the extra added vent in the top panel so that the air can rise up and out of the case really just speaks volumes on the quality be quiet! offers its customers.
Value
When you consider everything you are getting for your money, the £160 price tag isn't as bad as it first seems. This is a top-range case and as such, the price tag comes along with it. Features such as the noise-dampening on some of the panels add to the premium look and feel of the Dark Base 700. Throw in an invertible motherboard tray, plenty of cooling support and loads of space and you have yourself one hell of a case! Let us also not forget that this case is ridiculously easy to build in and most anyone will be left with a clean and nicely cable managed build when done. be quiet! have certainly ticked all the boxes with this one.
Many thanks to our friends at be quiet! for sending in their Dark Base 700 for this review!