Introduction
Noctua has announced a new low-profile cooler for the AM5 platform named NH-L9a-AM5. This cooler will be available in a standard color as well as chromax.black. We are taking a look at the regular version of this cooler. We have tested a few other NH-L9 series coolers in past as well. These can be found here:
Product:               Noctua NH-L9a-AM5
Price:                    EUR 49.90 / USD 44.90 [MSRP]
Purchase:             £39.95 On Amazon UK
Noctua NH-L9a-AM5 Specifications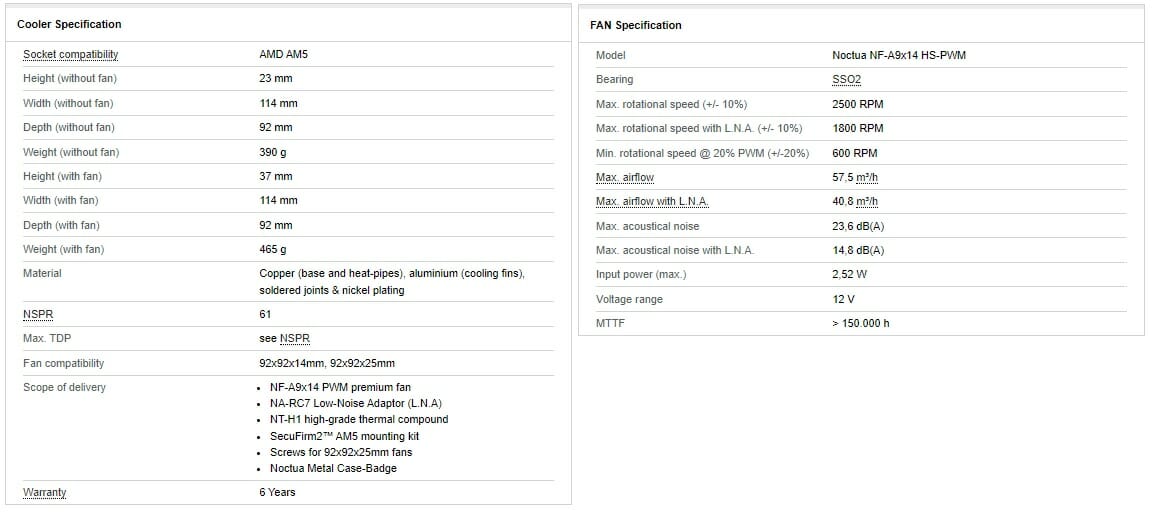 Closer Look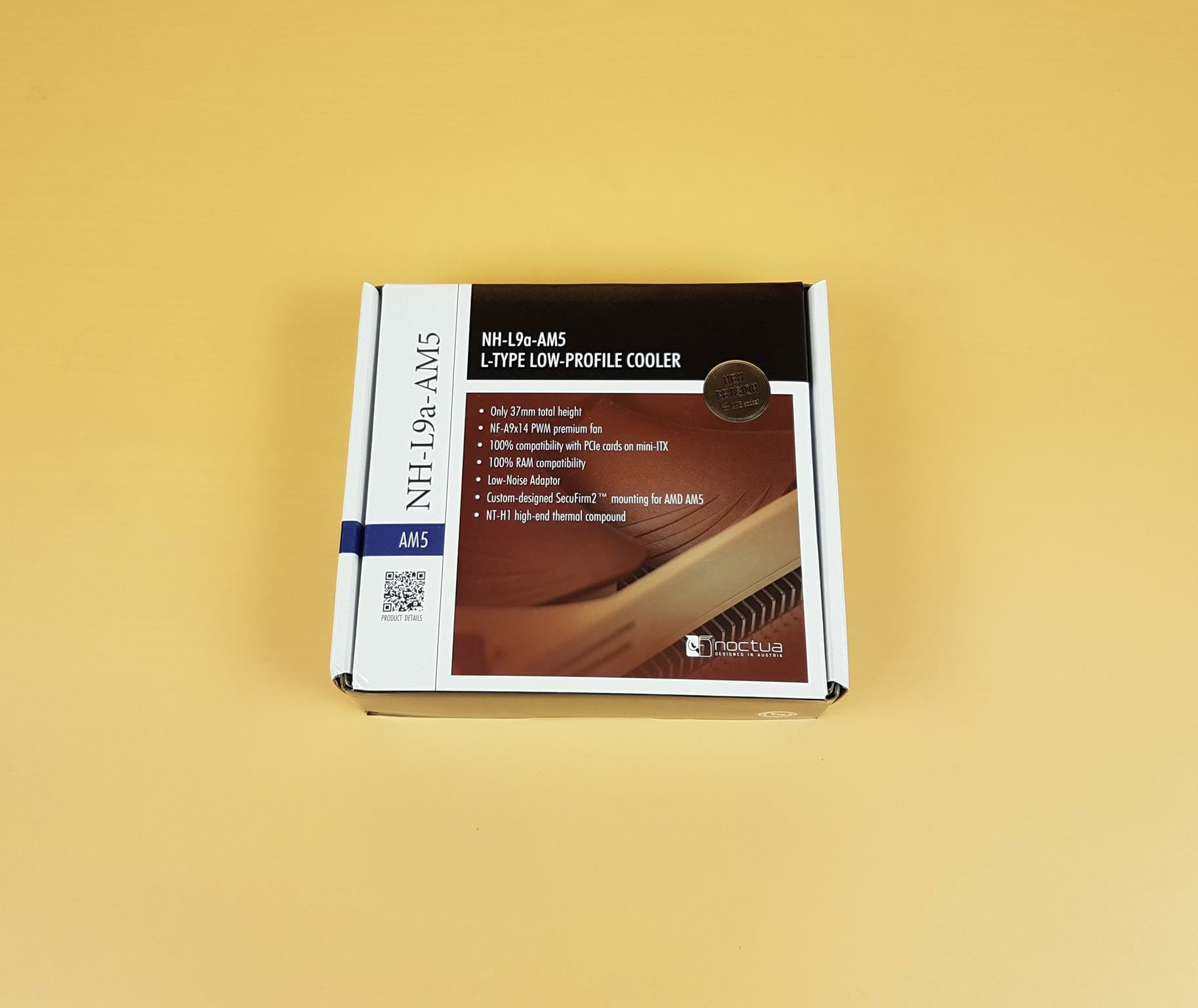 This cooler is shipped inside a standard Noctua themed packaging box that is made of a cardboard. Noctua has listed salient features. Key one is 37mm height of this cooler.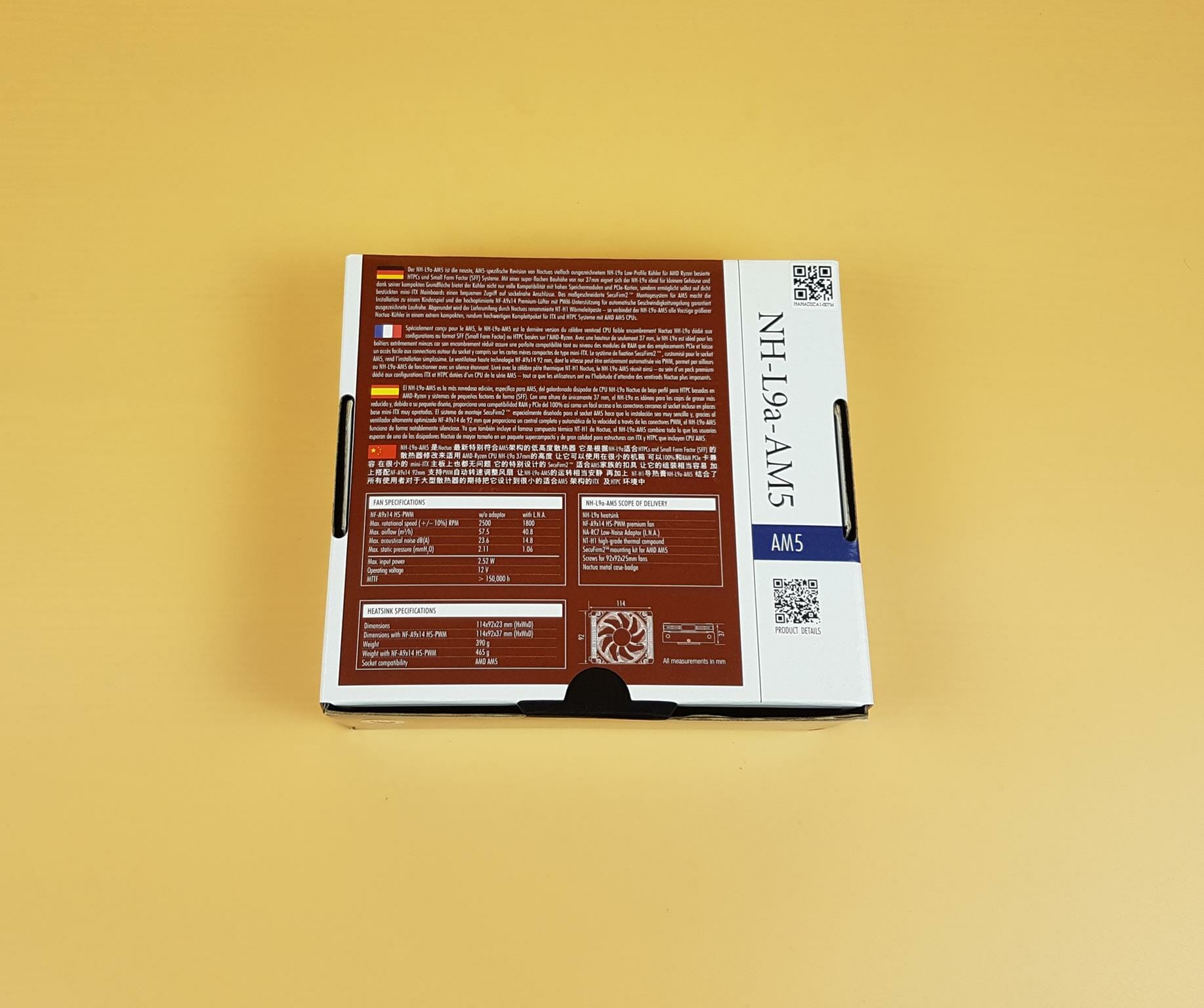 Noctua has listed specifications of this cooler.
We are seeing a change in presentation compared to the previously tested NH-L9 series cooler. Now, we can only see a cooler. Rest of the stuff is hidden on the side and under the cooler.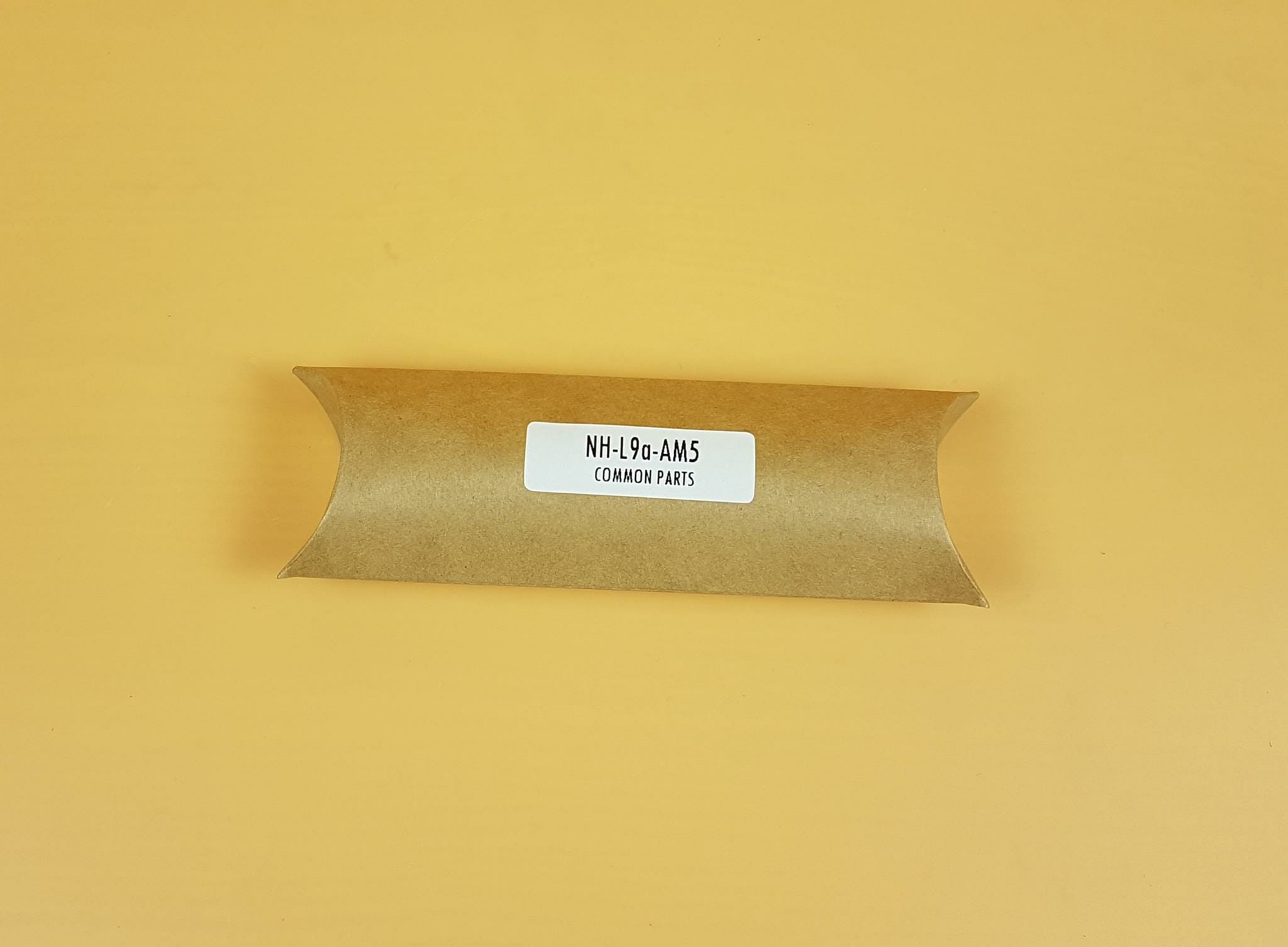 We have a brown color container with the model of this cooler written on it containing the parts for installation.
1x NA-RC7
1x NT-H1
1x SMT-6
1x Metal Badge
4x Philips Screws
4x NM-ALS2
As always we start by taking a look at Noctua's statement about this cooler.
"The NH-L9a-AM5 chromax.black is an all-black version of Noctua's award-winning NH-L9a-AM5 low-profile quiet CPU cooler for AMD AM5 based HTPCs and Small Form Factor (SFF) builds. Thanks to the same proven heatsink design and NF-A9x14 PWM fan, it stays true to the NH-L9a-AM5's successful formula of fusing a height of only 37mm with strong performance and excellent quietness of operation, as well as 100% RAM and PCIe compatibility. At the same time, the chromax.black version with its black fan and black coated heatsink combines these assets with a sleek stealth look. Topped off with the renowned SecuFirm2™ low-profile mounting system for AMD AM5, Noctua's enthusiast-grade NT-H1 thermal compound and a full 6-year manufacturer's warranty, the NH-L9a-AM5 chromax.black is a premium choice for customers who seek an ultra-compact heatsink that looks just as great as it cools."
This is a low profile design which has been a hallmark of NH-L9 series coolers. We have an industrial look on the heatsink with a brown and beige color fan already installed over it. The dimension of heatsink is 114x92x23mm with 23mm being the height or thickness of this cooler. NF-A9x14 PWM fan provided with this heatsink has a height of 14mm. Overall height of this cooler is 37mm. Net weight of this cooler is 465g with fan.
This angle is giving a good guess of this cooler's thickness. Notcua has focused on providing utmost clearances and compatibility with this cooler. We can see fins jointed over the sides. However, joints are soldered which is a wise design.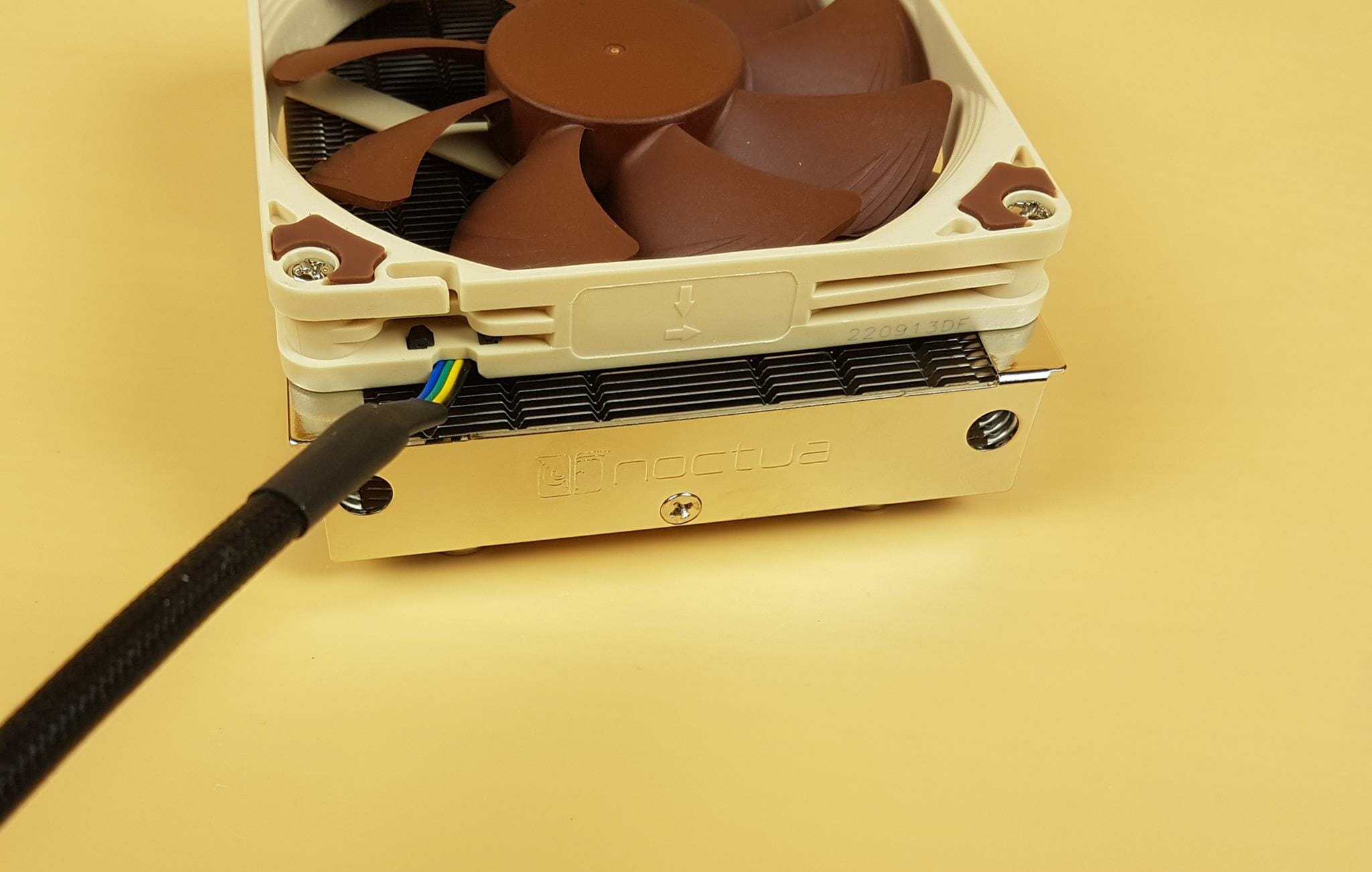 We can see two holes on this side of heatsink. Both holes are on opposing ends. The cover plate can be taken off by removing a screw on middle. These holes faced the turn of copper heat pipes inside the heatsink.
2x copper heat pipes are terminating on top as can be seen. Other than that, the overall layout is identical on both ends.
Take a peek at the heatsink after removing the fan. The fan is not installed using clips. This is done to provide clearance on sides, particularly for the DIMM slots since handle of these clips also take some space. There are metal covers on the corners having mounting holes. Fan is rested on these covers. This heatsink has 66 fins. Overall machining job is perfect. We can see 2x nickel plated copper heat pipes in a parallel U shape design.
This unit has a nickel-plated copper base measuring 39.5x40mm. We can see that mounting brackets come preinstalled.
NF-A9x14 PWM is provided with this cooler. This fan has a dimension of 92x92x14mm. Users can optionally install a 25mm thick fan as well for which Noctua has provided screws in the accessory box. This fan has a brown and beige colors footprint which is Noctua's standard. It has all the bells and whistles like AAO frame, SSO2 bearings, Custom Designed PWM IC chip using SCD technology, and flow acceleration channels. We have already covered these design aspects in detail in previous contents. Hence, we are not going into detail here. Each mounting corner has an anti-vibration pad. There are two arrows on the frame. One gives the direction of airflow through the fan and the other tells the direction of blades' spin.
There is a 4-arm assembly on the backside of this fan. Correct model of this fan is NF-A9x14 HS-PWM where HS stands for High Speed.
Fan motor is powered by a 4-pin PWM connector on a sleeved cable. Personally, I am a big fan of flat cables for their relatively ease of handling.
Below are salient specifications of this fan:
| | |
| --- | --- |
| Dimension | 92x92x14mm |
| Speed Range | 600 – 2500 RPM ±10% |
| Airflow | 57.5 m³/h |
| Noise | 23.6 dB(A) |
| Voltage | 12 VDC |
| Input Power | 2.52W |
| Bearing | SSO2 |
| MTTF | >  150,000 h |
Installation
We are no longer covering installation mechanism in detail. Please refer to user manual for this purpose. We will only highlight any issues or observations recorded during the installation. This cooler is following the same mounting mechanism though mounting hardware is different. You will have to install the cooler using 4x screws from the backside of the motherboard. This was somewhat a cumbersome installation on an E-ATX-size motherboard. This should not be the case on the ITX motherboard. Also, don't torque these screws excessively. I managed to snap the head of one screw. Yes, I am still noob!
Clearance
This cooler was installed on GIGABYTE X670E AORUS MASTER motherboard. This cooler has no clearance issue for DIMM slots and PCIe slots. Similarly, it was an easy install without any obstruction from beefy heatsink of this motherboard's VRM. This cooler does not have clearance related issues in our experience and a height of 37mm is makes it a good candidate for utmost compatibility with SFF cases.
Testing
We have used below-mentioned configuration:
ADM Ryzen 7 7700X
GIGABYTE X670E AORUS MASTER
XPG Lancer RGB 2x16GB DDR5 kit 6000MHz, CL40
Sabrent Rocket 4 Plus 2TB NVMe Drive [OS Drive]
Sabrent Rocket 4 Plus 4TB NVMe Drive [Gaming Drive]
GIGABYTE GeForce RTX 3060 VISION OC Rev.2
be quiet! Straight Power 11 850W Platinum PSU
Thermaltake Core P6 TG Snow Edition in an open frame layout
It is not an easy job when it comes to evaluating the performance of coolers on new platforms from Intel and AMD. The AM5 platform by design will run at its full thermal limit, providing the maximum headroom for high frequencies though this is something which the community did not take positively. Any cooler that you will install on this platform, will result in CPU temperature hitting 95°C under load. We have found that setting the CPU at 5.2GHz would actually result in lower temperature under heavy load. Other way is to use PBO profiles and load a lower Watt or lower thermal limit settings.
We run the CPU at its stock settings and examine the behavior of clocks under heavy multi-core load using CINEBENCH R23.2. The temperature was at 95°C but this cooler maintained 4700MHz during a 30-minute run on all cores. We can say for sure that at some point in time, the frequency will fall below the base clock which is subject to length of that software run and the load type.
Single-Core load was good as we did not see any performance drop. It was simply due to the fact that CPU was boosting to 5.45GHz on any core. Maximum temperature recorded during a single-core load was 65°C. We then loaded Assassin's Creed Origins and played it 1080P resolution using Ultra High graphics settings. We saw a maximum temperature of 80°C during the game play.
Conclusion
Noctua NH-L9 series of coolers are not a new thing for us as have tested as many as 4 SKUs in this line. Noctua has released two new coolers; technically one cooler but in two colors. Meet the new NH-L9a-AM5. As the name suggests, this cooler is for AM5 platform using the LGA1718 socket. Noctua did the same when LGA1700 socket was launched. Noctua is releasing a new variant in this line of coolers whenever there is a new socket out there.
The NH-L9a-AM5 has a focus on RAM, PCIe clearance, and access to near-socket components. They have achieved this using a heatsink that has a dimension of 114x92x23mm. Adding 92x92x14mm will only increase the overall height of this cooler not the depth and width. Clearly, Noctua is doing its thing again and winning. Users are given the option to use a 92x92x25mm fan as well which would add 9mm in the 37mm stock or default height. Also, users can buy a secufirm 2 kit for AM4 to use this cooler on AM4 platform.
This is a dense fin stack as it comprises 66 aluminum fins combined with 2x nickel-plated copper heat pipes with soldered joints. Both heat pipes have a thickness of 6mm and they are run in U shape parallel to each other. Copper base is nickel plated as well and measures 39.5x40mm. NM-AFB10 mounting brackets come pre-installed.
This cooler is using an NF-A9x14 HS-PWM fan. It has a dimension of 92x92x14mm where 14mm is height of this fan. It is using Noctua's legendary AAO frame that has stepped inlet design, inner surface microstructures, and anti-vibration pads on mounting corners. Using SSO2 bearings, this fan has a minimum MTTF of 150,000 hour. Maximum rated speed is 2500 RPM using 57.5 m³/h at 12VDC. Noctua did not mention the air pressure rating. Sound level is 23.6 dB(A).
We have tested this cooler on AMD Ryzen 7 7700X. This cooler has an NSPR rating of 61. Noctua has mentioned that using this cooler on 7700X may have clocks falling below base frequency in a continuous run under load. In our testing of 30 minutes run, we say the lowest frequency on any core hitting 4.70GHz. This is from the stock settings test. The temperature under heavy load is of no concern as this CPU will run at 95°C. However, under a single core load, we saw a maximum of 62°C temperature and CPU was maintaining a 5.45GHz boost clock. During gaming at 1080P resolution, we saw a maximum of 80°C temperature. From the above, we can deduce that PBO and efficiency curve would improve the stock results. Noctua is offering a 6-year warranty on this cooler. Price tag on this cooler is EUR 49.90 / USD 44.90. This cooler has actually surprised us with its adequate thermal performance and ability to handle a single-core load. Don't forget that you are getting this thermal performance at low noise output with 100% clearance for RAM and Graphics Card.
Thanks to Noctua for the provision of the test unit.