When building any new PC, another one of those important steps is in choosing a case that is not only right for you but is also right for the hardware you will be putting inside it. Cases come in all sorts of sizes and shapes, all of which have a plethora of features to consider. I'm not going to go into all the details on cases, but having a quick google can show you exactly what I mean if you are unsure. One of the biggest things to consider, as when purchasing most PC related products, is the manufacturer and are they credible? While you go ahead and decide for yourself exactly what it is you are looking for, I am going to go ahead and get started on today's review of the Sharkoon VG5-W case.
The Sharkoon VG5-W is designed to take an ATX motherboard and as such comes with three pre-installed fans, two of which are intake and one exhaust. The VG5-W also comes with the option of choosing from 1 of 3 colours of LED fans, blue, green and red. It is also worth noting if the window is not your thing, the VG5 can also be purchased in a V variant, which replaces the window with space to add a couple of fans to the main side panel. All in all, the VG5-W looks like a decent case for the money so let's check it out!
The front of the VG5-W shows us two 5.25″ drive bays with the front IO below these. It is also worth noting there are a pair of red LED bars, one on either side of the bottom 5.25″ drive bay. The front IO consists of two USB 3.0 ports, power button and the microphone and headphone inputs. The front panel is easily lifted off the case from the bottom and reveals the two LED intake fans.
As this is the W variant of the VG5, there is a nice window on the main side panel. It is also worth noting that both side panels have a bit of a raised area which will come in handy for better CPU cooler clearance and on the backside, more cable management room.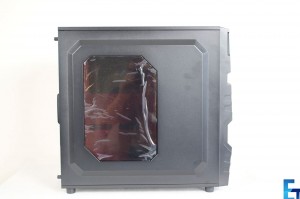 The back of the case is rather standard, cutouts for the motherboard rear IO and bottom mounted PSU with seven PCI expansion bays.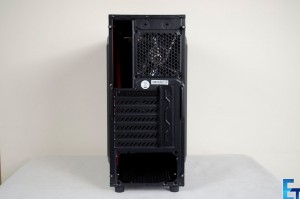 Popping the side panels off and having a look around the inside and there is a nice sized hole to allow for easy CPU cooler installation and replacement and plenty of pass-thru holes for cable management. Also, if you didn't see, the motherboard tray is completely red and we can also get a glimpse at the rear exhaust fan which features RED LEDs to match the front intake fans.
Building in the VG5-W was a fairly easy process. The only real issue for me was the 8-pin CPU power cable for the PSU as the hole on the case wasn't quite positioned to my liking. Long story short, the hole is directly behind the motherboard and not above lit like with a lot of other cases out there, and this means things could get a little tight.  I could have probably fit the cable through, but it would have meant putting the cable in before installing the motherboard and myself, personally, I just don't like doing that or the fact it would be secured between the motherboard and motherboard tray.
Aside from this one little issue, everything else was smooth sailing. While there is no real room to route cables behind the motherboard on the case itself, the side panel is popped out a bit which allows for all your cables to fit behind the motherboard tray. The SSD and HDD drive bays are easy to use and there are even a couple of tool-less drive bay retention clips there for you to use. There is a decent amount of room in the case which can accommodate multiple graphics cards which are fairly long and hopefully you shouldn't run into any problems.
Another case tested, another review almost finished! If you've read the rest of the review and watched the videos, you know by now I don't really have any issues with this case, but do I think it's worthy of purchasing? Let's find out!
Performance
The performance of the Sharkoon VG5-W is good for what it is. This is a budget friendly gaming case that comes with three pre-installed LED fans and is fairly decent sized. The three fans provide ample airflow throughout the case to help keep temperatures down on any hardware you may install. The only thing I think I would have liked to of seen was some ventilation or fans mounts in the top of the case to add for a bit better airflow, but we will go over that in the design part next. For a case of this caliber, it's hard to fault the performance it had to offer.
Design
The only real downfall with the design on this case is its lack of support for a 240+mm AIO cooler of some sort. With a lot of cases like this, you see a couple of fan mounts in the top that are also able to be used to mount an AIO. However, the VG5 -W does not include these and there is no real water cooling support. This really isn't that big of a deal though as this case just isn't made for it, so be it. It's also worth mentioning the 8-pin CPU power cable again and while you could probably route it through the hole in the case, I prefer not to as it would be wedged quite tightly between the motherboard and the motherboard tray. Aside from these two issues, the case was a joy to build in and the included fans offer great airflow to help keep temps down.
One thing that will help to grab a lot of peoples attention is the LEDs. There are three fans with red LEDs and there is also a pair of LEDs on the front of the case, giving it that nice glowing gamer look. The best part is you can choose from green, blue or red when purchasing this case and they've even coloured the motherboard tray to match the colour of the LEDs you choose!
Value
Coming in just shy of £35, the Sharkoon VG5-W offers great value for the money. Not only does it come with three pre-installed fans, all of which feature LEDs,  it also features a nice window so you can view some of the components on the inside. A major factor in my decision on value is how easy is it to build in and the VG5-W was an easy and stress-free build, so it definitely scored some points there.
When all is said and done, the VG5-W from Sharkoon is a great budget friendly gaming case and the fact it comes in multiple colours is always a plus. If you are in the market for a new case in this price range, you will definitely want to give this one a look!
I would like to thank Sharkoon for sending in their VG5-W case for review.