Those of you who are familiar with Zotac will know of their AMP! Edition range of GPUs. Today, we bring you a review on the Zotac GeForce GTX 1060 6GB AMP! Edition GPU. The AMP! editions are some of Zotac's top offerings and are known for offering great performance. While Zotac primarily manufacturers NVIDIA based GPUs, they do also offer some other products such as Mini-PCs, SSDs and some different types of accessories. Zotac was established back in 2006 with the goal of providing quality and innovative products for its users and from what I can see, they haven't let their users down yet!
The GeForce GTX 1060 is currently sought as one of the best 1080P graphics cards. The 1060 comes in both 3GB and 6GB models and the 6GB model, as we will see in this review can even handle itself at 1440P! The 6GB AMP! Edition comes boast a 1556 MHz base clock with a boost clock of 1771 Mhz and a memory clock of 8 GHz. One of the great things about this card is its low power consumption, which is around 120W at full load. However, one major downside of the card is that it does not support SLI and while this is no fault of Zotac's, it is worth mentioning as this is the case with all 1060's currently on the market. For whatever reason, NVIDIA decided to not allow the 1060's to be SLI compatible and it's my guess that they felt at the time, that 2x 1060's in SLI would be too powerful and at a price point that would rival some of their bigger and badder cards. That's just my opinion of course, but it does seem an obvious one! Now then, enough of all that, let's check out the specifications and get a closer look!
PRODUCT SPECIFICATIONS
GPU

GeForce® GTX 1060

CUDA cores

1280

Video Memory

6GB GDDR5

Memory Bus

192-bit

Engine Clock

Base: 1556 MHz
Boost:1771 MHz

Memory Clock

8 GHz

PCI Express

3.0

Display Outputs

3 x DisplayPort 1.4
HDMI 2.0b
DL-DVI

HDCP Support

Yes

Multi-Display Capability

Quad Display

Recommended Power Supply

400W

Power Consumption

120W

Power Input

6-pin

DirectX

12 API feature level 12_1

OpenGL

4.5

Cooling

Dual Fan IceStorm

Slot Size

Dual Slot

SLI

No

Supported OS

Windows 10 / 8 / 7

Card Length

210mm x 128mm

Accessories

Dual 4-pin to 6-pin adapter
User Manual
For those familiar with Zotac, the packaging for the 1060 AMP! GPU will feel very familiar. We are left with the Zotac logo in the top left and the box features an overall yellow design to it. Down on the bottom left of the front, we have a couple mentions of some of the more sought after features such as the 6GB VRAM, Ice-Storm and Freeze Tech.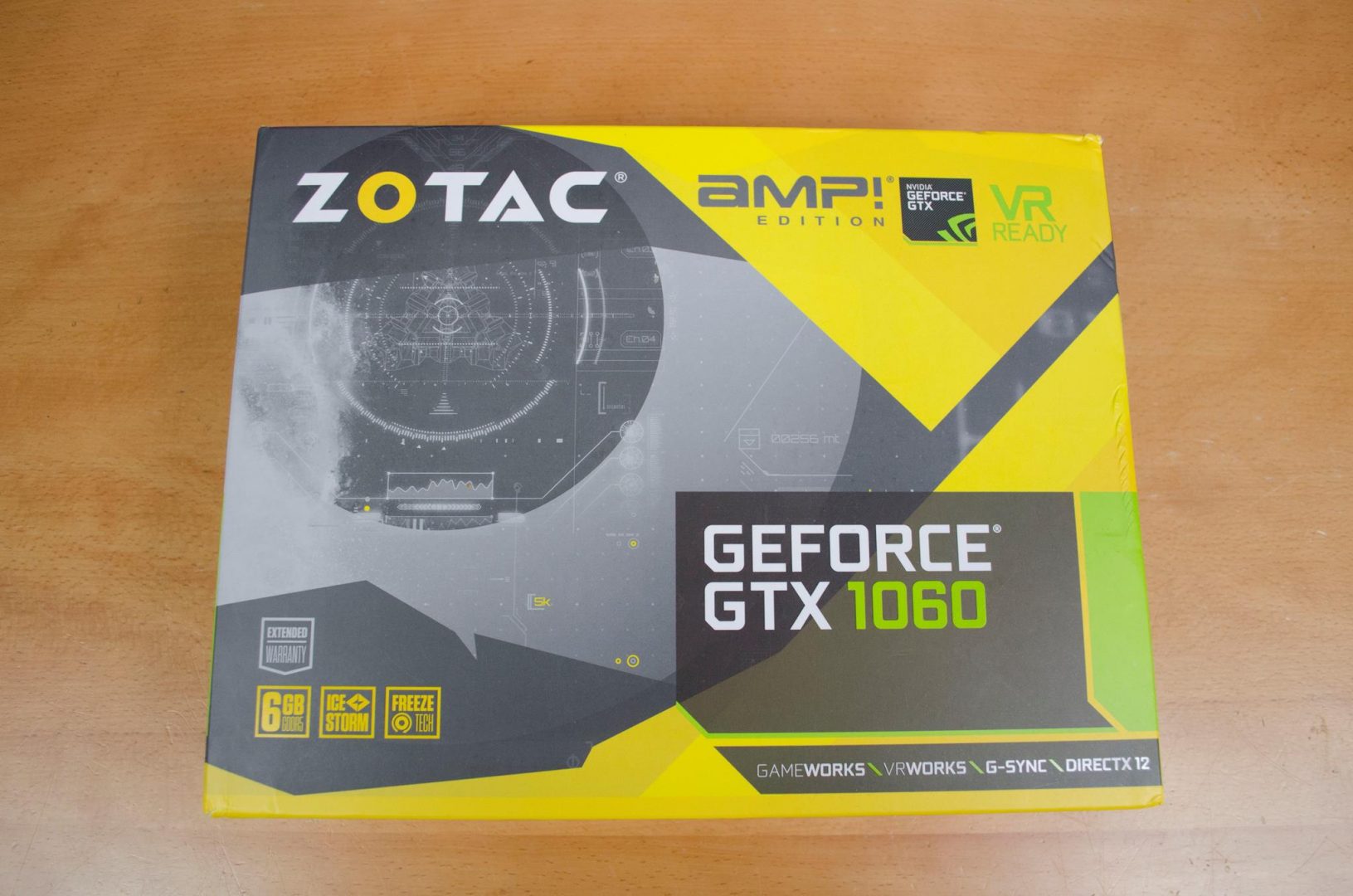 The back of the box goes into a bit more detail regarding the features and specifications and offers a bit of insight into the FREEZE TECH and what it's all about! FREEZE is Zotac's answer to helping prolong your GPU life when it's being used for minimal tasks and it will actually allow the fans to completely stop if the GPU is not at a certain temperature. This is excellent as not only will it help prolong fan life, it also means it's silent when being used for normal day to day activities.
There once was a time when we'd get all kinds of fun accessories and goodies with our GPU purchases. That day is sadly gone and nowadays, most only come with what is in the image below. Alongside the Installation Guide and Driver CD, Zotac has included a Molex to PCI-E adapter and that's it.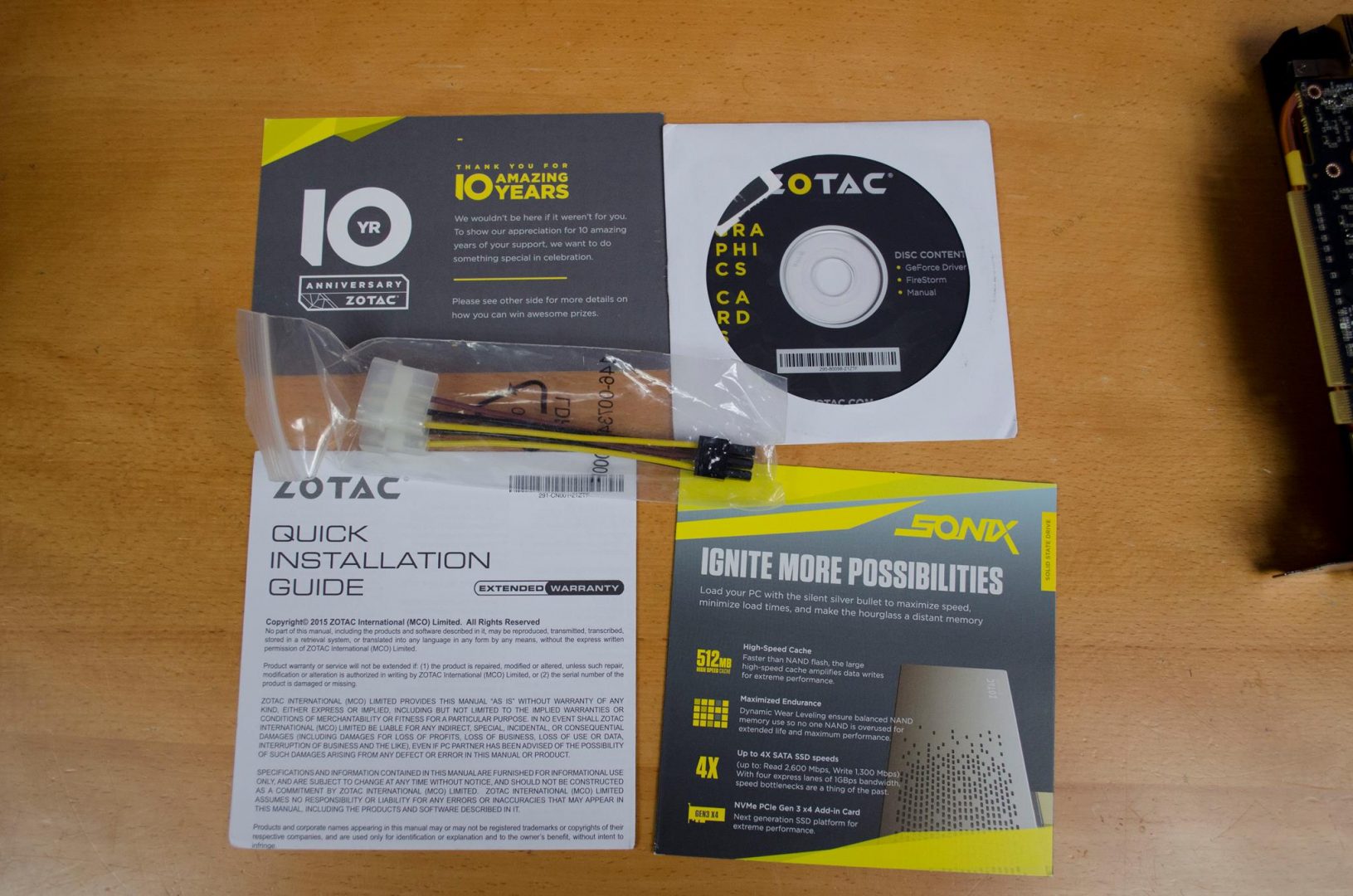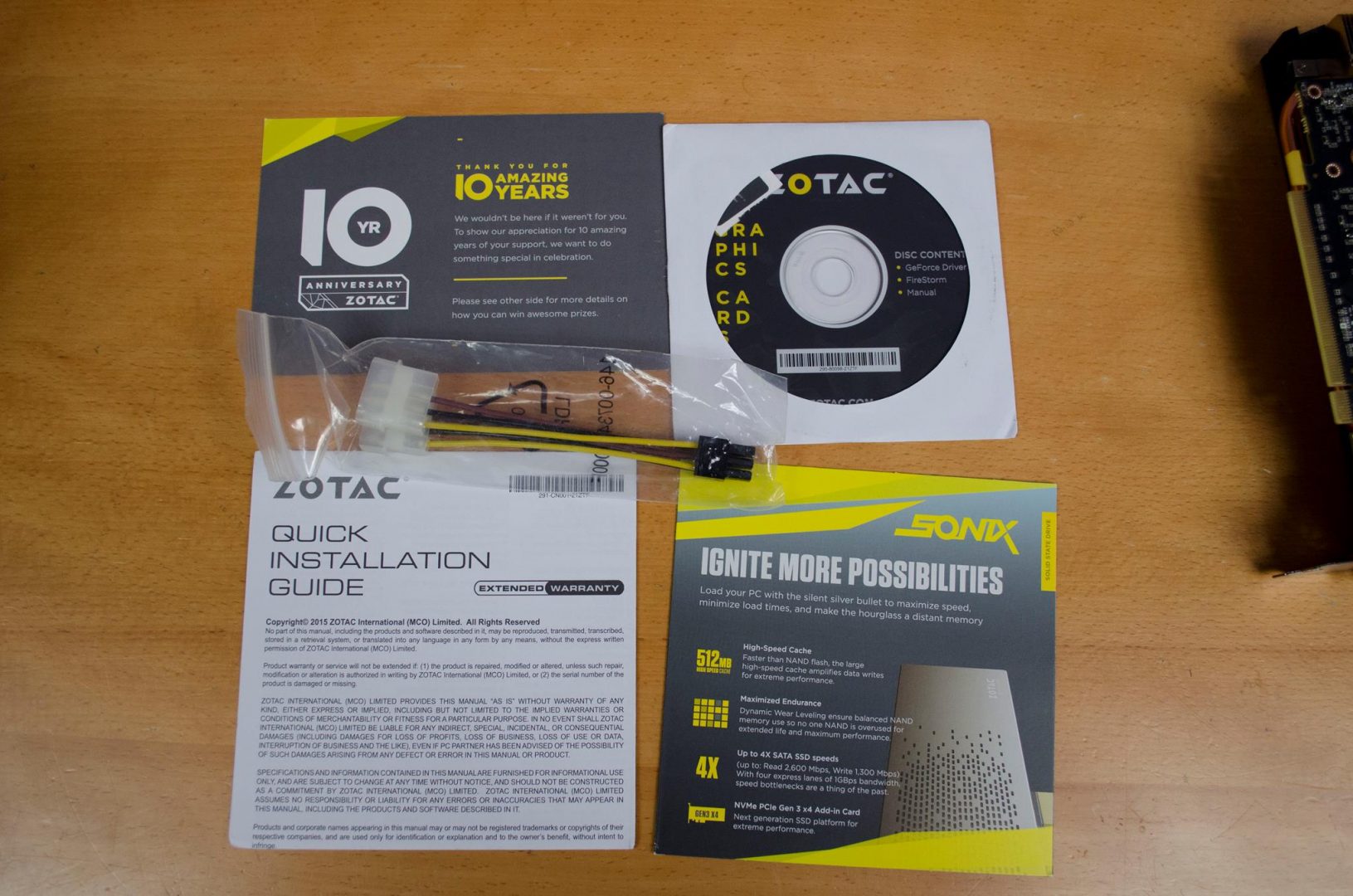 The Zotac AMP! 1060 features a dual fan cooler design. The outside of the shroud features a grey colouring while the inside and fans are black. The AMP! 1060 is a relatively small GPU as far as GPUs go these days and when comparing it to the previously reviewed ASUS STRIX 1060, it is noticeably smaller.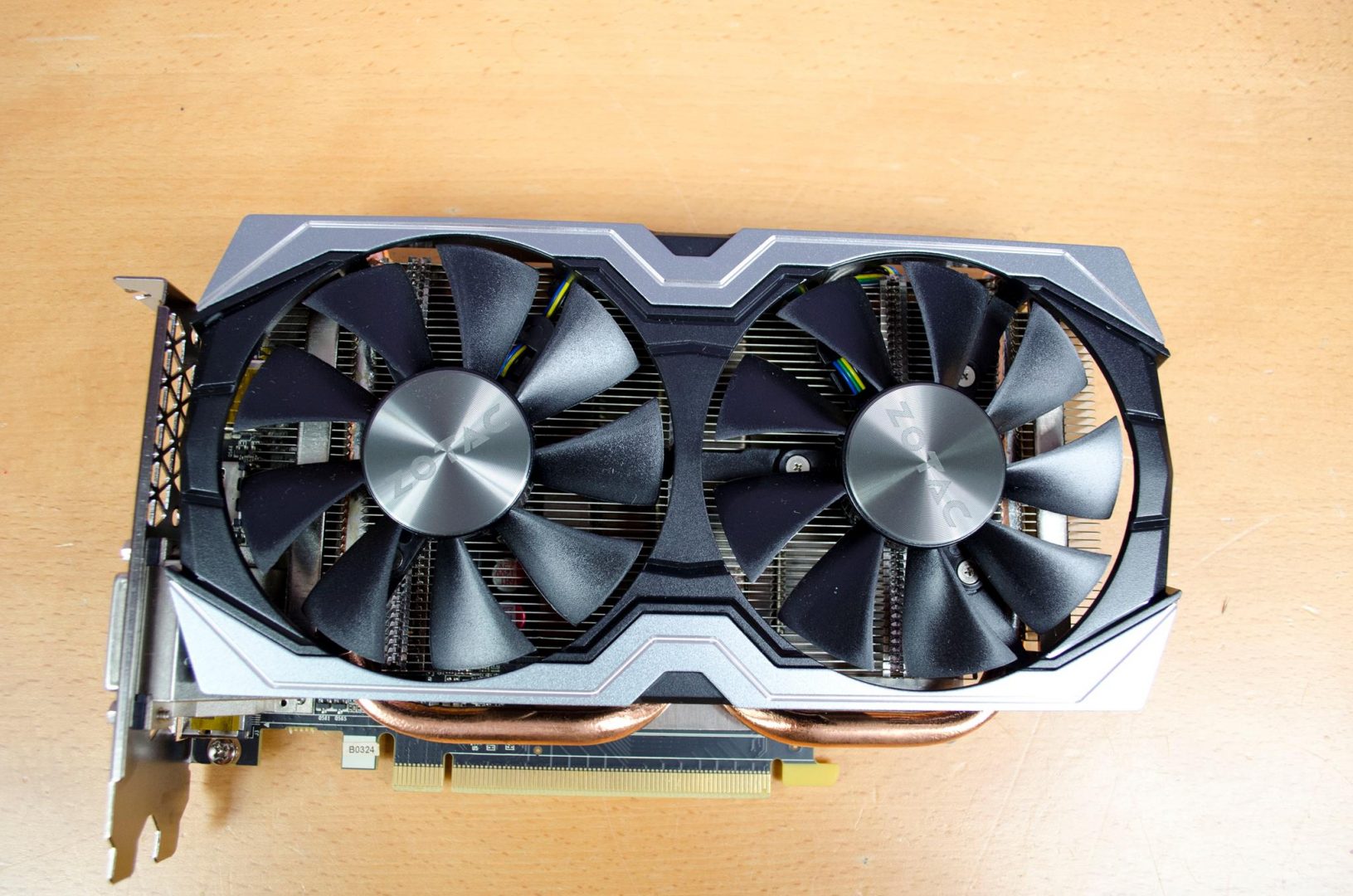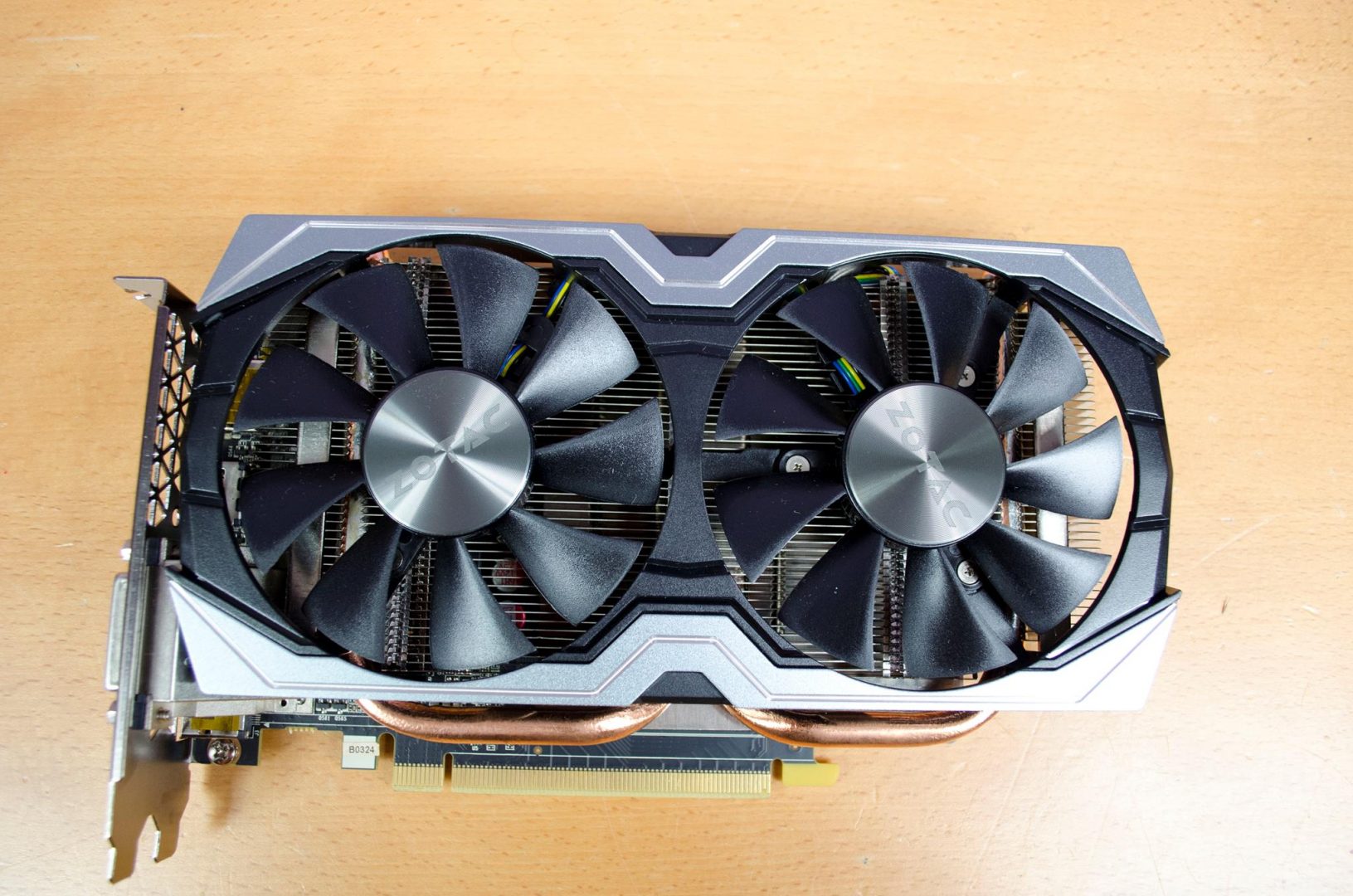 The AMP! 1060 features Zotac's ICESTORM cooling solution which features 5 heatpipes dissipating heat from the core to the aluminium fin array which is cooled by a pair of fans. This design offers optimal cooling for a GPU of this size and in testing, I didn't exceed 71°C. The only issue I have with the cooling is purely from an aesthetic standpoint, I wish they would have gone with nickel plated heatpipes on the outside instead of the standard copper ones. While the copper ones function just fine, I can't help but think this card would have looked even better with silver heatpipes popping out of the sides.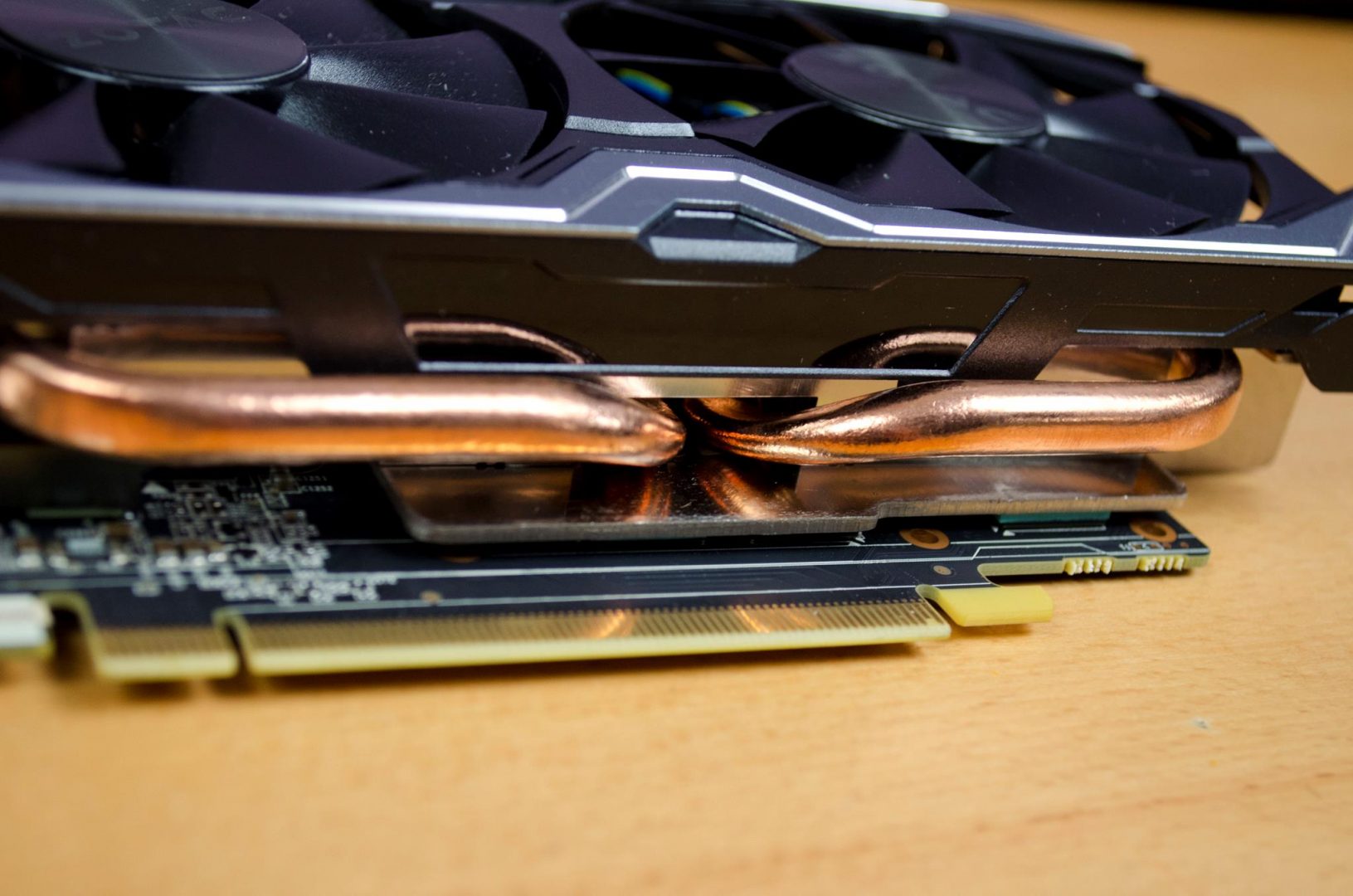 One of the things Zotac did get right and I mean very right is the inclusion of not 1, but 3 DisplayPort 1,4 ports! While there is still a singular HDMI and DL-DVI, the 3x DisplayPorts is a pure class move and will allow you to more easily connect this to some great monitors.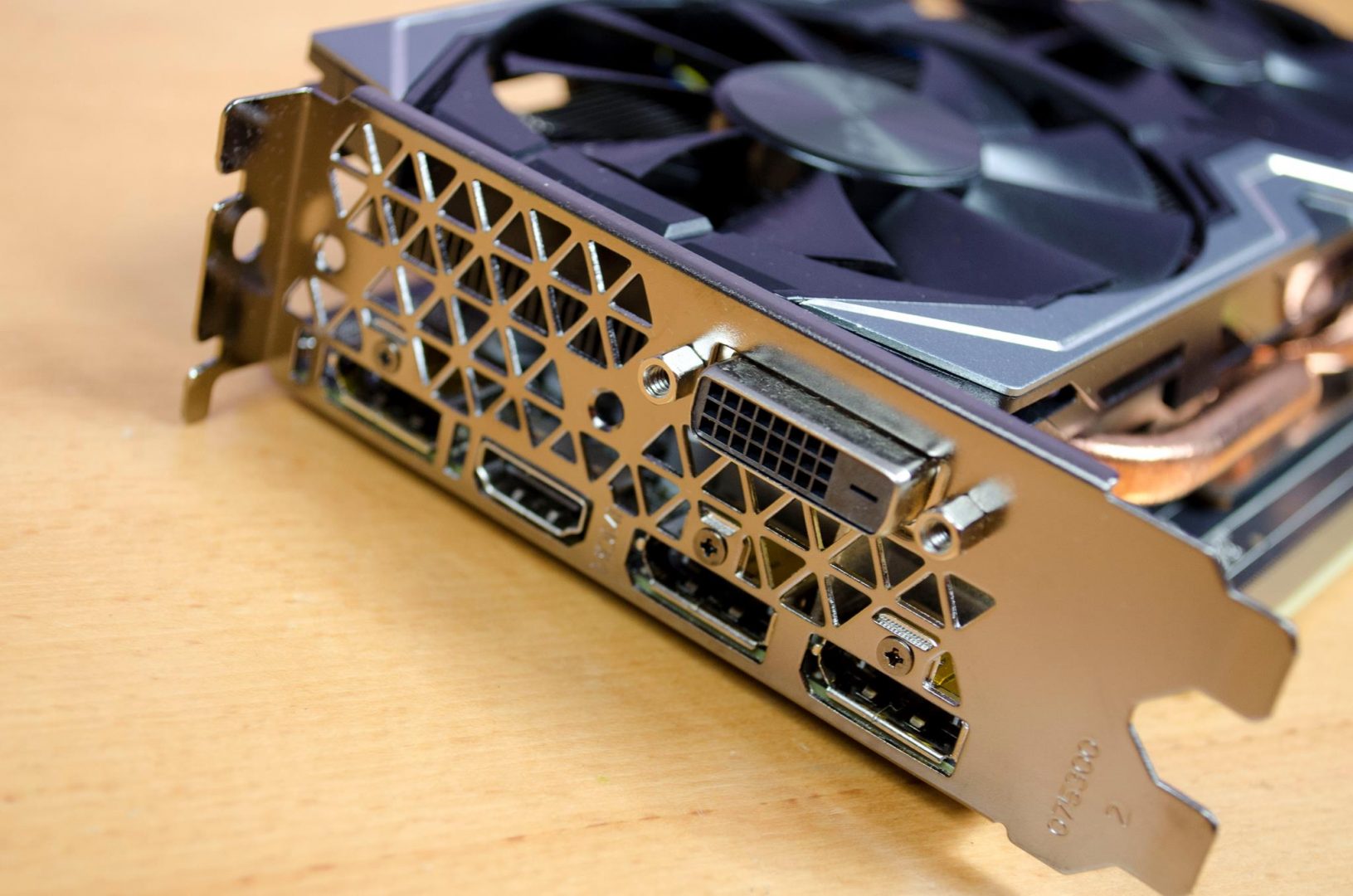 While this is the top of the range 1060 from Zotac, it does not feature a backplate. This is a tad bit disappointing but is also understandable. In today's market, keeping prices down is crucial and while a backplate is great, it's not a necessary feature. A back plate will not help with overall performance and while it may look nice, we can surely live without it.
The AMP! Edition 1060 requires a single 6-pin PCI-E connector from your PSU and as mentioned, has a max power draw of 120W. To show you how low the power draw is, Zotac has only recommended a PSU of 400W in your system to power the whole system! Power consumption is a very important factor of any build and having such performance as this 1060 features with such lower power draw is amazing.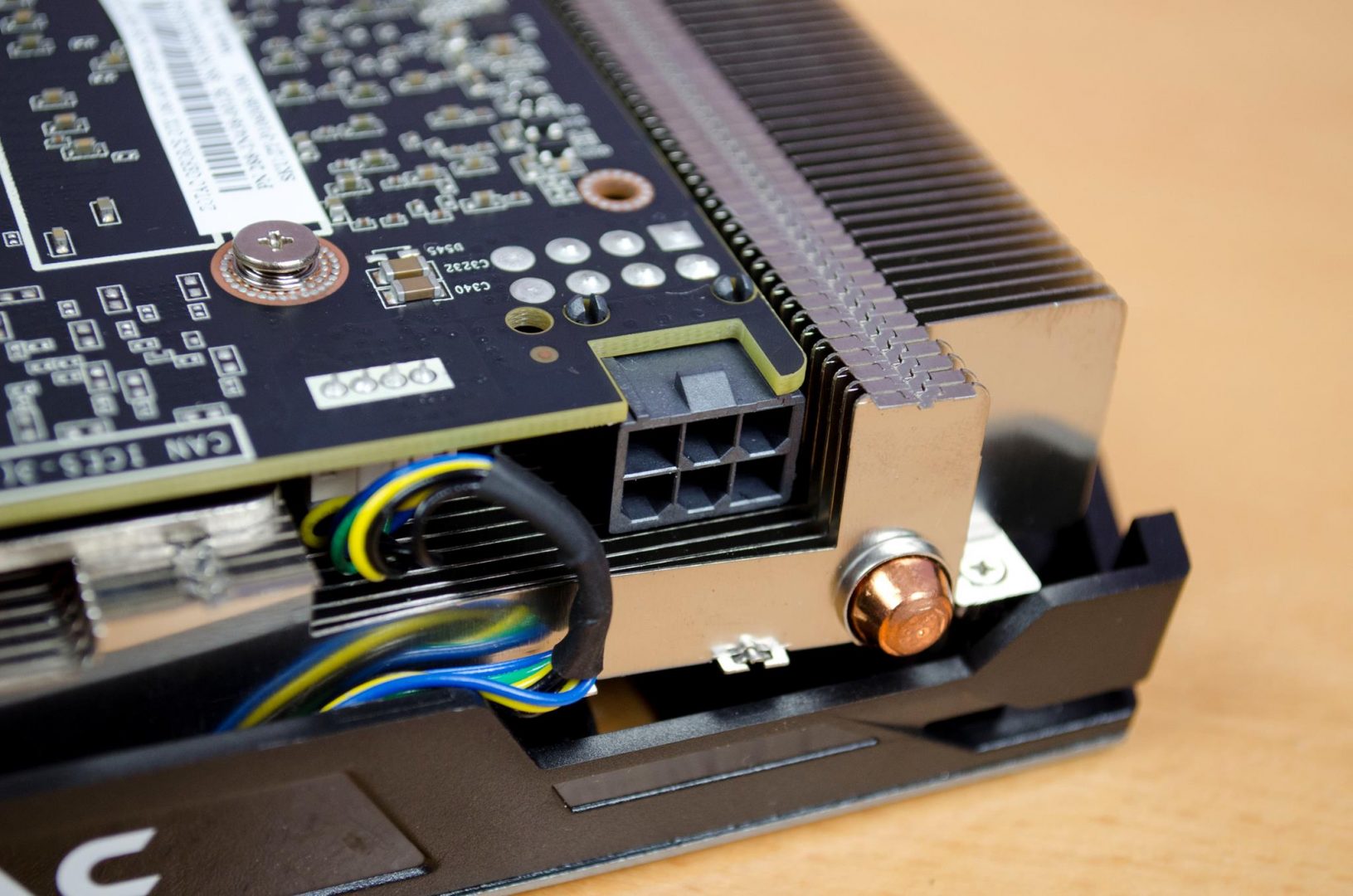 As the PCB itself is so small, this has allowed Zotac to have the heatsink/fin array extend out the backside of the GPU for extra cooling performance. Even with this bit of heatsink sticking out the back, the GPU is still considerable smaller than other 1060's on the market and is sure to come in handy for builds where space is restricted and could even be nice in a Mini-ITX build.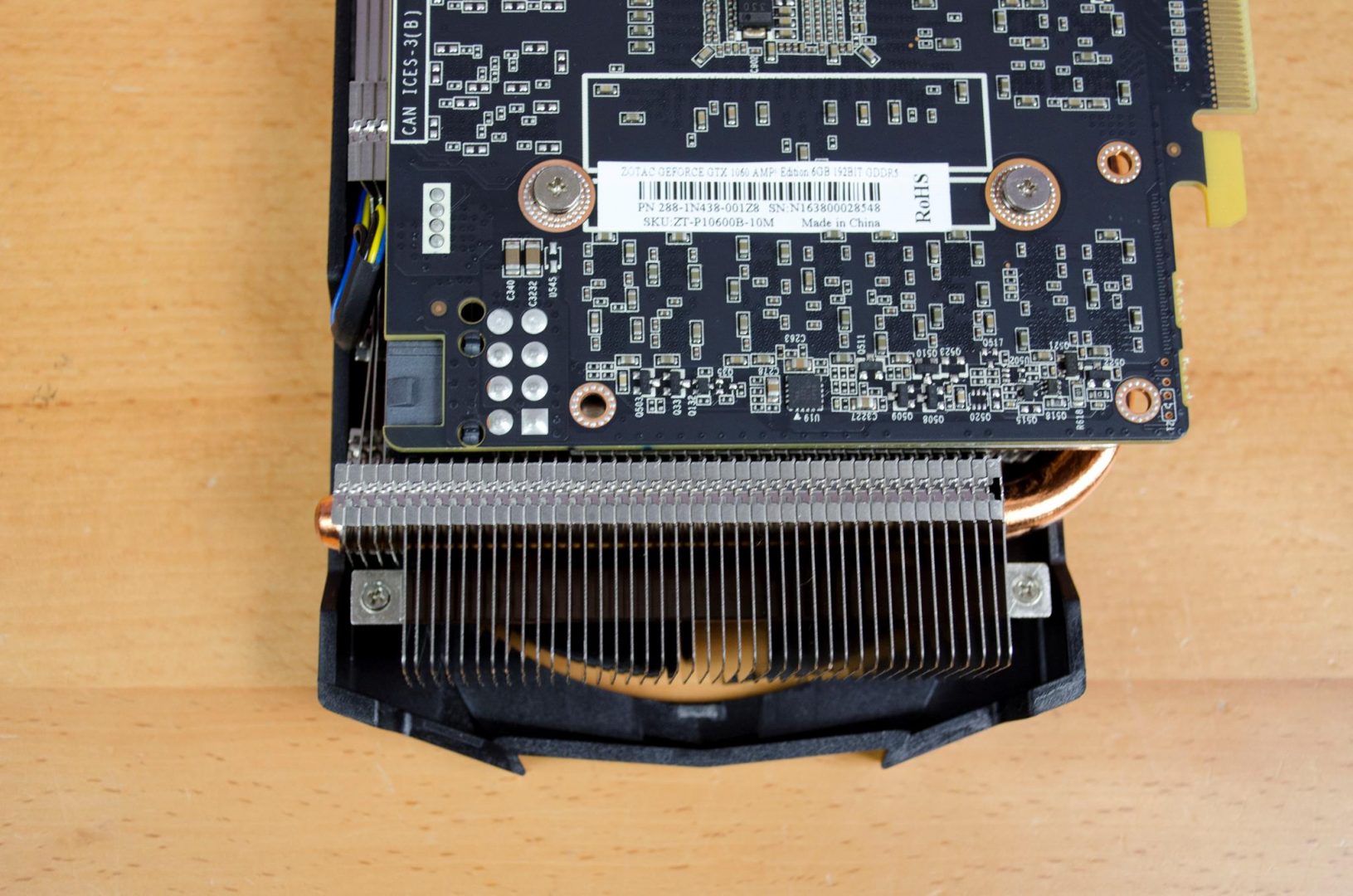 The AMP! 1060 does take up two PCI slots on the back of your PC but only just. A lot of GPUs these days are big and bulky and while those are great to look at it, it is also nice to see something a bit more practical. Not having an unnecessary cooling solution is a great choice and should allow the AMP! 1060 to be more versatile.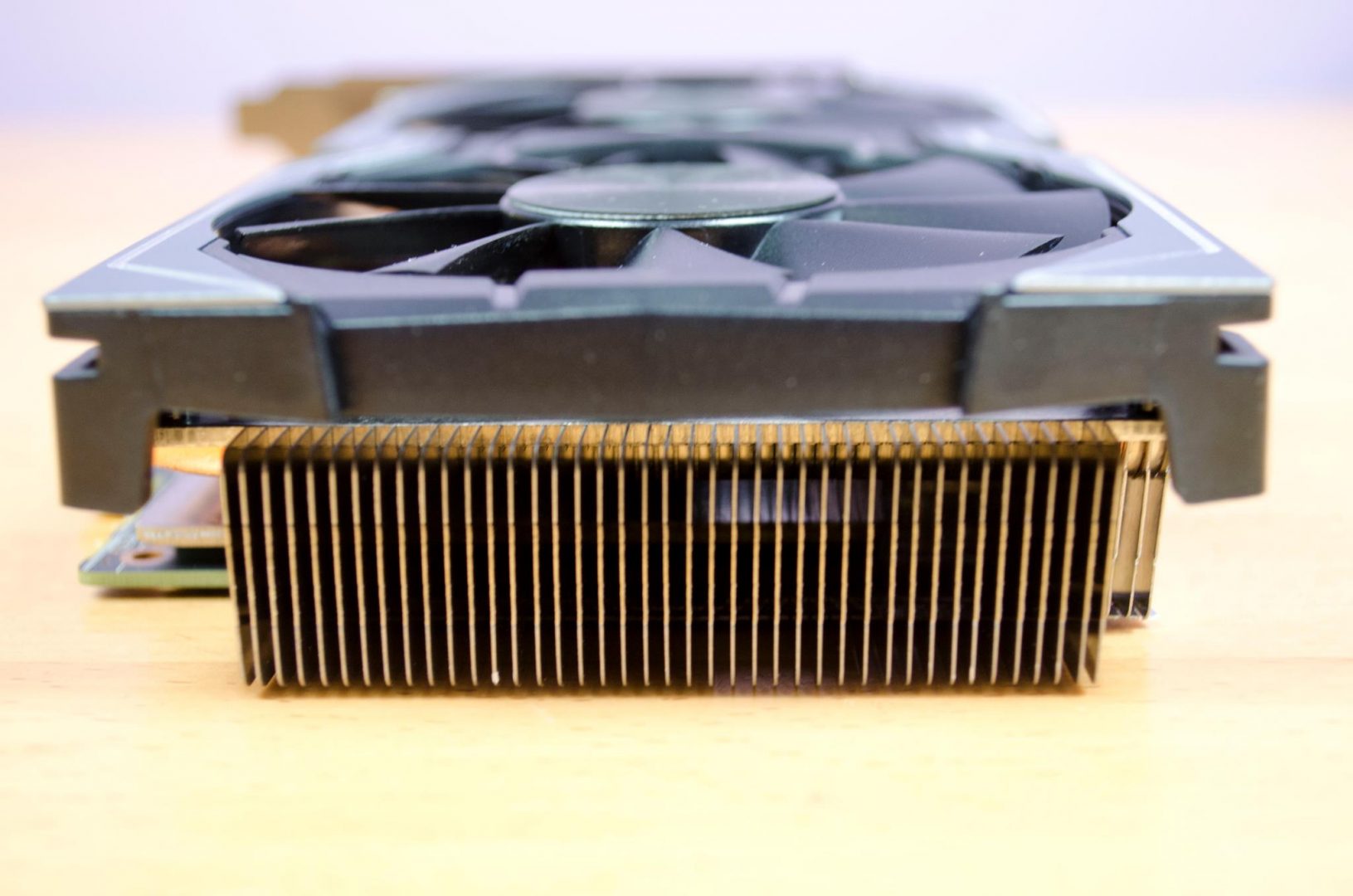 Zotac has added a nice shroud with their logo on it for the side of the GPU that will be on show in most standard builds. Nothing fancy here, no RGB LEDs or any of that, just a nice, plain and simple logo!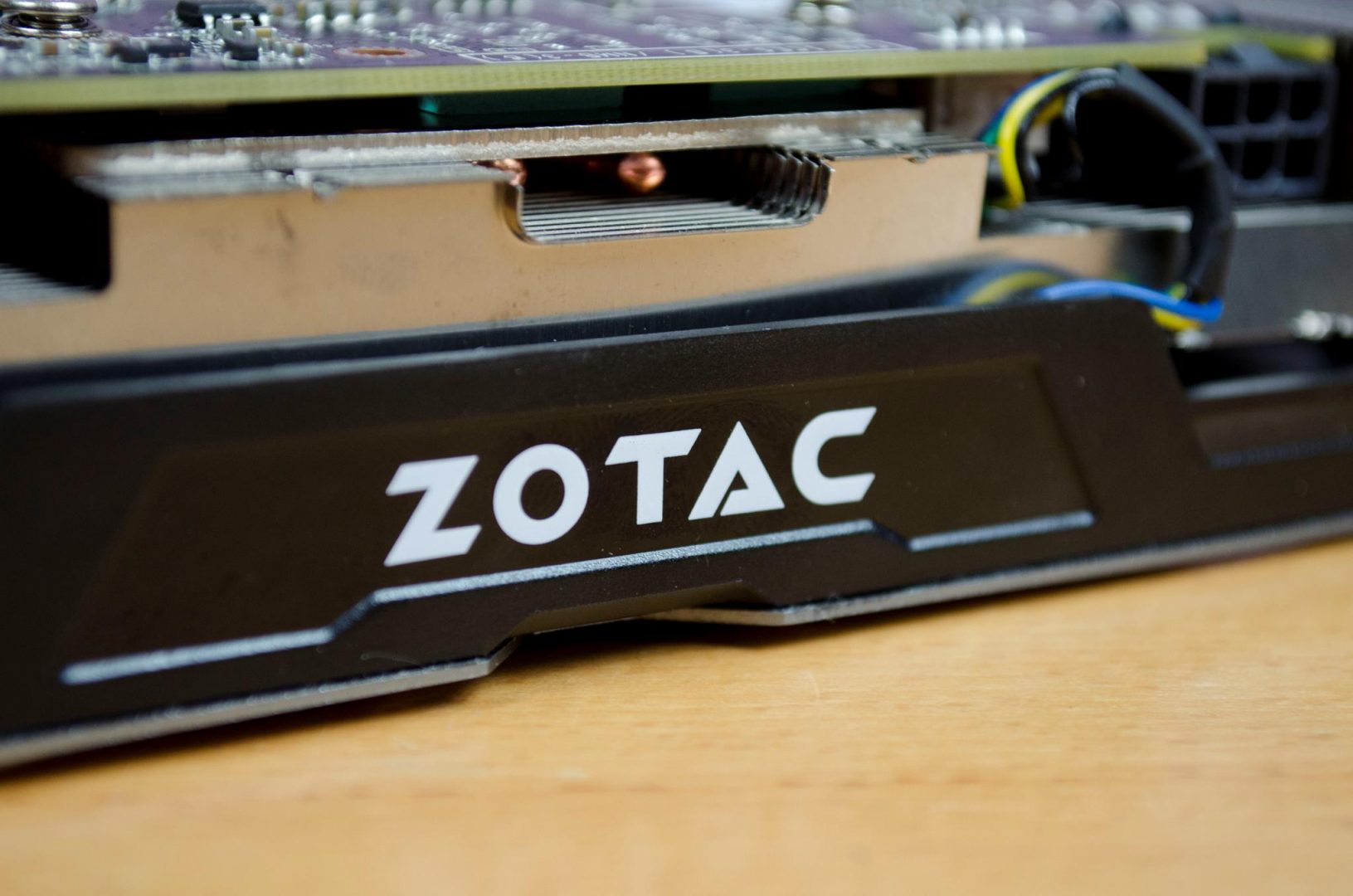 Test System and Methodology
Test System
Windows 10 with all the latest updates
Intel i7 6700K CPU at Stock Settings
ASUS STRIX Z270F
16GB Ballistix Sport Elite 3200Mhz 4x4GB
2x HyperX Fury 120GB SSD
Coolermaster V650 PSU
Coolermaster Master Case Plus 5
Methodology
To test the performance of graphics cards, we run various gaming benchmarks on them as well as a few other programs at both 1080P and 1440P. Where applicable, we run the benchmarks on different settings such as high, med and low. Results are then added to our graphs where they can be compared to other graphics cards we have tested on the same system.
Performance and Benchmarks
General Performance
3D Mark Fire Strike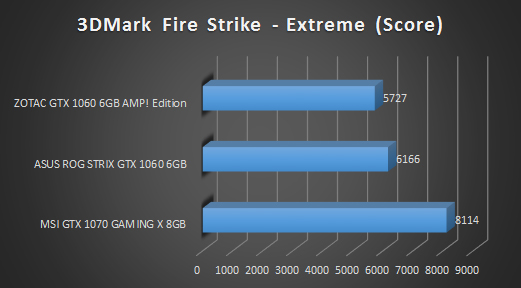 Battlefield 1
Bioshock Infinite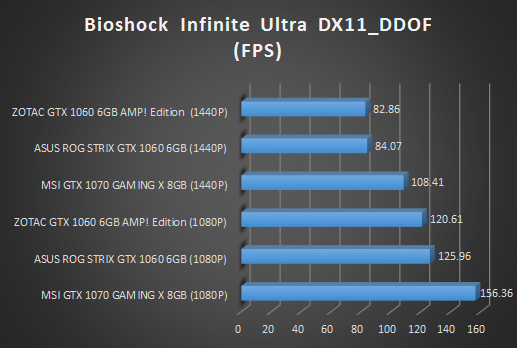 Middle Earth: Shadow of Mordor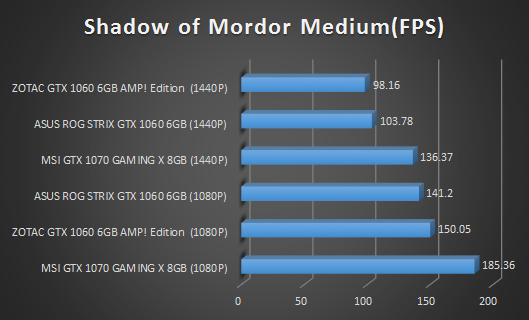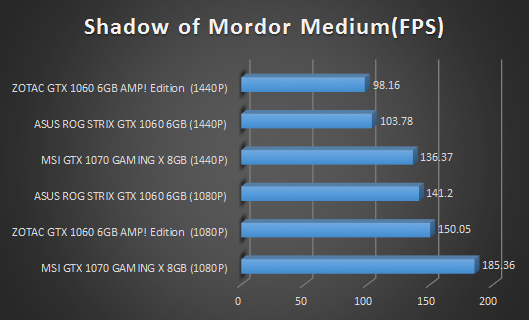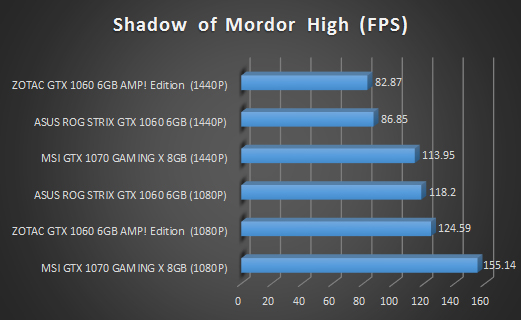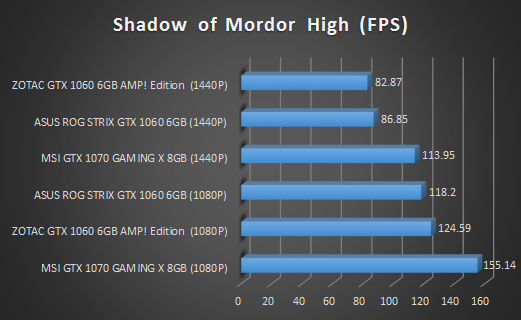 Tomb Raider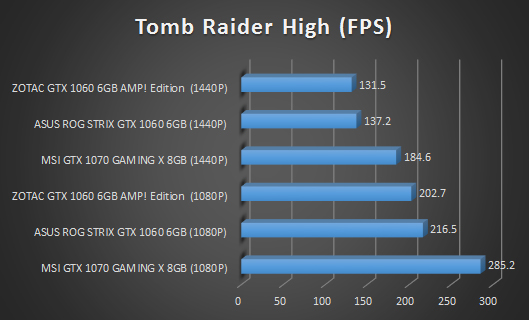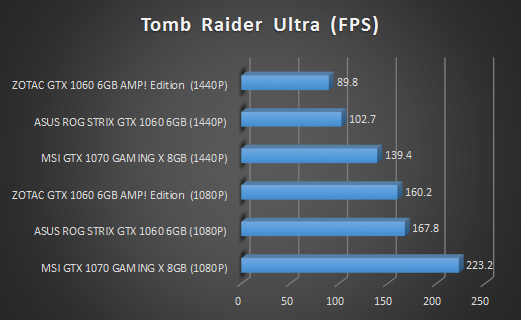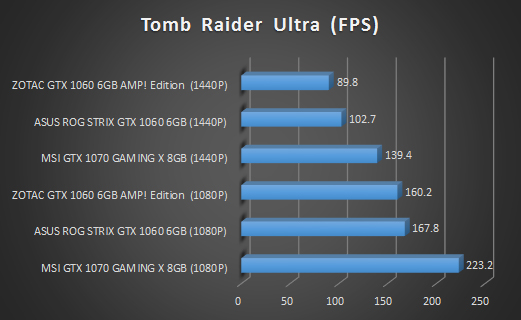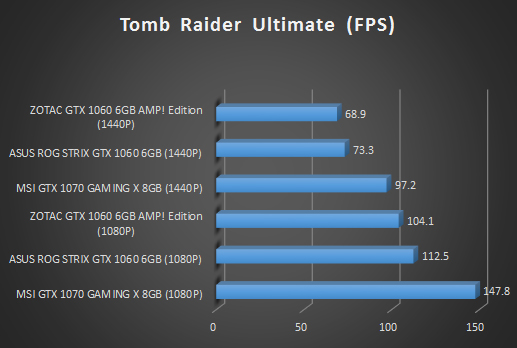 Unigine Heaven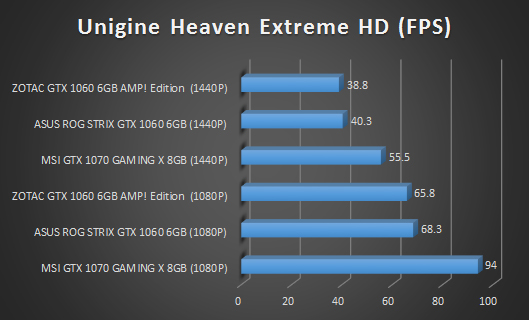 Unigine Valley

Overclocking and Software
Software
The FIRESTORM software that you can download for Zotac GPUs is easy to use and understand. Not only will it allow you to monitor your GPU(s), you can also use it to overclock your GPU(s). You can control everything from the fan profile and speed to the GPU and Memory Clocks, Power and GPU Temp Target. While overclocking a GPU is fairly easy to do, if you've not done it before you should google around a bit and see what you are in for. While it is hard these days to blow up a card VIA standard overclocking, it's not impossible, especially if you've changed something you shouldn't have. All in all, I found the FIRESTORM software a pleasure to look at and offers good functionality at a beginner's level of understanding.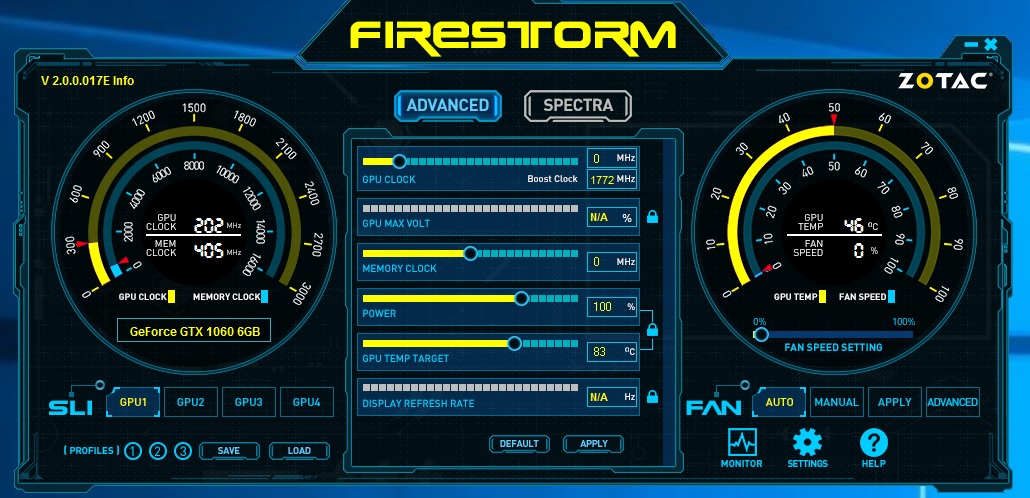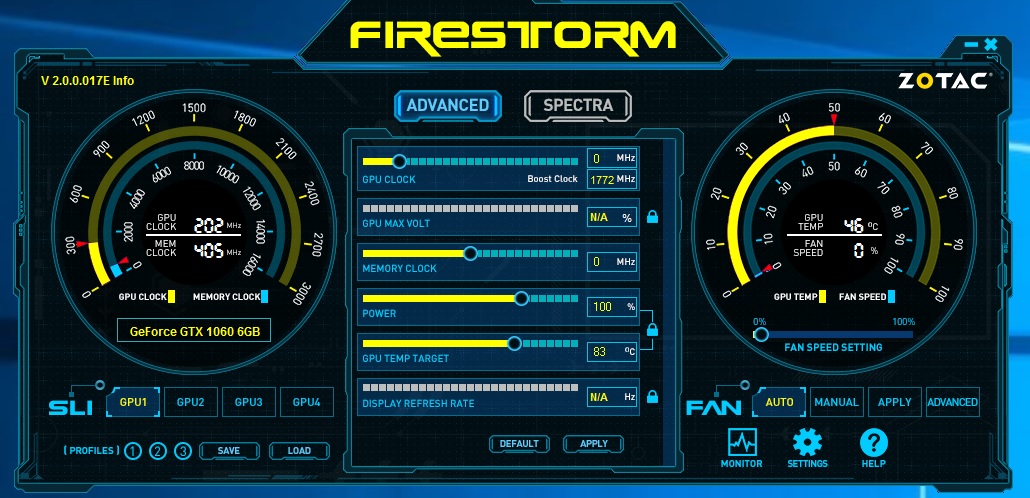 Overclocking
Using the above-mentioned FIRESTORM programs, I set out to overclock the Zotac 1060 AMP! Edition. When overclocking GPUs, I tend to start with the GPU clock and move it up in increments of 50 at a time, until I either see artifacts in testing or the test fails. Doing this, I starting seeing issues around a 150 MHz boost, so I backed it down to 125 MHz and all was fine. Next, it is time for the memory and I normally add 100 MHz at a time to memory clocks as they generally allow a higher overclock than the base clock. I made it up to 400 MHz added before I saw issues, which were artifacts. I think backed it down to 375 MHz overclock and everything went well. I passed the FireStrike Extreme test with an added 406 points to the previous score. While this isn't a major increase, it was enough for an average of 5-10FPS in most games on high settings.
Performance
The Zotac GTX 1060 AMP! Edition offers some decent performance as far as 1060's go. While it is not the best performing 1060 we have seen, it is significantly cheaper than other models, so don't let 5 FPS put you off from purchasing it. For what it is, this GPU offer some good performance and will surely handle most any game you can throw at it at 1080P with ease. When going up to 1440P, the AMP! Edition 1060 will still play most games on high/ultra but you may notice instances where the FPS drops below 60, depending on the game you are playing. I noticed it mostly in Battlefield 1 and while I could still play it, it was obvious when the FPS dropped for a few seconds and if I was using it daily, I would have dropped the quality down a bit to combat this. However, with today's graphics, this is still an impressive feat and for those who want the extra FPS, it is easy to overclock this card and will surely can you 5-10FPS. The small FPS gain from overclocking may be just what you need to play your favourite game at a higher setting!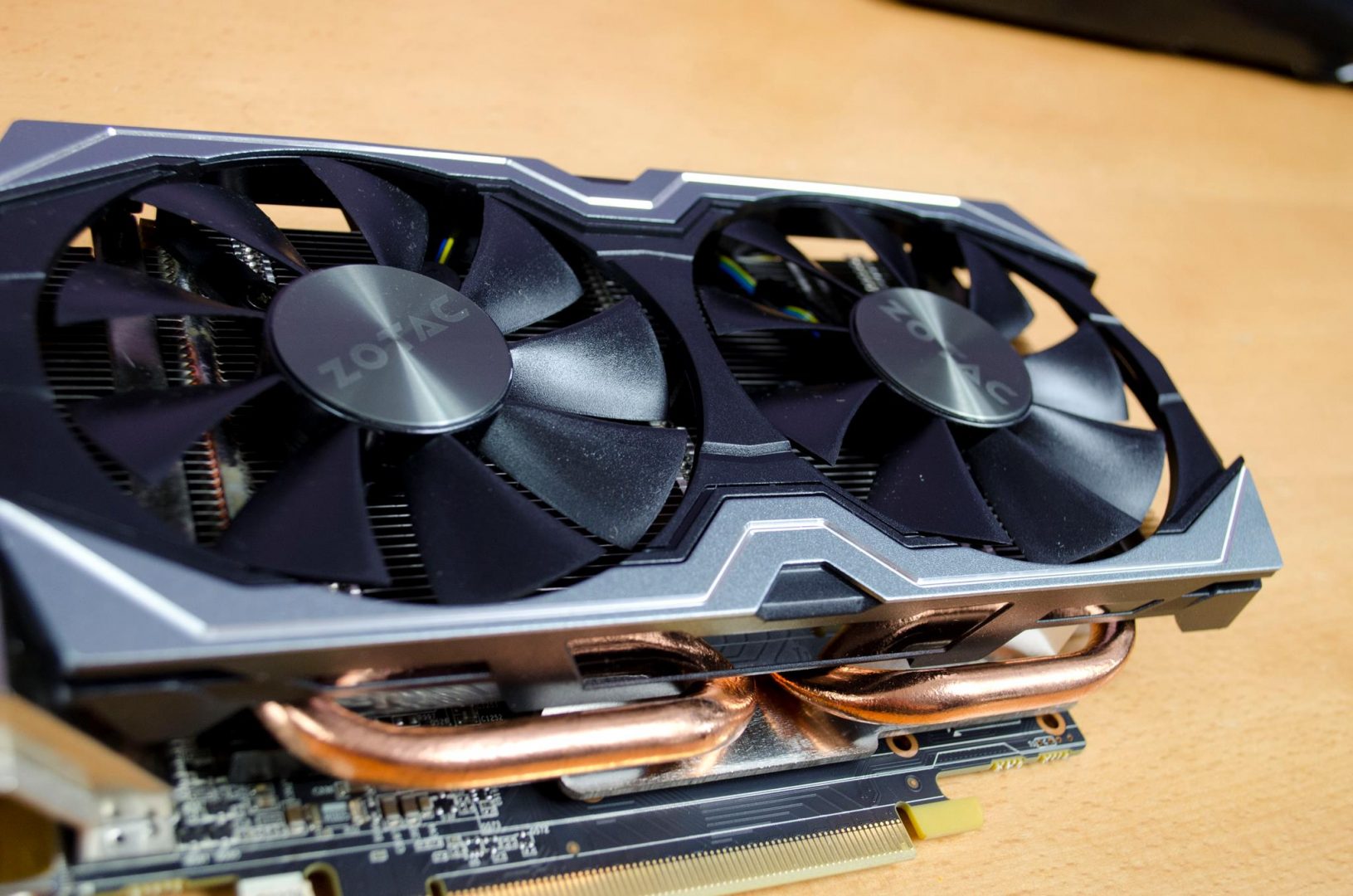 Design
While this is the AMP! Edition, Zotac have gone with a fairly simple aesthetic approach. This card is not full of bling or flashy, but it does the trick. This card is designed to run cool and quiet and it does just that. The ICESTORM cooler combined with the FREEZE technology are what allow it to run so cool and quiet. As mentioned, in all my testing it didn't go over 71°C which is a very acceptable temperature for a GPU running at full load! The simplicity in the design also means it should be able to fit with most builds colour schemes. The FREEZE technology which allows the fans to completely stop when the GPU is not at a certain temperature is a great feature as it means the GPU will literally be silent most of the time during normal use.
Value
This is what is going to make this a much more viable option than other 1060's on the market, the £250 price tag. Other manufacturers 1060's can be anywhere from £50 to £80 more expensive and only offer a 5FPS increase at stock speeds. To me, this makes the Zotac GeForce GTX 1060 AMP! Edition a great choice. Not only that, it is also a lot more compact so will fit in more places. While the other cards may have a bit more flash, if you are looking for straight up performance and are on a budget, the 1060 AMP! from Zotac is surely a smart choice. For £250 you are getting a single GPU that can just about handle most titles on Ultra when gaming at 1440P. If you're on a 1080P monitor, it really is a no brainer, save the money and make the smart choice!
"The Zotac GeForce GTX 1060 AMP! Edition packs a punch for a card of its size and a substantially lower price point that its competitors. If you want a NVIDIA based card that will handle all your games at 1080P and most at 1440P, this is a great option and smart choice."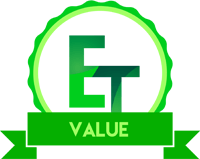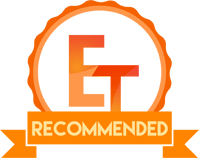 Many thanks to Zotac for sending in their GTX 1060 AMP! Edition for review. 
Want to discuss this review further, head on over to the Zotac GTX 1060 AMP! Edition thread, in the Enos Tech Reviews Sub-category on the Gaming Exodus forums!