Introduction
We have tested two new CPU water blocks from ALPHACOOL recently. These are:
This time we are testing the black version of ALPHACOOL's flagship CPU cooler aka Eisblock XPX AURORA PRO Digital RGB – Full Brass. Full brass here means that this cooler does not have Plexi material used in it. ALPHACOOL has also provided subtle digital RGB lighting by backlighting their brand logo on the lower right side of this block. Previous models have integrated digital RGB strips which are visible through the Plexi top. This block is compatible with Intel: LGA 115x / 1200 / 1700 / 2011-3 / 2066 / 3647 / 4189 sockets and AMD: TR4 / TRX40 / SWRX8 / SP3 / AM4 / AM5 sockets. There are two main reasons why we call this block a flagship:
Wide Socket Support as mentioned above
Full-length CPU IHS coverage (76x60mm).
This water block has 147 fins having a thickness of 0.2mm with a surface area of 42 x 58.6mm (The EDGE has 34 x 32 mm area). This is done to provide maximum coverage to the majority of the consumer and server grade CPUs. We are seeing a same Ramp System design from Alphacool which ensures that the coolant is making even contact with the cooling plate.
The block is listed at €129.98 at the time of review.
ALPHACOOL Eisblock XPX AURORA PRO Digital RGB Specifications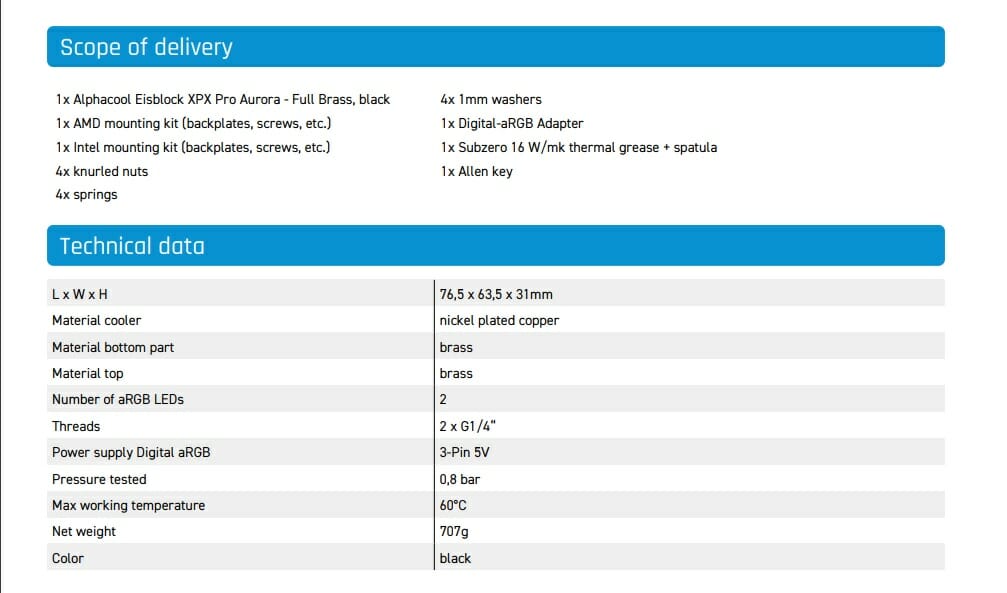 Packaging and Unboxing
We made an observation in last content that ALPHACOOL is using same packing box even on new generation of these blocks. PLEXI is printed over the box which gives this away. The new PRO is a full brass design and does not have a Plexi material.
The block is inside a transparent container placed inside a Styrofoam pad. Mounting hardware is enclosed in a container and placed side by side.
Contents
Let's see what is provided:
The mounting hardware is provided inside a container.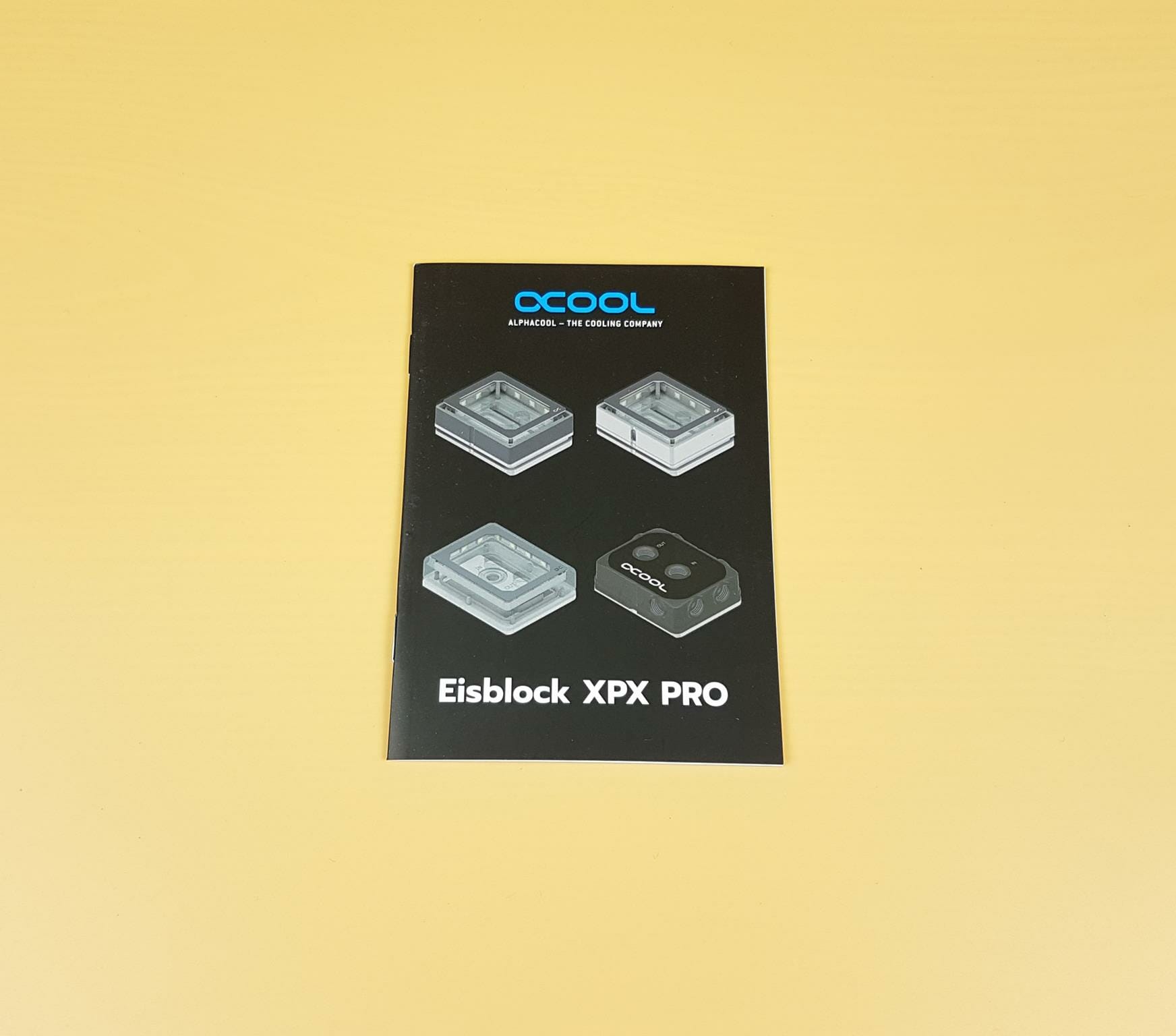 There is a comprehensive user guide provided with the block for ease of installation.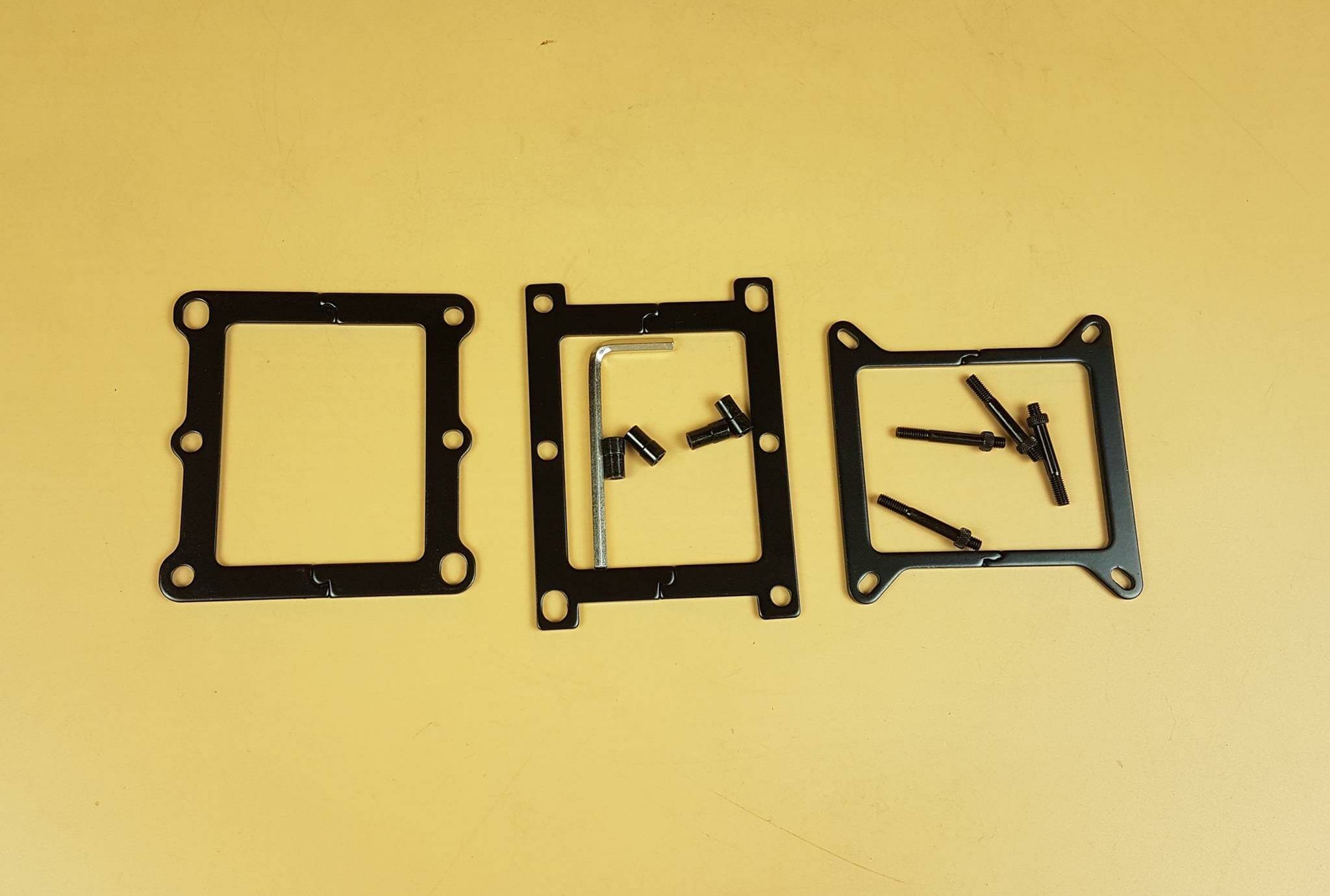 We have following mounting hardware for the Intel.
2x Brackets for Intel LGA 115x/1200/1700/20xx
2x Brackets for Intel LGA 3467 Narrow ILM
2x Brackets for Intel LGA 3647 Square
4x M4 Screws for Intel LGA2066
4x M4-M2 Screws for other Intel sockets
1x Allen Key
4x Hexagon Socket Nuts
We have:
1x Metallic Backplate
4x Screws for Intel LGA1700 socket
1x Installation Guide paper for LGA1700 socket
The metallic backplate is quite rigid and has a protective layer on the side facing the motherboard PCB. There are two self-adhesive pastes to hold the bracket on the PCB during the installation. ALHACOOL released this backplate for LGA1700 socket motherbroards.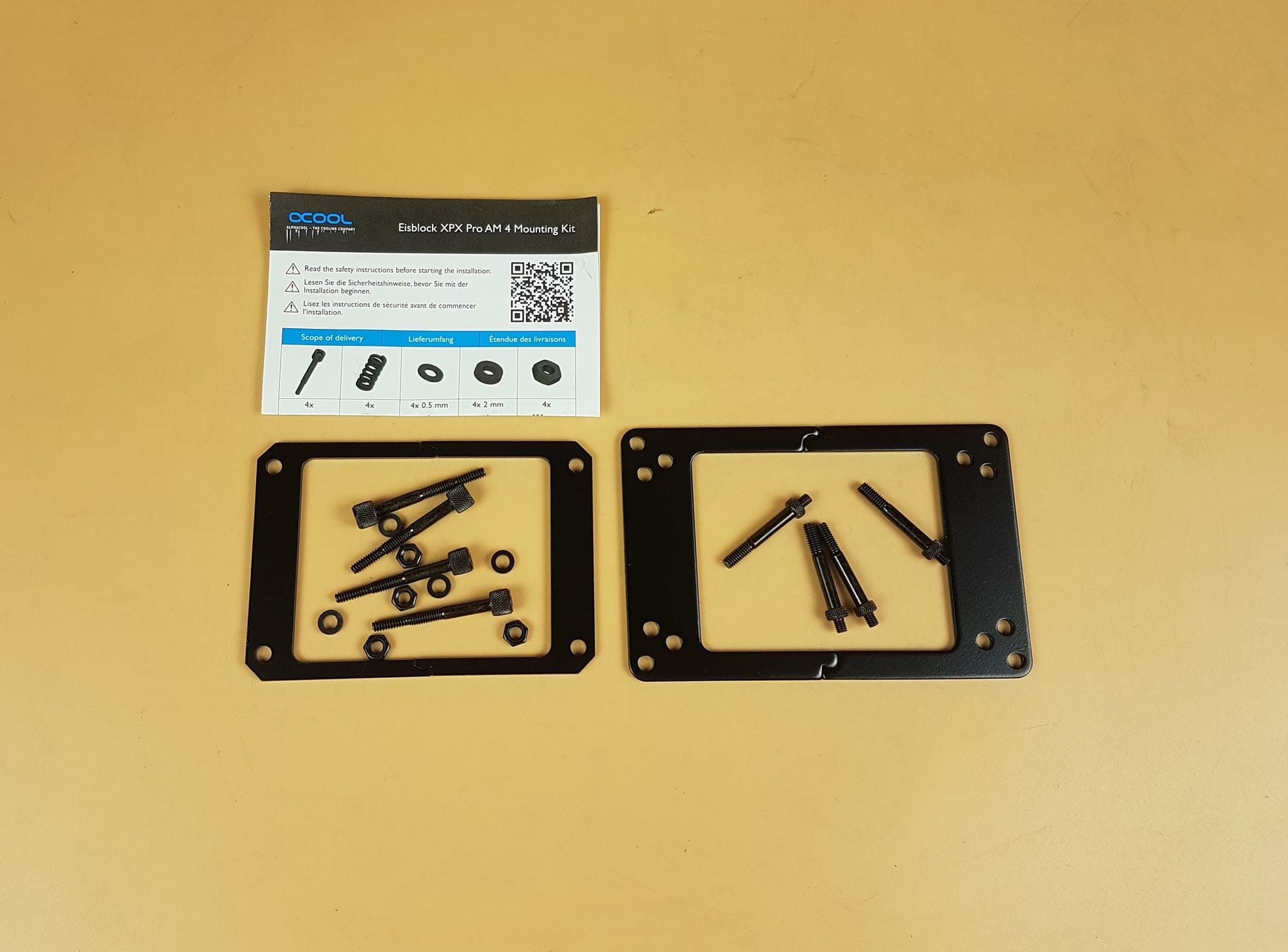 Following hardware is provided for the AMD platform:
2x AMD mounting brackets for AM4/AM5
2x AMD mounting brackets for TR4
4x TR4 Bolts
4x M4-UN 6-32 Screws for AM4/AM5
4x washers 2.0mm
4x nuts
AM4 instruction paper
Please note that you would need these 2.0mm washers for the Intel LGA1700 socket mounting as well.
We have:
1x Alphacool Subzero Thermal Paste [16 W/mK Thermal Conductivity]
1x Spatula
4x Springs
4x 0.5mm washers
4x knurled nuts
1x Digital RGB Adapter Cable
Closer Look
ALPHACOOL Eisblock XPX PRO is a flagship, enthusiast-grade water block to cool your high-end CPUs.  Here is what Alphacool is saying about it, "With the Alphacool XPX Aurora Pro Eisblock, Alphacool offers a CPU water cooler specially designed for processors with particularly large processor cores. These currently include the AMD Threadripper models and processors from Intel for the LGA 2066 socket and the LGA 3647 server socket in narrow ILM design. As a CPU cooler from the Aurora Design line, the CPU cooler naturally offers integrated digital aRGB lighting."
Let's take a look at design of this block.
This unit is available in chrome and black colors. We have earlier tested chrome version and it got our praise. This time we are taking a look at black version. This cooler has a dimension of 76.5×63.5x31mm. This block has a large size compared to the other Eisblock XPX blocks. Brass and Copper materials are main ingredients of this product.
Speaking of socket compatibility, this block has much wider support than a regular-size block. This includes:
Compatibility Intel: LGA 115x / 1200 / 1700 / 2011-3 / 2066 / LGA 3647 / LGA 4189
AMD Compatibility: TR4 / TRX40 / sWRX8 / SP3 / AM4 / AM5
The unit is rated for a maximum of 60°C operating temperature [coolant's temperature]. The block is tested for 0.8 bar pressure and it weighs around 0.707 Kg. It is quite heavyweight.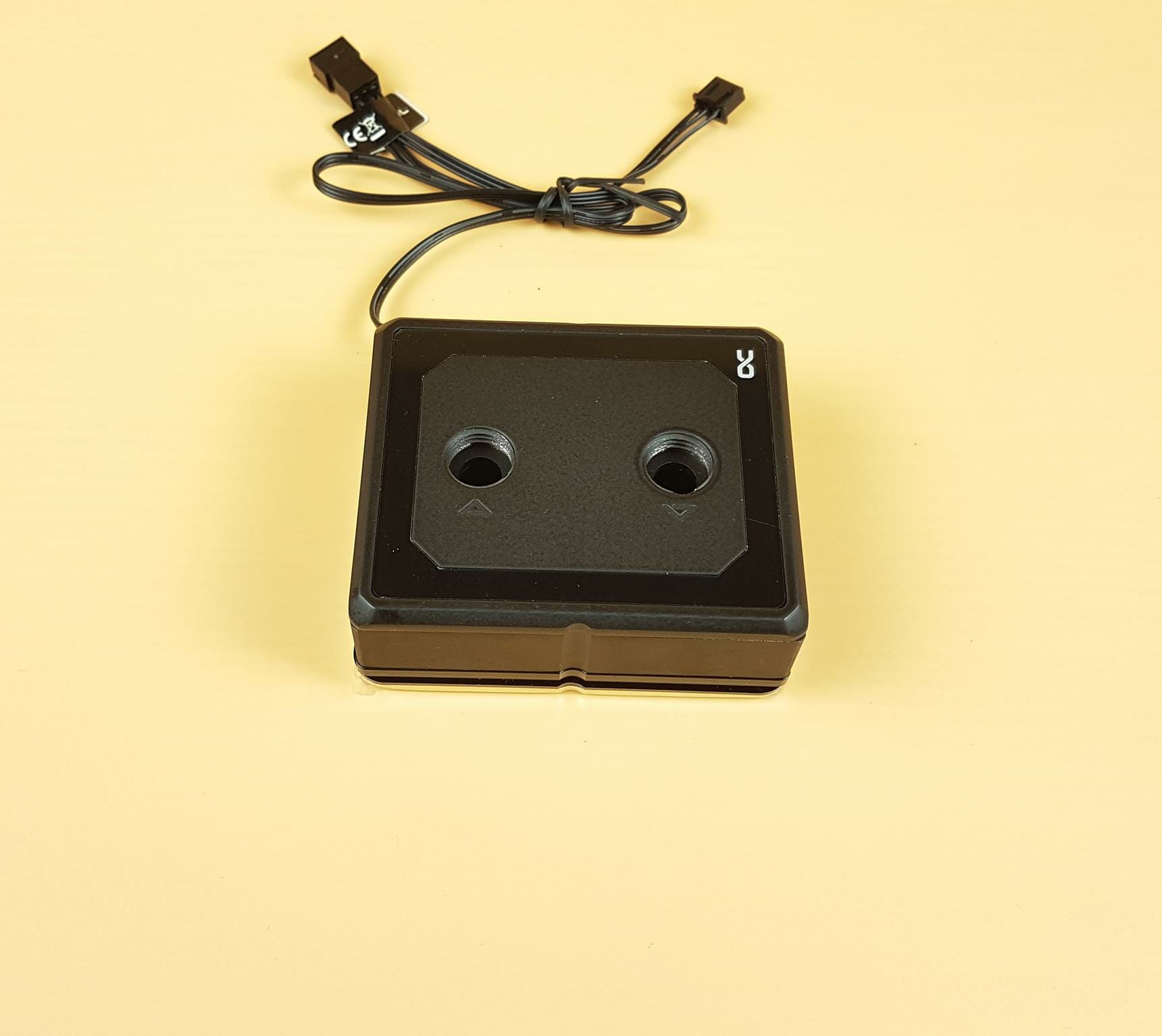 When it comes to the overall outlook along with the touch and feel of this water block, this block is well suited for neutral or stealth builds as ALPHACOOL has focused on a discrete look. This is further augmented with a very subtle touch of digital RGB lighting which only lights the ALPHACOOL brand logo. There is no more Plexi material on the top. We have two G1/4" threaded ports here which have a dedicated function.
There is a dark black color overlay frame with ALPHACOOL branding on the lower right side. The ALPHACOOL logo is digital RGB Backlit using 2x digital RGB LEDs. There are two arrow markers on the top of this block. This help in identifying a dedicated role of each port. Arrow pointing towards a port shows that it is an INLET port. Arrow pointing away from the port shows that this port is OUTLET. The inside frame of the block has IN and OUT. This further helps the users understand which port serves which purpose. These are ports are using standard G1/4" size threads.
This block is completely in matte black finish all-around. Top edges are somewhat angular resulting in a non-steep design. ALPHACOOL has put in good machining work which has resulted in a synonymous finish on all sides. We have mentioned above that this block is heavy. This is due to all brass-made construction.
There is a black color flat cable coming out of the block from the middle of the right side. This is to power 2x LEDs backlighting the ALPHACOOL logo. The location of that logo restricts the installation of this block in a particular orientation as this block can only be installed with the logo side facing the PCIe slot of the motherboard. However, if you can live with an inverted logo then you can install this block in another direction as well.
Speaking of cable, ALPHACOOL is using a 3-pin JST connector to power the LEDs. The use of proprietary connectors make this product sits well within ALPHACOOL Ecosystem only.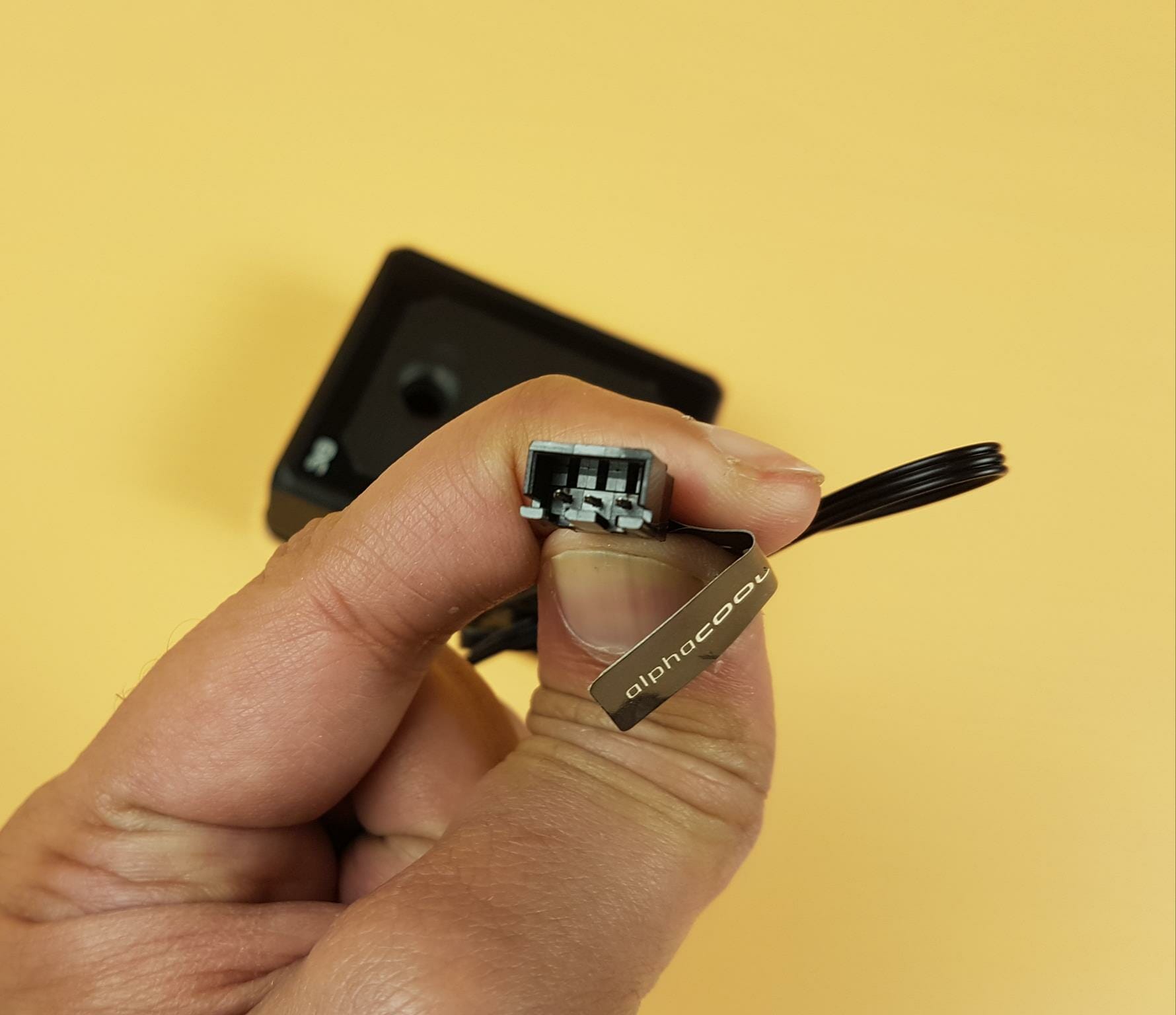 There is a 3-pin JST socket as well to daisy-chain the RGB  elements with other ALPHACOOL components in the loop.
The above picture shows the inset at the bottom side. This is where the mounting brackets would slide in. ALPHACOOL has retained their standard installation mechanism in all of their products.
There is a nickel plated copper base that is secured using 4x screws. There is a protective cover cautioning the user to remove it before the installation. This cover is there to protect the surface from scratching. The base roughly measures 76x60x3mm. Since the block has the same design, we did not open it. The cooling engine has gaskets and mid plate.  Next we have flow distributor, gaskets, jet plate and cold plate which is secured using 4 screws to main housing.
Installation
We have tested the block on the Intel LGA1700 socket using GIGABYTE Z790 AORUS ELITE AX motherboard and Intel i7 123700k CPU.
The above picture illustrates the mounting mechanism of the water block. A critical step in the installation of this socket is that you would need 2.0mm washers from AMD mounting instead of using 0.5mm washers. We need 19 items to prepare the block's installation on LGA1700 socket. Installation is simple. Please refer to the user guide for elaborative and complete installation guide. We will only mention any observation/issue we encounter during installation which is Nil in this case.
Test Setup Configuration
We have used ALPHACOOL Eisbaer Extreme 280 Solo – Black Edition unit for this testing. Here is a loop configuration:
ALPHACOOL Eisbaer Extreme 280 Solo – Black Edition is an integrated solution comprising of a 280mm copper radiator with 2x Pure Wings 2 140mm fans installed in pull configuration. This unit also has ALPHACOOL VPP APEX pump rated for 4500 RPM speed and an integrated reservoir. There are 2x G1/4" threaded ports and one dedicated G1/4" threaded fill port. Click on above link to read our testing of this product.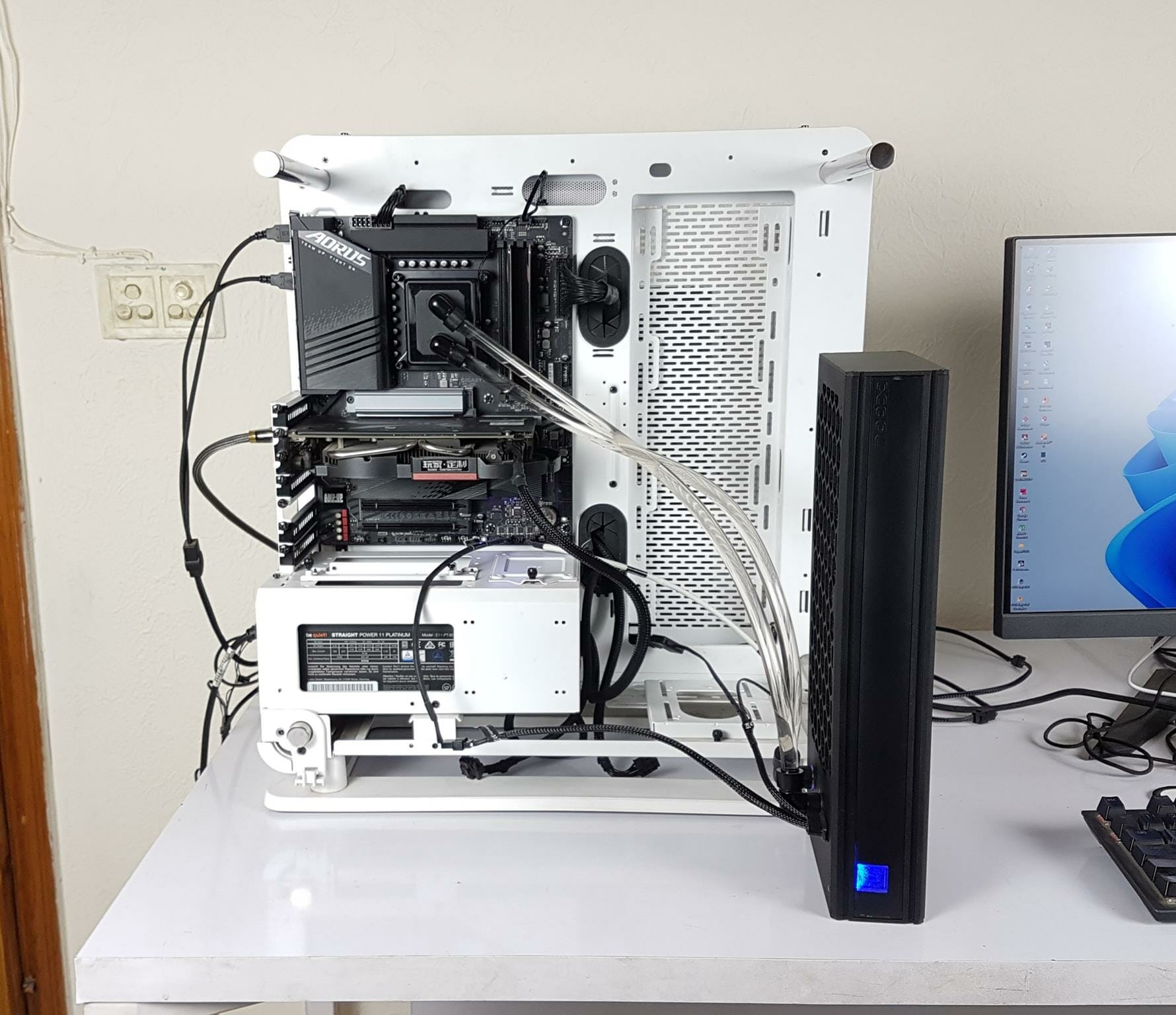 Thermal Testing
We have used a below-mentioned configuration for this testing:
Intel i7 13700k
GIGABYTE Z790 AORUS ELITE AX
Sabrent Rocket DDR5 2x16GB @ 4800MHz CL40 kit
Colorful GeForce GTX 1050Ti 4G [For Display]
Sabrent Rocket 4 Plus 2TB NVMe SSD
be quiet! Straight Power 11 850W Platinum PSU
Thermaltake Core P6 TG Snow Edition converted into an open-frame layout
Here is the settings table for testing:
| | |
| --- | --- |
| P-Cores Clock (MHz) | 5300 All Cores |
| E-Cores Clock (MHz) | 4200 All Cores |
| Voltage (V) | 1.260 |
| Turbo Boost | Disabled |
| C-States | Disabled |
| Speed Step | Disabled |
| Thermal Paste | ALPHACOOL Sub-Zero |
| Thermal Paste Application | Dot Method in the center. |
| Test Run Time | 30 minutes |
| Idle Time | 10 minutes |
| Fan Speed | 100% PWM Duty Cycle |
| Pump Speed | Full speed |
| Header | CPU_Fan/Pump headers |
| Stress Software | CINEBENCH R23.2 |
| Monitoring Software | HWInfo64 |
Before we move on to the results, let me write a few lines on the new platforms from both camps. We have seen AMD AM5 and Intel Raptor Lake S CPUs taking more power and this time both sides have aimed at reaching the maximum clocks regardless of thermal limit. In fact they run into thermal limit right away depending on the cooling solution and the clocks being used. This has made testing of CPU coolers challenging because viewers/readers are not used to a new nomenclature which is what clocks are sustained under given load using particular cooler. That is if the cooler is capable of providing enough cooling head to sustain the high frequencies. Traditionally we are used to go the other way around which is which cooler is better in terms of thermal capacity. Despite this, we are using temperatures as a base of measuring this unit.
The ambient temperature was in the range of 14.4°C to 14.8°C. Since the variation in the ambient temperature is below 1°C, we are reporting absolute temperatures in the graph. The testing is done on an open air bench system. Once inside the chassis, the temperatures are expected to rise and would largely depend upon the optimal airflow inside the chassis.
Let's take a look at the results.
Result
This test was done using Intel's default settings with power limits imposed. The CPU was drawing roughly 225W power. From a power perspective, we are talking about 220 to 230W here.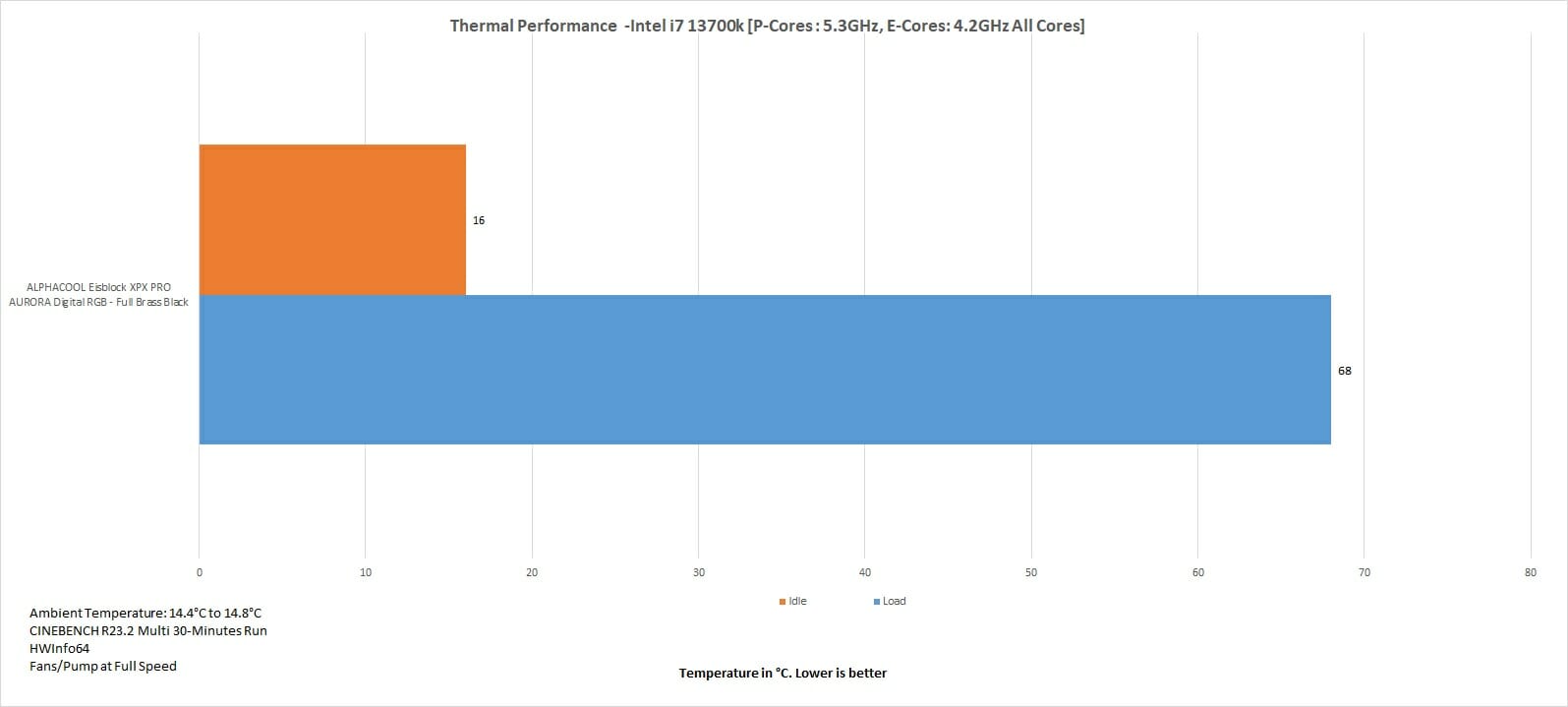 Excellent performance can be seen from this block.
Conclusion
ALPHACOOL released a full brass edition of their PRO series CPU water block. These are available in black and chrome versions. We have earlier tested the following CPU water blocks:
This time we have tested the black version of PRO series flagship cooler from ALPHACOOL. PLEXI vs Full Brass are the key differences between two generations along with how digital RGB LEDs are implemented.
Why do we call this new Eisblock XPX AURORA PRO Digital RGB – Full Brass CPU water blocks as a flagship product in ALPHACOOL's arsenal? Two reasons are:
More Socket Support
Full-Length IHS Coverage
Socket Support on these products is:
Compatibility Intel: LGA 115x / 1200 / 1700 / 2011-3 / 2066 / LGA 3647 / LGA 4189
AMD Compatibility: TR4 / TRX40 / sWRX8 / SP3 / AM4 / AM5
And in terms of LEDs, instead of having an integrated LED strip, there are 2x digital RGB LEDs backlighting the ALPHACOOL logo only. This is very why we have very subtle lighting to support ALPHACOOL's focus on a discrete outlook on this block.
The block has a dimension of 76.5×63.5x31mm. This block has a relatively larger size compared to the regular Eisblock XPX series blocks for the reason mentioned above. The unit is made of brass and copper materials. The unit is rated for a maximum of 60°C operating temperature (coolant temperature). The block weighs 705g thanks to full brass. Much like the chrome version, this block has G1/4" ports. Both have dedicated functions. One with an arrow pointing towards the port is Inlet port whereas the other one having a pointing away arrow marker is Outlet port. There is a glossy black color overlay with ALPHACOOL logo. The overall machining work is excellent. The complete frame is in a matte black finish.
This water block has 0.2mm micro-channels with a dense fin count of 147 making up a surface area of 42 x 58.6mm. ALPHACOOL is using the same Ramp design with a double distributor. This allows the even flow of the coolant on the cooling engine and helps mitigate the coolant flow restriction. This restriction is pretty obvious given more surface area and high fins count. The jet plate and the cold plates are nickel-coated copper-based. The cold plate measures 76x60x3mm. ALPHACOOL is using 3-pin JST proprietary connections within its Ecosystem which helps ALPHACOOL to integrate and synchronize RGB elements for a single control. Same principle is used in this block. There is a 3-pin socket and a 3-pin connector. There is an adapter cable provided with this unit for connectivity with the supported motherboard. We have used this block on the GIGABYTE motherboard using RGB FUSION 2.0 and the lighting was found to work flawlessly.
This block is also using ALPHACOOL standard mounting hardware for the CPU coolers. We have to deal with 19 pieces to install the block on the motherboard. ALPHACOOL means business as they have provided Sub-Zero thermal paste. We have tested this paste separately and found it to be giving over 4°C thermal difference compared to Noctua NT-H1. The ALPHACOOL Eisblock XPX AURORA PRO Digital RGB – Full Brass Block is listed at €129.98 at the time of this writing. ALPHACOOL is providing 2-years warranty. This block is tested on Intel i7 13700k using 225W power using Intel defaults. This block offers excellent performance provided, you couple it with right components in the loop.
Thanks to ALPHACOOL for the provision of test unit.