Introduction
ALPHACOOL is known for making some unique but functional products. Their Eisbaer Extreme Liquid Cooler 280 is such an example where they tried to provide everything pre-assembled including the fans. This was not all as ALPHACOOL also introduced a standalone version named Alphacool Eisbaer Extreme liquid cooler core 280 – black edition. This edition has an integrated assembly where a radiator, pump, reservoir, and fans are pre-assembled in housing and ALPHACOOL has provided 2x standard G1/4" ports so that users can integrate this unit in their loop or quickly assemble a simple but powerful loop for a specific purpose. We are taking a look at this unit as I have requested this particular unit for my specific requirement when it comes to testing any DIY component.
Product:               Alphacool Eisbaer Extreme liquid cooler core 280 – black edition
Price:                     €199.98 [At time of this writing]
Alphacool Eisbaer Extreme 280 Solo – Black Edition Specifications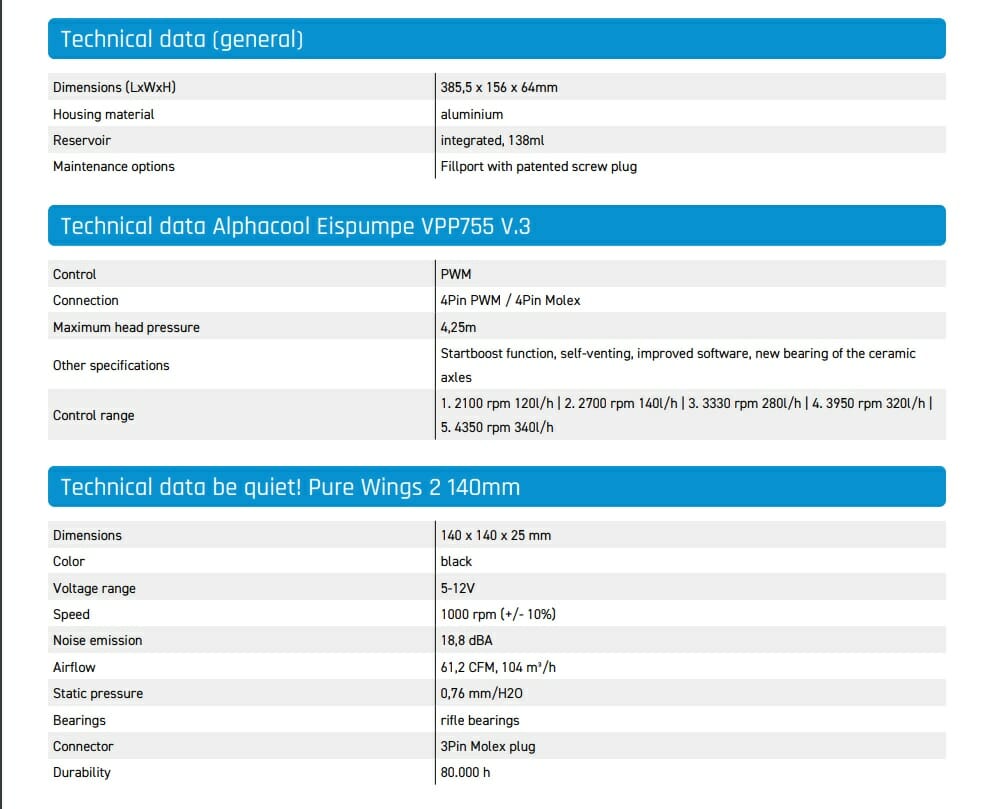 Packaging
The cooler is shipped inside a cardboard made box. This box is black in color. Eisbaer Extreme Solo is printed over it and focus is given to Black Edition. Eiswind by be quiet! grabbed my attention as well as Eispump VPP. I will come to these later.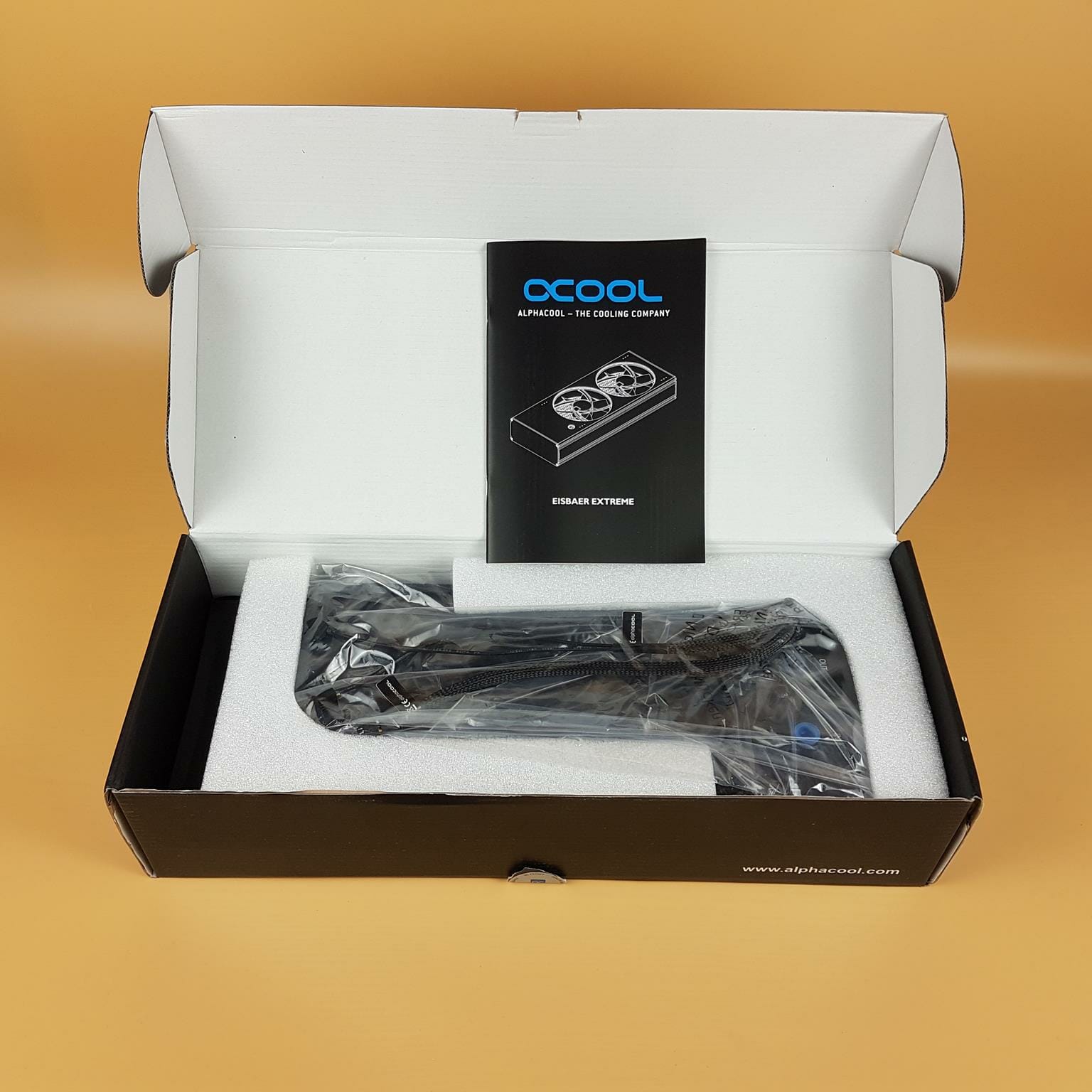 Opening the box shows a nicely packed product. There is a user guide placed over top. An accessory box is also included. Main product is enclosed inside a transparent container and further secured using two cut-to-design white color Styrofoam pads.
Contents
Alphacool has provided a comprehensive user guide.
A black color accessory box contains screws and etc.
ALPHACOOL has provided 4x M3x25 screws and 4x M3x5 screws with 4x 0.5mm washers. Since this is a ready-to-use product in 280mm size (not really), users can install it in their case provided their case meets the space requirement of this unit (385.5x156x64mm). As a precaution, assemble your loop first and then fill the unit with coolant.
Closer Look
It is time to take a look at this unit and see what components it houses and what it is all about. Let's start with what ALPHACOOL is saying about this unit. "Revolutionise your system with the Eisbaer Extreme Core, the foundation of your new water-cooled PC. We believe that the Alphacool EIsbaer Extreme Core Radiator with pump is stronger, more beautiful, and quieter than anything you've ever known in water cooling. The Eisbaer Extreme is a brand-new design for Alphacool. A high-quality housing encloses the radiator and fans as well as a patented pump/reservoir combination. In co-operation with the well-known manufacturer be quiet! the award-winning Pure Wings 2 fans are already installed on the Alphacool NexXxoS Radiator. With the Eisbaer Extreme, you have the coolest cooling for your hardware"
Alphacool Eisbaer Extreme liquid cooler core 280 – black edition is a solo edition of Eisbaer Extreme 280. It has a dimension of 385.5x156x64mm. Here 64mm is the overall thickness or height of this unit whereas 385.5mm is the length and 156mm is the width. 156mm is key data here. Make sure your PC Case has enough width and length so that this unit can be installed. Thermaltake Core P6 TG can't house this unit on the side of the case as per our testing.
This unit has the following components pre-installed and integrated:
1x 280mm NexXxos series full copper radiator of 30mm thickness.
1x VPP series pump
1x reservoir having 138ml capacity
2x 140mm Pure Wings 2 from be quiet!
By now, you are getting the approach from this design as to what ALPHACOOL is trying to achieve here. This reminds me of ALPHACOOL EISWAND 360 CPU – Black which we tested earlier. The basic idea behind both these products is same which is to provide a user with a fully integrated unit that can be easily and quickly set up for your DIY requirements but with a key difference that EISWAND is intended to use as an external product whereas Eisbaer Extreme Solo can be installed in a PC Case.
The above picture shows one side of this unit. There is a honeycomb-style vented frame covering the radiator. We can peek at the radiator itself through this vented frame. This is where this unit is exposed or opened for fresh air intake without using fans. Since fans are pre-installed in pull configuration so this is a well-thought-out design. The housing is made of steel in a black color finish.
Take a closer look and you will see mounting holes on the frame. These conform to 140mm size and have a standard 105mm distance between any two opposite holes. There are two cables coming out from the rear. There are two screws towards the rear side. These are to be removed if users want to open this unit. Unfortunately, one of these screws has a roughed-out head and I was unable to remove this screw hence I could not open this side of the product.
There are 2x standard G1/4" ports towards the rear of this unit. Users can connect any fitting conforming to G1/4" thread size on these ports. These are clearly labeled as IN and OUT. Pay attention to these labels when assembling a loop.
The above picture shows these ports after removing the blue color safety rubber caps.
This unit is powered by a SATA cable. This cable is only for the pump and does not power the fans. One thing from this is clear. ALPHACOOL has employed a SATA-powered pump inside.
There is a 4-pin PWM connector on a well-sleeved cable. This cable powers both Pure Wings 2 fans. I appreciate this design as the user has total control over the speed of these fans.
This is not all as there is another 4-pin connector. Guess what? ALPHACOOL has provided a PWM control for the included pump as well. Using the SATA connector only will make the pump run at its full speed but connecting this connector in addition to SATA, will allow users to control the pump speed as well.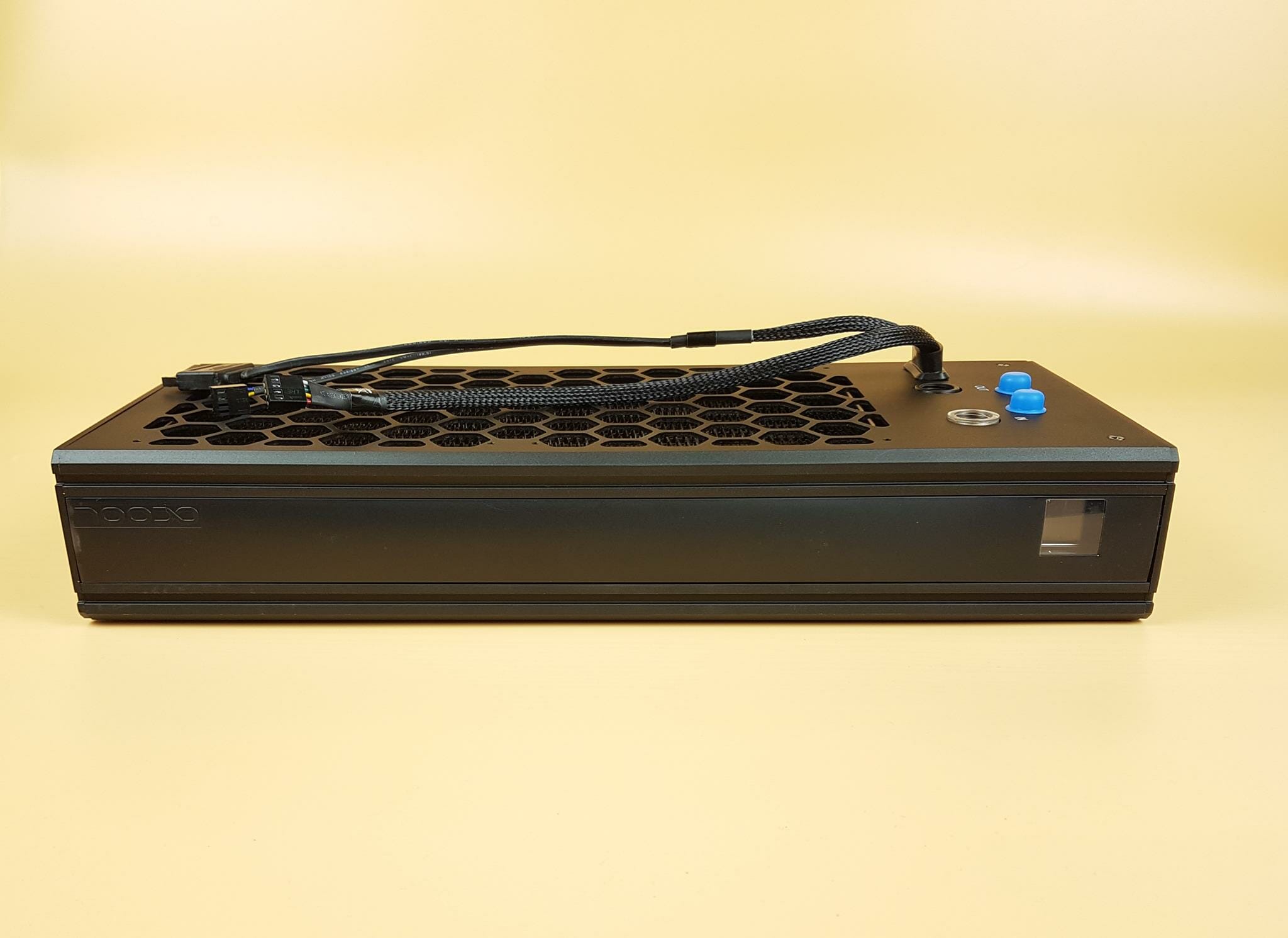 We can a full 64mm height of this unit in the above picture. The fully covered area on top without any vent has an integrated pump and reservoir underneath. There is a see-through window towards the right side. This is there so that users can see a coolant level. How will they know? It has an LED there which lights up and provides an easy lookout for coolant level.
Here is another angle on the side view. The middle frame on both sides is made of plastic material and they are actually tucked inside the metal sheet above and below. This is important information when it comes to opening and closing this unit.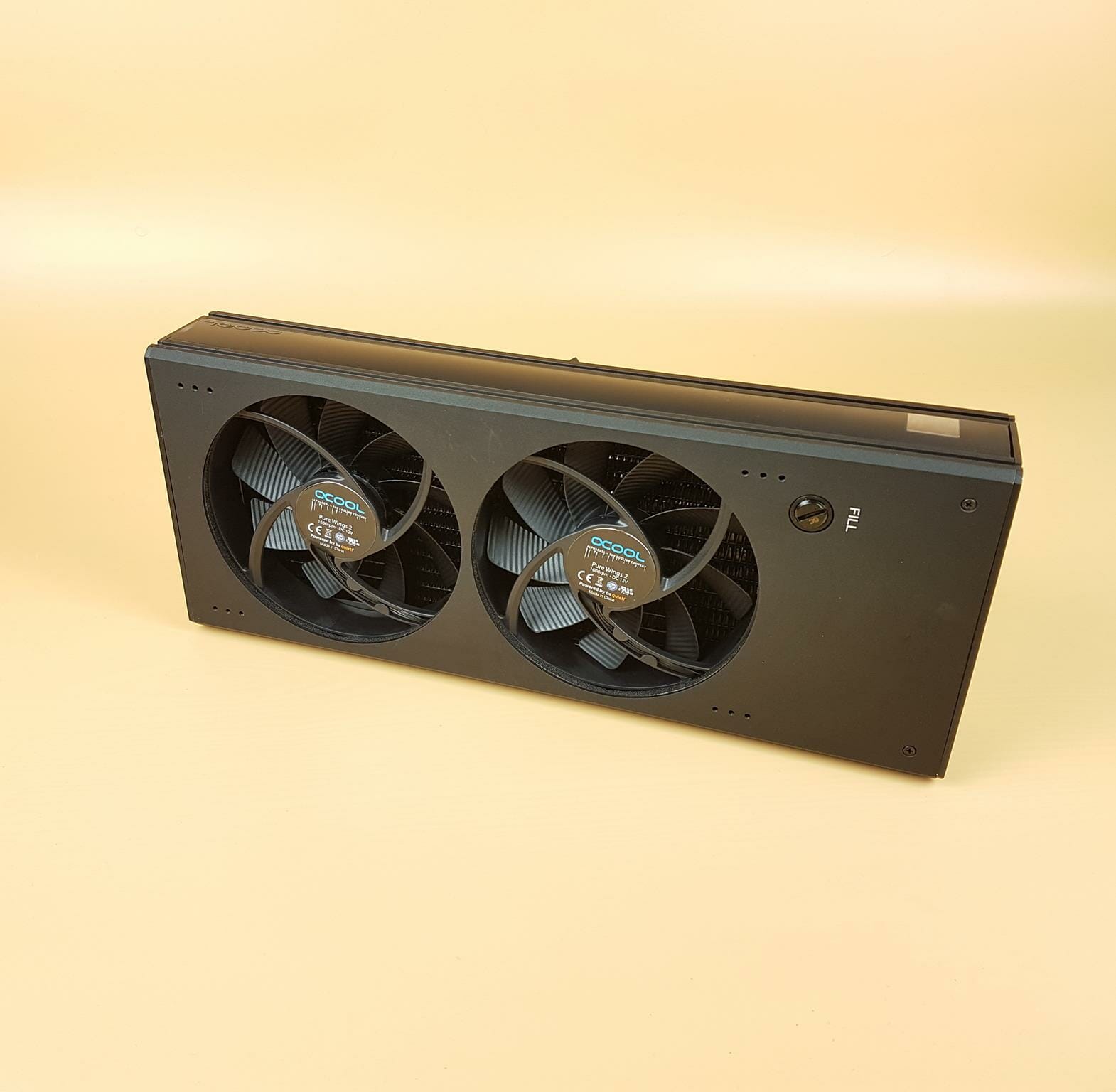 Now, we are taking a look at the backside of this unit. There are two 140mm size cutouts without any mesh. We can see two 140mm fans in the pull configuration there. Also, take a look at mounting holes columns. These are there to install this unit on the top of the case.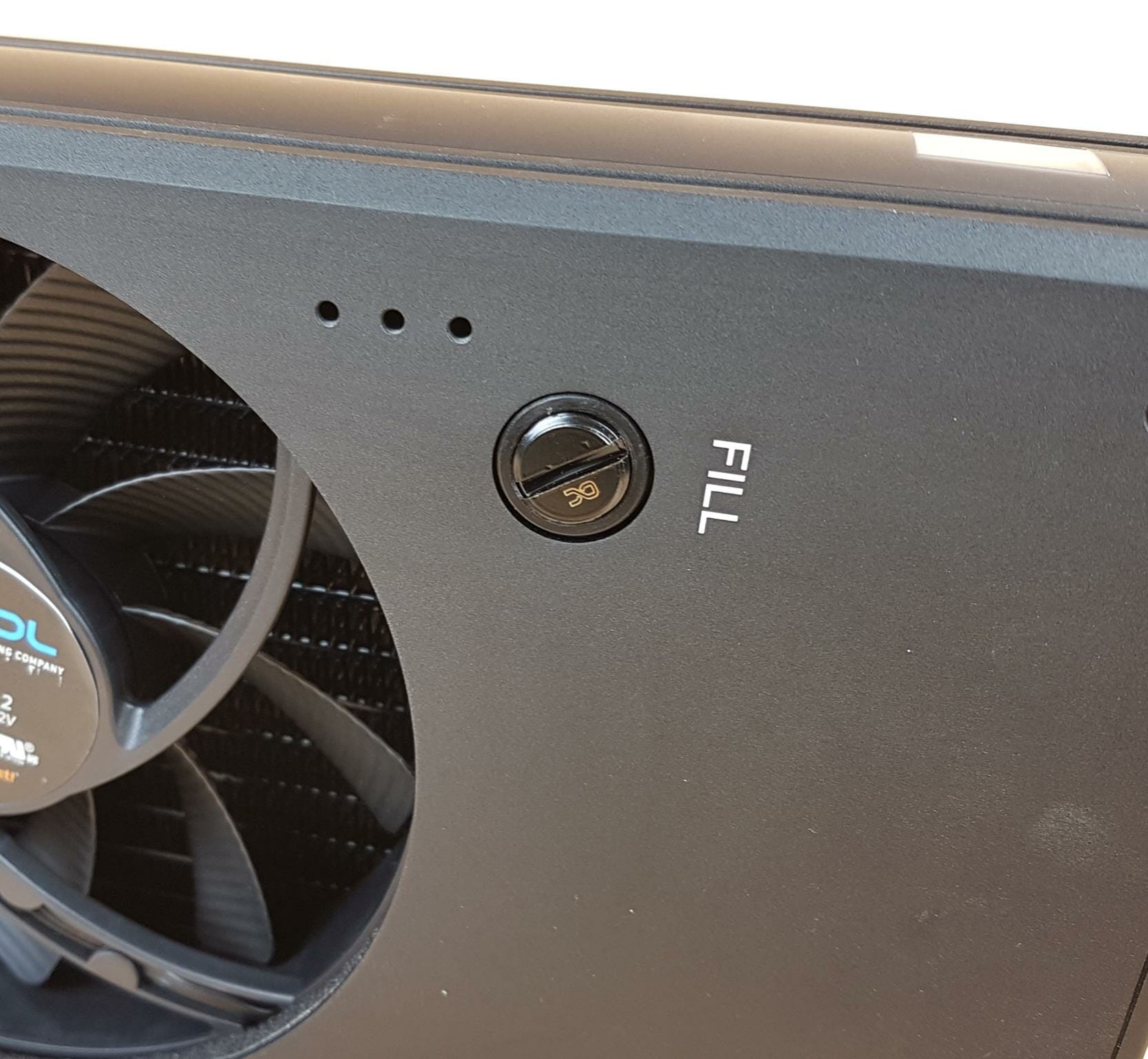 There is a flush G1/4" port towards the rear. It is labeled as Fill. Meaning this port opens at the reservoir internally. Users will have to use this port to fill the unit. It has a metallic plug cover.
The complete frame or housing of this unit is secured from both ends using a total of 8x screws. Users would also have to remove 2x screws on top and 2x screws on rear frame housing the integrated pump and reservoir so that a complete unit can be opened up.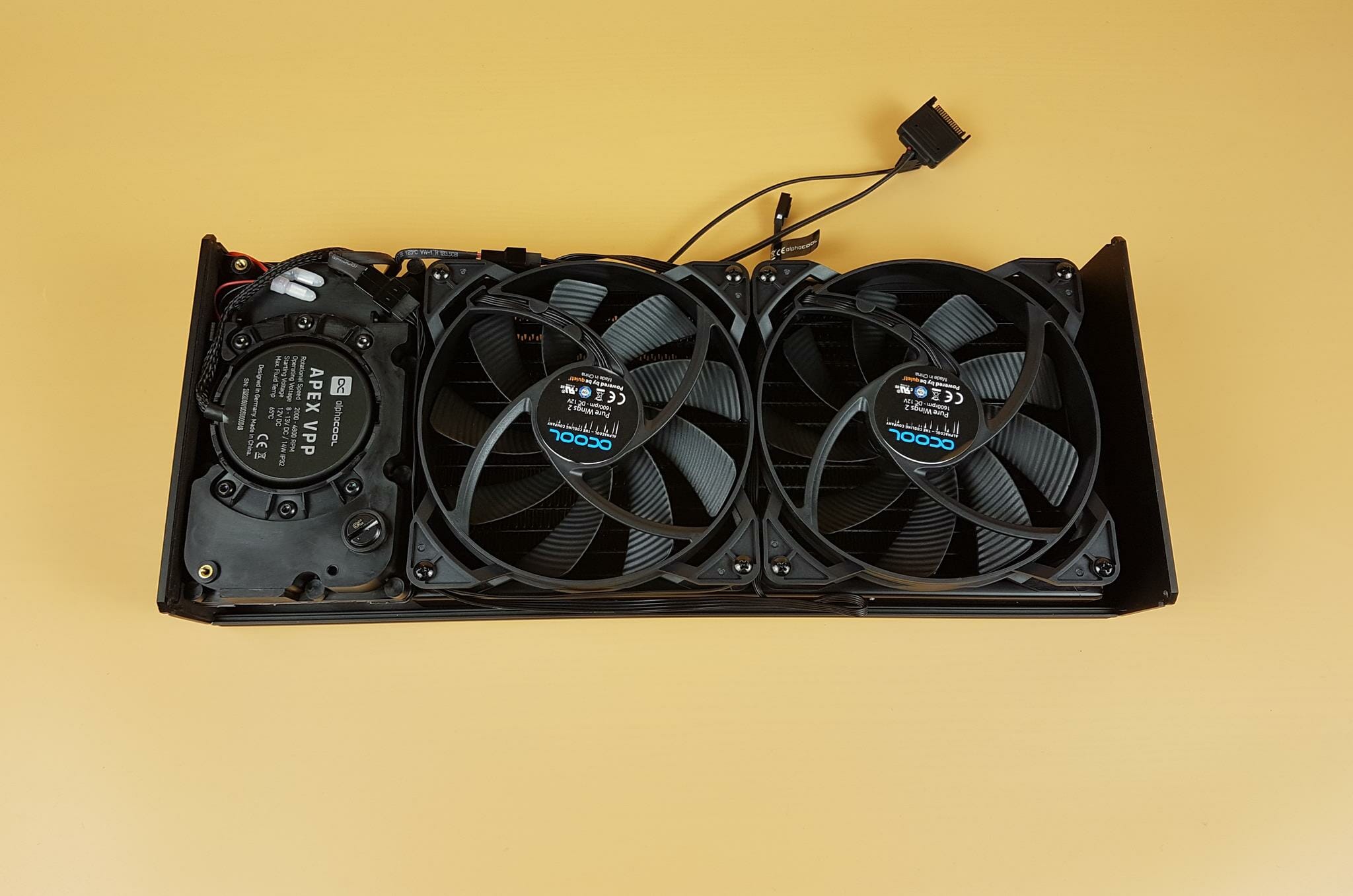 We opened the pump side of this product. ALPHACOOL is silently upgrading their previous products with new components for sure. We can see the VPP APEX pump there instead of VPP755. We can see two 140mm Pure Wings 2 fans pre-installed on the radiator in a pull configuration. Their specs are:
| | |
| --- | --- |
| Size | 140x140x25mm |
| Voltage | 5 – 12VDC |
| Speed | 1000 RPM ±10% |
| Noise | 18.8 dB(A) |
| Airflow | 61.2 CFM |
| Static Pressure | 0.76 mmH₂O |
| Bearings | Rifle |
| Life Span | 80,000 hours |
| Connector | 4-pin PWM |
Both fans are daisy-chained using a y cable and for a single connector connection. Cables are nicely routed on the side of these fans towards the pump area.
The above picture shows VPP APEX pump which is ALPHACOOL's new generation pump. This pump has a rated speed of 2000 ~ 4800 RPM. The original VPP APEX pump has a maximum rated speed of 4500RPM. Voltage range is 8 ~ 13VDC. The maximum supported temperature is 65°C. Please take note that this is not CPU temperature but coolant temperature. When we say the temperature of a loop, we are referring to the coolant's temperature, not the CPU or socket temperature. Here are specifications of VPP APEX pump:
We can spot two LEDs on left side of the pump. They light up in blue color and give visual aid to users to determine coolant level. Can you see the fill port? It is right on top of the black color housing.
Take a peek at the integrated reservoir. It has a capacity of 138ml. We did not further bisect this unit as we were having issues with a few screws with poor heads.
The above picture shows all components of this product. I am not sure if that 280mm radiator is HPE or non-HPE as we could not open the opposite side frame. The radiator is connected to the reservoir.
The side frame is made of aluminum material whereas two inner brackets are made of plastic. Take care when handling them.
Test Loop Configuration and setup
We have used a simple loop configuration to test this unit. Following ALPHACOOL components are used for this set up:
1x ALPHACOOL Eisblock XPX PRO AURORA – Full Brass Black Digital RGB Block
4x 90°rotary adapters in 13/10mm size
ALPHACOOL HF Clear 13/10 tube
ALPHACOOL Sub-Zero Thermal Paste
We have used Alphacool Apex filling funnel G1/4″ to fill the unit. This funnel has a standard G1/4" fitting that can be connected to any port conforming to this standard G1/4" size making it easier to fill the unit. Since this unit can't be installed in Thermaltake Core P6 TG in an open frame layout, we assembled the loop out of the case and filled it first.
I will mention important observations in the Conclusion.
Thermal Testing
We have used a below-mentioned configuration for this testing:
Intel i7 13700k
GIGABYTE Z790 AORUS ELITE AX
Sabrent Rocket DDR5 2x16GB @ 4800MHz CL40 kit
Colorful GeForce GTX 1050Ti 4G [For Display]
Sabrent Rocket 4 Plus 2TB NVMe SSD
be quiet! Straight Power 11 850W Platinum PSU
Thermaltake Core P6 TG Snow Edition converted into an open-frame layout
Here is the settings table for testing:
| | |
| --- | --- |
| P-Cores Clock (MHz) | 5300 All Cores |
| E-Cores Clock (MHz) | 4200 All Cores |
| Voltage (V) | 1.260 |
| Turbo Boost | Disabled |
| C-States | Disabled |
| Speed Step | Disabled |
| Thermal Paste | ALPHACOOL Sub-Zero |
| Thermal Paste Application | Dot Method in the center. |
| Test Run Time | 30 minutes |
| Idle Time | 10 minutes |
| Fan Speed | 100% PWM Duty Cycle |
| Pump Speed | Full speed |
| Header | CPU_Fan/Pump headers |
| Stress Software | CINEBENCH R23.2 |
| Monitoring Software | HWInfo64 |
Before we move on to the results, let me write a few lines on the new platforms from both camps. We have seen AMD AM5 and Intel Alder Lake S CPUs taking more power and this time both sides have aimed at reaching the maximum clocks regardless of thermal limit. In fact they run into thermal limits right away depending on the cooling solution and the clocks being used. This has made testing of CPU coolers challenging because viewers/readers are not used to a new nomenclature which is what clocks are sustained under given load using particular cooler. That is if the cooler is capable of providing enough cooling head to sustain the high frequencies. Traditionally we are used to going the other way around which is which cooler is better in terms of thermal capacity. Despite this, we are using temperatures as a base of measuring this unit.
The ambient temperature was in the range of 14.4°C to 14.8°C. Since the variation in the ambient temperature is below 1°C, we are reporting absolute temperatures in the graph. The testing is done on an open air bench system. Once inside the chassis, the temperatures are expected to rise and would largely depend upon the optimal airflow inside the chassis.
Let's take a look at the results.
Result
This test was done using Intel's default settings with power limits imposed. The CPU was drawing roughly 225W power so this is a 220W domain result.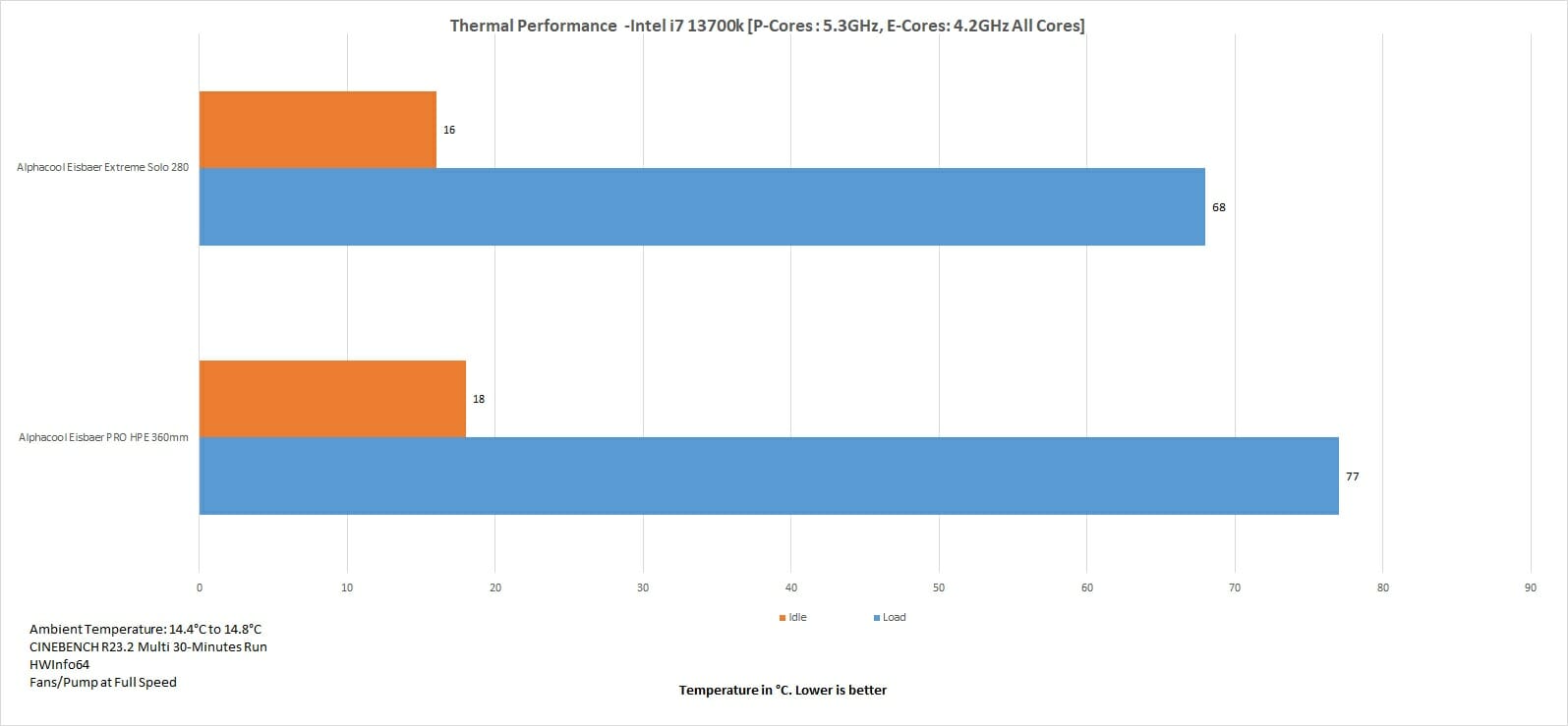 Holy moly! 9°C difference is there using Eisbaer Extreme Solo 280 against Eisbaer HPE Pro 360 AIO. This is an obvious result from a powerful VPP APEX pump and a high-performance CPU Water Block.
Conclusion
We have taken a spin on Alphacool Eisbaer Extreme Solo 280 – Black Edition. Alphacool launched Eisbaer Extreme 280 AIO back in time and later on they also launched the solo edition of it for DIY customers. This is much like Eiswand 360 design but Esiwand is for external use only. Eisbaer Extreme Solo can be installed in a PC Case provided the PC Case supports the required space. Before we talk about the unit, let me summarize the basic concept or idea. ALPHACOOL has integrated a pump, reservoir, 280mm radiator, and 2x 140mm fans under one roof and provided an integrated, pre-assembled unit to the users with complete control over the speed of the pump and fans and standard G1/4" ports for connectivity.
This unit has a dimension of 385.5x156x64mm. Pay close attention here. 156mm is the width of this unit. The majority of AIOs or liquid coolers out there have a width of 120~124mm for 120mm size radiators and 140~144mm for 140mm size radiators. This unit has a width of 156mm. So, you would need to be careful in your selection by making sure that this unit can be installed in your case or not. Similarly, 64mm is overall height or thickness of this unit. You would need to know the displacement of PC Case and motherboard top to see if there is any RAM clearance or motherboard's top area clearance issue. 385.5mm is the length of this unit, which is well within the standard ranges of liquid coolers and poses no issue.
The frame of this unit is made of aluminum material and the inner brackets are plastic made. ALPHACOOL has provided 2x G1/4" ports. One is labeled as IN and the other is labeled as OUT. G1/4" thread size makes these ports universally compatible with standard DIY stuff. I was surprised to see VPP APEX pump inside this unit. ALPHACOOL seems to upgrade their products with new components though they also need to update the manual and data sheet as well! VPP APEX is ALPHACOOL's new pump. It is silent and more powerful than the previous VPP generation. We saw a maximum of 4500 RPM speed on this pump whereas it has a stated speed range of 2000 to 4800. We saw a minimum speed of this pump to the 2700RPM mark. It is clear that ALPHACOOL has used original VPP APEX pump without any tweaking. They have my thumbs up for this pump.
There is an integrated reservoir with the pump and the radiator. This reservoir has a capacity of 138ml. It also has a fill port. The placement of the fill port needs addressing and I will cover that in a bit. Both sides of frames have cutouts showing acrylic reservoir. This is a wise design as it will give users a hint of coolant level. ALPHACOOL has wisely put two blue color LEDs as well which light up the area for a better view or vision. Pump is SATA-powered and ALPHACOOL has provided a 4-pin connector for PWM control.
This unit has a 280mm radiator which seems to be 30mm in thickness. I am not sure if it is an HPE series or non-HPE series under NexXxos full copper radiator but it is a full copper radiator. The reason I could not gather this information is that I could not open one side of the frame. Why? Because the head of a screw is already roughed out, out of the box. There are two Eiswind (a collaboration between ALPHACOOL and be quite!) 140 fans in this unit. These are Pure Wings 2 fans. Their rated speed is mentioned as 1000 RPM with ±10%. This is incorrect. These fans were spinning above the 1400 RPM mark. In fact, the sticker pasted on the back of these fans mentions 1600 RPM as the speed of these fans. They are somewhat loud at full speed but generate a good amount of airflow. Users can replace the fans with other 140mm PWM fans as well.
We set up a simple loop to test the cooling head of this unit using:
1x ALPHACOOL Eisblock XPX PRO AURORA – Full Brass Black Digital RGB Block
4x 90°rotary adapters in 13/10mm size
ALPHACOOL HF Clear 13/10 tube
ALPHACOOL Sub-Zero Thermal Paste
ALPHACOOL has mentioned that this unit can be installed vertically or horizontally in a PC Case. This is where I have some observations including fill port location:
When installing this unit on top of PC Case, one needs to make sure that fan side is facing up. This is to prevent the pump from running dry.
If top of a PC Case has a full-length mesh design then we can't fill this unit without removing the fill port's plug before installing.
Continuing the above point, if we take that approach then leaving that port exposed is definitely not recommended at all.
If we install this unit on the front of a case, we need to ensure that pump/reservoir side is at the bottom. This is again, required to prevent the pump from running dry.
Most likely, this unit will be installed with fans side facing the Case front or simply putting, pushing air through the case.
Continuing the above point, filling this unit in vertical orientation is quite challenging due to location of the fill port. Fill port will also be vertical and one would need to tilt the filler so as to prevent coolant spillover.
I have already mentioned the 156mm width and 64mm thickness-related clearance above.
Screws quality could be better!
This unit is listed at €199.98 at the time of this writing. ALPHACOOL is giving a 3-year warranty on this product. The thermal performance or cooling headroom of this product is impressive. The inclusion of ALPHACOOL's most powerful pump shows no compromise on the performance. The 280mm full copper radiator coupled with 2x Pure Wings 2 140mm fans provides a better noise output and a good cooling performance.
Obviously, the design and performance water block also matter but this unit will not bottleneck. That is the whole point. We have tested Intel i7 13700k using ALPHACOOL's premium, high-performance water block using a relatively narrow size fitting and tube 13/10mm. the performance of this unit can't be matched by AIO as we have seen ALPHACOOL's high-performance and premium 360mm liquid cooler struggles against this loop configuration and this is understandable.
This unit comes recommended by us.
Thanks to ALPHACOOL for the provision of the test unit.