Introduction
In what is only our second only Antec review here at Enos Tech, today, we are looking up their newest AIO. The Vortex 240 ARGB is, as the name suggests, a 240mm AIO CPU Cooler that features ARGB lighting that can be controlled via your motherboard or manually by using the included controller. The Vortex 240 ARGB is LGA 1700 compatible which means it will work with the latest Intel 13th Gen processors and many more. It comes with a unique pump top and some amazing-looking ARGB fans that should offer some great performance.
AIOs can be a great way to add some amazing cooling performance and aesthetics to any build, old or new. The Vortex 240 ARGB looks amazing so let's get to it, check it out closer up, and then see what type of performance it has to offer!
Antec Vortex 240 Specifications
SPECIFICATIONS
Radiator
| | |
| --- | --- |
| Radiator Dimensions | 277 x 120 x 27 mm |
| Radiator Material | Aluminum |
Tdp Number
Pump
| | |
| --- | --- |
| Dimensions | ¢67 x 48.5 mm |
| Rating Voltage | DC 12 V |
| Minimum Startup Voltage | ≥ 5.0 V |
| Fan Speed | 2800±10% RPM |
| Rated Current | 0.25±20% A |
| Consumed Power | 3.0 W |
| Flow rate | ≥ 1300 mL / min |
| Water Pressure | 1.4M |
| Operation Temperature | -10°C ~ +60°C |
| Noise Level | ≤ 28 dB(A) |
| Lifespan | 40,000 hours |
| Connector | PUMP: 3-pin | LED: 3-pin |
Fan
| | |
| --- | --- |
| Model Name | Fusion 120 ARGB fan (AH12012FM1) |
| Fan Type | PWM Fan |
| Dimensions | 120 x 120 x 25 mm |
| Bearing Type | Hydraulic Bearing |
| LED Type | Addressable RGB |
| Fan Speed | 600±200 ~ 2000±10% RPM |
| Airflow | 57.93 CFM (max.) |
| Air Pressure | 2.11 mmH₂O (max.) |
| Fan Noise Level | 31.24 dB(A) |
| Lifespan | 40,000 hours |
| Connector | FAN: 4-pin PWM | LED: 3-pin |
| Rated Voltage | FAN: DC 12 V | LED: DC 5 V |
| Operation Voltage | FAN: DC 6.0-13.8 V | LED: DC 4.5-5.5 V |
| Rated Current | FAN : ≤ 0.21 A | LED : ≤ 0.58 A |
Socket Compatibility CPU
Intel : LGA 115X / 1200 / 1700 / 20XX
AMD : AM3/AM4/AM5
Warranty
3 years
UPC#
0-761345-74046-3
Antec Vortex 240 Packaging and Accessories
The front of the box has a nice image of the cooler on it. It also lists a few of the specs Antec wanted to bring to the customer's attention in the top right.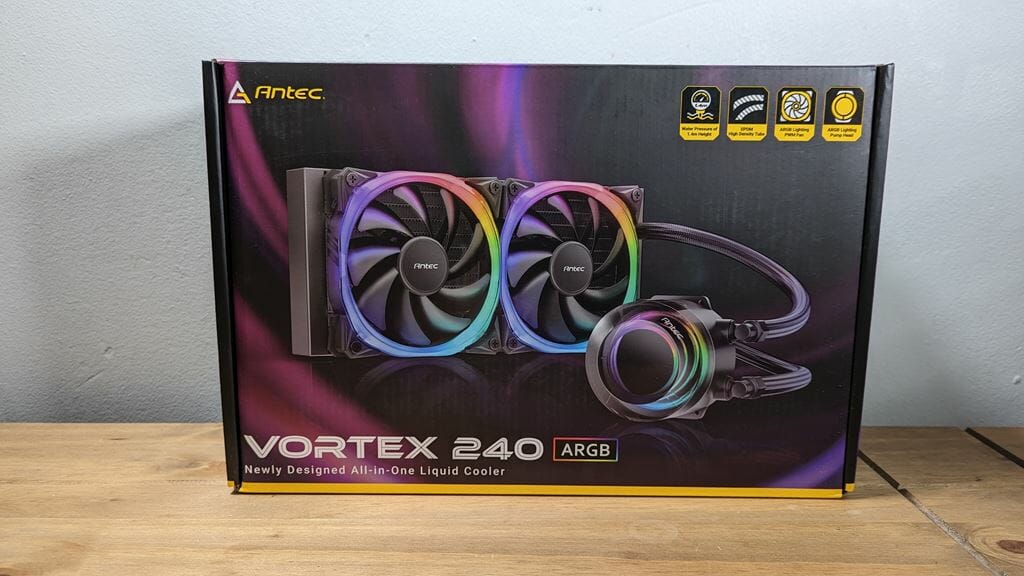 The back of the box goes into a little more detail on the specifications and even shows an image of the cooler installed inside a case so you can get an idea of what it will look like.
Everything is packaged perfectly to ensure as little movement as possible in the box when in transport. Seems like a small thing but if you've ever had an AIO arrive all banged up and maybe even leaking, you will appreciate what companies like Antec go through to try and ensure this doesn't happen to their products.
The Antec Vortex 240 ARGB AIO CPU Cooler is compatible with the AM3, AM4 and AM5 platforms alongside the Intel 1150/1200/1700/20xx sockets. As you can see, all the mounting brackets and screws are included. Antec has also included some thermal paste and an ARGB controller.
Antec Vortex 240 Closer Look
Now, for the part we have all been waiting for! Even without RGB lighting, the Vortex 240 looks rather stunning if I may say so. Coming with a pair of 120mm Antec Fusion PWM ARGB fans packed with 16 RGB LEDs each, this is surely going to make for some stunning looking builds.
Coming with 13 fins, the Vortex 240 will be able to dissipate the heat coming off your CPU as quickly as possible. The Matte black finish of the rad should go over well with users as it will fit in with almost any build color scheme out there, especially when you throw all the RGB into the mix.
Not only do the tubes have a braided look to them, but they are also highly functional. The High-Density EPDM Tubing is very durable which should help make sure there isn't a lot of liquid lost from this AIO.
While it make not look like much here, the pump top is something special as soon as the lights come on! Trust me, you won't want to miss the pictures of this below!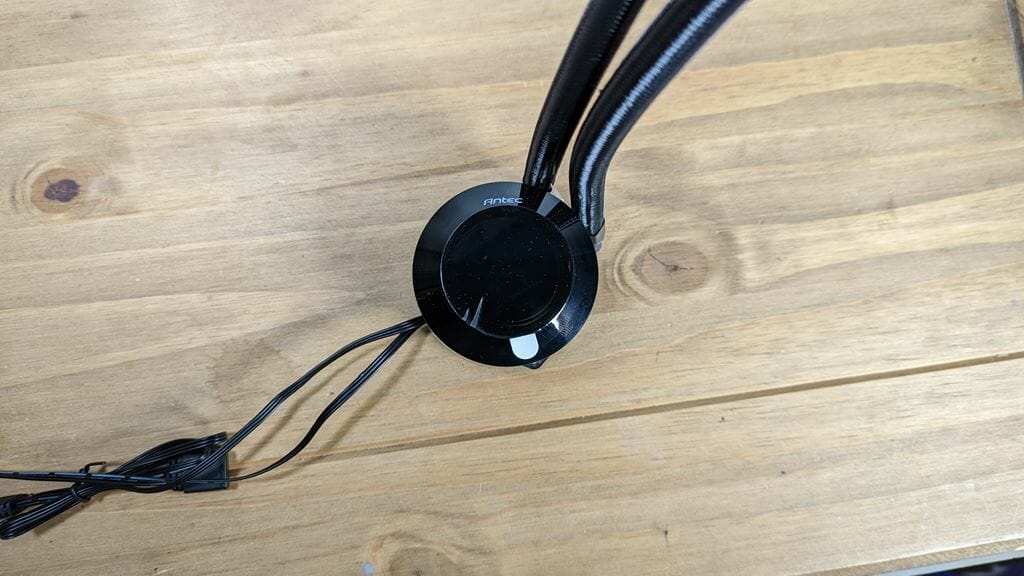 The copper base plate is massive and should cover all of the surface areas of most of the CPUs out there that this Vortex 240 is compatible with. Not only will it cover most if not all of the CPU, but the copper base plate will also help dissipate the heat from your CPU as best possible.
One of my favorite things to see, or to not see if I am honest was the fact that there is no branding on the radiator itself. While I can appreciate why companies put branding on the side of radiators and don't mind it much, it is nice now and again to see a company such as Antec go against the grain and leave it blank!  That plain matte black finish is going to look amazing in many builds.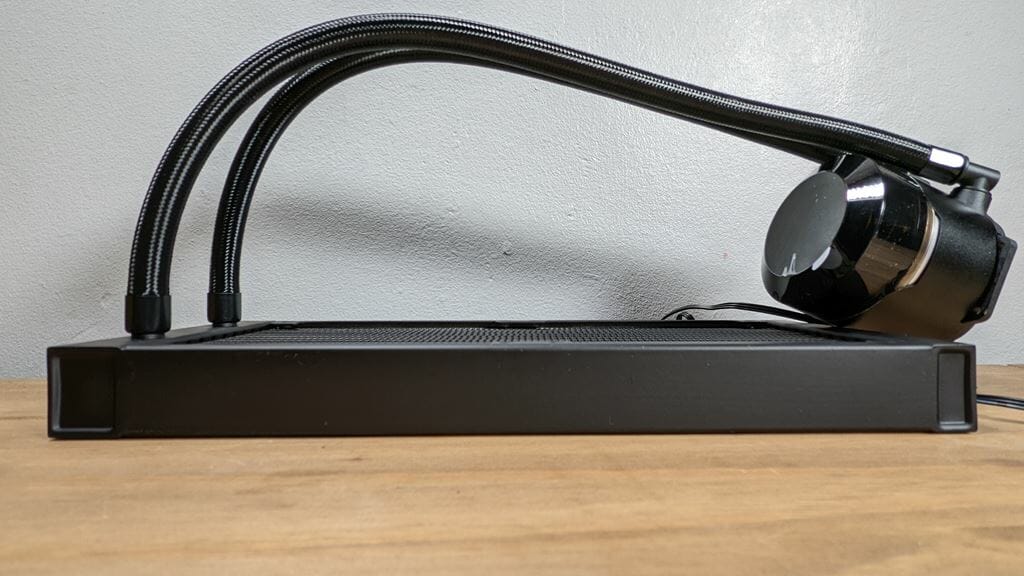 Antec Fusion PWM ARGB Fans
While I am really a fan of RGB, there is no denying that these fans look good all on their own. While it would be a waste to not use them to their full potential with RGB, they really could look amazing in a nice stealth build without LEDs!

Antec has also gone and added noise dampeners to where the screws will go. Again, another small detail that makes a lot of difference as this will help prevent them from vibrating on your case or the radiator and creating unnecessary noise. Small things like this do make a massive difference and it is nice to see Antec has really stepped it up and done a great job all around with this AIO Cooler and its included fans.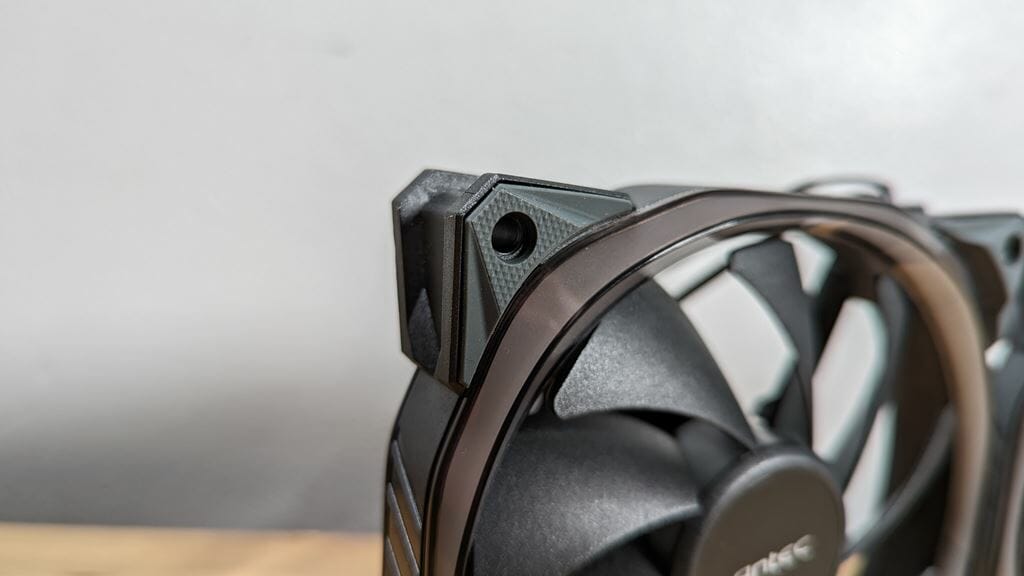 There are LEDs on the back of the fan and as such, they are plain black except for the small grey noise dampeners.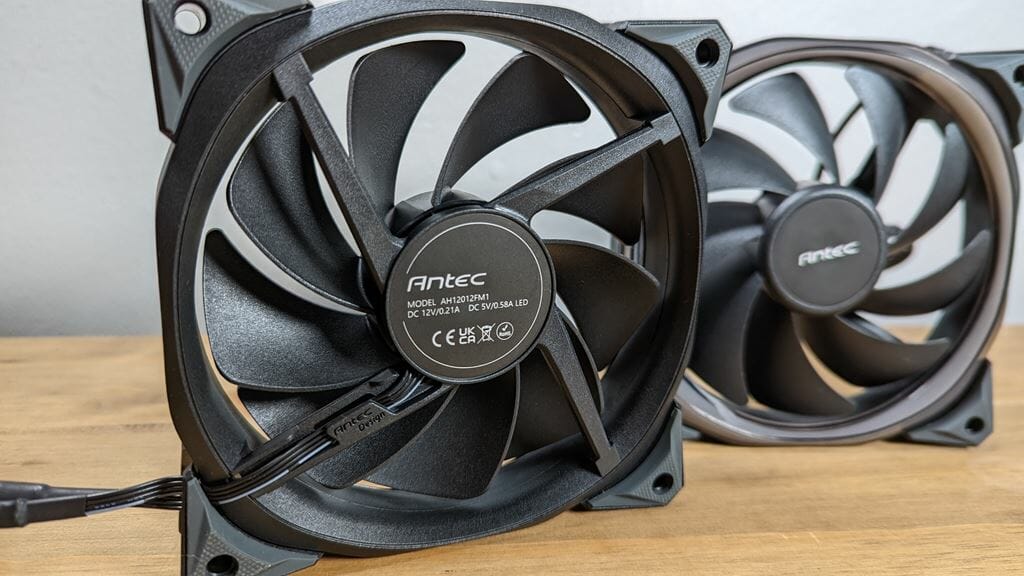 Antec Vortex 240 RGB
The RGB illumination is nice. While they may not be the brightest out there, Antec has made sure they still look amazing. Antec has added what I would call a smokey plastic cover over the LEDs on both the fans and the pump top and it just makes them look fantastic. The images below look OK but they don't do the RGB effects any justice and I can confirm, they look much better in person.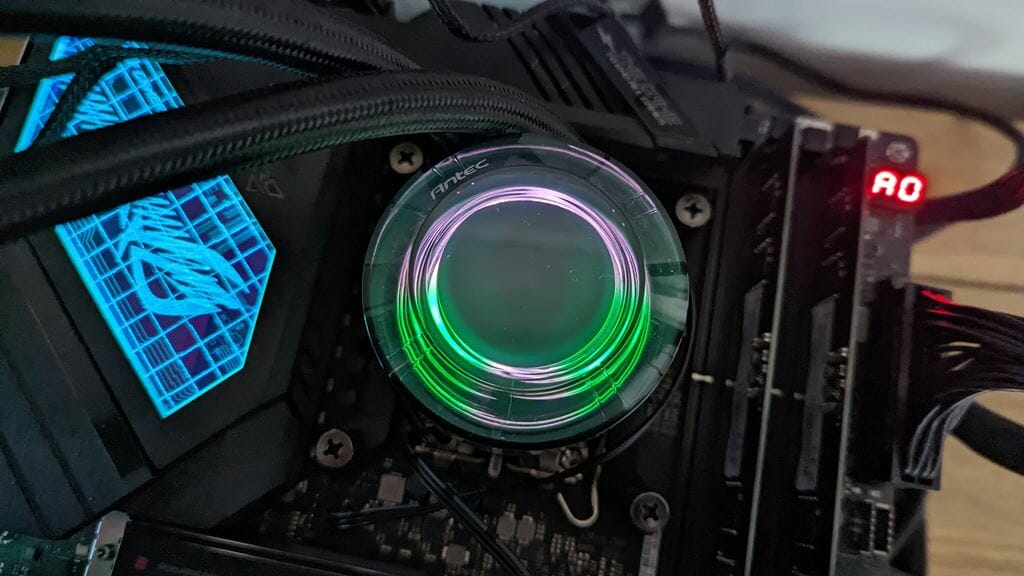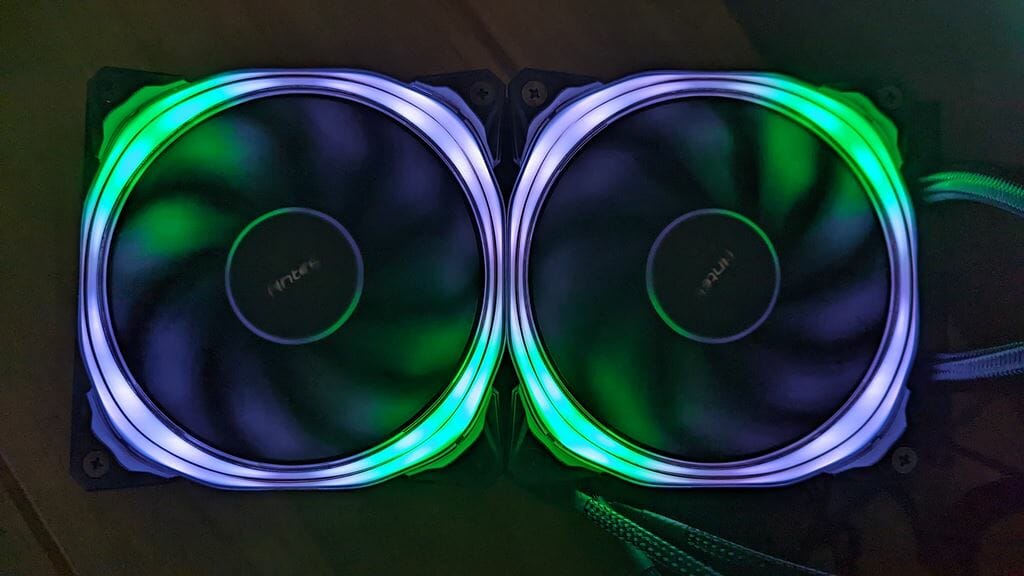 Antec Vortex 240 Testing and Performance
Intel i5 12600K
ASUS ROG Strix Z690-E Gaming WiFi
ADATA DDR5 4800MHz (2x8GB)
Zotac Gaming 2060 AMP
Samsung 980 Pro 1TB NVME SSD
bequiet! Dark Power 12 850W Platinum PSU
Open Benchtable
We are using Noctua NT-H1 thermal paste for coolers testing. Using the same thermal paste for all coolers would ensure standardization. Delta temperatures are reported on the graphs. The testing is done on an open-air bench system. Once inside the chassis, the temperatures are expected to rise and would largely depend upon the optimal airflow inside the chassis.
Not every run of the stress test may yield the same result. This could well be due to many factors like mounting pressure, thermal paste application and varying ambient temperature. Not to mention the silicon differences even among the same category of chips. Hence, it is pertinent to mention the testing methodology along with the specifics.
Idle Testing – Idle results are taken after the PC has idled for 5min continuously with no other programs running, the result is then recorded.
Gaming – Gaming results are taken after running Unigine Superposition on 1080P high settings, the highest temperature is then recorded.
Load – Load results are taken after running Prime95 on Small FFT for 5min, the highest temperature is then recorded.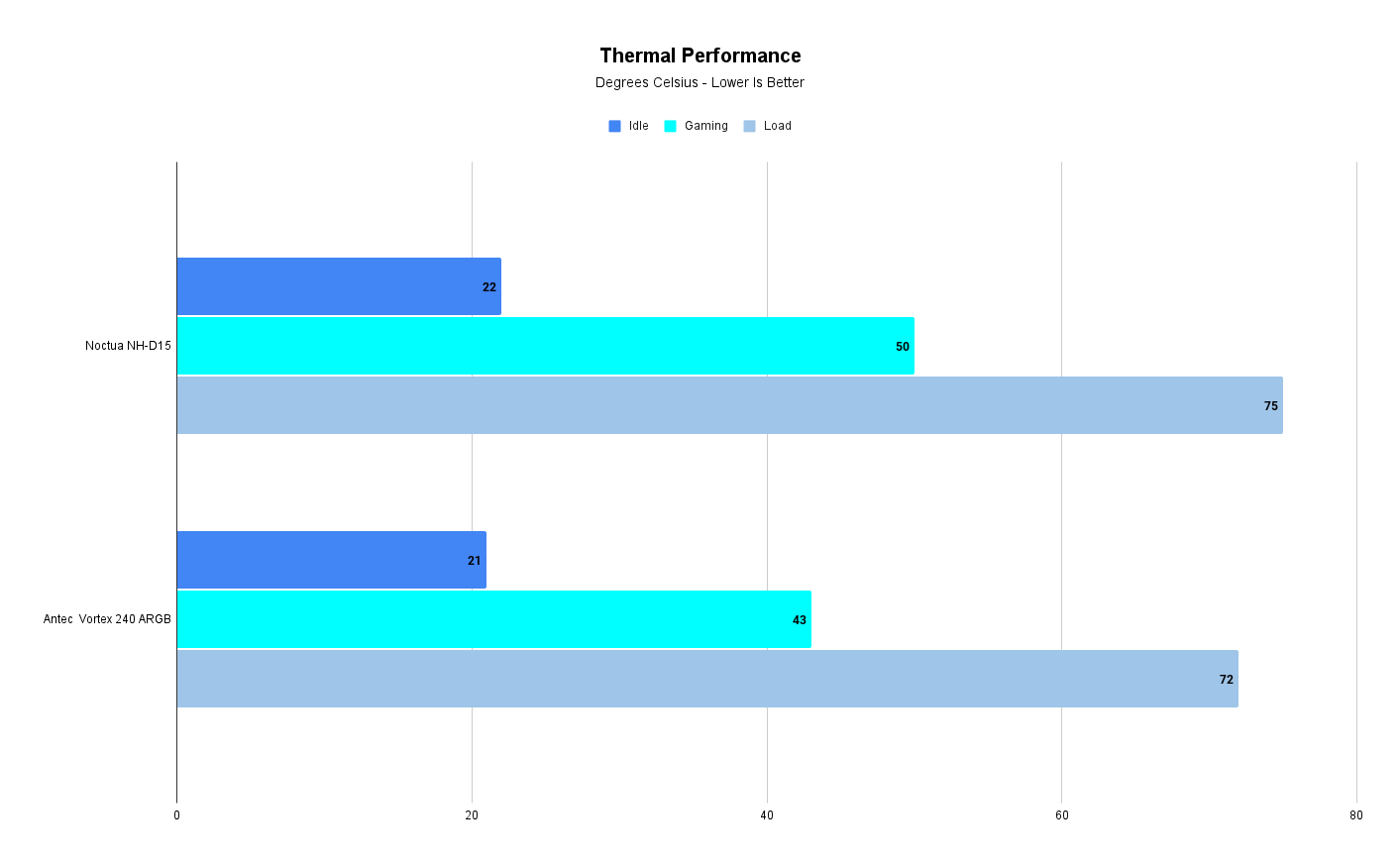 Antec Vortex 240 Final Words
The Vortex 240 ARGB AIO CPU Cooler from Antec definitely looks the business and offers some very good cooling performance. Currently, you can find the Vortex 240 listed on SCAN for £79.99, though it is awaiting an ETA on when the product will be in. However, as this is a newer model, expect them to be on the case and hopefully get them in soon so if you like what you see, don't be too worried about putting it on a pre-order.
It comes with a suspended spiral pump head design that also features RGB lighting which adds a unique aesthetic to any build. Couple that with a pair of 120mm Fusion PWM fans which also have some amazing RGB lighting and you are good to go. If you are not a fan of lighting it can always be turned off and offer some amazing stealthy aesthetics. The radiator itself doesn't have any branding on it and is completely matte black to go with the sort of braided black tubing that the Vortex 240 features.
Performance wise we compared it to Noctuas NH-D15 which is regarded as one of the best air coolers and a good comparison for any 240mm AIO Cooler. The Vortex 240, not only offers better performance than this, but it is also on average £20 cheaper than the NH-D15 here in England. So for less money, you get better performance and RGB lighting which makes it a no-brainer!
Having a look around SCAN's website at the time of review and the Vortex 240 ARGB is one of the cheaper AIOs currently for sale price-wise. This makes it even better value for the money and considering the performance it has to offer, keeping our 12600K  at just 43c while gaming, you really can't go wrong. Coming backed by a 3-year warranty also helps to give you peace of mind that you won't have to replace the Vortex 240 AIO anytime in the near future, even if something out of the blue should happen.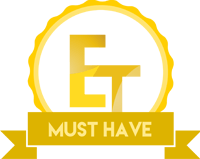 For more cooling-related content: CLICK HERE