Introduction
We are doing a round-up content of 360mm AIOs and be quiet! has shipped us two 360mm coolers for this content. In this article, we are taking a look at be quiet! Pure Loop 2 FX 360mm liquid cooler. FX's name indicates that this cooler has RGB lighting effects. This unit has be quiet! second-generation pump design and Light Wings fans. The pump is integrated into the tubes as we saw on Pure Loop 2 240mm AIO. Be quiet! has retained the same design on the block but this time around there is an RGB ring instead of a static white color in the previous generation. Be quiet! Pure Loop 2 FX 360 is compatible with Intel LGA 1150, 1151, 1155, 1200, 1700, and 2011(-3) square ILM sockets. This unit is compatible with AMD AM4 and AM5 sockets.
Salient features are:
Impressively high cooling performance for all consumer CPUs
3 Light Wings 120mm PWM high-speed fans offer equally high air pressure and vibrant ARGB illumination
Doubly decoupled PWM pump for quiet operation and minimal vibration
ARGB-PWM-Hub enables synchronization of up to 6 ARGB components and PWM fans
Combination of ARGB illumination, all-black design and aluminum-style for unmistakable and stylish look
Easy-to-access refill port and included coolant bottle guarantee a long lifespan
3-year manufacturer's warranty
Product:               be quiet! Pure Loop 2 FX 360
Price:                    £144.98 [SCAN UK price at the time of review]
£139.95 At Amazon UK
be quiet! Pure Loop 2 FX 360 AIO Cooler Specifications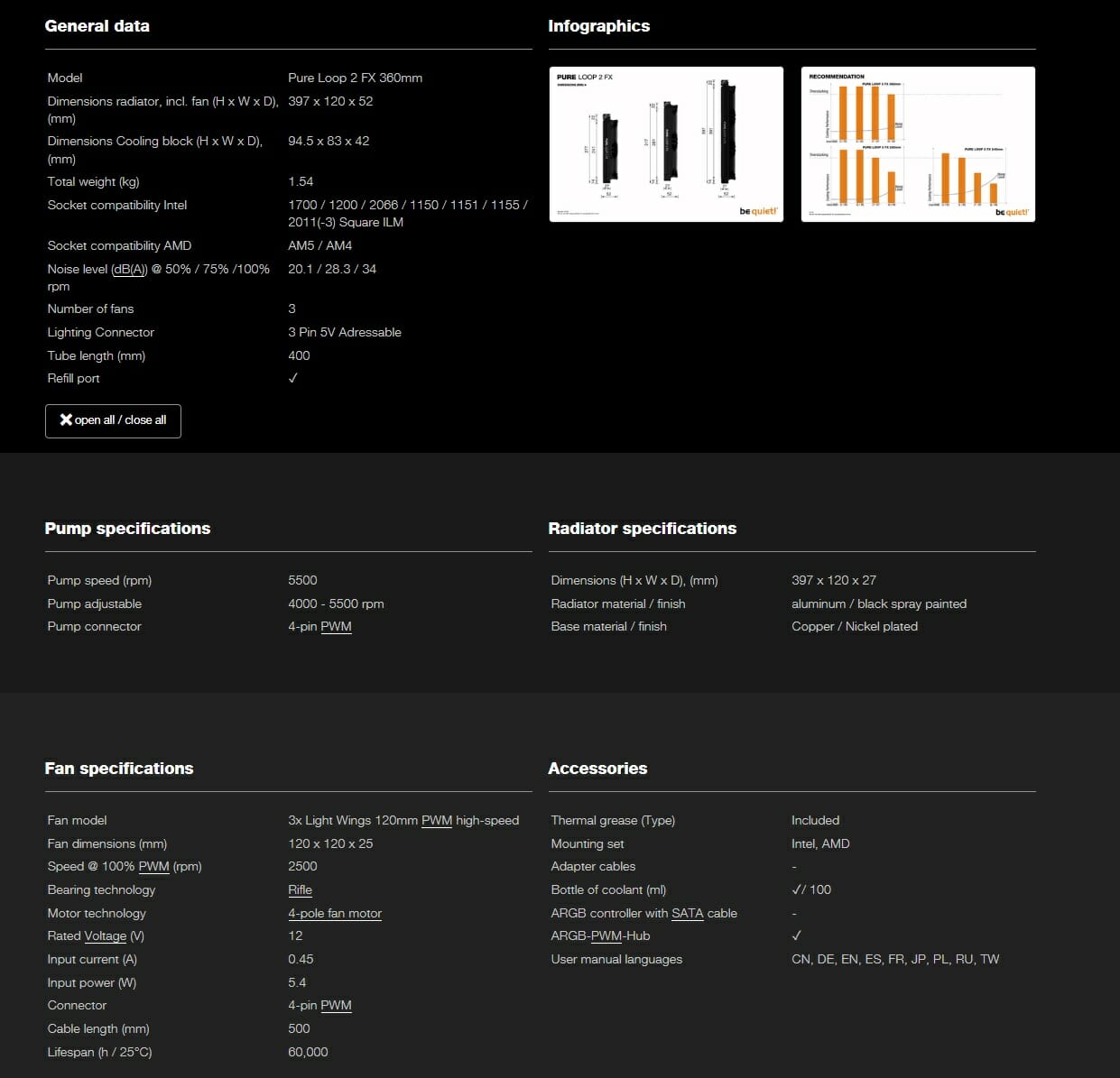 Packaging and Unboxing
The cooler is shipped inside a black color paperboard packing box. Cooler's name is printed over here and there is a picture of the unit as well.
Be quiet! has highlighted salient features over here including a doubly decoupled pump, refill port, a faceplate with D-RGB lighting effects, etc.
Accessories
Let's take a look at what accessories are provided.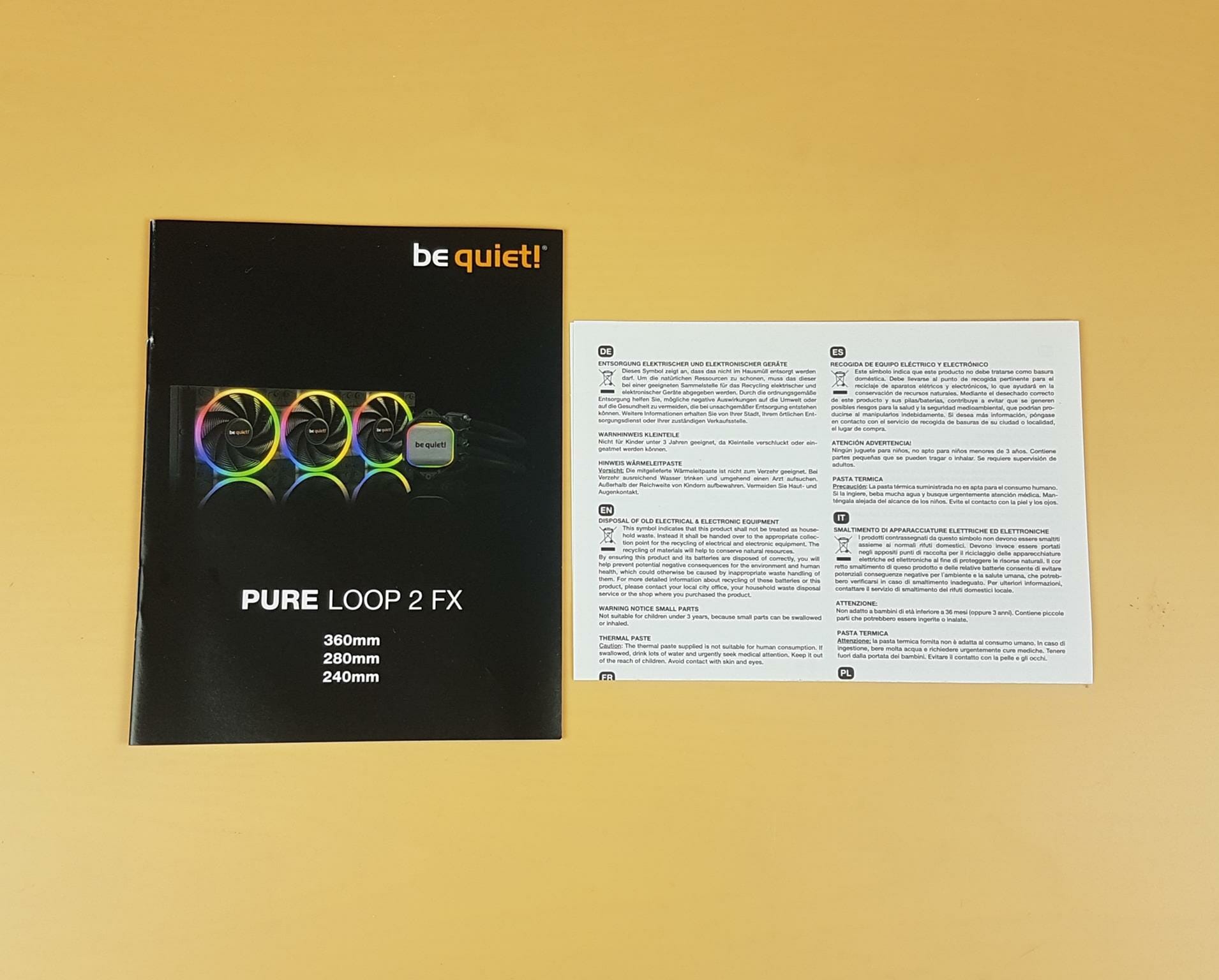 They have provided a user guide with instructions on how to install this cooler on the supported sockets.
Be quiet! has provided the following:
1x Backplate for Intel
1x set of Mounting Brackets for Intel LGA 17xx and 18xx sockets
1x set of Mounting Brackets for Intel LGA 115x and 1200 sockets
4x Intel Spacer Nuts A [For Intel LGA 20xx socket]
4x Intel Spacer Nuts B [For Other Intel Sockets]
4x Mounting Brackets Fastening Screws
4x Intel Backplate Screws
4x O-Rings
AMD platform includes:
1x set of Mounting Bracket
4x Backplate Screws
4x Spacer Nuts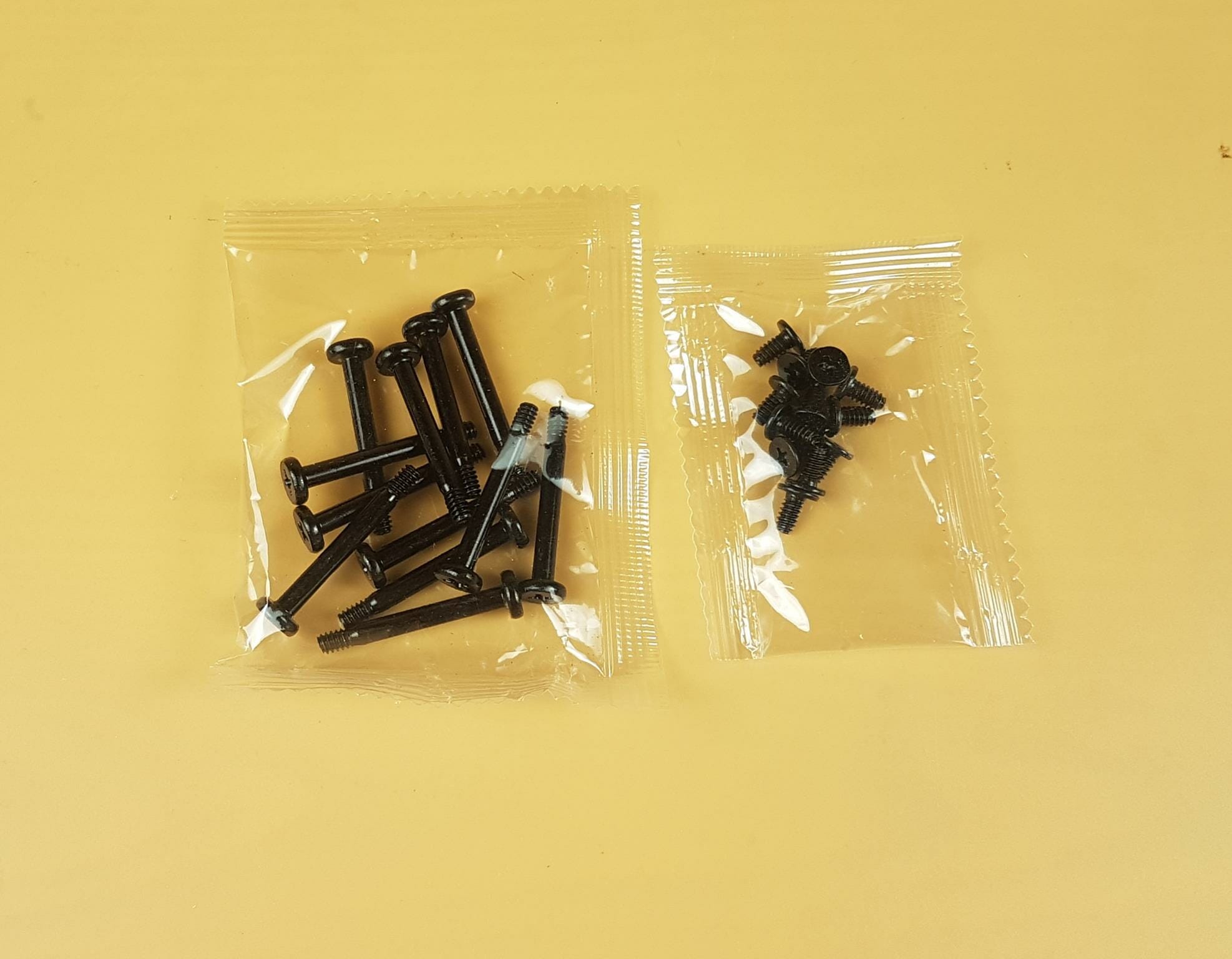 Be quiet! has provided the following:
12x Radiator Screws
12x Fan Screws [Long ones]
There is a 100ml sealed bottle of premixed coolant from be quiet!. This is provided to ensure the longevity and durability of the unit. This coolant composes of water and Propylene Glycol and supports anti-freezing to -5°C.
be quiet! has provided a thermal paste tube and 3x zip ties for cable management.
There is also a 6-port D-RGB and PWM hub included in the box. Keep in mind that this is a hub, not a controller. It allows you to connect up to 6x 4-pin PWM fans and 6x D-RGB elements to it. Since it is SATA powered so the power requirement is taken care of. In turn, you will be able to control the speed of fans and D-RGB lighting effects from a single source. There is a 3M self-adhesive as well to install this hub in the PC Case.
There are 4x screws that can be used to install this hub instead of pasting it.
There are a total of 6x ports on one side. They are grouped in a 4-pin PWM port and a 3-pin D-RGB port. The same configuration is on the opposite side.
There are two ports over here. You can connect pump's 4-pin PWM cable to one end and the RPM-labeled port will be used to provide tac for all connected fans.
There are three ports over here. The first one has a SATA cable to power the hub. The second one has a cable with a standard D-RGB 3-pin, 5V connector cable, and the last port has a 4-pin PWM fan cable.
The above picture shows all three connectors described above.
Closer Look
Here is what be quiet! is saying about this unit. "Pure Loop 2 FX offers impressive illumination and very high cooling performance. Up to 3 Light Wings PWM high-speed fans with numerous effects make for a high airflow and air pressure. Thanks to the PWM function, the doubly decoupled pump can be equally adjusted for silent and performant operations. Further features like the easy-to-access refill port and the ARGB-PWM-Hub round-up Pure Loop 2 FX and make it the perfect choice for illuminated systems."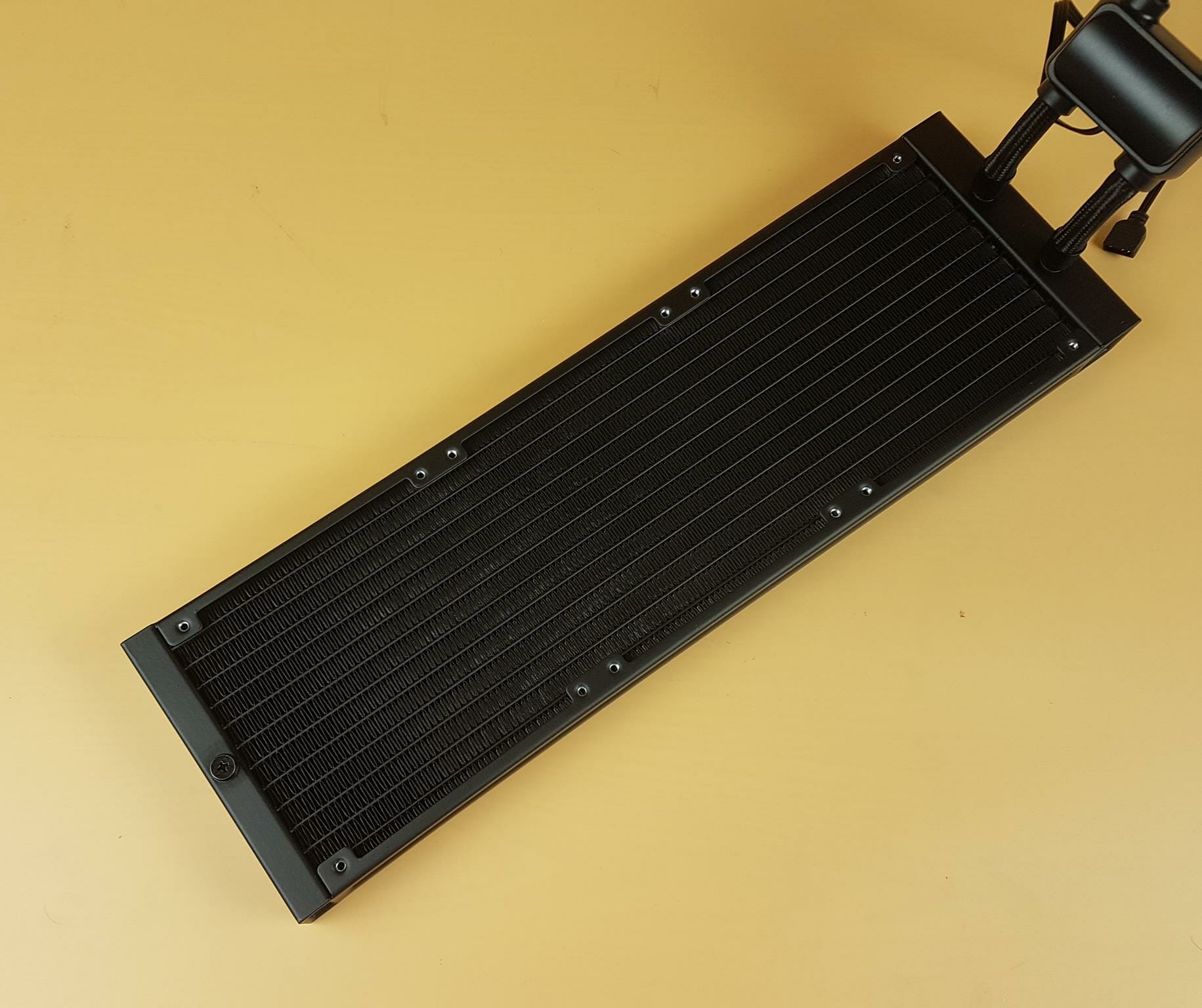 This cooler features an aluminum-made radiator having a dimension of 397x120x27mm. Combined with 120x25mm fans the overall height of this unit would be 53mm including the heads of the screws. The FPI count is 20 and there are 12 channels for coolant flow. Be quiet! has done an excellent job with fin sticking. There is no bend or broken fin.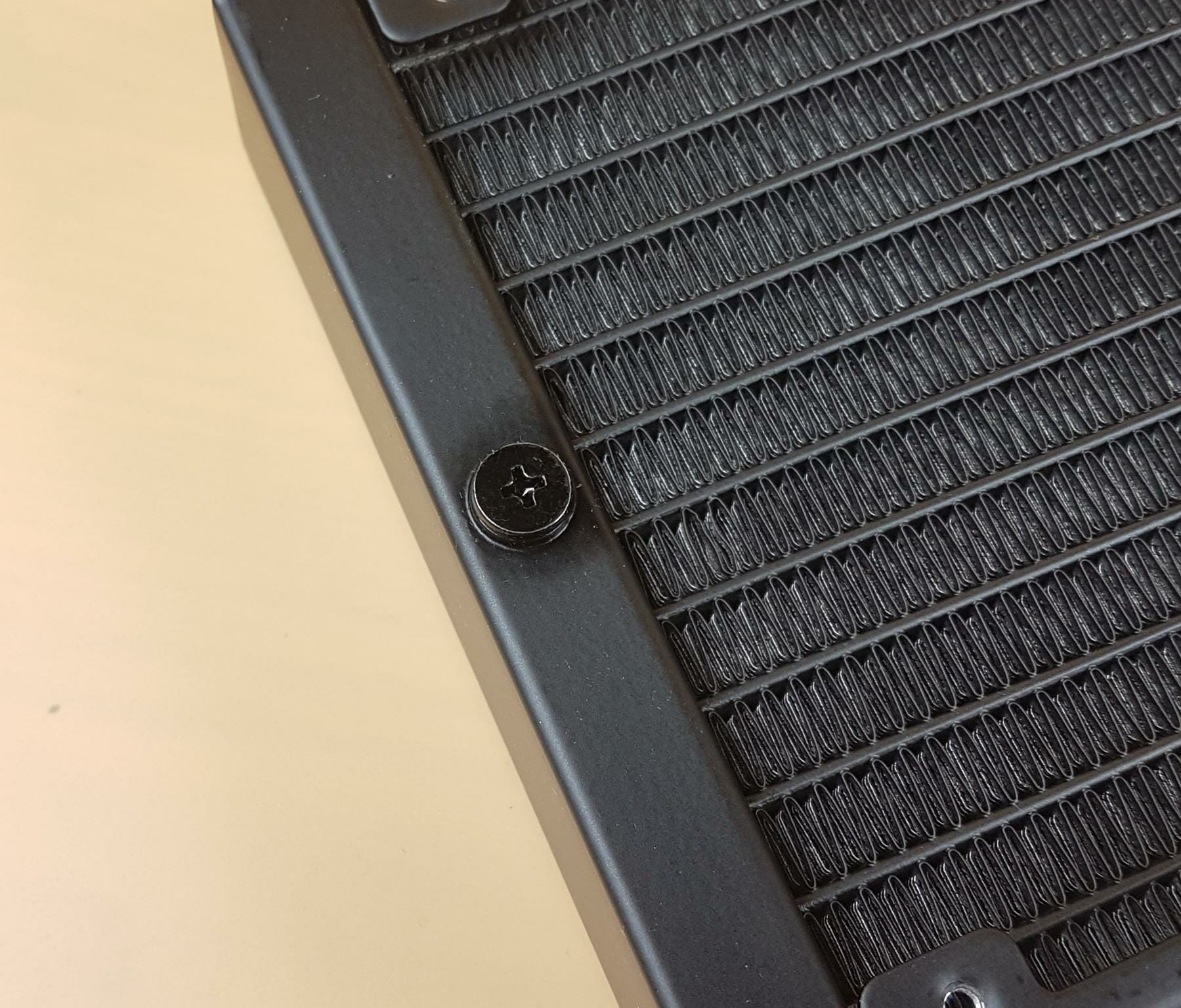 Looking at the far block or end, we can spot a screw covering a port. This is a refill port and user can use it to add coolant through this port in a long run if the coolant level drops. This makes me wonder how would a user know if a coolant refill is needed!
Looking at the tube side of this radiator, we can spot a serial number sticker over the head. This unit has a pump integrated into the tubes. I think this is to circumvent or bypass the ASETEK patent which by the way is coming to an end in 2024 or 2025. This integration would help to reduce the vibration on the CPU socket. This is a PWM-controlled doubly decoupled pump which is a wise implementation. The speed of this pup is 4000 RPM to 5500 RPM. The damping on the pump housing would reduce the vibration and noise, as per be quiet!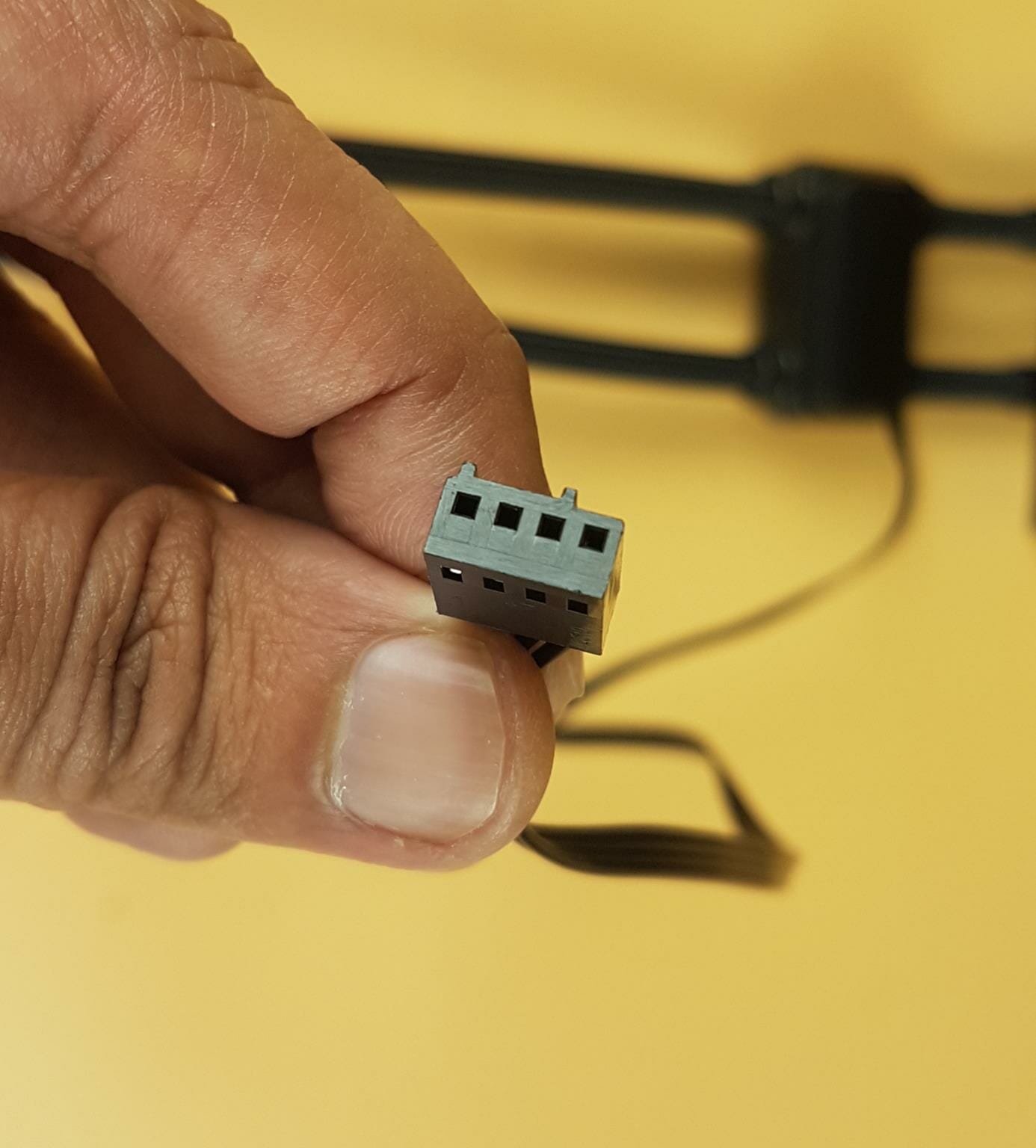 We are showing a 4-pin PWM connector on the pump's power cable.
Looking at the side of the housing, we can see PURE LOOP 2 FX in white.
There is a certain gap between the side frame and the fin stack. Also, there is no protective plating under the screw mounts to prevent damage to the fins from accidentally over-torquing the screws.
This cooler is using low-permeability rubber tubes. These tubes have nylon braided mesh sleeves. The length of these tubes is 400mm approximately.
be quiet! has retained the same footprint on the block as we saw on the Pure Loop 240 during our last round-up. It is lightweight because the pump is not housed inside. It is made of ABS material and there is a brushed aluminum sandblasted top plate having a be quiet! branding. This housing has a dimension of 94.5x83x42mm. There is an A-RGB backlit ring running on the border of this top plate.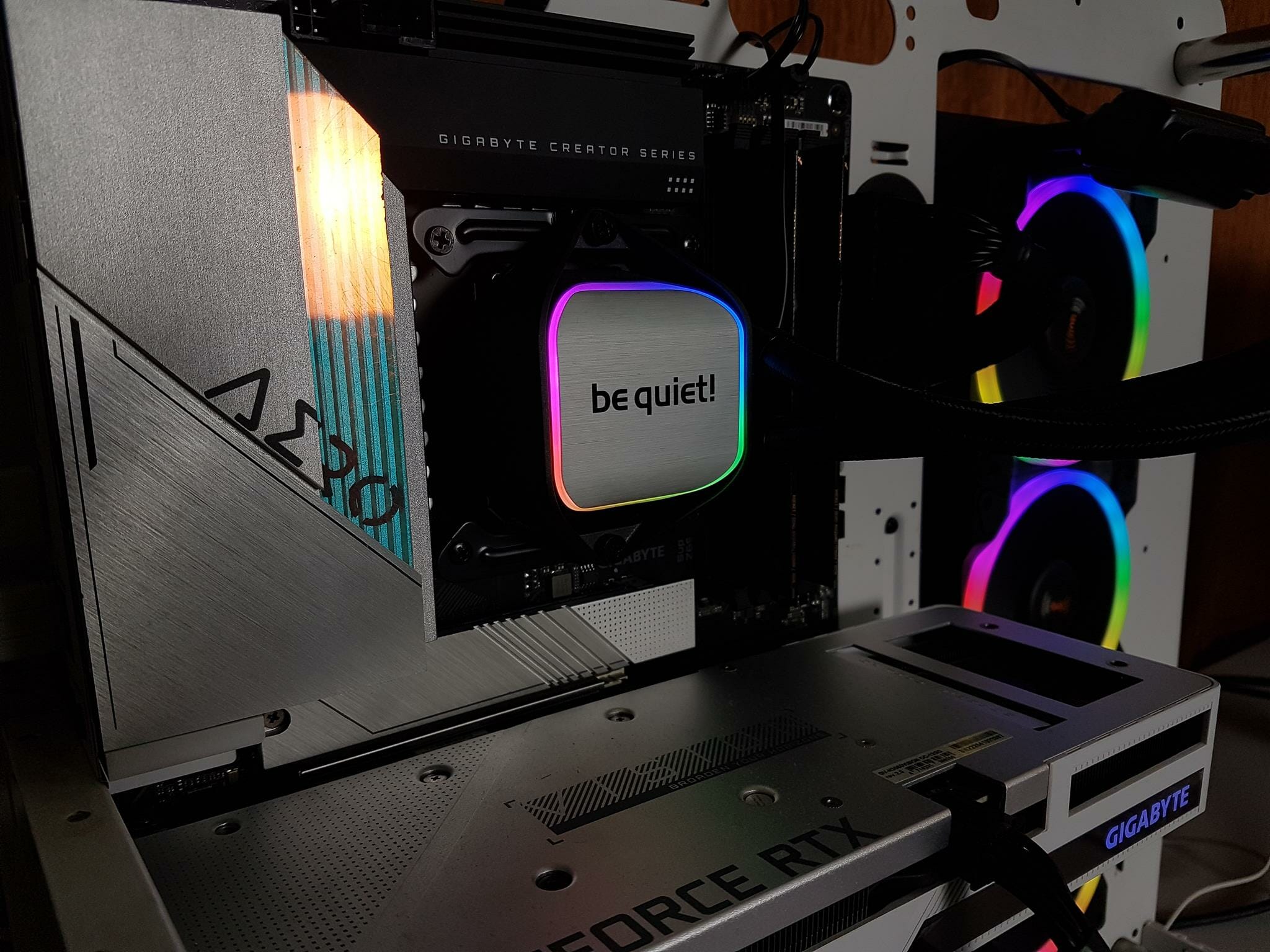 I love the looks on this block.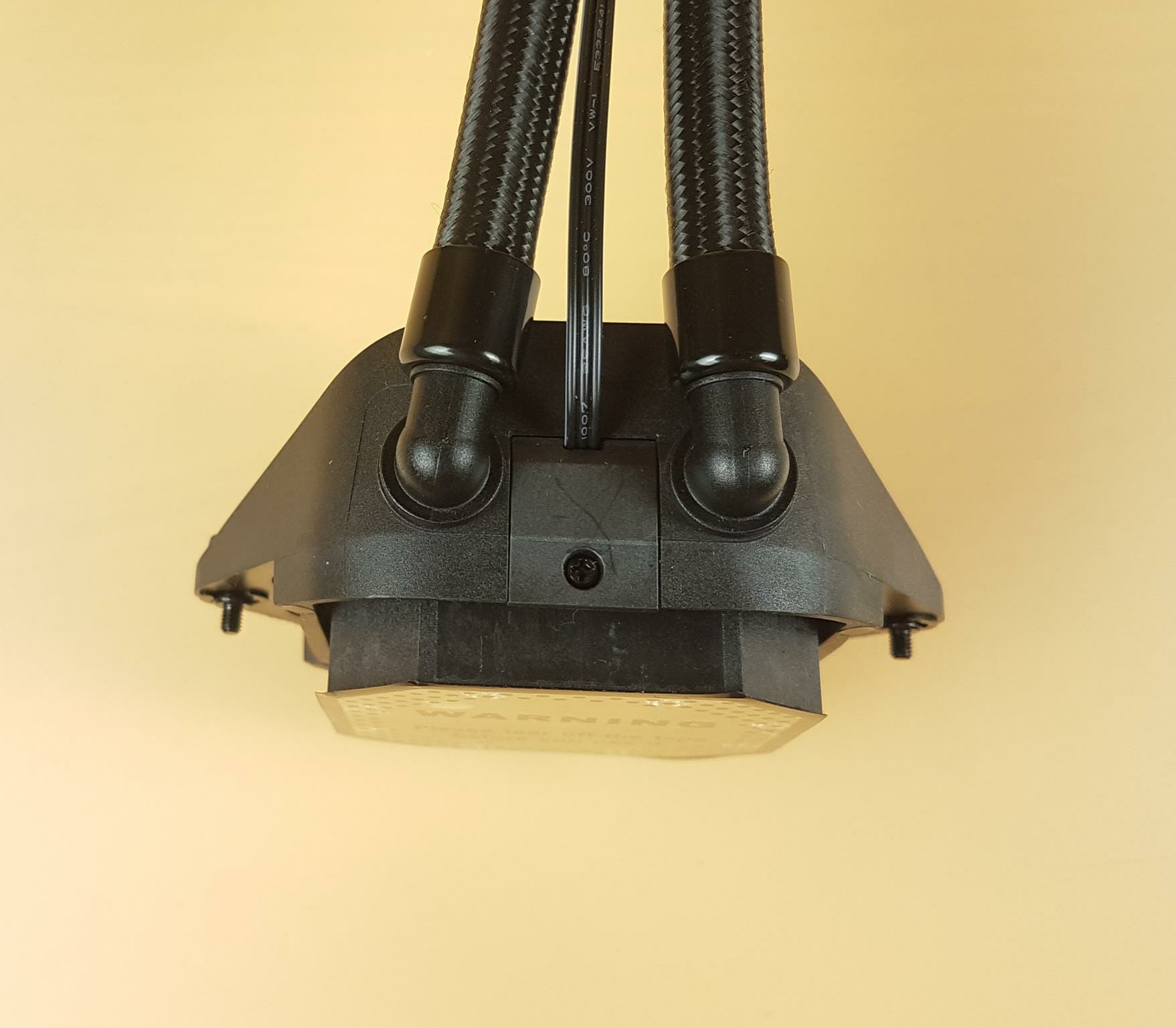 The tubes are installed at a 90° angle on rotary barbs. This connection is well concealed using clamps. There is a 3-pin cable coming out from here.
We are showing a standard 3-pin, 5V female connector to power and control the A-RGB LEDs.
We have a nickel-plated copper base measuring 54x54mm with a mirror finish. We can also spot a 2-point mounting mechanism which in my opinion should be 4-point for better and even contact between the cooler and the CPU.
This cooler comes with three Light Wings 120mm PWM High-Speed fans with this cooler. We have tested the white edition of these fans recently which can be found here – be quiet! Light Wings White 120mm/140mm review. These fans have 9x black color blades with a layered design for even and enhanced airflow and reducing air turbulence. There is a thick ring surrounding the blades. The very reason it is thick is that it has 18 digital RGB LEDs for lighting effects.
Each mounting corner has a black color anti-vibration pad.
There are two arrow symbols. These are there to provide a visual aid for novice users in identifying the direction of airflow through the fan and the direction in which blades will spin. The frame is designed in such a way that maximum exposure is provided to this ring.
Even there is an A-RGB lighting effect on the backside of these fans. Be quiet! is lighting these fans up for sure from every angle. There is a 4-arms assembly with one arm having an inset on which the wires are routed. The power rating of these fans is also mentioned over here. They are made in China. These fans are using Rifle bearing with a life expectancy of 60,000 hours. These fans are using 4-pole fan motor. There is a flat cable powering the fan using a 4-pin PWM connector and two standard connectors using a 3-pin interface on 5V to power the A-RGB lights.
The specification of the fans is:
| | |
| --- | --- |
| Dimension | 120x120x25mm |
| Type | 4-pin PWM Connector |
| Speed | 2500 RPM |
| Airflow | 52.3 CFM |
| Air Pressure | 2.60 mmH₂O |
| Noise | 31 dB(A) |
| Bearing Type | Rifle |
| Lifespan | 60000 hours at 25°C ambient |
| Input Voltage | 12VDC |
| Input Current | 0.45A |
| Input Power | 5.4W |
Installation
We are not covering the details of installation. Installation is the same as we have seen on other be quiet! coolers and we did not observe any particular issue to report here. Please refer to the user guide for more details.
D-RGB Lighting
Since, this unit is using standard 3-pin, 5V connectors for D-RGB lighting, it is compatible with RGB sync technologies from all major motherboard manufacturers. We have tested the lighting on GIGABYTE Z690 AERO G DDR5 motherboards. The D-RGB lighting is working fine with RGB FUSION 2.0 on these motherboards. Here are a few pictures.
Testing
We have used the following configurations for testing:
Intel core i7 12700k
GIGABYTE Z690 AERO G D5
Sabrent Rocket 32GB DDR5 Kit @ 4800MHz CAS 40
GIGABYTE GeForce RTX 3060 VISION OC
Sabrent Rocket Q 500GB NVMe SSD [For OS]
Be quiet! Straight Power 11 850W Platinum PSU
Thermaltake Core P6 TG Snow Edition in an open frame layout
The test table is:
Clocks
P-Cores 4.8GHz

E-Core 3.8GHz

Voltage
1.20V
C-States
Disabled
Speed Step
Disabled
Rest of settings
Stock, Auto
XMP
XMP Loaded where available
Thermal Paste
Noctua NT-H1
Thermal Paste Application
X lines method
Headers
CPU_FAN, CPU_OPT, and PUMP Headers
Stress Software
CINEBENCH R23.2
Stress Run Time
30 minutes
PC Idle Time
5 minutes
Monitoring Software
HWInfo64
OC Tool
Intel XTU
A bit of note about the new platforms. We have seen AMD AM5 and Intel Alder Lake S CPUs taking more power and this time both sides have aimed at reaching the maximum clocks regardless of thermal limit. In fact the AM5 SKUs will run into thermal limit right away depending on the cooling solution and the clocks being used. This has made testing of CPU coolers challenging because viewers/readers are not used to a new nomenclature which is what clocks are sustained under given load using particular cooler. That is if the cooler is capable of providing enough cooling head to sustain the high frequencies. Traditionally we are used to go the other way around that is which cooler is better in terms of thermal capacity. Despite this, we are using temperatures as a base of measuring this unit. Among other reasons is the high thermal density of these new CPUs.
The ambient temperature was in the range of 25°C to 25.5°C. Since the variation in the ambient temperature is within 1°C, we are reporting absolute temperatures in the graph. The testing is done on an open air bench system. Once inside the chassis, the temperatures are expected to rise and would largely depend upon the optimal airflow inside the chassis.
Disclaimer: Every silicon is different hence no two same SKUs are likely to take same voltage to yield same performance at same thermals per se but margin would be close. Not every stress test run may yield the same result which could be due to various reasons like thermal paste application, ambient temperature variation, mounting pressure of the cooler etc. This is very why we have listed our variables and their settings. Let's take a look at the results.
Result
Out of all coolers tested on this particular configuration, the Pure Loop 2 FX 360 sits at lowest in 360mm AIO category. This is still a nice performance given the total noise output of this cooler which is much better than the other coolers in the graph.
Noise
Our sound meter shows this unit making a sound output of 49 dB(A) at an ambient of 32 dB(A).
Conclusion
We have tested another 360mm AIO cooler and you can expect to see more such contents followed by a round-up content of these 360mm AIO coolers. The Pure Loop 2 FX 360 is a second-generation of liquid cooler from this manufacturer. This cooler is launched under FX branding and one thing it has is an A-RGB lighting effect all around. Be quiet! Pure Loop 2 FX 360 is compatible with Intel LGA 1150, 1151, 1155, 1200, 1700, and 2011(-3) square ILM sockets. On the AMD side, this cooler is compatible with AM4 and AM5 sockets.
This cooler has an aluminum-made radiator with a dimension of 397x120x27mm. The overall height of this unit would stand at 53mm or so including the 120x25mm fans. It has 20 FPI and 12 channels for coolant flow. There is a standard gap of 105mm between two opposing mounting holes on the frame. This unit has a refill port integrated into the radiator and be quiet! has provided a 100ml coolant bottle as well. This would help service this cooler ensuring its longevity and durability. However, there is no visual aid or guidelines for the users in determining the coolant level in the loop effectively telling when to refill.
Be quiet! is using low-evaporation low-permeation rubber tubes on this unit with a nice touch coming from a nylon braided mesh sleeve. The connection of tubes and barbed fittings is concealed. The PWM, doubly decoupled pump is integrated into the tubes which in my opinion is one way to bypass the soon-ending ASETEK patent on pump design. These tubes have a length of 400mm. This pump is powered by a 4-pin PWM connector and speed range is 4000 to 5500 RPM.
This unit has the same block design as is on the first-generation units. However, instead of a static white color, this unit has A-RGB backlighting this time giving a more profound look to the unit. The housing is made of ABS material with a pump top made of sandblasted brushed aluminum material. There is a nickel-plated mirror finish copper base having a dimension of 54x54mm.
Be quiet! has changed the fans on the second generation by using Light Wings 120mm PWM High-Speed fans. These fans feature stunning A-RGB lighting effects showing from the top, sides, and even the backside. They run silently and still produce enough airflow at static pressure to provide decent thermal performance. Each fan is powered by a 4-pin PWM connector whereas the A-RGB LEDs are powered by using standard 3-pin interface, 5V connectors. These fans have a dimension of 120x120x25mm. They have a maximum speed of 2500 RPM with a maximum of 52.3 CFM airflow at 2.60mmH₂O static pressure. The noise level is rated at 34 dB(A) maximum. These fans are using Rifle bearings with a life span of 60,000 hours at 25° ambient.
There is a SATA-powered RGB and PWM hub provided in the box as well. The user can connect up to 6x PWM fans and 6x A-RGB devices/fans using standard 3-pin, 5V connectors to this hub. The user can also connect the pump's PWM connector to this connector. This hub provides stable power to the connected devices and a single interface control is ensured. Keep in mind that this is a hub, not a controller. You would still need to connect the 4-pin PWM connector cable and A-RGB connects cable coming out of this hub to the active source like on the motherboard or dedicated controller.
The installation mechanism remains the same as we have seen on the other be quiet! coolers. One thing that be quiet! should consider changing is a two-point mounting mechanism which in my opinion should be a four-point. Since we have tested the cooler on Intel LGA 1700 socket, we needed 19 mounting items to install block on the CPU socket. The use of standard RGB connectors ensures maximum compatibility with supported motherboards. We have tested on the GIGABYTE Z690 AERO D5 motherboard using RGB FUSION 2.0 app. The A-RGB lighting was found working flawlessly.
The SCAN UK pricing of be quiet! Pure Loop 2 FX 360 at the time of this writing is £144.98. It Can also be found on Amazon UK for £139.95. The price point is good on this cooler. We put the cooler to tame temperature on Intel Core i7 12700k and it worked decently sitting closer to the be quiet!'s second cooler with a 1°C difference but that difference is substantial compared to the other two 360mm AIOs but the price point is high on those units. Be quiet! is offering a warranty on this cooler which is 3 years. Another added advantage of this cooler is subtle A-RGB lighting without breaking the bank. Given its basic features set and adequate thermal performance at a better noise output, we recommend this cooler though it may not handle the extreme overclock at high SKUs.
Pros:
Decent Thermal Performance
AMD AM5 and Intel LGA1700 Socket Support
Vivid A-RGB Lighting
RGB-PWM Fan Hub
Brushed Aluminum Pump Top
Standard RGB and PWM Connectors
PWM Pump
Noise Performance
Price
Cons:
Low Warranty Period
Two-Point Mounting
Non-Magnetic Hub