Introduction
When it comes to air cooling in the PC industry, Noctua is the first name that came to mind. They have earned this reputation by giving PC users the best CPU air coolers among top-notch backed by good customer service and a good warranty period. Over time, Noctua has released several 120mm size air coolers in the market. Their most popular cooler has been NH-U12S. This cooler has provided users with some key benefits which include:
Clearance for RAM
Clearance for PCIe Slot
Top Performance
Silent cooling
Obviously, the above list points to key variables to measure when it comes to evaluating any cooler at hand. Noctua later on released chromax.black edition of NH-U12S enhances the cooler's life by giving users customization options to build colorful life in their builds. Down the road, Noctua released more variants of this cooler aimed at workstations and AM4 sockets.
Then came the mighty king of 120mm size coolers from Noctua when they released NH-U12A which retains the same height as NH-U12S but with more beefy cooling and even at a better acoustic despite coming in two fans configuration. Then came chromax.black version of this cooler. When we had thought that Noctua is done with NH-U12S, they released a more budget segment-oriented cooler NH-U12S Redux. Noctua also provided an NA-FK1 accessory to have a push/pull configuration on NH-U12S Redux.
I was a bit surprised when saw a listing of NH-D12L. Now, this is the first 120mm size cooler not coming in the NH-U lineup but in the NH-D line of coolers from Noctua. This is essentially a twin-tower, single-fan configuration for which Noctua provided a customized version of my personal favorite NF-A12x25 PWM fan named NF-A12x25r PWM. This cooler has a lower overall height compared to other NH-U12 series coolers and in its default configuration, it also provides utmost clearance for RAM and PCIe without comprising cooling performance.
Noctua has sent us these coolers from time to time for testing. We happened to have all these coolers with us. In fact, we happen to have everything which Noctua has sent us so far. Quite a Noctua stash, I would say. It was in the back of my mind for some time to test these coolers and provide the user a rationale to make their buying decision with real-time testing. Finally, I have executed this idea when the temperature here has dropped below 20s and I have the latest hardware to test coolers.
In this content, we will pitch Noctua 120mm size coolers and see how these coolers would perform under different load types for a wide picture of clarity. The following coolers will be used:
Below are dedicated review links from our channel:
Given how AMD and Intel use different nomenclature when it comes to TDP (Thermal Design Power), Noctua has come up with their own rating for their coolers. Generally, a higher rating would mean, the cooling solution will provide better performance. They are using what they call NSPR which stands for Noctua's Standard Performance Rating. They have provided a detailed guide on their testing parameters and formulas to determine ratings. You can read more about it by clicking here.
We are particularly interested in the above-listed coolers so let's take a look at their NSPR:
We can summarize:
| | |
| --- | --- |
| Cooler Name | NSPR |
| NH-U12S | 129 |
| NH-U12S Redux | 129 |
| NH-D12L | 148 |
| NH-U12A | 169 |
As per Noctua, NH-U12A is supposed to perform way better than the rest of the three coolers whereas NH-D12L is supposed to perform better than NH-U12S series coolers. Please keep in mind that chromax.black versions are essentially the same coolers hence their ratings would be the same. Noctua has also provided a CPU Compatibility section on their website where they have mentioned the compatibility of their coolers with AMD and Intel CPUs. They have classified their coolers into these categories:
We will be using AMD Ryzen 7 7700X CPU for this comparative testing. Here is Noctua's classification for this CPU for the above-listed coolers:
We can see that Noctua NH-U12S and NH-U12S Redux are rated for medium turbo/overclocking headroom whereas NH-U12A and NH-D12L are rated for best turbo/overclocking headroom on Ryzen 7 7700X.
The above information is taken from the Noctua website where they have put forward a comprehensive list comparing all these models. Take away from the above picture is:
All NH-U series coolers in the picture have a height of 158mm whereas NH-D12L has a height of 145mm making it even more compatible with mid-range PC Cases in the market.
NH-U12S Redux has fewer heat pipes standing at 4 compared to others.
NH-U12SA comes with two NF-A12x25 PWM fans. Other coolers come with a single fan.
NH-U12S offers a better sound output.
NH-U12S Redux is not using a soldered interface. Though this will not impact thermal performance it may have less durability compared to the other 3 coolers.
All coolers come with 6 years warranty.
NH-U12S Redux has the lowest price whereas NH-U12A has the highest price tag in the list.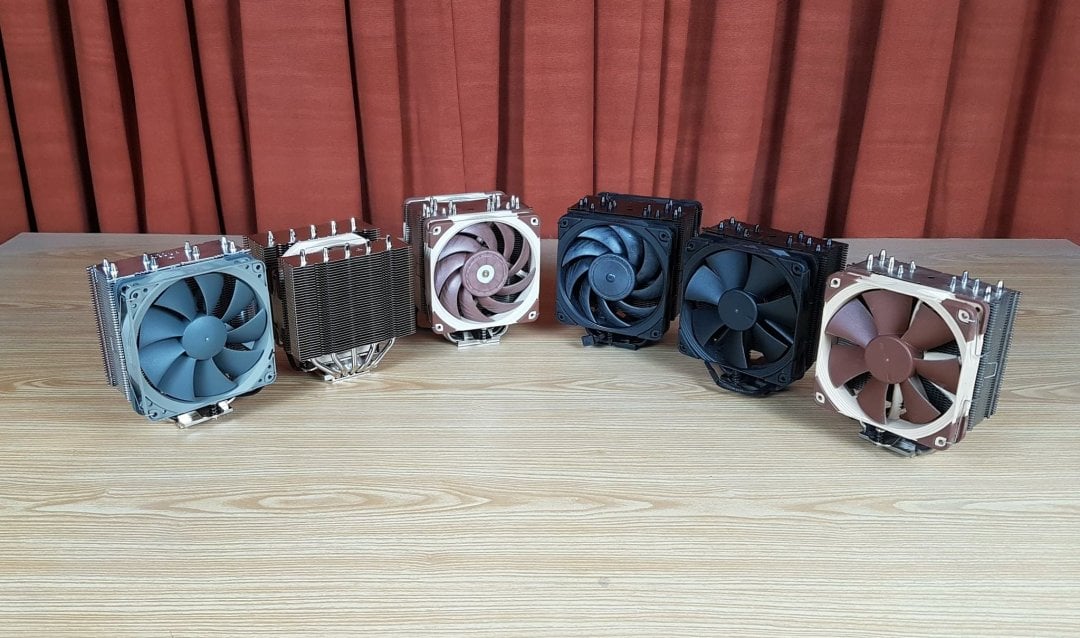 The above picture is a perfect reflection of Noctua's prime and might in 120mm size.
We can see that NH-U series coolers have the same height.
We can see that NH-D12L has a lower height compared to other NH-U series coolers in the picture.
Testing
The following test bench is used: –
AMD Ryzen 7 7700X [5.2GHz, 1.260V]
GIGABYTE X670E AORUS MASTER
XPG Lancer RGB 32GB @ 6000MHz CL40
MSI GeForce RTX 3090 Gaming X Trio 24G
Sabrent Rocket 4 Plus 2TB NVMe SSD [For OS]
be quiet! Straight Power 11 850W Platinum PSU
GIGABYTE M27Q-P Gaming Monitor
Thermaltake Core P6 TG Snow Edition in an open-frame layout
Not every run of a stress test may yield the same result. This could well be due to many factors like mounting pressure, thermal paste application and varying ambient temperature. Not to mention silicon differences even among the same category of chips. Hence, it is pertinent to mention the testing methodology along with specifics.
The following are key data:
| | |
| --- | --- |
| Thermal Paste | Noctua NT-H1 |
| Monitoring Software | HWInfo64 |
| Sensor | CPU (Tctl/Tdie) |
| Test Software | CINEBENCH R23 |
| Fan Header(s) | CPU_FAN, CPU_OPT |
| Fan(s) Speed | Full Speed (100% PWM Duty Cycle) |
| Idle Time | 10 minutes |
| Test Time | 30 minutes |
| Game Used | Assassin's Creed Origins |
| Graphics Settings | Ultra High |
| Display Resolution | 1080P |
We know that on default settings, thermals on Ryzen 7 7700X will be at 95°C which is by design according to AMD. We have tested this CPU at various settings and found that manually setting cores to operate at say 5.1GHz or 5.2GHz would reduce thermals on the chip. This is why we are using 5.2GHz on all cores on this CPU for this testing. Low ambient temperatures will also help.
Coolers and their configuration
Coolers used for this testing and their configurations are as under:
NH-U12S [Single Fan, Push/Pull]
NH-U12S Chromax.Black
NH-U12S Redux [Single Fan, Push/Pull]
NH-U12A
NH-U12A Chromax.Black
NH-D12L [Single Fan, Push/Pull]
Load-Type
Before we move toward results, let us briefly discuss the load types that we have used in this testing. We have used the CINEBENCH R23 Multi-Core test to represent heavy workload including AVX2 load. This would be an extreme test for these CPUs and for that we have shown absolute temperature in one graph to show how these coolers fair.
Next, we used CINEBENCH R23 Single Core load to stress the CPU and recorded thermals on these coolers. Again, we will show the absolute temperature in one graph followed by a delta temperature graph where subtract ambient temperature value from the CPU Temp sensor value.
This is due to the fact that during 3 days of testing ambient temperature varied from 14°C to 17°C. Only delta temperature would show actual comparative performance. The same was repeated for gaming performance.
We are showing three types of loads and their resulting thermal performance from these coolers:
Heavy Workload
1T Workload
Gaming Load
We are trying to cover the majority if not all bases when it comes to the thermal performance of these air coolers using different types of loads.
Results
It is time to take a look at the graphs one by one starting with idle temperature.
All coolers are almost in the same thermal range when the PC is idling.
No surprise there as NH-U12A is on top of the list based on criteria that lower temperature is required. NH-U12S was doing 86°C whereas NH-U12S Redux was doing 88.4°. To my surprise, NH-D12L with 89°C came at bottom of the list. Was this due to temperature variation? Let's now take a look at the delta temperature graph.
We have absolutely stunning performance from NH-U12A and its chromax.black version. However, NH-D12L is still sitting at bottom of the list. We have tested this cooler multiple times but came to the same result. Sorry Noctua, but it is what it is.
We almost have a similar result but with a keynote. NH-D12L and its push/pull configuration are still in the lower part of the list. NH-U12S has a reduced gap with NH-U12A. Let's take a look at the delta temperature graph.
We can see that all coolers are now in the closer range starting from 32°C to 35°C with NH-U12A still on top. NH-U12S has managed to reduce the gap to 2°C compared to NH-U12A. NH-D12L still has sub-par performance.
We are seeing a similar trend in thermal performance using gaming load. NH-D12L is still not performing at par. Is this due to ambient temperature variation? Let's find out.
We are seeing same performance from NH-D12L. It is surprising that a cooler rated at 148 NSPR is performing below 129 NSPR-rated coolers.
NH-U12A and its chromax.black version were producing 43~44 dB(A).
NH-U12S and its chromax.black version were at 45 dB(A) level.
NH-U12S in push/pull was at 47 dB(A).
NH-U12S Redux was at 46~47dB(A).
NH-U12S Redux in push/pull was at 49 dB(A).
NH-D12L in default was at 48~49 dB(A). Its fan was making a shrill sound that was quite audible.
NH-D12L in push/pull was at 50 dB(A) level.
Conclusion
Noctua is a name to reckon with when it comes to air cooling. Their air coolers pack solid thermal performance with an even better noise-to-performance ratio. They provide extensive warranties as well on products ranging from 5 years to 6 years with good customer support. Noctua has multiple 120mm size coolers in their arsenal each serving a different market segment and different purpose.
We have tested the following Noctua's 120mm size coolers:
NH-U12S
NH-U12S Chromax.Black
NH-U12S Redux
NH-U12A
NH-U12A Chromax.Black
NH-D12L
In addition, we have used the following for push/pull testing of coolers:
NF-F12 PWM
NF-A12x25r PWM
NA-FK1
Each of these coolers packs a different performance headroom and comes at different prices which makes it further interesting on which one to pick for what job. When it comes to air coolers, there are multiple variables that need to be taken into consideration. Foremost of these are clearance for cases, RAM, and PCIe. This is where the dimension of the coolers needs to be checked.
As we can see, the majority of these coolers have universal clearance for DIMM slots in dual-channel configuration and PCIe slots except NH-D12L in push/pull configuration. Any keen eye would ask why to focus on Depth in addition to height. This is because; increasing depth has consideration with respect to the motherboard's IO cover. We have seen bulky or beefy covers on motherboards that could actually restrict rear fan placement forcing users to increase the height of the rear fan which would increase the overall height of the cooler. This in turn has consideration with respect to PC Case clearance for the cooler. We faced this issue with NH-U12A on the GIGABYTE X670E AORUS MASTER motherboard. The rear IO cover obstructed the fan hence we had to adjust the height of the fan by 10mm or so. previously 158mm height is now 168mm. This would violate your PC Case homework. Cutting it short, these 120mm size coolers from Noctua offer the best clearance for RAM and PCIe.
We have tried to give you a broader picture of what is going on with actual performance and compare that to the price and warranty of these coolers. NH-U12A is hard to beat cooler in terms of overall performance headroom and better noise output at the same time. However, the catch is the high price tag of this cooler. NH-U12S Redux is making more value for your bucks even in push/pull it is costing less than NH-U12S and the performance of both is comparable. NH-D12L despite having an NSPR of 148 has shown a sub-par performance. We have tested the cooler multiple times but the results were persistent. Hence, we have quoted performance as it is.
NH-U12S has been the most popular cooler from Noctua when it comes to good thermal performance, universal clearance, and noise output. It lacks the performance headroom of NH-U12A for sure but then pricing comes into the equation. NH-U12S Redux almost offers the same thermal performance as NH-U12S but comes at a less price tag; it is the true value of your bucks. You may consider this cooler as a more budget-oriented version of NH-U12S without too much performance degradation. NH-U12S is a bit less noisy out of these two though.
The purpose of this content is not to declare any winner or loser. All we wanted is to show which cooler would serve better in what sort of load. If you are gaming only then pick any of these coolers, particularly NH-U12S Redux as it will give you good value for your bucks. If you are into heavy workloads and have a budget then grab NH-U12A. NH-U12S would serve 1T or single core load, gaming load, and somewhat of a heavy workload. NH-D12L also falls in this category per our testing. All coolers are recommended by us previously and they are still on our recommendation list.